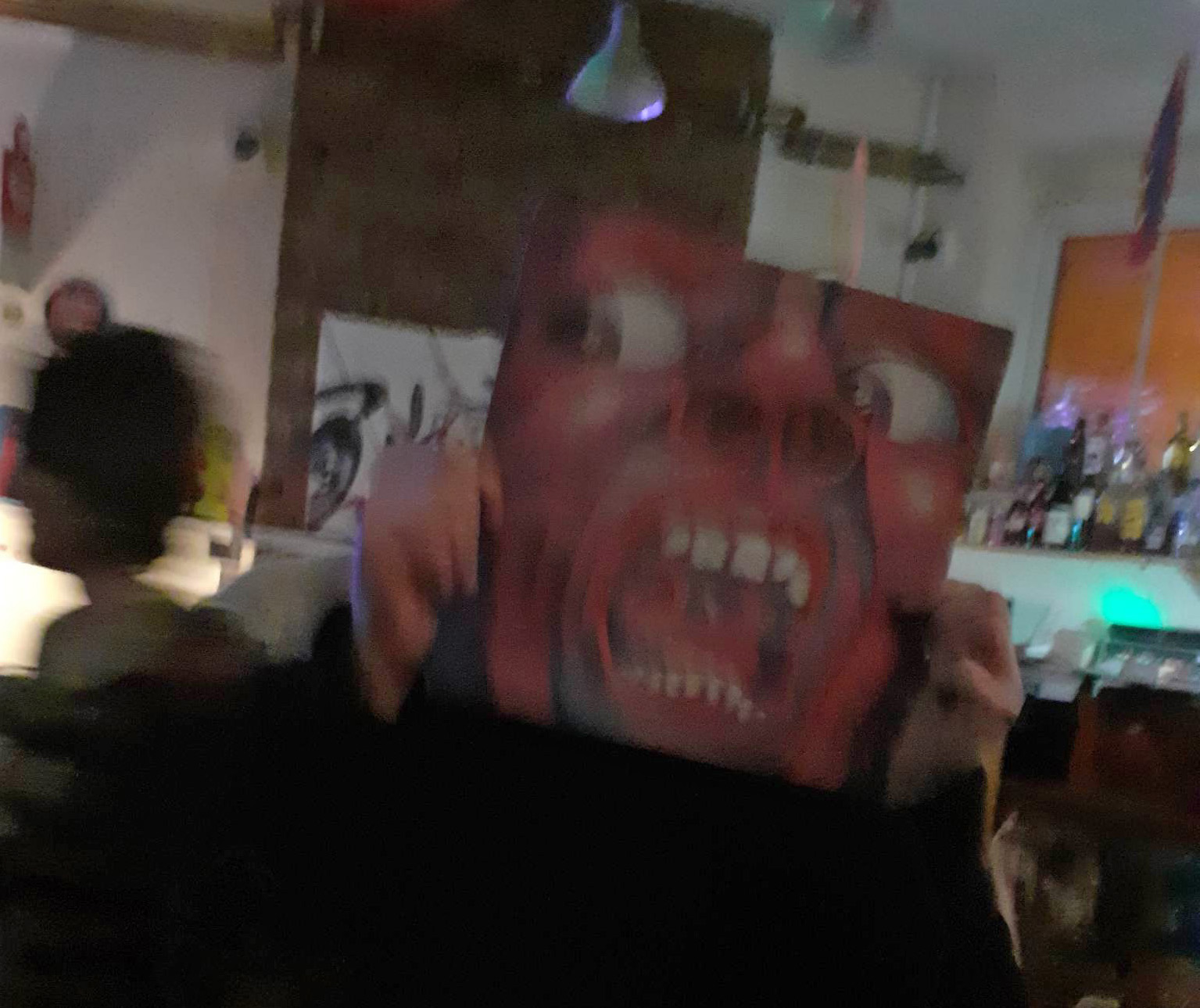 Drunken shenanigans reigned last Friday night at The Book & Record Bar's Stick It On night where we were all having so much fun no one noticed that it was approaching 2am and Michael, the shop's owner, only has a license until 1. The monthly night takes place on the first Friday of the month after the shop closes and the idea is to bring your own records, put your name on the board and then play three tunes when your turn comes up. I ran out of records and started pulling stuff from the racks that I wanted to hear. Michael unearthed a huge box set of disco, soul and funk classics and proceeded to make us act like the drunken idiots we were.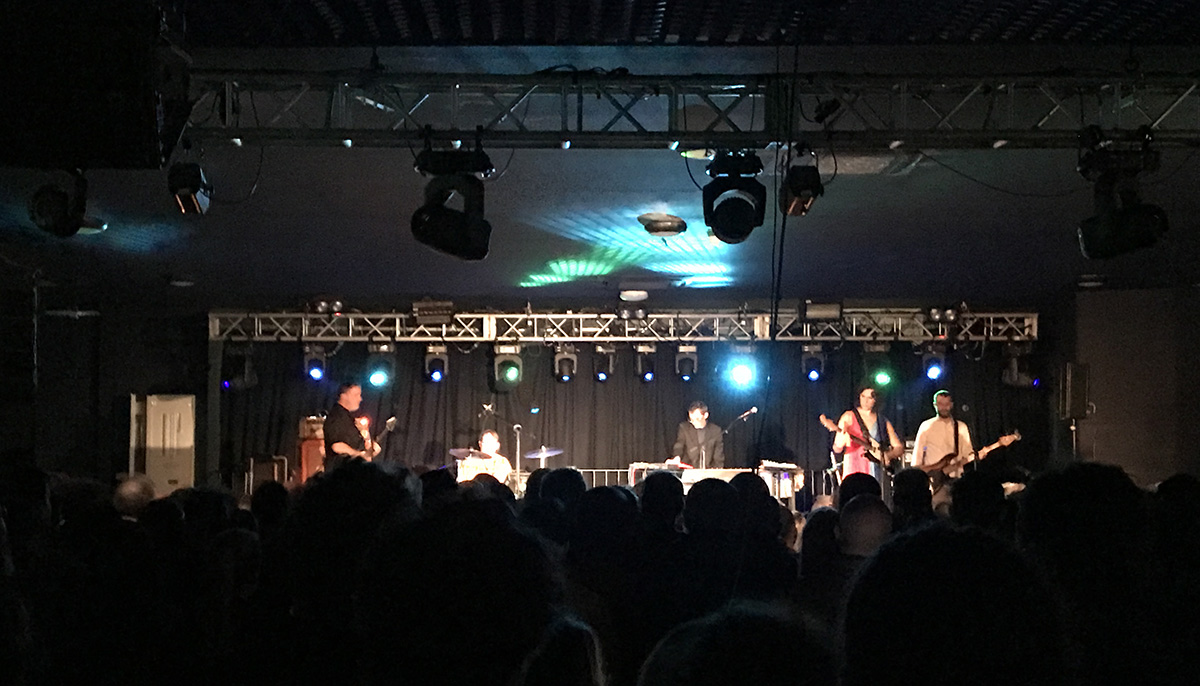 Saturday was a site recce in the morning and then Stereolab at EartH in Dalston which was nice but we missed most of the supporting acts due to bad timing and trains not running. After a shaky start they rocked it.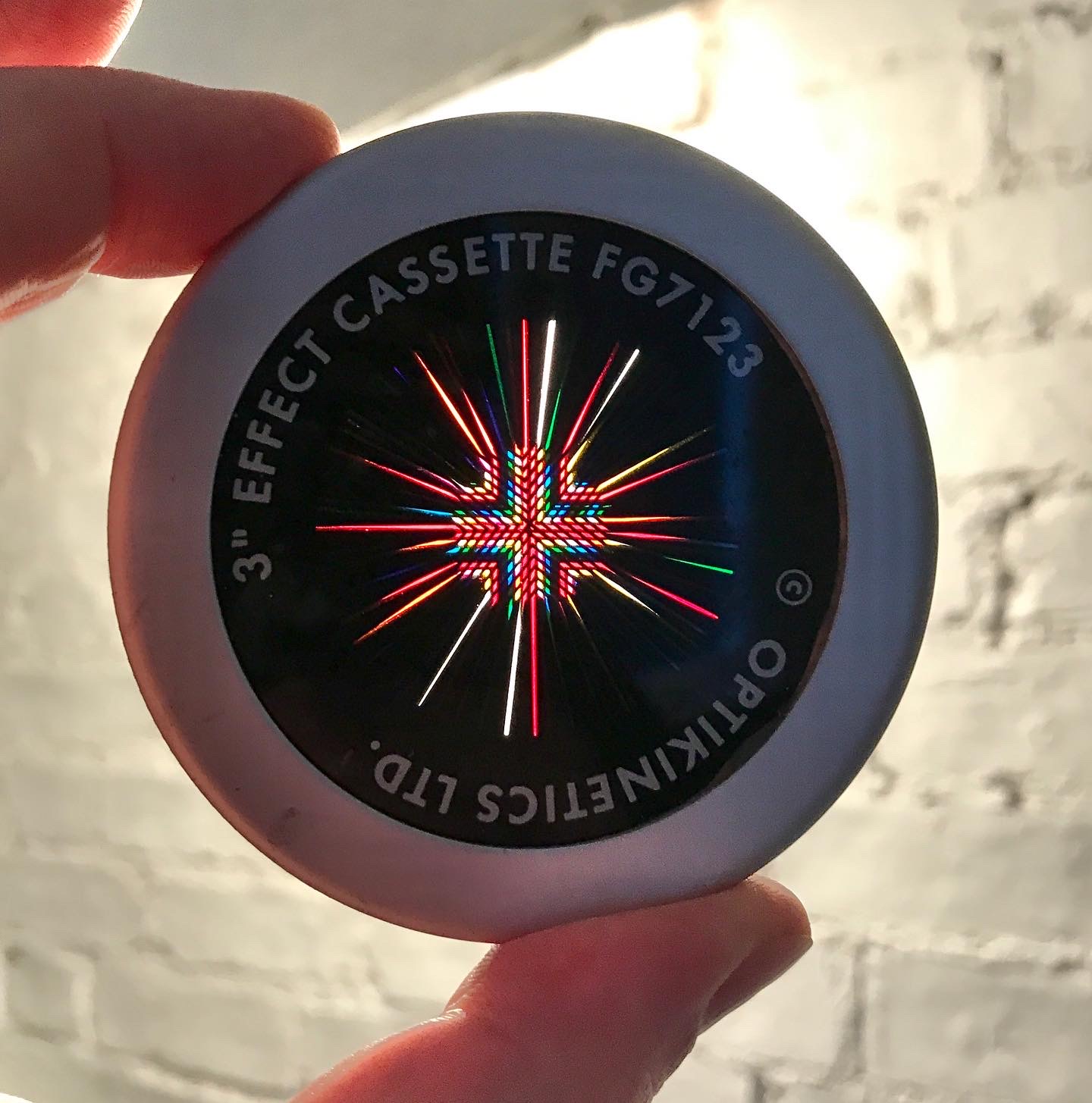 Monday was a visit to Neil Rice out of town for tea, a demonstration of how polarising slides work, a trip up to his packed loft of light show equipment and a lot of chat. He had the Optikinetics FX Cassette featured on the cover of my book too. I came home full of inspiration… the rest of the week has been writing and battling a cold I must have picked up at some point during all that lot. Last night was going to be Warrington Runcorn Town Development Plan (or WRTDP to those too lazy to write it) and Pye Corner Audio at Corsica Studios but I felt too rough to attend. But, as the Mighty Boosh always say, "on with the show"…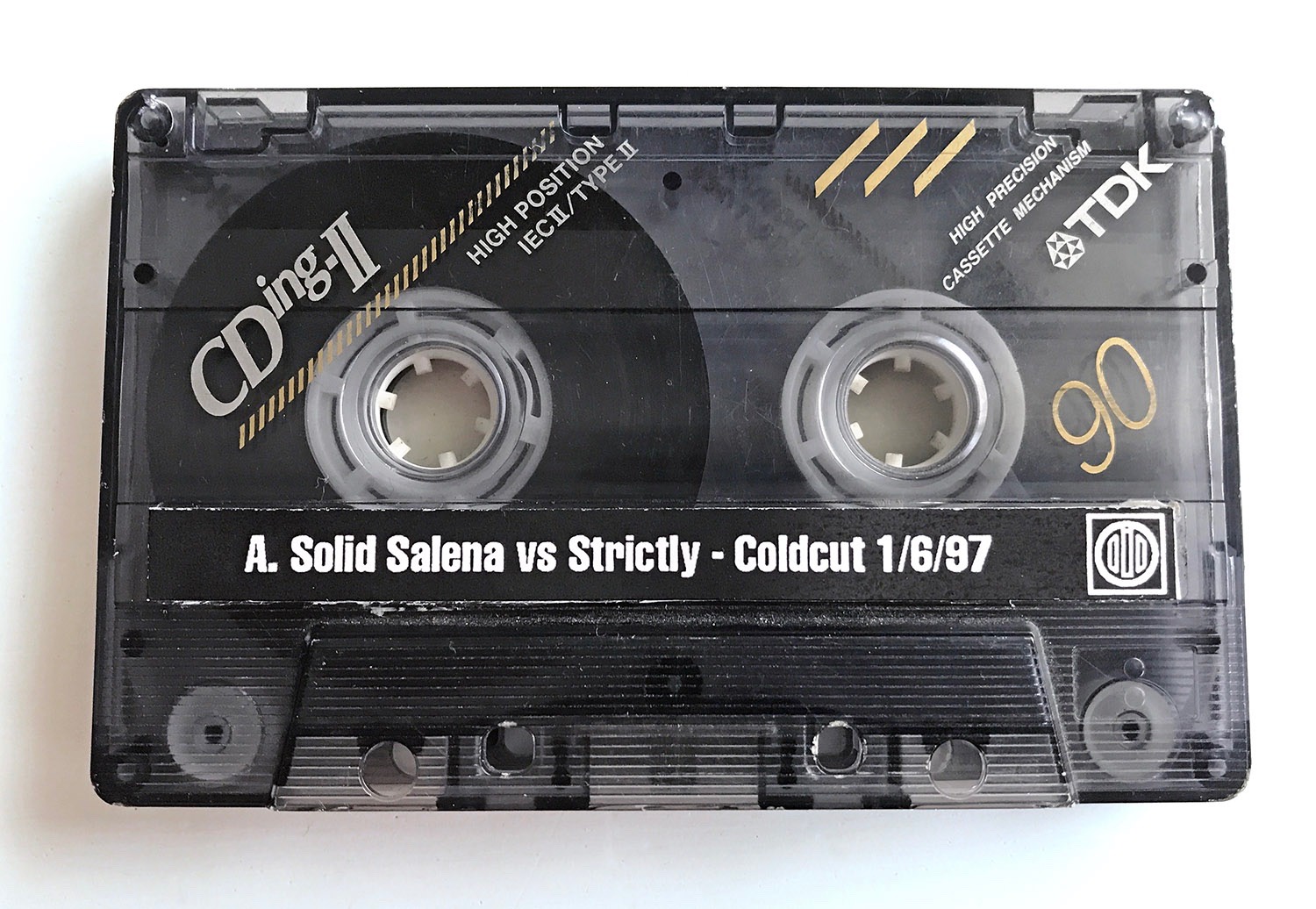 The earliest track lists we have in a digital format thankfully reside with Marcus Maack of BTTB – Back To The Basics who maintained the PRS information when he was one of the first to license Solid Steel for German radio station FSK in the late 90s. As a result we have some track lists and sometimes DJ info from early 1997 through to the end of the decade by which time DK had arrived as show producer and things were better organised than us scribbling on huge sheets of paper at KISS FM in between mixes. There are still the usual mistakes and typos, gaps and unknowns but now we have Discogs, Shazam and the Internet to help fill in the blanks.
Using one of Marcus' play lists I compiled the track order below for this mid 1997 show where I provided two sets in the second hour. Salena Godden aka Salena Saliva was the guest in the studio with Jon More and I and she periodically performed her poetry over passages in the mix. Kicking off with one of my favourite Kirk Degorgio tracks from his Celestial Soul album – an influence on my own track '…you' from 'Kaleidoscope'. Into this we have Faze Action's 'Plans & Designs' (String Reprise) which still sounds majestic all these years later, I'm sure Simon Lee from the group used to work in a Soho record shop and I'd regularly buy records off him in the 90s. Next, Hardfloor prove that there's more to them than just acid bangers with some excellent trip hop under their Dadamnphreaknoizphunk? moniker from Volume 2. I don't know what I'm doing in the mix, it all seems a bit tentative with little drop-ins rather than things really getting going, maybe we were discussing when Salena was going to make an appearance and sorting the tracks out.
I don't recall ever having this Denise Johnson single but the remix is excellent although I've not idea which one it is out of about eight possible contenders, must look for that in the collection. Next up is Salena's first turn, a tale of walking amongst the wild flowers before things take an unexpected turn, over the Witchman remix of Bowery Electric's 'Without Stopping'. Later in the track she drops in with an ode to arse watching, I think I was always a bit weary of Salena as she was so sexually upfront with her material which was not common in 1997, or not in the circles I ran in anyway, but she was always lovely on tour with Coldcut. The Witchman mix rattles on with that submerged Amen sound he did so well before merging into Sukia's 'Dream Machine' which seems completely at odds with the darkcore d'n'b underneath it. I loved Sukia, it was silly, cheesy sampledelia, produced by the Dust Brothers and later licensed to Mo Wax. I always put it in the same box as bands like Tipsy from that era. This track samples a hypnotist called Reveen who made many records on how to quit smoking, gain confidence, stop over-eating etc. I found some in Canada on tour and we deduced that the records were identical aside from the intro's and outro's relating to each subject matter.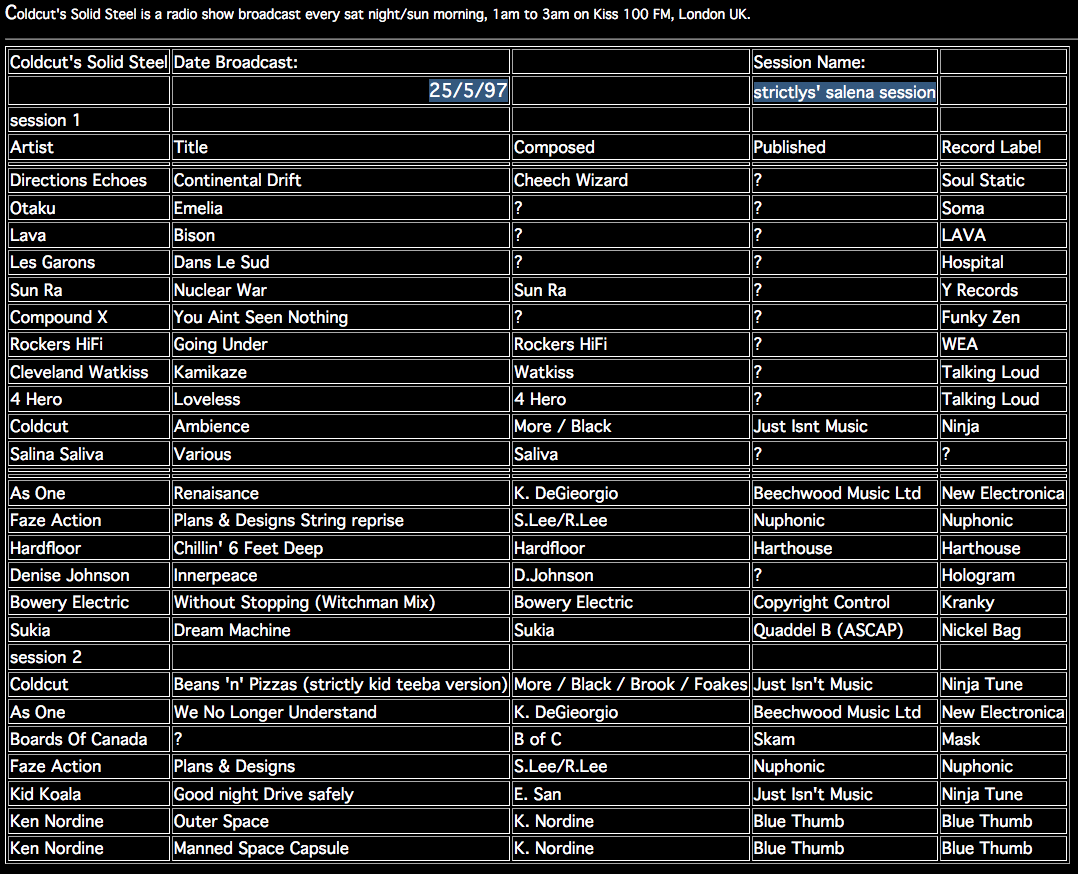 Part 2 opens with the remix Kid Koala, Ollie Teeba and I did of Coldcut's 'More Beats & Pieces' – collaged together from freeform jams we did at sound checks on tour around North America using specially cut dub plates of the B&P's parts given to all remixers. It's a bit of a mess but it was my first remix so go easy. I'm not sure where the spoken word skit comes from directly afterwards, probably one of Coldcut's Word Treasure jingle compilations, but Kirk's back was another As One track from Celestial Soul doing exactly what he does best with that soaring, melodic techno of his. I appear to be scratching some stuff over it which adds little to the mix. Out of the extended breakdown comes Hell Interface – a pseudonym of Boards of Canada – with their version of Colonel Abrahams' 'Trapped' over a scratchy roller of a beat from one of the MASK compilation 12"s. Sliding awkwardly out of this is Faze Action's 'Plans & Designs' proper with all its kettle drums and strings intact over the beat, very much in that Rob Dougan 'Clubbed To Death' tradition. Someone is playing all sorts of jingles over it with delays which makes me think that this set might have been recorded up at Ahead Of Our Time in Clink St. with Ali Tod on the mix. I think I'm playing some Kid Koala over the end of the track and it's all a bit of a mess to be honest. Bizarrely we then dip into two random Ken Nordine tracks from the How Are Things In Your Town compilation on Blue Thumb. A very odd selection and collection of sounds.
Track list:
As One – Renaissance
Faze Action – Plans & Designs (String Reprise)
Hardfloor presents Dadamnphreaknoizphunk?- Chillin' 6 Feet Deep
Denise Johnson – Inner Peace
Salena Saliva – unknown 1
Bowery Electric – Without Stopping (Witchman Mix)
Salena Saliva – unknown 2
Sukia – Dream Machine
Coldcut – Beans 'n' Pizzas (Strictly Kid Teeba version)
As One – We No Longer Understand
Hell Interface – Trapped
Faze Action – Plans & Designs
Kid Koala – Goodnight, Drive Safely
Ken Nordine – Outer Space
Ken Nordine – Manned Space Capsule