The above film was just one of several exhibits at a gig in Brussels I did a couple of weeks back with DJ Mr Critical at an amazing light exhibition called Magnetic Flow – see it if you can, you can control some of the sound and light displays too. My good friend Steve Cook was in town, Steve works for DC comics in LA and hasn't been back here for years, unfortunately he arrived to plunging temperatures, train and bus strikes and a dose of snow. We hung out with fellow graphic designer Rian Hughes and nerded out for Britain. The Soul Proprietors record shop in Tulse Hill/Brixton is newly re-opened after being closed for two years, with old owner Nick handing over to new, ahem, proprietor, Michael, well worth a visit but check opening times.
The WNBC party was on Wednesday at the Book & Record Bar, hosted by Michael Johnson and Alex Paterson, much food and booze was consumed. George Stewart-Lockhart was also in town from Berlin, about to celebrate his 30th birthday, I don't think I know anyone who's done quite so much at such a young age but I'm sure the best is yet to come. Work continues on the Dust & Grooves articles and will into the new year, there's so much info to go through, but anyway – on to this week's upload.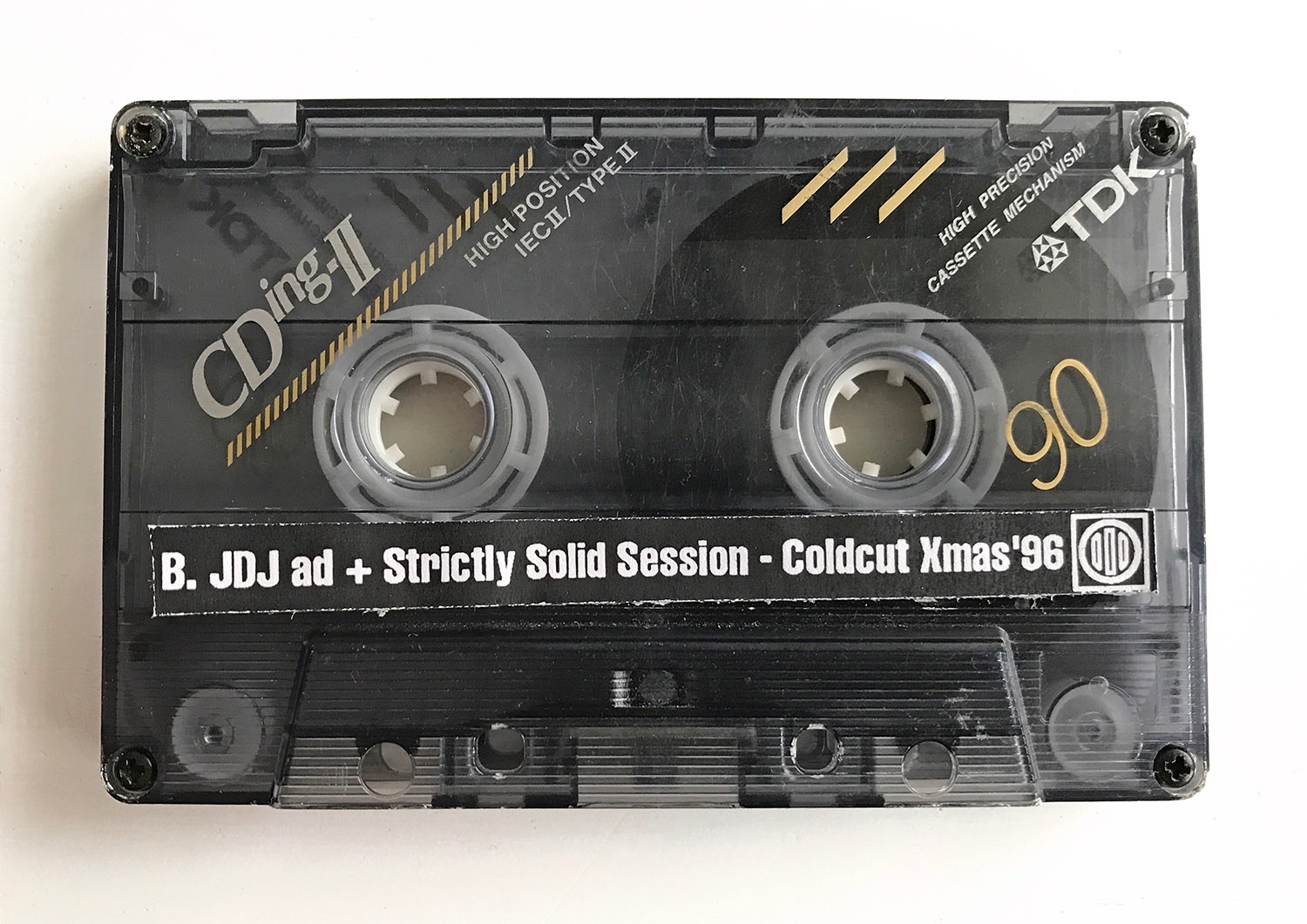 Here's a set labelled only as 'Xmas '96' so I can't give a definitive date but all hell breaks loose for the first ten minutes with two Squarepusher tracks from the Conumber EP and one AFX from the first Auto Hangable Bulb 12". Both were from 1995 so I'm wondering if this was actually over the Xmas period '95/96. The discovery of Tom Jenkinson's initial Spymania 12"s was a revelation and I immediately got him to do the remix of 'Scratch Yer Hed' for the Refried Food compilation then had him as a guest on Solid Steel and at Stealth whilst Ninja Tune tried to sign him before Warp beat us to it. I've no idea what the tune after is, around the 15 minute mark, possibly a DJ Crystl or something from the Smokin' Drum label? The same goes for the tune after, maybe something from Force Inc. or the Pharma label when people like 4E and Air Liquide were doing those downtempo acid tracks?
Elvis Presley is roughly manhandled over another unknown beat next with a vaguely Christmassy 'Steadyfast, Loyal and True', not sure what I was thinking there. And then we squelch into Clear Records' jazz artist, Gregory Fleckner Quintet with a brief snatch of 'Sumes' before Chris Morris' fantasy chart rundown known as 'Michael Alexander St. John's Dance Chart'. I'm pretty sure this wasn't part of the show but added onto the end of the tape, according to Discogs it was part of an On The Hour sketch on a Caroline Quentin comedy compilation.
The JDJ ad on the tape refers to a 30 second advert for Coldcut's Journeys By DJ compilation I taped off the radio, which means it must be a 1995 tape. I'll put that on social media over Xmas, have a good one and I'll be back in 2023 with the first of a two part show recorded in my old flat with Matt Black back in 1994.
Track list:
Squarepusher – Conumber
AFX – Laughable Butane Bob
Squarepusher – Eviserate
Unknown – unknown
Unknown – unknown
Elvis Presley – Steadfast, Loyal and True
Unknown – unknown
DJ Ghetto – Ghetto On The Cut
Gregor Fleckner Quintet – Sumes
Blue Jam – Michael Alexander St. John's Dance Chart