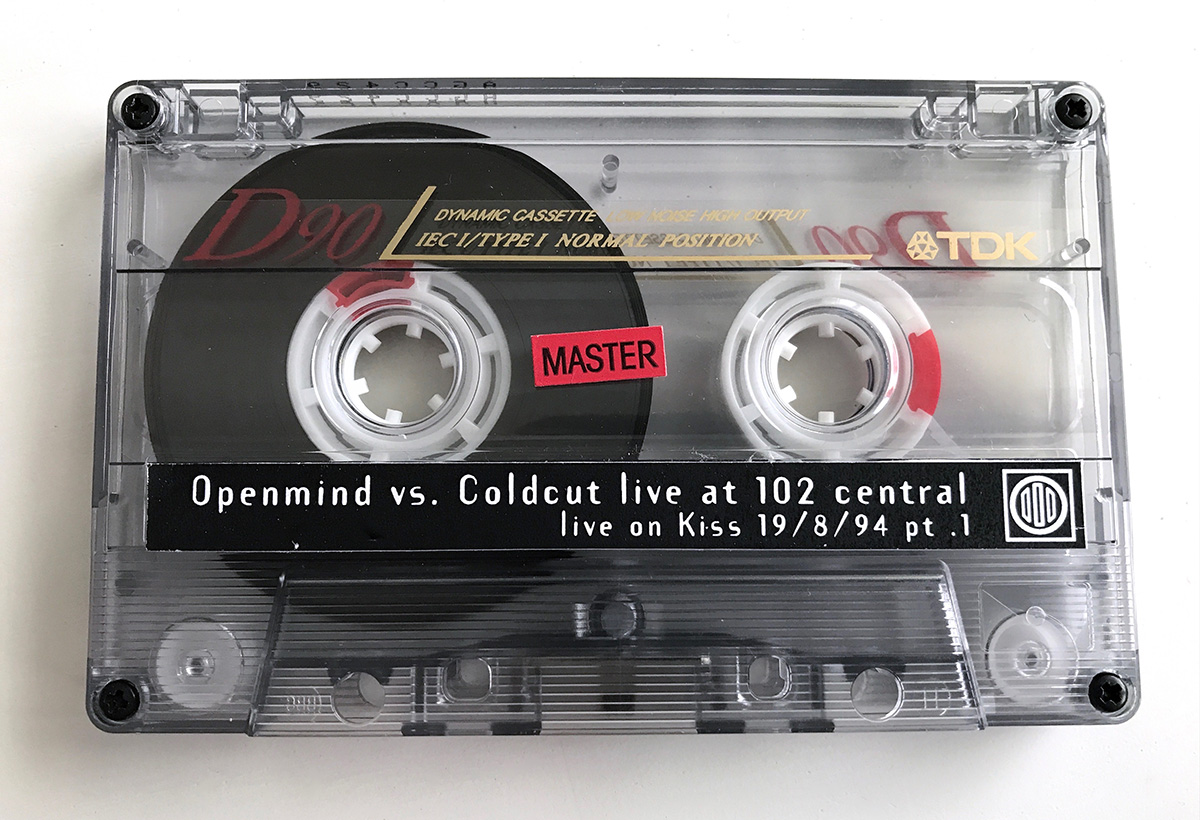 Happy New Year for 2023! I hope it was fun for you all, sorry this is late today, I've been deep in design and gig mode, opening for The Art of Noise two nights in a row at the Jazz Cafe. On with the show I promised in the last entry.
Matt Black rang up one day in the summer of 1994, there was a problem. KISS FM had been booked out, both studios, for the Friday pre-record so he needed somewhere else to record the show that week. I'm not sure if Jon More was around, maybe away DJing with PC? I'm also not sure the exact turn of events aside from KISS wasn't available but could he come over and do the show at mine? Wow, this was a turn up for the books, I'd only been a guest on the show for just over a year, had a handful or more under my belt and was becoming part of the crew due to now providing artwork for the label as well as the odd gig away with Coldcut. OK, come over to East Dulwich and set up in my bedroom and record Solid Steel, why don't you? Holy shit!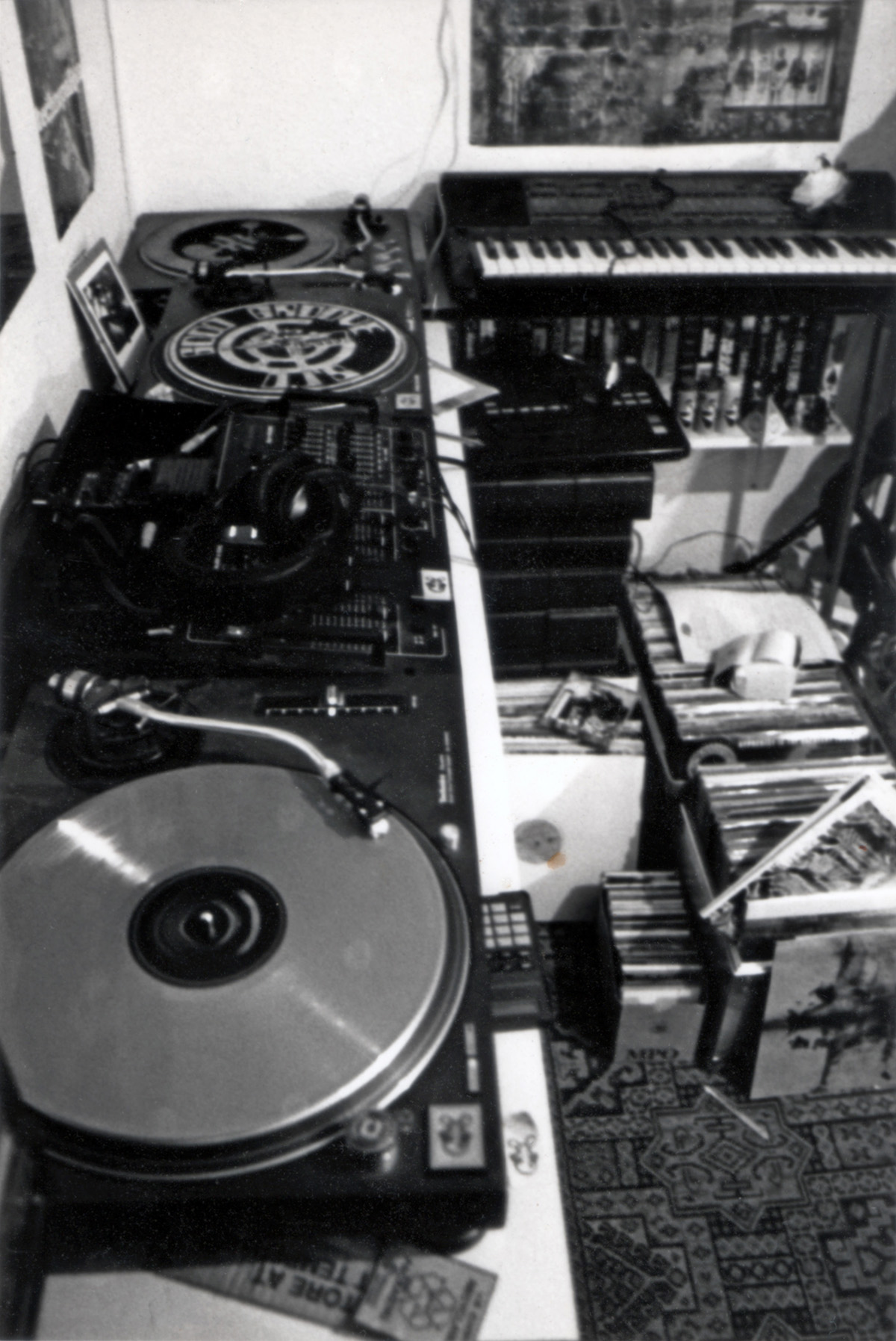 At the time I shared a house with Chantal Passamonte (Mira Calix further down the line), David Vallade and Mario Aguera and we had hosted the original Telepathic Fish party in the three story house above a chemists on Goose Green which we'd dubbed 102 Central. Mario had by now started working with Hex as a computer programmer and David and Chantal were working in Ambient Soho, the record shop in Berwick St, Soho, while I was up the road at Books Etc. on Oxford Street. At the time I had three decks set up in my room, a couple of Technics and something else I forget, not sure what the mixer was but it was the same one on the cover of the Funkjazztical Tricknology compilation. I also had a keyboard, a drum machine, CD player and an odd flanger guitar pedal hooked up – see the blurry photo for reference. Matt came down and we took turns playing into a portable DAT player he'd bought along I think. Can't remember what we used for a mic but it was probably a pair of headphones plugged into the mic. input hence the terrible sound quality. I think the Coldcut jingles were flown in off cassette and this recording was probably taken from the radio broadcast as it has the KISS news jingle added onto the end, probably live by the sound engineer.
Starting off with a then holy trinity of electronica pioneers Autechre, MuZiq and Caustic Windown (Aphex Twin) tells you we're in the golden age of Artificial Intelligence era electronica. AI only took another 30 years to become part of everyday life. None of the tracks here have aged badly either, I still play the Aphex track out sometimes too. Following 'On The Romance Tip' (where did that title originate? It's not on the record anywhere) there's an elongated trance-ish acid thing that makes me think it might be European. Shazam gives me nothing and the ears don't recognise it at all – anyone? Starts about 11 mins in and bubbles away for another four minutes until Global Communication's 'Sublime Creation' races in on 45 instead of 33, sounding not far off Acen's 'Trip To The Moon' in places.
Cut for an ad break and more Glob Comm with the opening track to their classic 76'14 album, '4'02' with the opening of The Orb's remix of Material's 'Praying Mantra' slurped over, a common DJ tool of mine. Another was the phasing, filtered and panning intro to Mergener / Weisser's 'Sunbeam' from a New Age Music comp on Klaus Schulze's Innovative Communication label that Mixmaster Morris had hipped me to, I think I found this in Beanos or somewhere along Berwick St. on my lunch break one day in Soho. This can be heard bridging '4'02' and Kraftwerk's 'The Man Machine' classic, which needs no introduction. Out of the other Fab Four into Coldcut's own 'Eine Kleine Hed Musik' – fresh on vinyl from the extra disc that accompanied the Ninja Tune vinyl version of the album and first heard opening the original Coldcut meets The Orb radio show on New Year's Eve 1991/92. Which brings us full circle, 31 years later… exit Matt Black stating, 'Openmind in the house, or rather I'm in Openmind's house!'
Track list:
Autechre – Lost
MuZiq – Nettles & Pralines
Caustic Window – On The Romance Tip
Unknown – unknown
Global Communication – Sublime Creation (on 45)
Global Communication – 4'02
Kraftwerk – The Man Machine
Coldcut – Eine Kleine Hed Musik