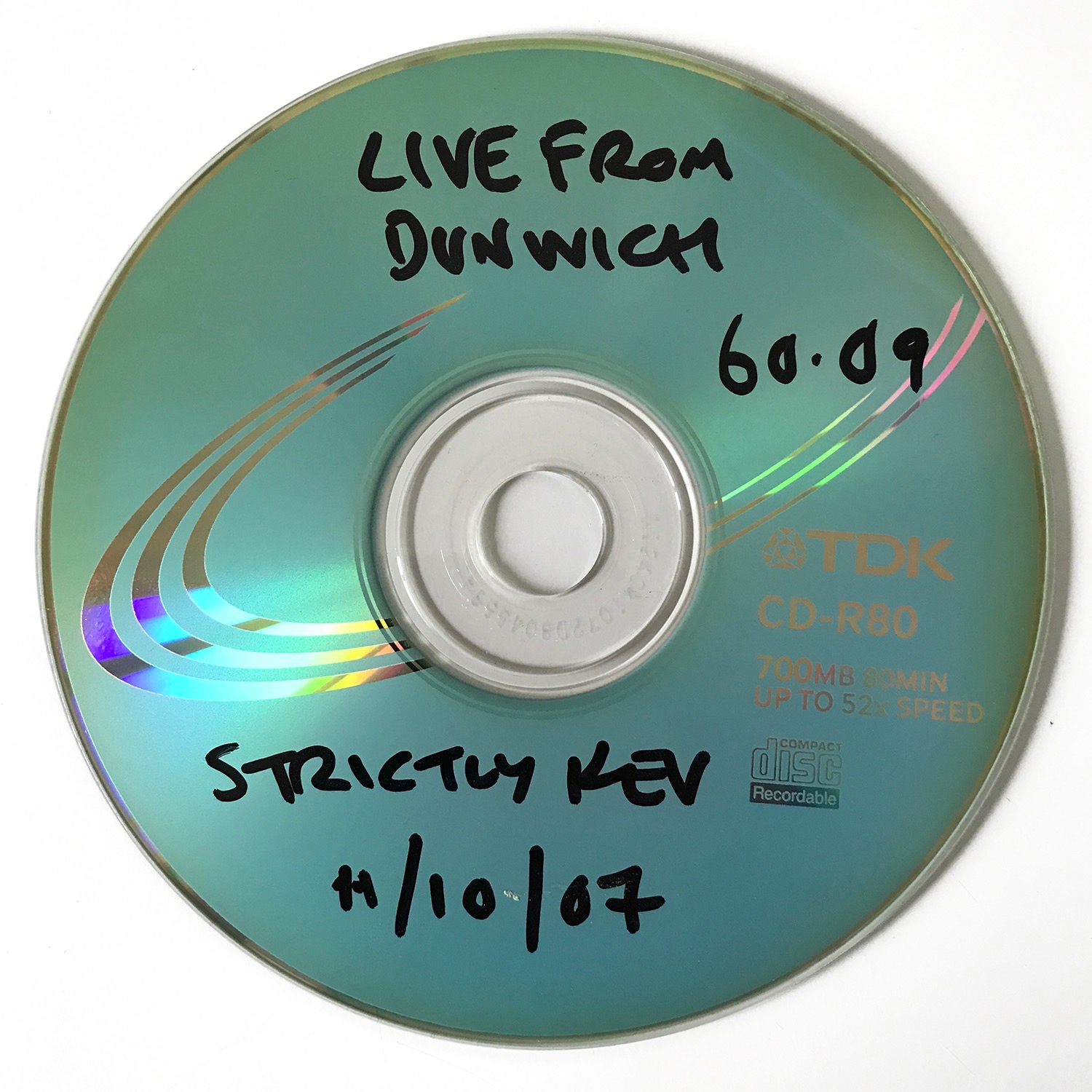 A mixed bag of then current music and what an embarrassment of riches! From contemporary psyche rock instrumental beats to post electroclash tracks and downtempo sample-fests.
The Giallos Flame first came to my attention via the DC Recordings 12" that the opening track was taken from, of which the mix title is a play on as this set was recorded when I was living in Dulwich. I know the Cdr says 'Dunwich' but that's wrong and so is the date, being when it was recorded, not broadcast. Following swiftly is an early Heliocentrics track from a Jazzman 45 followed my another track from the aforementioned Live From Dunwich 12". DC Recordings were on a ridiculously good run at this point with releases from The Emperor Machine, Padded Cell, Tom Tyler, The Oscillation and White Line Circus, all wrapped in gorgeous La Boca artwork and the Padded Cell remix of Future Loop Foundation's 'The Sea & The Sky' is still a banger to this day and cheap as chips.
Keeping the tempo high there's the Ted Nugget-sampling 'Shake A Fist' from Hot Chip, an amazing Optimo remix of Prinzhorn Dance School's 'Space Invader' (check the 303 breakdown) and LCD's 'Sound of Silver' which I seemed to think sounded like Frankie's 'Relax' in the middle, hence the acappella overdub. Racing through 'other mystery beats' as Matt Black always used to call the ones he couldn't recall – Mr 76ix was a Skam records artist who sounds like he's sampling a snatch of the Ronnie Corbett 'Sorry' theme tune in there. The Shocking Pinks remixed by the Glimmers I barely recall but would have been sent on promo, mining that Liquid Liquid percussion sound repopularised by the DFA crew. More spy jazz Giallos Flame with a mystery preacher sermon too low in the mix and then Indoor Life's 'Archeology' which must have been on a compilation as it's an old 80s track on Celluloid. A quick look on Discogs confirms that it was on a B-Music comp titled after the track itself, dig and dig and dig indeed.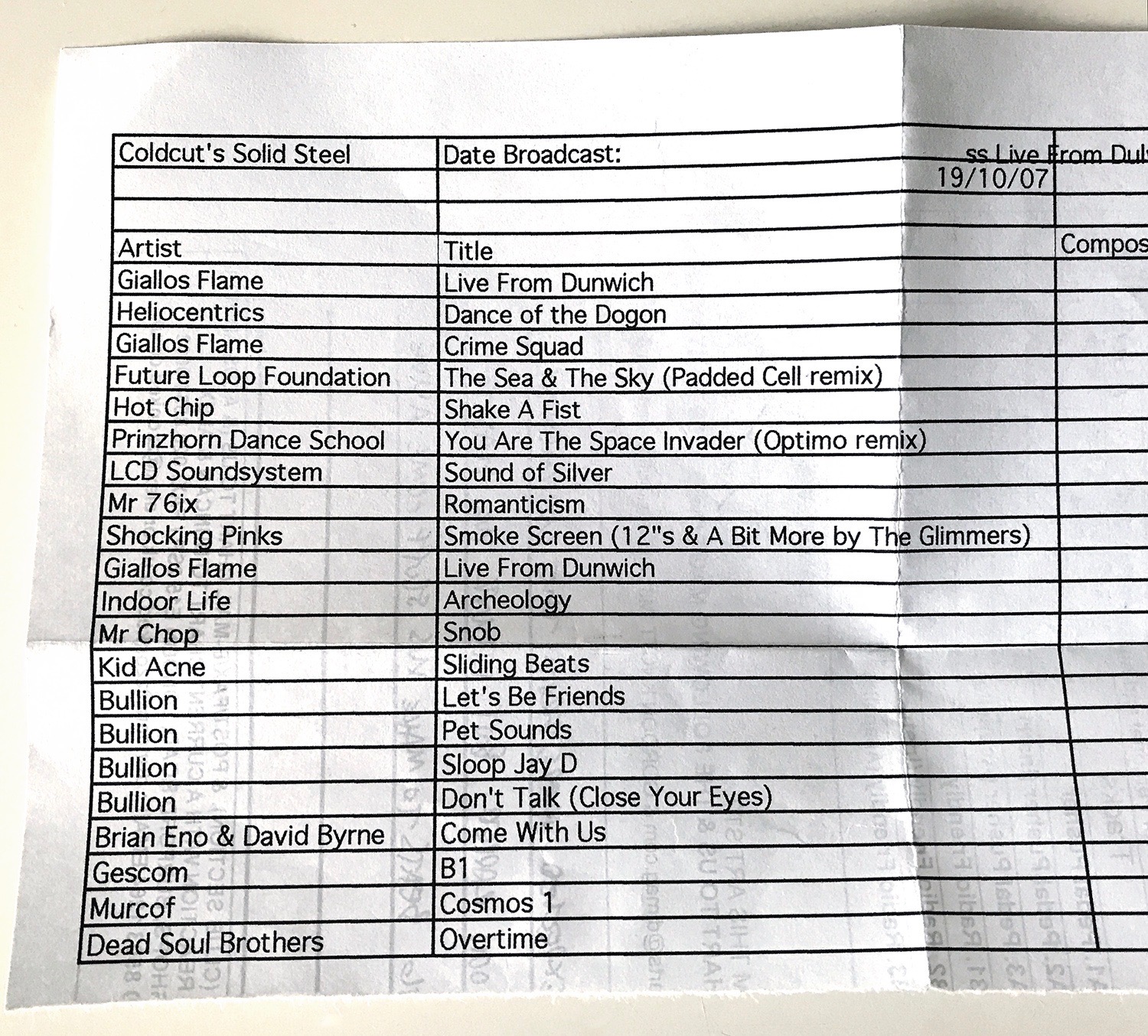 The excellent but sadly none too prolific Mr Chop (these days simply known as Chop) is up next from his Jazz & Milk release, 'Sounds From The Cave', he's go on to get picked up by Now Again Records for a few releases and has also since had a 10" out on the coveted Drumetrics series. I don't recall the Kid Acne 'Sliding Beats' either but what a banging beat, seems it was the instrumental of his 'Sliding Doors' release on Lex, co-written with Req One, mixed by Ross Orton and mastered by Rob Gordon no less! Next is a brace of Bullion's breakthrough mash up of Jay D/Dilla beats and Beach Boys samples. So good I included four in a row, mainly because they were quite short too, he turns an unlikely alliance into something quite magic and forms a third 'artist' in the process which is what the best mash ups are all about. I'd been contemplating a Beach Boys sample-fest of my own for some years but he took it further than I ever could, I must revisit that record soon, it still sounds fresh.
For the last section we go deeper into sample territory, starting with what, for my money, is one of the first sample records in pop – Eno and Byrne's My Life In The Bush of Ghosts and the spooky 'Come With Us'. I could rhapsodise about this album until the cows come home as it's one of my favourite records ever but Gescom throw any reverence away, shoving the whole thing into some sample chopping and rearranging programme that expertly reconfigures it from a meandering ramble into an uptempo electro stomp. Add in Murcof's darkly creeping ambience over the end and you have something quite special as the track contorts and breaks down under its own complexity. 'Cosmos 1' is from the fourth of his five album debut run with the Leaf label and what a fine group of albums. This melts into the final track from the sole release by The Dead Soul Brothers, a record I don't recall ever having but which may have come to me digitally by this point as it's 2007 and methods of distribution were changing fast every year in the music business and they got hold of the digital realm.
Track list:
The Giallos Flame – Live From Dunwich
Heliocentrics – Dance of the Dogon
The Giallos Flame – Crime Squad
Future Loop Foundation – The Sea & The Sky (Padded Cell remix)
Hot Chip – Shake A Fist
Prinzhorn Dance School – You Are The Space Invader (Optimo remix)
LCD Soundsystem – Sound of Silver
Mr 76ix – Romanticism
Shocking Pinks – Smoke Screen (12″s & A Bit More by The Glimmers)
The Giallos Flame – Live From Dunwich
Indoor Life – Archeology
Mr Chop – Snob
Kid Acne – Sliding Beats (instrumental)
Bullion – Let's Be Friends
Bullion – Pet Sounds
Bullion – Sloop Jay D
Bullion – Don't Talk (Close Your Eyes)
Brian Eno & David Byrne – Come With Us
Gescom – B1
Murcof – Cosmos 1
Dead Soul Brothers – Overtime