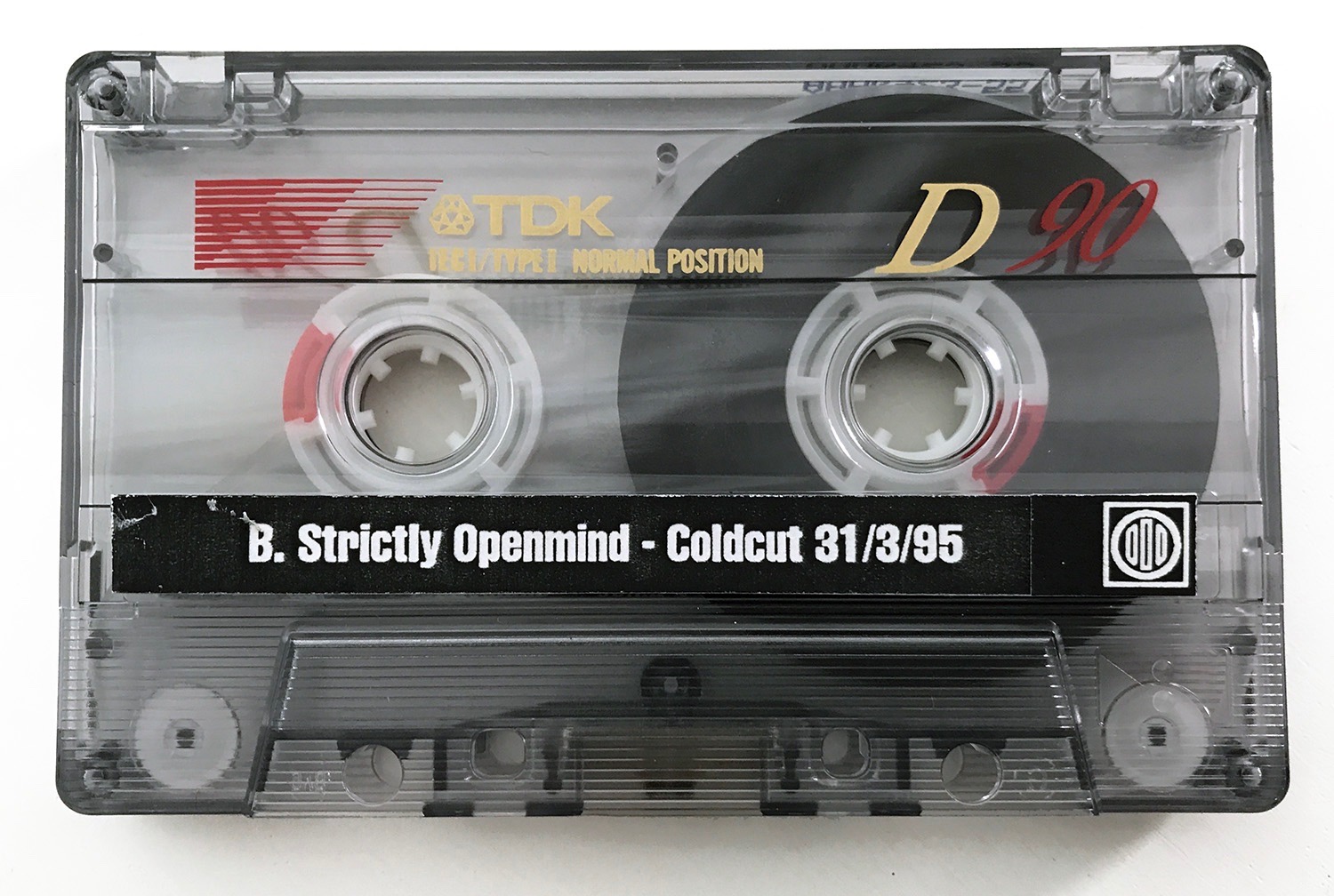 An early one from 1995 where I'm still referred to as 'Telepathic Kev' by Jon but am now fully ensconced in the Solid Steel family, recording most weeks along with Matt, Jon and PC or a combination of, depending who was available. This 45 minute mix runs the gamut of tasty electronica, trip hop, drum n bass (on 33 and 45) and acid electro.
Starting off with the modular bleeps of Death's 'The High Cost of Living' (how relevant), a totally silver 12" with only a sticker to tell you the contents. This was Thomas P. Heckmann's only release under this name, quite a full on start to the show but always nice to lead off with something weird. Barry Adamson's excellent 'Dead Heat' follows at half time, I've never understood why he doesn't get more props, his solo records in the 90s and through into the 21st century are perfectly observed slices of soundtrack, to the point of pastiche at times but still, I know guys who tried to get those kinds of feels for years and couldn't do as well as he. Stepping back up to double time is Photek's 'The Water Margin' – then a new release – which then gets switched down from 45 to 33 rpm to play as a laidback 120 bpm breakbeat roller, a trick we'd repeat on the Journey's By DJ mix later that year.
Zoot Woman were one of the first releases on the fledgling Wall of Sound label at the time and an early alias of Stuart Price's, 'A Time That's Closer' is a hidden beauty of a track from their debut Sweet To The Wind EP that I still love to this day. If someone were to get me to compile a collection of hidden gems from the trip hop era, this would be one of them. Jon sounds like he needs the soothing tones from the track and I sometimes think I tested his patience with some of my more out there selections. J Saul Kane's remix of the Sabres' 'Tow Truck' thunders in after what would have been an ad break, few people could do beats as heavy as he could, wish he'd put some more music out. The Rockers Hi-Fi track seems to have beats from Audio Two's 'Top Billin' over it or is that me mixing? There's also a snatch of a jungle track from Section 47 that doesn't fully play but I looked it up and now it goes for a fair bit – long gone from my collection though.
Gescom's amazing 'Mag' appears, probably for the first time, this would also crop up on the JDJ mix later and was titled because of an Ultra Magnetic MCs sample that runs throughout. Mixed out before the drop of that oh so hard to judge breakdown and into Tranquility Bass' classic, 'Cantamilla', a huge club tune at the time. Jon mentions 'the blue label 12"' as there were two doing the rounds at the time, the other one with a gold label, with different tracks and mixes on it. A change of tempo into Wagon Christ's 'Scrapes' from his Throbbing Pouch album on Rising High, still one of his best in a huge discography for my money. This was were I felt he started to find his voice and it's an album that works from start to finish. I love the little voices he brings in then reverses, a great late night album which I always think of as a trip hop record but this track disproves. Some killer acid from Link in the form of 'Antacid' and then the other side of the Gescom 12" with 'Snakwitch' which sounds like they're cutting up some sort of film soundtrack over electro beats. I designed the labels for said 12" and the sandwich toaster on one side is my old one from the 90's techno trivia fans.
That's all for this session, next week there's the A side of this tape with sections from two previous weeks' shows dated 17th and 24th March 1995. I'm off to Ramsgate tonight to play at the Music Hall and premier my new Quadraphon show, no idea what will happen, it could be a breath of fresh air, it could be a disastrous folly. All I know is that this is where my head is at in terms of DJing right now and I'm so far out of my comfort zone that it's got to be a good thing.
Track list:
Death – The High Cost of Living
Barry Adamson – Dead Heat
Photek – The Water Margin (on 33 rpm)
Zoot Woman – A Time That's Closer
Sabres of Paradise – Tow Truck (J Saul Kane remix)
Rockers Hi-Fi – More & More (Heavy Persuasion Mix)
Section 47 – Drought
Gescom – Mag
Tranquility Bass – Cantamilla
Wagon Christ – Scrapes
Link – Antacid
Gescom – Snakwitch