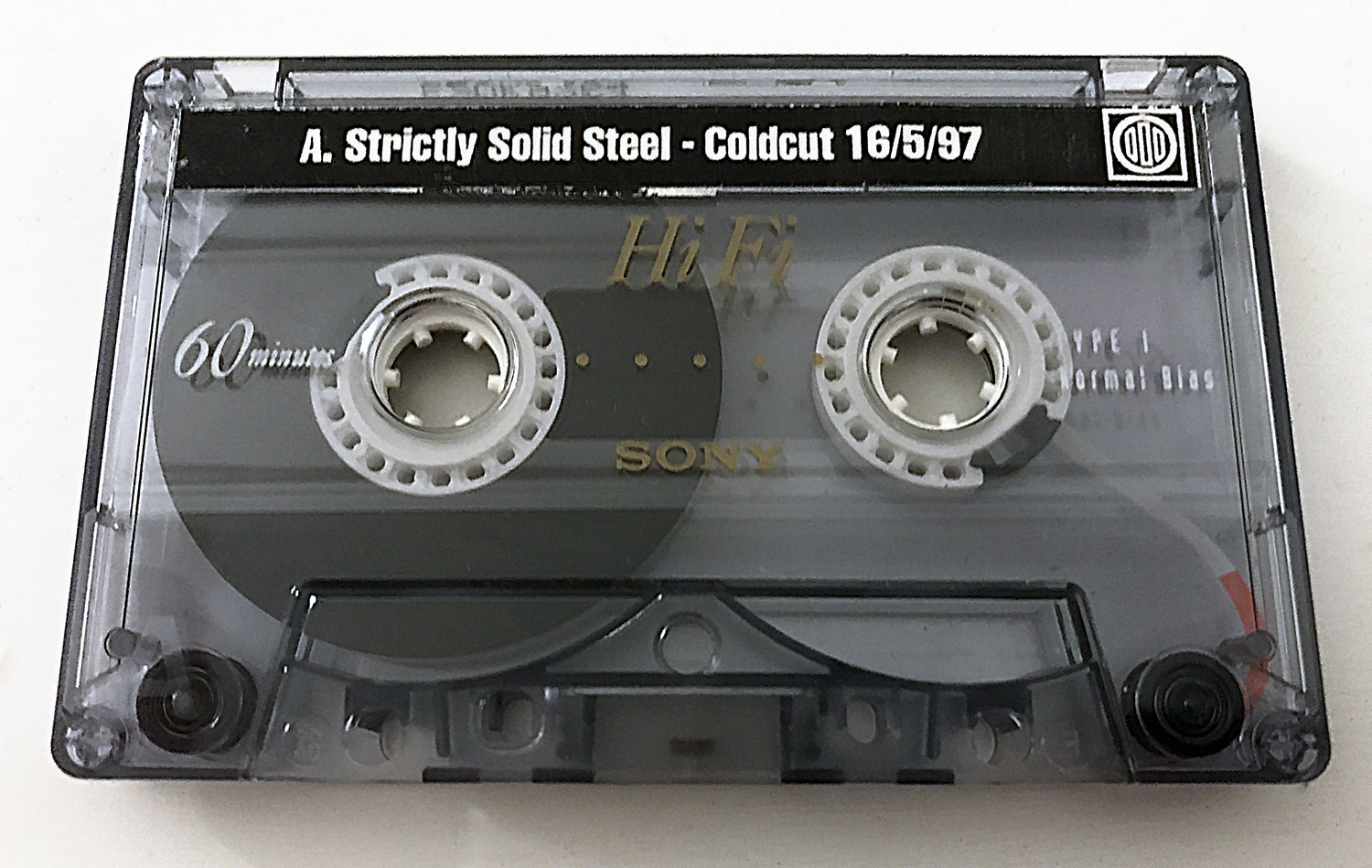 The first of two parts from a mid 1997 Solid Steel tape which bounces from uptempo drum 'n' bass-ish techno to turntablism and jazz. Kicking off with Bedouin Ascent's 'Cat Can Blow!' from the Law & Auder compilation Avantgardism III, I was wrong-footed into thinking this was Squarepusher at first. Kingsuk Biswas (Bedouin Ascent's real name) contributed to many of the Law & Auder compilations – usually a title ending in 'ism' – and it seemed that quite a few of the Rising High roster found a home at the label when the techno label folded, including Luke Vibert who released a full album with BJ Cole in 2000. The identity of the two tracks following has been lost in time, I can't place them at all and Shazam has nothing – as ever, if you recognise them, please leave a comment.
UPDATE!: Thanks to Edward ZentaurusMan for filling in some of the tracklist gaps

We take a drop in tempo to half time with DJ Ruthless' 'Flat Chested' scratch-athon from the Return of the DJ vol.2 compilation next and I was very much in thrall of the west coast turntablist scene at this point, finding it an incredibly exciting progression in the art. In hindsight it hasn't aged too well and although skilled on the decks, few of the DJs broke out of the standard mould and had the production skills to transfer them well to records. One DJ who definitely did though was Kid Koala, not that he was ever fully in the standard mould of your Skratch Piklz or Xecutioners, he always had one foot firmly in his own camp. To see how far he's come today is humbling, scoring film music, putting on live shows with stories performed by puppeteers or conducting 50 turntable orchestras – his scope and vision is breathtaking. Here's the record that started it all with Ninja Tune and the story has been told often – most prominently in the 20 Years of Beats & Pieces book – of the fateful car journey on tour in Canada. Eric popped his demo tape into the stereo while PC, Jon More, Funki Porcini and I were riding somewhere and this was the track that all ears pricked up to. From then on, we knew he was on the same page as us and duly signed him to the label and the rest is history.
Another piece of Ninja Tune history is PC's classic remix of The Herbaliser's 'Mr Chombee Has The Flaw' – completely rebuilt and renamed, 'Mrs Chombee Takes The Plunge' with little of the original identifiable. It shows how the art of the remix can translate a song into something completely new and we were all stunned hearing it for the first time. 'The Art of Prophecy' was the album that As One's 'The Huster' first appeared on via the short-lived Shield records, a sub label of Substance Records, and Kirk Degiorgio does as only he can do with a dirty slice of techno jazz (added to by the KISS FM station compression and tape fuzz). Funki Porcini's cheeky cut up of old war film dialogue, 'Pete Pete Pete', from the Let's See What Carmen Can Do EP plays over the top and the title was a nod to Ninja Tune label head Peter Quicke (also of Mr Quicke cuts the cheese fame).
This tape brings back fond memories of frantic days spent designing, touring, rushing to and from the Ninja Tune office in Canary Wharf and a general sense of excitement over where the label was going next after the huge swell in popularity it had gained in the two years previously. Great music was pouring out of everywhere it seemed and we were gearing up for the release of Coldcut's 'Let Us Play' album that summer which would be another Ninja milestone that would take Matt and Jon around the world, and some of us with them for the next two years.
Part 2 next week
Track list:
Margoo – Intro
Bedouin Ascent – 'Cat Can Blow!
Quant – Intestinal Sound
The Bowling Green – Caucasian Flotsam
DJ Ruthless – Flat Chested
Kid Koala – Tricks 'N' Tricks
The Herbaliser – Mrs Chombee Takes The Plunge
As One – The Hustler
Funki Porcini – Pete Pete Pete