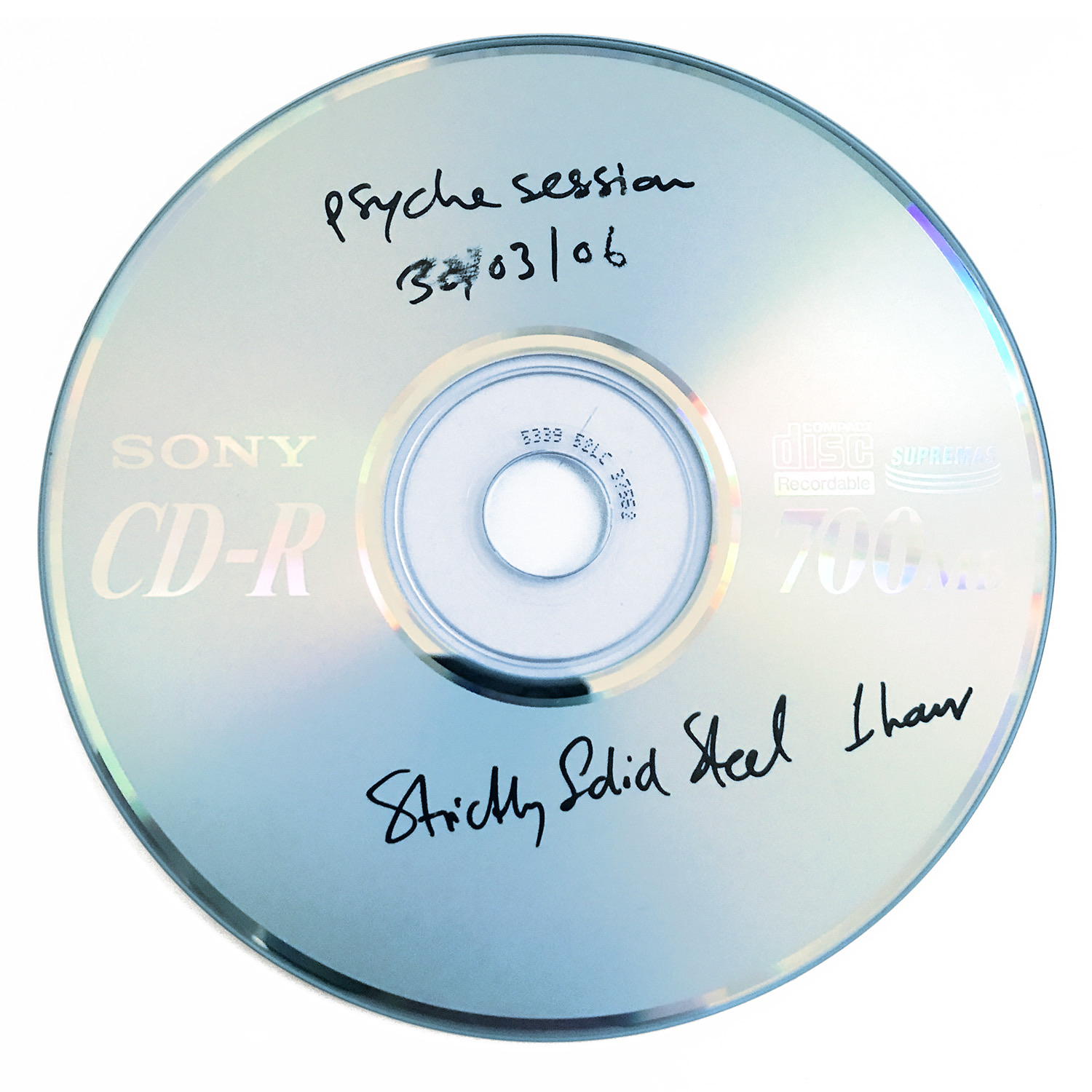 Recorded on the 30th March but broadcast three weeks later on the 21st April, 2006 – this set of vaguely psychedelic, drum-heavy tracks was another dip of the toe into the melting pot of funky freakout gear I was getting more and more into by the mid 00's. Some pretty pedestrian stuff here to be honest but most of it still holds up. Some of the mixes come fast and furious, barely holding in there as tempos and swing are all over the place but that's the beauty of it isn't it? This was all done from vinyl but I would shortly switch to Serato after a disastrous trip to Dublin where my record box didn't take the same plane and I had to raid the promoter's record collection to piece together a set on the spot. I'd just been given a demo of Serato at Mr Trick's house and this was all I needed to push me over to the digital side.
We all know the Beatles, The Osmonds' number is a great track from their Crazy Horses album and I have a soft spot for them as there are some killer tunes in their catalogue alongside the schmaltz. That Rastas track has the most insane drum solo, I think I found that on one of the North American tours and the cover has definitely been nibbled by a few mice in its time. DJ Food fans might recognise elements from Lalo Schifrin's 'Life Insurance' but I'll say no more, the Vanilla Fudge was also plundered later on… Andy Votel's mix of Schwab's 'DJs In A Row' was a killer DJ party tool that DK and I used to cane in the latter half of the 00's in our 4-deck sets, especially the latter half with it's multi-tempo breaks, I even cut a nice video to it at one point which I should dig out some time. DK and I must have edited hundreds of custom videos to tracks over the years between 2008 and 2012 when we regularly toured our AV sets, maybe once these tapes are done I should dig them out and upload them for all.
'Freakout' by the Electric Flag with John Simon (presumably controlling the electronics and mix) does exactly what it says on the tin, a 10 minute utter craze-fest with panning effects and samples flying everywhere. In my head there's a definition of psychedelic music and this is one of the benchmarks of the 60s era – few are as insane and relentless as this monster vamp. It's the last track on the You Are What You Eat OST if you need a copy. Sweet Smoke's 'Silly Sally' is another huge, phased drum solo from the latter half of their side-long, Conny Plank-produced debut LP. The Sub's 'Ma-Mari-Huana' is a tune from the German band's only single and The Mind Expanders' album is a must for a pot shot at all things psych in 1967 even if it does sound like a bit of a cash in.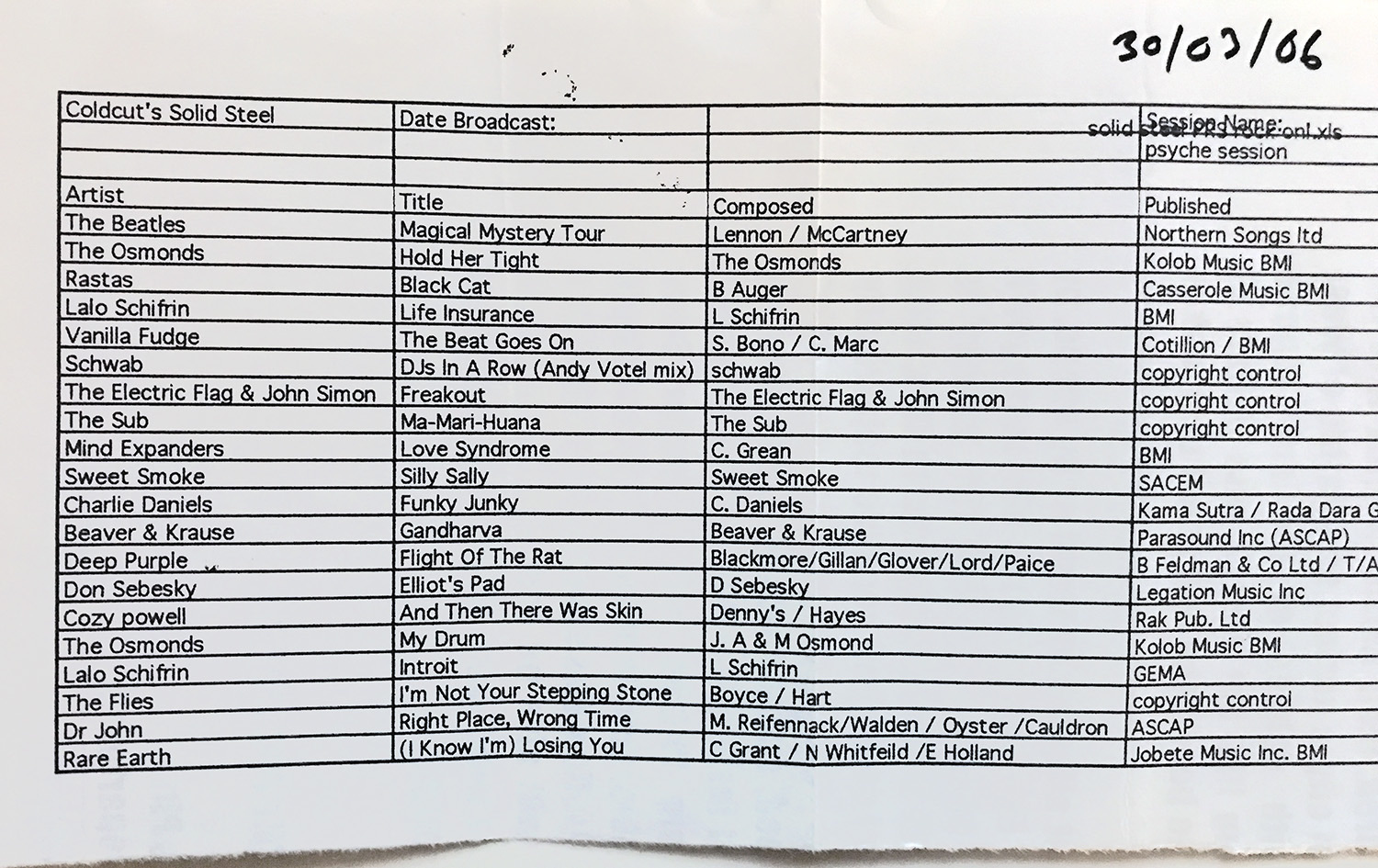 Charlie Daniels' 'Funky Junky' was something I found in a Greenwich basement and bought on spec, turns out it's a funky rock tune with a killer breakdown – nice. Beaver & Krause have another nice breakdown in the middle of their country-rock tune 'Gandharva' (with a bit of a Ken Nordine voice-over from the intro to the Jackson's 'Triumph' no less). Rock doesn't get much funkier than Deep Purple's 'Flight Of The Rat' with that wah-wah guitar in the mix, there must be a re-edit of this somewhere? We take a slight pause from the percussion mayhem with a snatch of The Hellers before Don Sebesky's fuzz jazz cut 'Elliot's Pad' from The People Next Door OST. Elliot's Pad seems to include sitars, flutes and drum breaks too and then we're back into big beat breakdowns from Cozy Powell, The Osmonds (again – showcasing 'My Drum') and a second pass for Lalo Schifrin from his Rock Requiem LP which opens like Stereolab and then goes all Jesus Christ Superstar on us, sounding more David Axelrod than David Axelrod in places.
The Flies' cover of (I'm Not Your) Steppin' Stone is just the right side of nasty and Dr John's evergreen 'Right Place, Wrong Time' is always welcome. Rare Earth's bass line to '(I Know I'm) Losing You' mixes remarkably well out of it too. I've always wanted to do something with that but never got it to work in a track, probably too late now as the sample boat has long sailed. Over the extended breakdown you'll hear Frank Zappa, Alvin Lucier and the 'Persons are gifts…' monologue from Rosko that I would later feature on the Ninja Tune 1000 Masks mix.
Tracklist:
MAGICAL MYSTERY TOUR – THE BEATLES
HOLD HER TIGHT – THE OSMONDS
BLACK CAT – RASTAS
LIFE INSURANCE – LALO SCHIFRIN
THE BEAT GOES ON – VANILLA FUDGE
DJS IN A ROW (ANDY VOTEL MIX) – SCHWAB
FREAKOUT – THE ELECTRIC FLAG & JOHN SIMON
SILLY SALLY – SWEET SMOKE
MA-MARI-HUANA – THE SUB
LOVE SYNDROME – MIND EXPANDERS
FUNKY JUNKY – CHARLIE DANIELS
GANDHARVA – BEAVER & KRAUSE
FLIGHT OF THE RAT – DEEP PURPLE
ELLIOT'S PAD – DON SEBESKY
AND THEN THERE WAS SKIN – COZY POWELL
MY DRUM – THE OSMONDS
INTROIT – LALO SCHIFRIN
(I'M NOT YOUR) STEPPIN' STONE – THE FLIES
RIGHT PLACE, WRONG TIME – DR JOHN
(I KNOW I'M) LOSING YOU – RARE EARTH