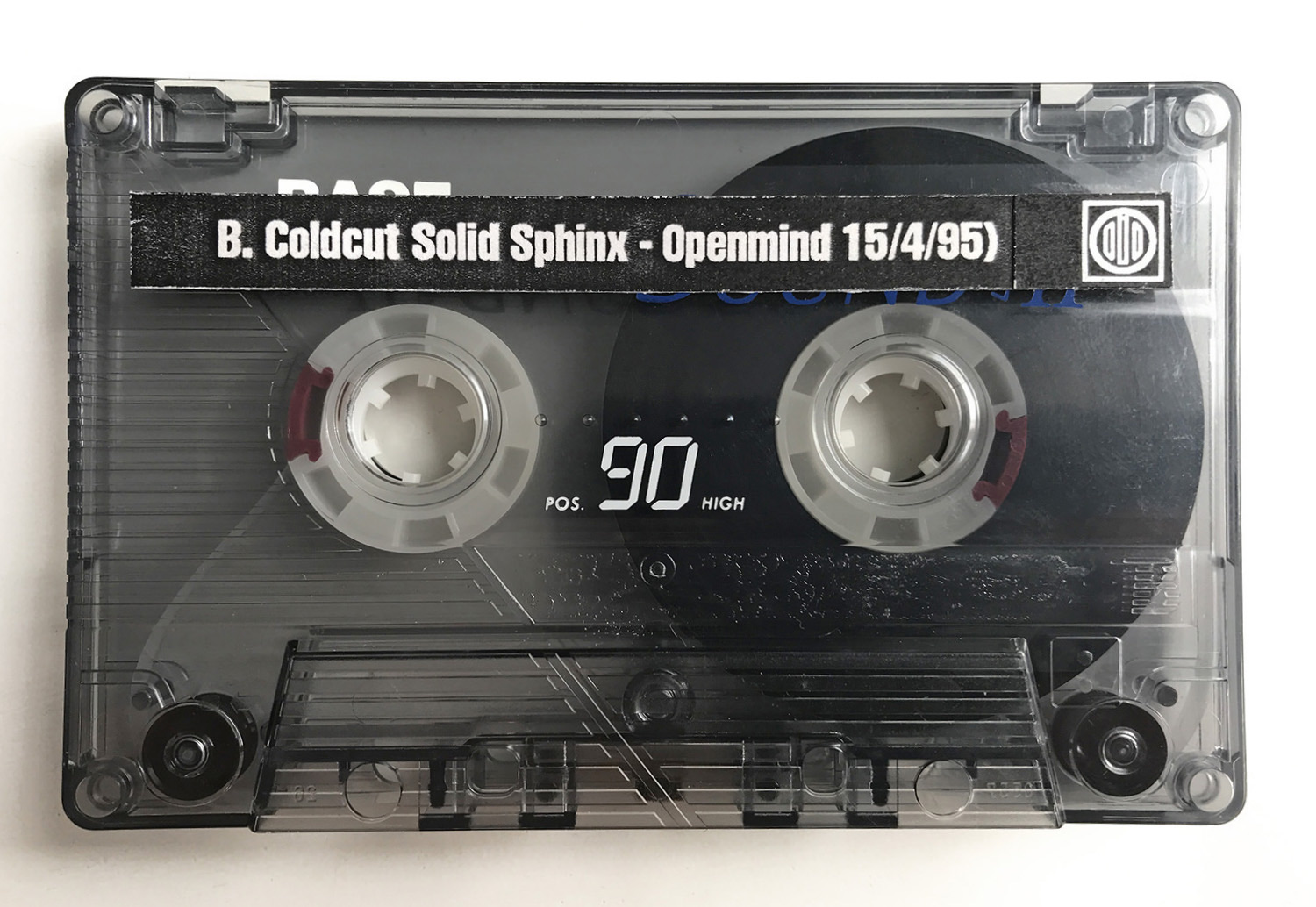 According to the tape box, this was a Coldcut Solid Sphinx, that being a 2 hr set with no ad breaks or chat from us. Given that I have most of it on tape that bears out the description but of course there are no track lists on the mic and no indication as to who is playing when. I could spot my section though and, from the sound of the rest of the tapes, Matt, Jon and PC were also present. Not enough mention is given to the insertion of jingles, spoken word and fx over the top of the DJ mixes and this was something that really made the radio shows special. Matt, Jon and Patrick were expert at this and would frequently have something ready for a break or pause in the music, all flown in live as we DJed.
All the shows were done in one take back then, although mostly pre-records on the Friday evening before they were aired Saturday night/Sunday morning. We didn't have the facilities to do hard disc edits back then – well, KISS did but we didn't like we do now – and also there wasn't time. So if things are a little rough round the edges occasionally that's because it's all live. A quick run through of the tracks; Sam Sever from his Raiders of the Lost Art 12" licensed to MoWax kicks things off, I had to transplant the start of it from another source as the tape cut in after it had started. I see the 'record company is the pimp, the artist is the ho…' analogy attributed to Ice Cube a lot on the web but he was evidently cribbing from whatever source Sam sampled this from. DJ Shadow's debut release, 'Entropy' had either had a repress after his first releases on MoWax due to high demand or someone had booted it, either way, copies started floating around again in 1995 and Discogs suggests it was the latter.
Another semi-official /semi-boot release was Think Tank, sporting a Tommy Boy label but on Hakattak Records. Both tracks appeared on the Information Society's LP 'Hack' the same year so was this a promo idea from Tommy Boy because of the huge James Brown and Kraftwerk samples? The Jungle Brothers' Ultimatum megamix came with the free 12" available with copies of the UK release of their debut LP, 'Straight Out The Jungle' and Ultimatum were actually the Stereo MCs when DJ Cesare was part of the crew. More trip hop, DJ Krush with 'Ruff-Neck Jam' from his debut LP and then into DJ Crystl's classic 'Let It Roll' on the wrong speed for a quick switch up in tempo.
This stuff, along with early Photek and Droppin' Science 12"s, were some of the first D'n'B I bought when I was working at Ambient Soho, jungle had largely passed me by but this newer, sleeker, more intricate form was working its way into the record box. The next track with 'Gunshots… Firing' initially drew a blank but Anon in the comments identified it as something from Luke Vibert's Plug series, '3:41' from Plug 1 – Visible Crater Funk. Link's 'Amazon Amenity' Chameleon remix stands out a mile, such a tune, utter classic, and Danny Breaks' 'Step Off' fits right in, funny that they collaborated later on too. Funki Porcini's 'Wicked, Cruel, Nasty & Bad' rounds things off, from his Hed Phone Sex debut LP, I'd forgotten this, must dig that album out again. Speaking of Funki (as I was just the other day), he's making high quality prints of my Fast Asleep album cover again very soon so if you fancy hanging that on your wall then check his website in about a month.
Track list:
Sam Sever & The Raiders of the Lost Art – Words of Wisdom (They Don't Know)
DJ Shadow feat Gift of Gab – Count & Estimate
Think Tank – A Knife & A Fork (The Massively Parallel Mix)
Jungle Brothers – Ultimatum Ultramix
DJ Krush – Ruff-Neck Jam
DJ Crystl – Let It Roll
Plug – 3:41
Link – Amazon Amenity (Chameleon remix)
Danny Breaks – Step Off
Funki Porcini – Wicked, Cruel, Nasty & Bad