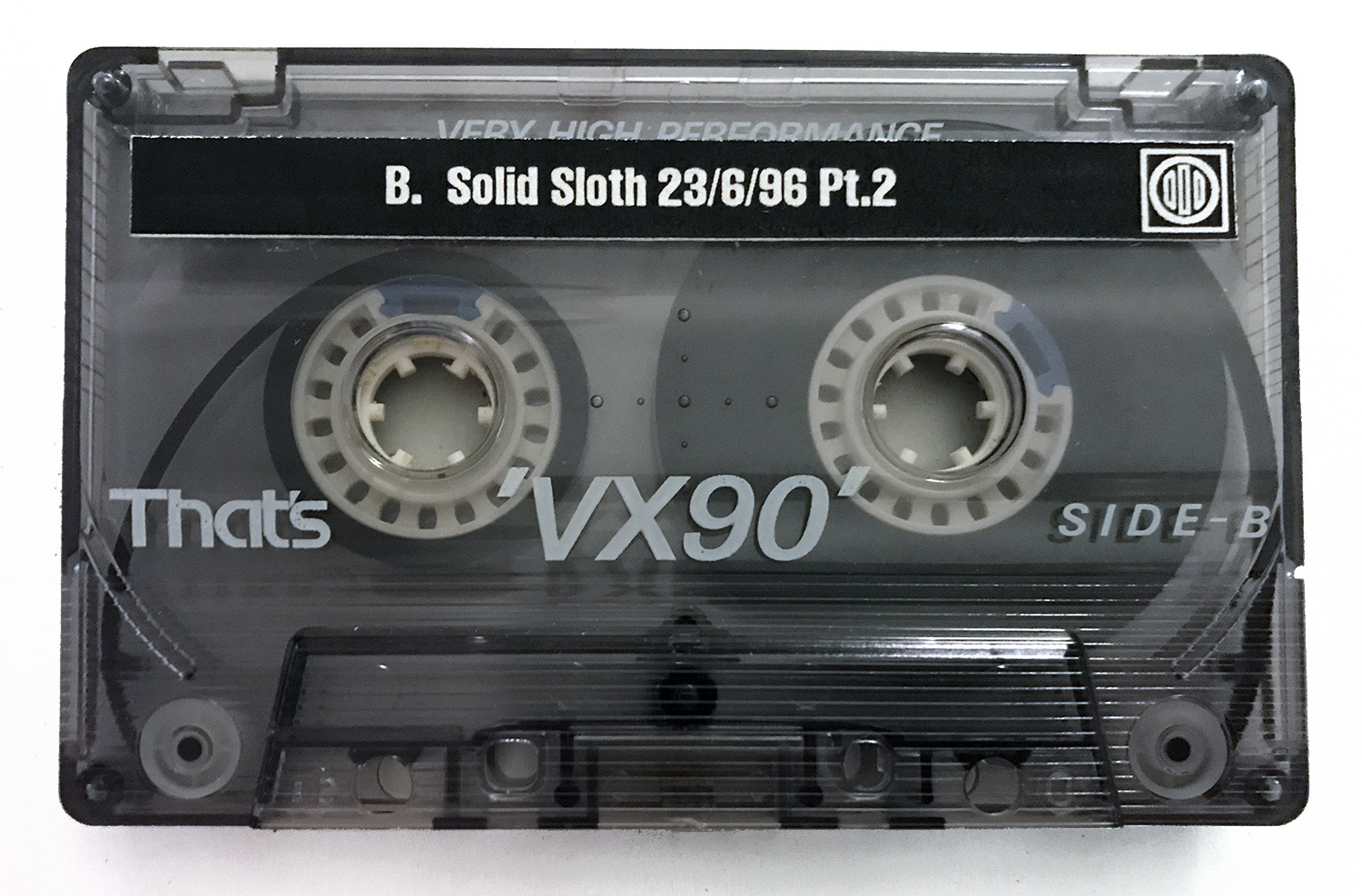 These track lists get harder and harder the further we go back, Discogs and Shazam are called on more and more as the memory gives up and the gaps in the record collection once filled with these tunes appear empty. Back in mid-'96 PC did a show he christened Solid Wood (available on the 20 years of Solid Steel DVD I believe) and a week later we christened this one 'Solid Sloth' – not sure exactly why. After a custom Solid Steel intro I'd forgotten that appears to be made from our Journeys By DJ scratches and a DJ Food off-cut we jump into an amazing sound collage of which I have no recall at all. The original DAT this was taken from was seriously messed up and I had to cut all manner of glitches out, not that it's that apparent in the tornado of sound we're dropped into. The old Decca LP with the 'This Is A Journey Into Sound' sample appears over the top before we're into Spacer's 'Contrazoom'. This was the first time I remember hearing Alison Goldfrapp's amazing vocals, coming on like Shirley Bassey over a Bond theme mixed with drum n bass, incredible. This mix is littered with a league of producers putting their take on DnB which had, by mid '96, well and truly made its mark on the electronic music landscape outside of its origins.
Luke Vibert, an early adopter with several Plug EPs under his belt, takes the easy vocals and horns of the Mike Flowers Pops and blends them into a smooth cheese before Amon Tobin carves up the terrain with the frantic 'Cruzer' in his original Cujo guise shortly before signing to Ninja Tune under his own name. DJ Shadow's hard to find Legitimate Mix of Zimbabwe Legit's 'Doin' Damage' was finally widely available via the Mo Wax Headz compilation so this got an airing along with a suitably downtempo War cut, 'Four Cornered Room' which I later found out used to get airplay from Alex Paterson at Land of Oz. Mo Wax was truly in its golden age at this point, every release a winner with multiple remixes across singles from some of the best names covering all genres. DJ Krush's collaboration with CL Smooth gets a going over by Attica Blues and then I mix in something sampling his and Shadow's beat from their 'Duality' collab, except it features a beautiful synth line over the top. The identity of this escapes me but it smacks of someone like Stasis or As One although I don't think they'd be that blatant with the beat-swiping. If anyone recognises it then please leave a comment.
A brief hip hop interlude in the form of Erule's 'Synopsis' reminds me that I've literally just trading this single with a bunch of others for a stack load of comics via a US connection so it's going back overseas to where I first picked it up. Aphex gives his own unique take on DnB with a mix of his 'Girl Boy' single and then we run into a couple of unknowns. I've racked my brains (and other's) to identify this next track, scoured the shelves and Discogs but to no avail, at first it sounds like Squarepusher but it's a bit too straight for him. Then I thought Danny Breaks/Droppin' Science but no, too heavy/tricksy in the drum programming – I'm now convinced it's T-Power in some form or other but I'm damned if I can pin it – please put me out of my misery. The next track is the same, I thought maybe early Hospital Records but no, drawing a blank here too as is Shazam. Mo' Mo Wax business with the DJ Crystl remix of Dr Octagon's 'Blue Flowers' before the madness of Squarepusher's complete write-off of Funki Porcini's 'Carwreck' rounds the hour out as PC scratches in his first record for the next set.
Track list:
DJ Food – Solid Steel intro
Unknown – Journey Into Sound
Spacer – Contrazoom feat. Alison Goldfrapp
Luke Vibert & The Mike Flowers Pops – Mfp Chunks
Cujo – Cruzer
Zimbabwe Legit – Doin' Damage (Shadow's Legitimate Mix)
War – Four Cornered Room
DJ Krush – Only The Strong Survive feat. CL Smooth (7th Samurai mix by Attica Blues)
Unknown – (Stasis? AsOne?)
Erule – Synopsis
Aphex Twin – Girl Boy (£18 Snarerush Mix)
Unknown – Unknown (T-Power ?)
Unknown – Unknown
Dr Octagon – Blue Flowers (The Flower Bed Mix 2 by DJ Crystl)
Funki Porcini – Carwreck (Squarepusher Mix)