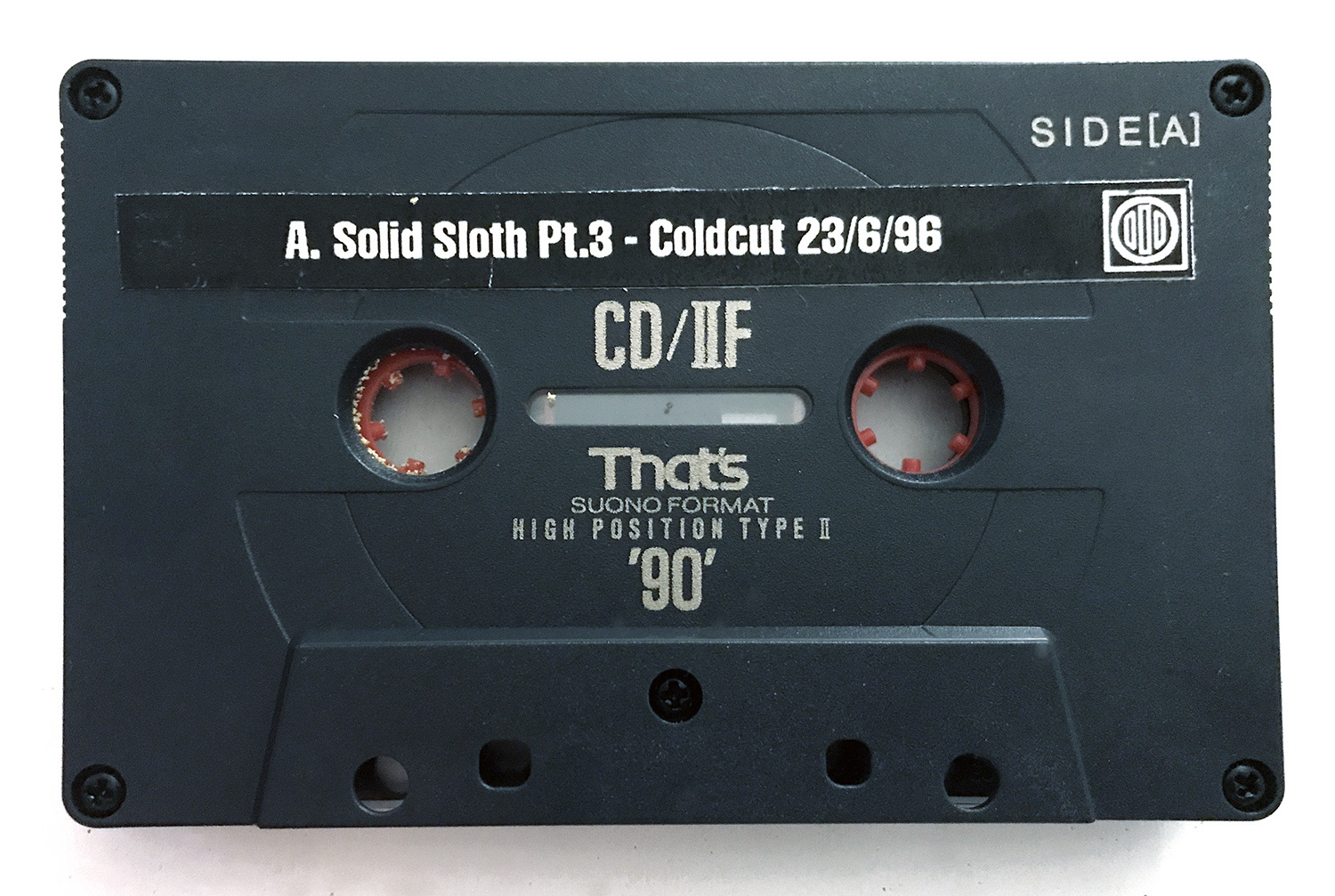 **I only just realised that I didn't put this live last week – slightly confusing as there's no upload this week – just can't keep up with everything going on at the moment.
Continuing the mix from last week there's more Solid Sloth although my tape had nearly two hours worth of mixes from me and also so from PC so I'm not sure if something was mislabeled. I'm fairly sure last weeks was all me but this seems to be my selection too so… I don't know, it was over 25 years ago, these things get lost in the mists of time and who really cares anyway? To the music…!
The intro spoken word originally comes from The Warriors, but I was playing it from a Renegade Soundwave promo sampler of past classics that preceded their re-emergence onto the scene with new music that year. Blacka'nized's 'Vibe'rations' opens proceedings with an almost 'Night Interlude' vibe, that it has the subtitle 'Summer Madness' says it all. Their Music For Your Mind EP can be had for a pound currently on Discogs. Showroom Recordings were part of the Cheap label Vienna set with Patrick Pulsinger and Gerhard Potuznik among them, only releasing two 12"s of which 'The Big Shmoov' is taken from the first. I will never forget hearing this the first time at Mixmaster Morris' Camberwell flat one rainy night and I always imagine it's raining when I hear this. The Headphonauts only put out two 12"s but for me they personified trip hop at the time, or what I wanted it to be – which was ultimately NOT what it became. Properly tripped out long form jams with downtempo beats, much like early UNKLE and Major Force West productions, it was a shame they didn't do more, again they can be had for a few quid online.
2 Player (Jon Tye and a fresh out of school Daniel Pemberton) remixed by The Herbaliser was on Ntone (Ninja's sub label) but it sounded like if should have been on the parent label. Organised Sound was a pseudonym of DJ Vadim although it's not hard to tell is it? NT's 'Distances By Air' is another lost gem from the mid 90s, they made a few authentic soul tracks way before it was fashionable back in the day but this little number was on the B side of their first single, easily findable for pennies yet again. More Ninja business from the London Funk Allstars the LL Cool J's 'Boomin' System' – not sure why, maybe I'd just bought a copy? Cabbage Boy aka Si Begg on Ntone with possibly my worst ever cover design (sorry Si – so busy around that time) the Neil Hefti's 'Batman Chase' which was the B side to the theme tune. State Login were on Renegade Recordings and this wasn't 'Poetry In Motion' as PC later states but 'Live in Session' – I must have got the sides mixed up.
Samuel Purdy is a real weird one, this turned up on a promo 7" one day and I remember liking the instrumental which basically strips away the main song vocal but still leaves all the backing ones. It sounds so 70s to me, almost Steely Dan or Carpenters-esque which is why it's in here, love those harmonies. This really is a random selection the B-52's followed by Jimi Tenor which we had got on an acetate so we must have been mixing the Blech CD around this time because Warp made up some one-off discs for things yet to be released so that the mix would be bang up to date once it was released. There's a quick blast of Herbie Hancock's 'Rain Dance' whilst PC backtracks through the set (not Miles as he says), we loved this track and sampled it here and there (maybe – shhhhhh…). There's a break and then we're back with a classic slice of techno in the guise of Carl Craig's 69 alias with 'Microlovr' – such an awesome piece of music, again, first played to me by Mixmaster Morris who was championing Craig well before anyone else. Uriel's 'Proxima Session' is a lush piece of French jazz house that came on a 12" with a 45 middle cut out of the label, the only one I've ever seen. We finish as we began with a bit of Renegade Soundwave and 'Ozone Breakdown', the original B side of 'The Phantom' in 1989, still sounding contemporary.
Parts 3+4 Track list:
Blacka'nized – Vibe'rations (Summer Madness)
Showroom Recordings – The Big Shmoov
Headphonauts – Cedez Le Passage
2 Player – Sometimes (The Herbaliser remix)
Organised Sound – Nocturnal Thought
NT – Distances By Air
London Funk Allstars – How To Be A Ninja
LL Cool J – The Boomin' System
Cabbage Boy – Planet Domination
Neil Hefti – Batman Chase
State Logik – Live In Session
Samuel Purdy – Whatever I Do (Inst.)
B-52s – Planet Claire
Jimi Tenor – Downtown
Herbie Hancock – Rain Dance
69 – Microlovr
Uriel – Proxima Session
Renegade Soundwave – Ozone Breakdown