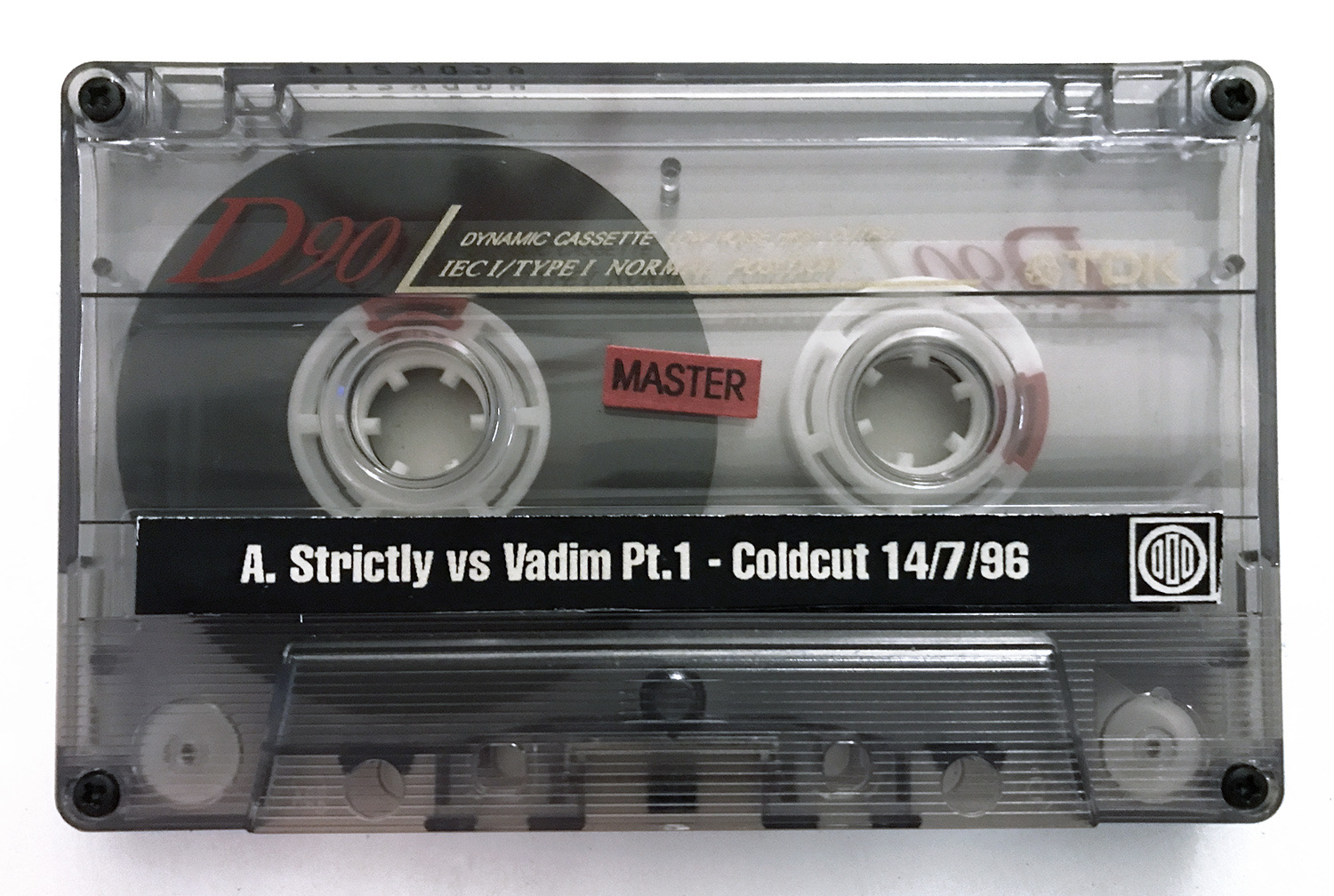 Late one Friday evening I was helming the good ship Solid Steel solo – possibly for the first time – up at KISS FM on the Holloway Road, not quite believing that Coldcut had entrusted me to do it without them after listening for all those years. I wasn't alone though, my guest in the studio was Jazz Fudge label owner and newly-signed Ninja Tune artist, DJ Vadim. We'd only met a few times but I was already a fan of his early self-released work which, to my ears, was as good as any definition of trip hop with his heavy sampling of music concrete and abstract beat patterns. It sounded very lysergic to my ears but Vadim didn't touch the stuff which was doubly strange. We got along well from the start, so much so that I started designing for him almost immediately and would do so for some years.
He'd bought two friends with him to the studio who I'd not met before, Simon Rose – who would go on to run the label later and I think A-Cyde, an MC/poet who would feature on early records and was always a great laugh with a dry sense of humour. We were to divide the show up into segments and I went first, layering up CDs and vinyl into an ambient collage before the beats kicked in. We were pre-recording – not live – and after about 15 minutes I noticed that the DAT had stopped. I was mortified, standing there with three guys I barely new and the tech had failed me. I had to start again and repeat the whole thing while they waited, only for it to do exactly the same thing again! By this time I was seriously panicking as I had no idea what to do to fix it and restarted, running through the same records and hoping it wouldn't stop a third time. Luckily it didn't and the rest of the show went without a hitch aside from some DAT glitches from Vadim's portable player that he'd bought along with some exclusives.
I'm fairy sure some of those are over parts of my mixes featured here with phone messages and static interjecting here and there. The intro I have no idea the origin of and suspect that's A-Cyde's voice in there somewhere over the James Bond theme, maybe even live on the mic. It sounds like a bit of the Percussions De Strasbourg clattering in as well, one of the Philips silver covered records that both Vadim and I were collecting at the time. I can't find anything about the New Jack Hustlers track after this on Discogs but the Earth Leakage Trip track 'The Awakening' was a B side on Rising High and a definite contender for lost early trip hop classic. Cheech and Chong were always in the bag for comedy relief in my chill out sets and this straight vs hippy sketch is a classic. The space-themed 'The Gemini IV Incident' was a standout on the Wiseguys' debut album for Wall of Sound but the name of the Tortoise ambience up next is lost in my record collection somewhere, probably something from the Rhythms, Resolutions and Clusters LP or the single they put out on Stereolab's Duphonic label.
After a break we have a snatch of Buchanana and Goodman's early cut up classic, 'The Flying Saucer' before Axiom Funk take DJ Krush's 'Kemuri' and scratch all over it before retitling it 'Order Within The Universe'. This was from a Bill Laswell project that collected all sorts around this time and threw in some early trip hop US style with DJ DXT, Bernie Worrell, Sly & Robbie, Bootsy Collins, Maceo Parker, even Herbie Hancock is on one track, on his Axiom label. It was like a kind of new Funkadelic meets JBs meets reggae all stars things with a Pedro Bell cover, looks amazing on paper but is a bit of a mess in reality. The Runaways were two of the RPM crew from Mo Wax, freshly installed on the Ultimate Dilemma label and S.E.T.I. was an early release on the Ash International label, exploring the Search For Evidence of Terrestrial Intelligence (here overlaid with various telephone messages by Vadim).
We switch things up into drum n bass mode with bangers from Tom Jenkinson, an unidentified track sandwiched between that and Photek's peerless 'KJZ' and Funki Porcini's insane 'Carwreck' which surely has to be one of the craziest bits of thrashy DnB out there. There was a strand that wanted to go faster, madder and trickier with every release at this time, the sheer speed of drum n bass prompting ever-increasing twists and turns to the drum programming. Things calm a little with 'Edgar Allen' from The Black Dog's then newly-released 'Music For Adverts and Short Films' album on Warp and then we're into a mellower section with the Irresistible Force's 'Flying High', an amazing electro track that could be a Jedi Knights things but I don't think is and Kirk DeGiorgio's gorgeous 'Epic' from his The Message In Herbie's Shirts album on Clear to play us out. Vadim and I give some shouts and gig news over the earlier Mixmaster Morris tune which gives you a peek into what was going on in our worlds at the time and by 1996 I was a full time DJ and graphic designer, fitting in radio shows, the occasional mix or remix and touring into my day – a golden year.
Track list:
DJ Vadim – Intro featuring A-Cyde
Percussions De Strasbourg – Alternances
New Jack Hustlers – unknown
Earth Leakage Trip – The Awakening
Cheech & Chong – Blind Melon Chitlin'
The Wiseguys – The Gemini IV Incident
Tortoise – Unknown
Buchanan & Goodman – The Flying Saucer
Axiom Funk – Order Within The Universe
Runaways – Finders Creepers
S.E.T.I. – Gathering + (Vadim phone messages)
Tom Jenkinson – Happy Little Wilberforce
Unknown – Unknown
Photek – KJZ
Funki Porcini – Carwreck
The Black Dog – Edgar Allan
The Irresistible Force – Flying High + Vadim and Kev shout outs
Unknown – unknown
As One – Epic