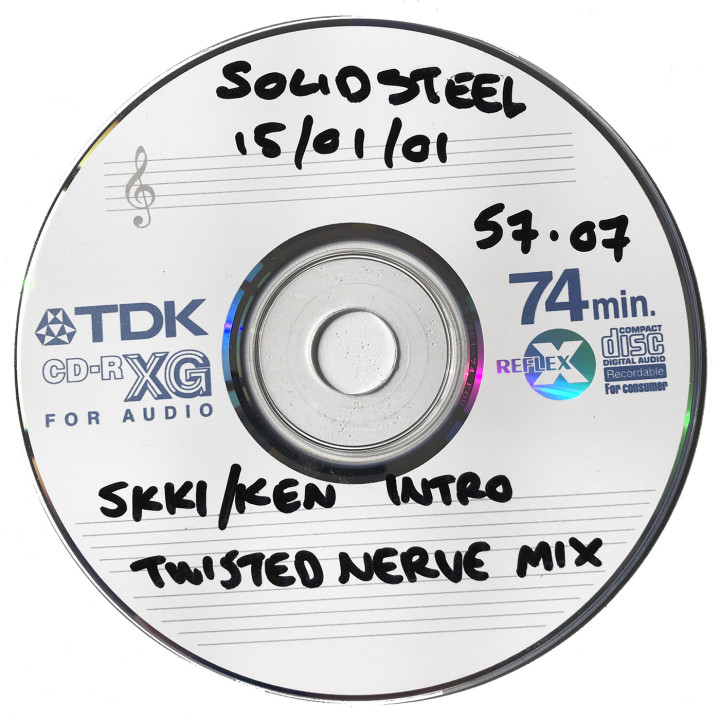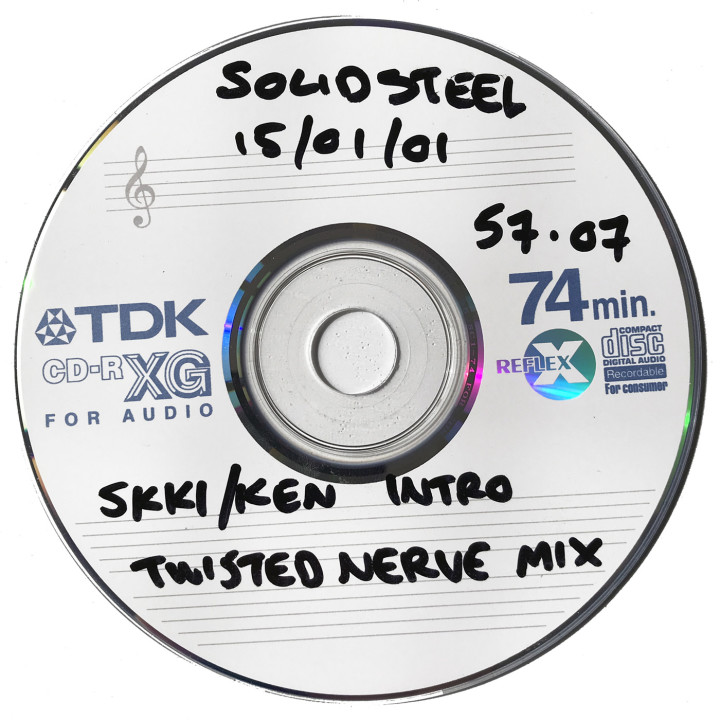 Some things never change, nearly 20 years on I'm still playing Luke Vibert, Boards of Canada and loving Ken Nordine and Sesame Street spoken word. But some things most definitely do, Chocolate Weasel only made one record for Ninja Tune, Photek never quite scaled these heights again and the Twisted Nerve label morphed into the wondrous reissue venture, Finders Keepers. This set is from a run where Solid Steel had moved to Radio LDN at Bush House (as explained in previous posts), each time you arrived you had to sign in and get a stamped sticker and wear it so that security knew you were OK.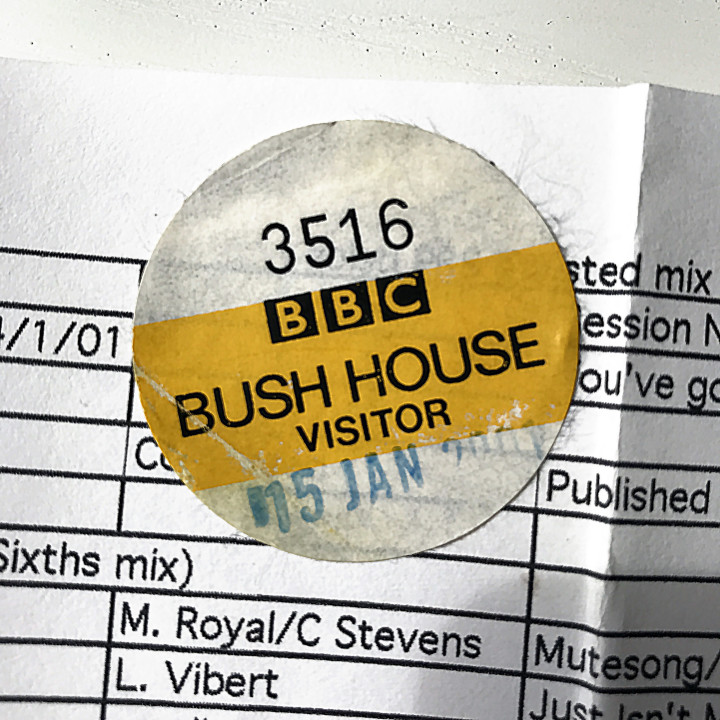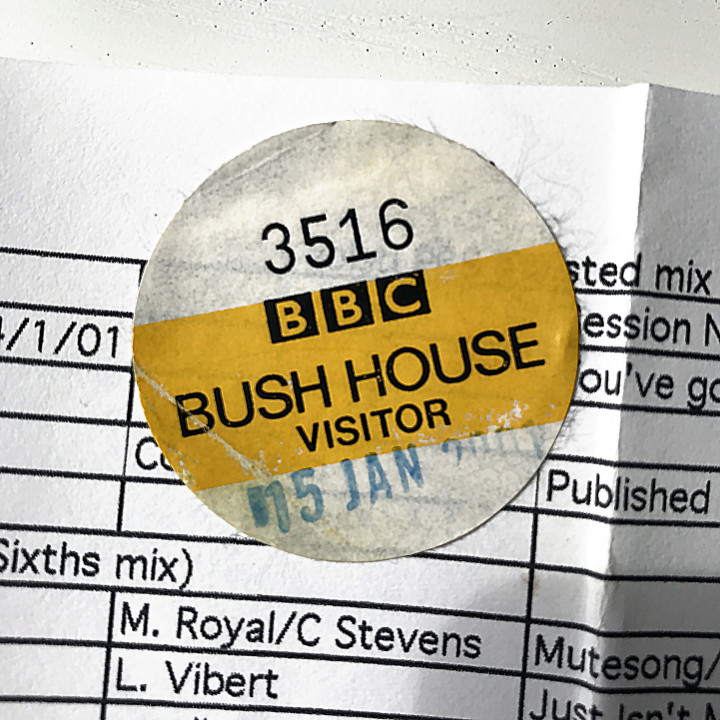 The first half of this set is full of tricky time signatures from the off, the wrong-footing Ski Oakenfull track, the Chocolate Weasel tune which I still can't work out the time signature of, the switch from the 120bpm of Luke Vibert to the 80 of Boards and then 160 on Photek. Then our 'Looking Glass' track mixed at 160bpm instead of 120, it shouldn't work and it doesn't really but it'll make you hear it in a different way and sometimes that's what DJing is about. Future Ninja signing (MC) Sixtoo crops up on the end of part 1 guesting on Aquasky's 'Shamen', I remember pushing for Ninja to sign him around this time and he made a couple of excellent records for the label in the 00's.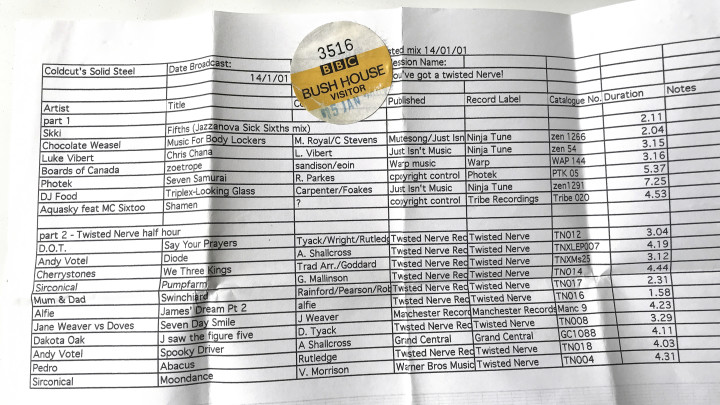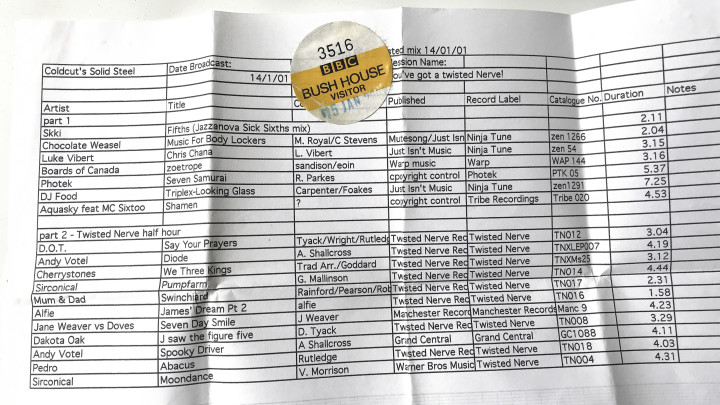 The second half presents a mix of the then relatively new Twisted Nerve label and surrounding artists, a love that still endures nearly 20 years later and a catalogue that's still fascinating. You couldn't have a much starker contrast between the two halves if you tried. Even though there's no distortion I was quite surprised to see a lot of brick wall compression going on in the mix, not sure what I was putting it through when recording or mixing down but there's a lot of rectangular blocks with no dynamics in the original recording. We live and we learn don't we?
Track list:
Part 1
Ski Oakenfull – Fifths (Jazzanova 6 Sickht mix)
Chocolate Weasel – Music For Body Lockers
Luke Vibert – Chris Chana
Boards of Canada – Zoetrope
Photek – Seven Samurai
DJ Food – Looking Glass
Aquasky feat MC Sixtoo – Shamen
Part 2
D.O.T. – Say Your Prayers
Andy Votel – Diode
Cherrystones – We Three Kings
Sirconical – Pumpfarm
Mum & Dad – Swinchiard
Alfie – James' Dream Pt 2
Jane Weaver vs Doves – Seven Day Smile
Dakota Oak – J Saw The Figure Five
Andy Votel – Spooky Driver
Pedro – Abacus
Sirconical – Moondance