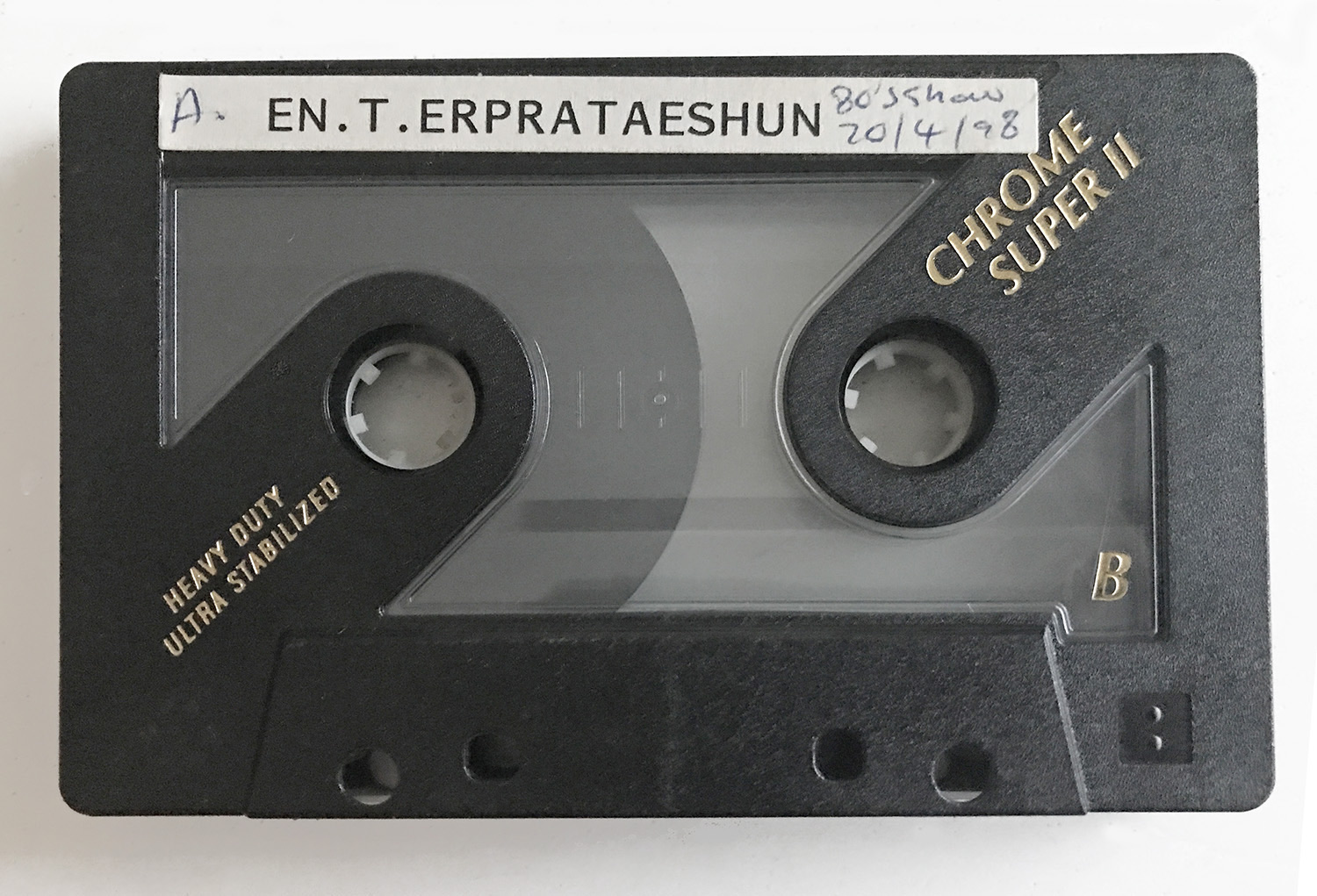 It has to be said that looking back at the 80s was not on many minds during late 90s. The business of nostalgia wasn't rearing its head in the dance music world after a decade of year-on-year musical innovation with new genres and styles springing up seemingly annually. I remember the early years of library music, Moog and easy listening compilations around this time, some licensed, some bootlegs and the worlds of soundtracks, Krautrock and music concrete / tape music being explored more and more by diggers who had exhausted the funk, soul and jazz genres. 80's pop was something very few were looking at which is why I was royally taken the piss out of when I announced I was going to do an 80's mix on Solid Steel.
Not that this was full of Rick Astley, Kylie or Madonna bangers, the track listing still stands up IMO and I haven't change my opinion of any of these tracks since the first time I heard them. The The need no introduction, the Energy Mix of 'Infected' was hidden away on a 12" B side and is aptly named. My tape crashes in part way through so I'm not sure what, if anything, preceded this but I'd wager it was the opener. Sigue Sigue Sputnik still invite ridicule today although the critics are kinder to them now than they were back in the 80s where they were really one of the last great bands pedalling any kind of danger into the charts before SAW fully took hold or the end of the decade welcomed dance music and Madchester into the top 40.
The Pop Will Eat Itself track is essentially their cover version of the Dirty Harry theme and is technically a 90s release but they were another band who were rarely given kudos even though their This Is The Day… This Is The Hour… This Is This! LP is a lost sampling masterpiece. Propaganda get a big chunk of the mix with multiple versions of their incredible 'Dr Mabuse' debut single and are trailed by the Art of Noise – showing the ZTT love way back when. The B side of Tears For Fears' 'Mothers Talk' single was a track called 'Empire Building' which always sounded like they were trying to do an Art of Noise thing to me, I remember the credits stated that the A side was produced by Chris Hughes and that the B side was not produced. My mix is noisy and quite scrappy, not helped by crappy tape compression as this was recorded over a promo tape I had at the time (which I'll get to later).
JG Thirlwell aka Foetus in all his guises has to be present in any 80s mix and the opener from his classic album, Nail starts a less frantic section before segueing into the outro of the original Pet Shop Boys 'Opportunities' 12". From here we drift into an extended track from Andrew Poppy's second ZTT LP, Alphabed (A Mystery Dance) and then a bit more Foetus from the Sink compilation. No one is going to argue with Japan in the credibility stakes and the largely instrumental 'Life Without Buildings' from the B side of 'The Art of Parties' single sounds like something out of a lost Shogun soundtrack. This reminded me of Coldcut's mixer – as this session was recorded in their Ahead Of Our Time studio in Clink St., not KISS FM – I think it was a Gemini, black with white decals and orange details. It had an inbuilt sampler on the right side where you could take clips of audio on the fly by punching a big round button at an in and out point. You could then loop that or use it as a one-shot which you could stab away at to your heart's content, even pitching it up and down. You can hear a bit of this in the Japan track as I took a clip of David Sylvan saying, 'in my building' and then played over the top of the track afterwards, it's quite quiet but it's there. But I digress, the next two tracks were actually contemporary and not 80's nostalgia – Michael Brook's 'Albo Gator' had been out the year before on 4AD and Max Tundra's debut on Warp sounds like an even more crazed Squarepusher and apparently samples one of Andrew Poppy's other ZTT tracks for the choral vocals, which is a nice touch.
Now, the subject of the tape – 'EN. T. ERPRATAESHUN' it says and I have a vague memory of this being a promo tape for a Scottish band called NT who were around at the time. They had a sound somewhere between trip hop and soulful vocal funk back when it wasn't hip to try and sound like the Meters. They were signed to RCA and put out three singles between 1995-1999 which didn't quite blow up and the album that everyone expected never materialised aside from a promo CD under the title 'To The Surface'. I always wondered what it sounded like and why it never got released, occasionally looking for it on Discogs but it's never been sold. Then last week I was in a local record shop (the excellent Soul Proprietors in Brixton), perusing the cassette racks, and there was a promo tape of the album, under the title State Of Play despite having the same track list as the promo CD. The cover is obviously a colour laser copy with the box tabs crudely punched through the back and inside is the same make of cassette as the 'EN. T. ERPRATAESHUN' tape, simply labelled 'N.T.'. At last! £3 later it was mine and I can finally hear what could have been nearly 25 years later.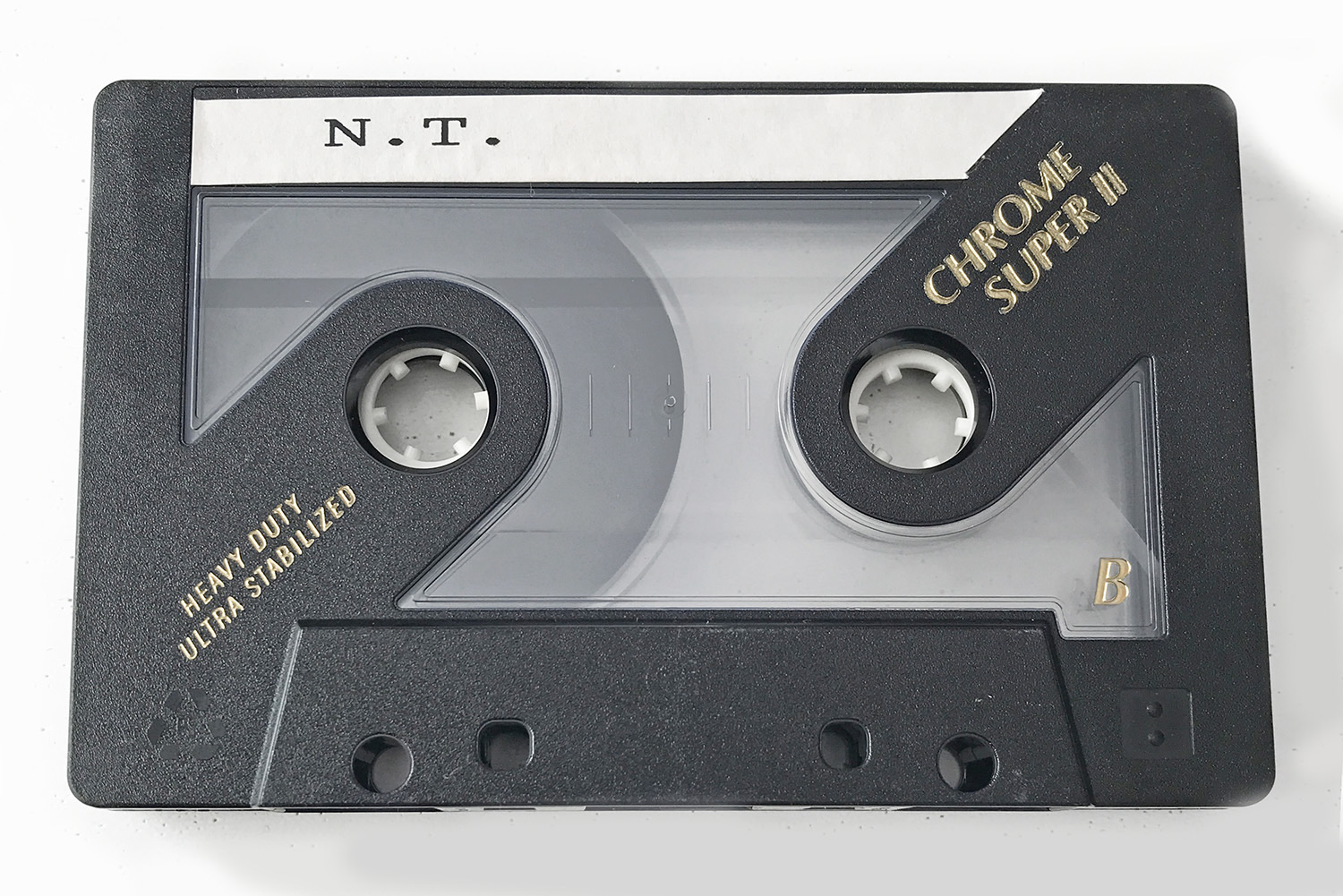 Was it worth the wait? Well, the singles still hold up, 'Responsibilities' the opening track and debut single is a soulful funk banger that sounds like it was birthed from the same 70s mould as Bill Withers but has subtle 90s samples and production touches. 'To The Surface' reminds me a bit of Fleetwood Mac's 'Albatross', except with a vocal hitched along for the ride. 'Distances By Air', also from the debut single, still stands up, and could happily sit alongside Air circa Moon Safari or some of Jimi Tenor's flute-led instrumental jazz – pure smokers music. Following directly after is a Cheech & Chong spoken word intro mentioning acid-trips and uptempo hammond strut 'State of Time' definitely has 'single' written all over it with swirling dub effects and horns – a lost classic.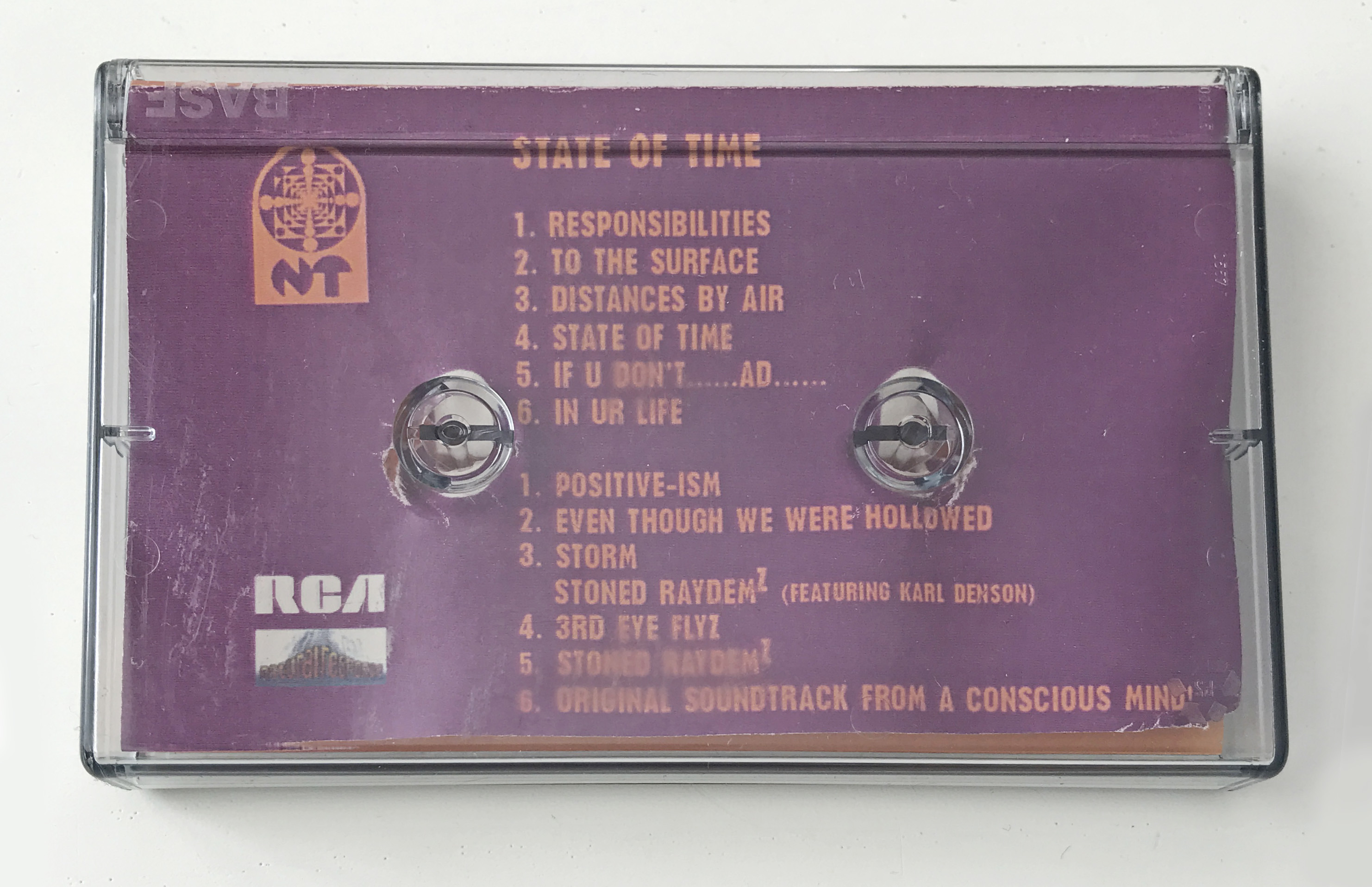 'If U Don't' only came out as a promo 12" but slows the tempo with ruff drums, organ and wah wah guitar, well placed on the track list after the uptempo title track. I won't go through the whole album but the sound is extremely tripped out in places, lots of echo, swooping tape delay, a sonic soup and very trip hop in lots of ways, which sometimes sits at odds with the soulful vocal although that's what also alleviates it from similar music of the time. I think the problem with this record is that it was out of time, maybe five years too early, and people were looking elsewhere at the time, to the future rather than the past. This has a retro feel all over it and had it debuted in the late 90s or early 00s when the funk 45 boom happened then maybe it would have fitted like a glove. We'll never know but I wouldn't put it past someone to dig this up and release it as a lost 90s soul oddity somewhere down the line. I'm just a bit gutted that I taped over the 'EN. T. ERPRATAESHUN' tape as it's nowhere to be found on Discogs or anywhere else.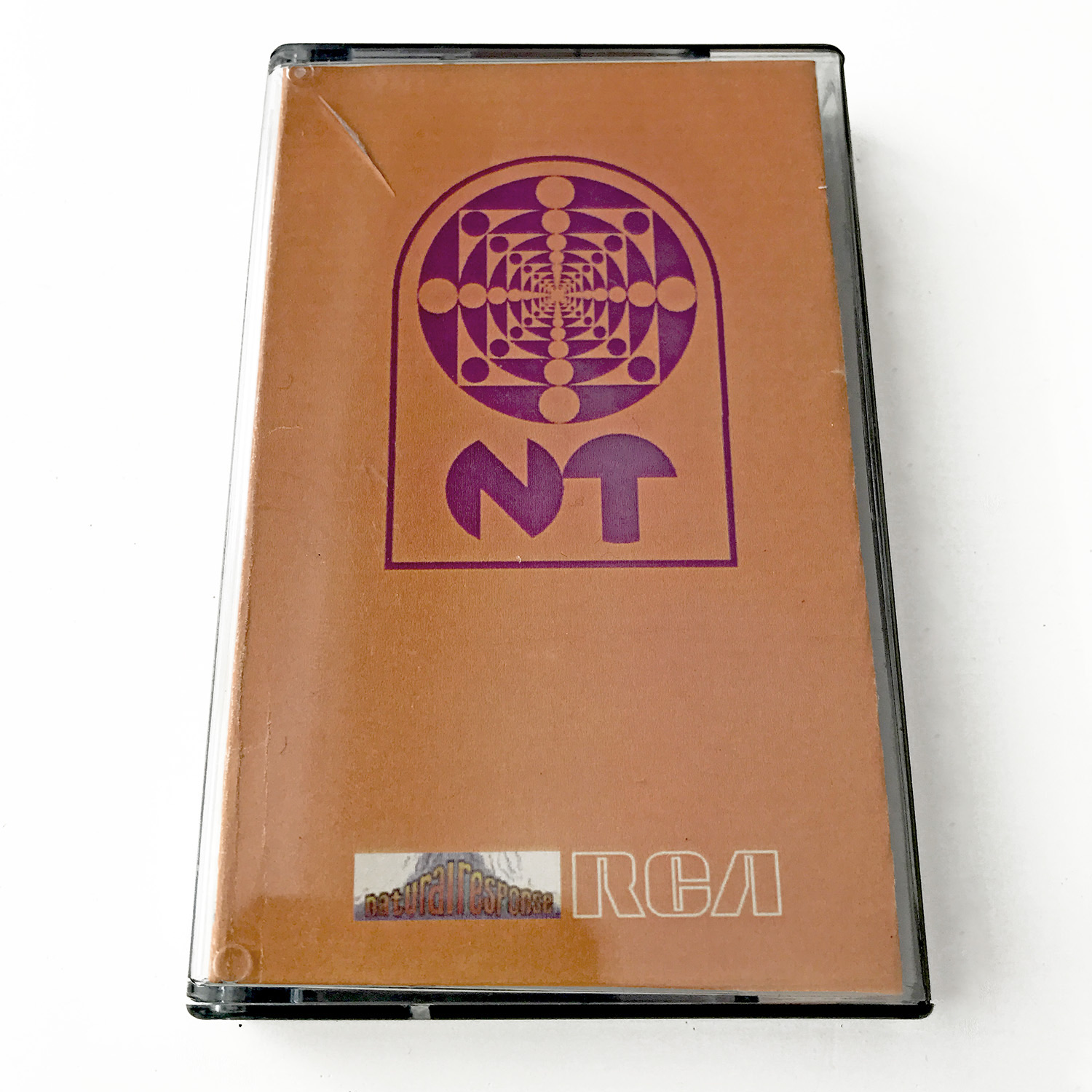 Track list:
The The – Infected (Energy Mix)
Sigue Sigue Sputnik – Hack Attack (Dub)
Steroid Maximus – Life In The Greenhouse Effect
Pop Will Eat Itself – The Incredible PWEI Vs Dirty Harry
Sigue Sigue Sputnik – Suicide
Propaganda – (The Ninth Life Of…) Dr Mabuse
Propaganda – Dr Mabuse (13th Life Mix)
Propaganda – (The Ninth Life Of…) Dr Mabuse
Art of Noise – Beatbox Diversion 1
Tears For Fears – Empire Building
Scraping Foetus Off The Wheel – Theme From Pigdom Come
Pet Shop Boys – Opportunities (Original Dance Mix)
Andrew Poppy – Goodbye Mr G
Foetus Eruptus – Lilith
Japan – Life Without Buildings
Michael Brook – Albo Gator
Max Tundra – Children At Play