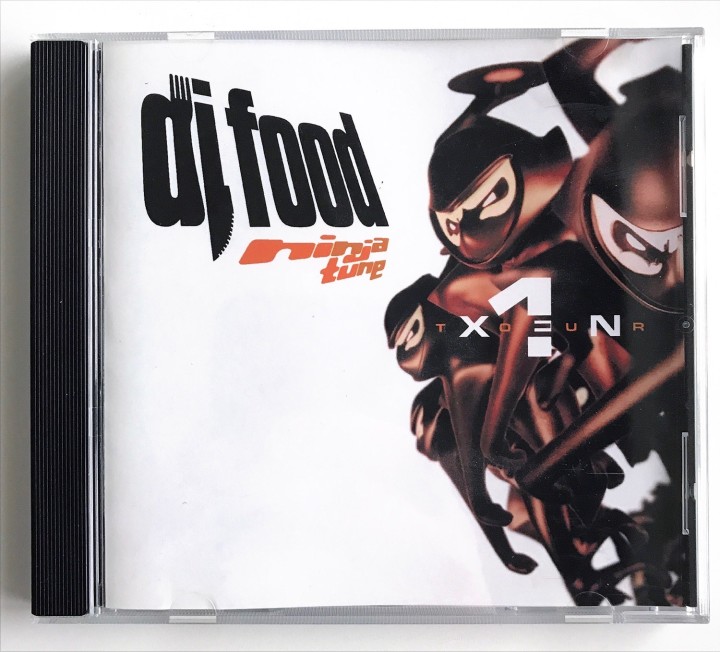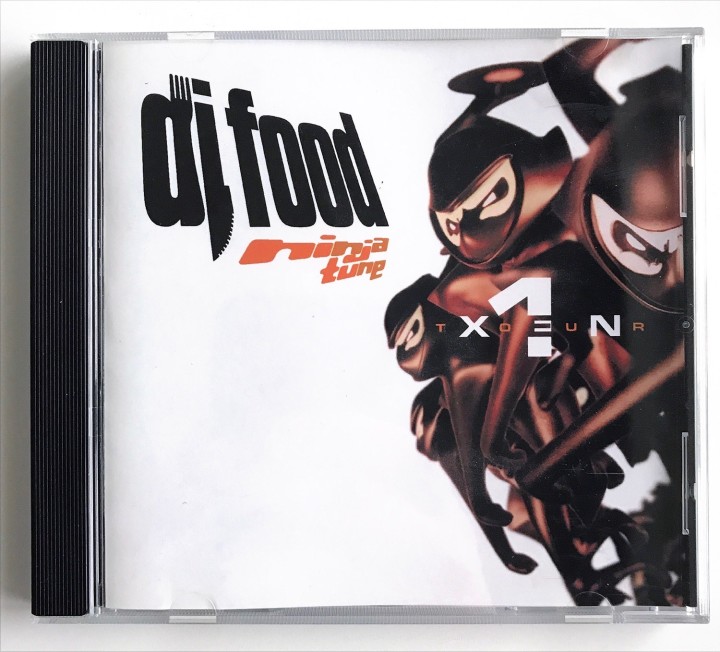 30 years ago this month, Ninja Tune came into being and 20 years ago the label made it into double figures. To celebrate there was a run of dates in London, starting on a Thursday night in three separate bars around Hoxton. Plastic People, The Strongroom Bar and The Pool bar played host to various DJ combos as a warm up for the weekend.
The newly opened 93 Feet East played host on Friday – so new there was still wet paint in places – with Amon Tobin, Hexstatic, Coldcut, Kid Koala & P-Love, Fink, Neotropic, Mixmaster Morris, Mr Scruff and myself with visuals by The Light Surgeons.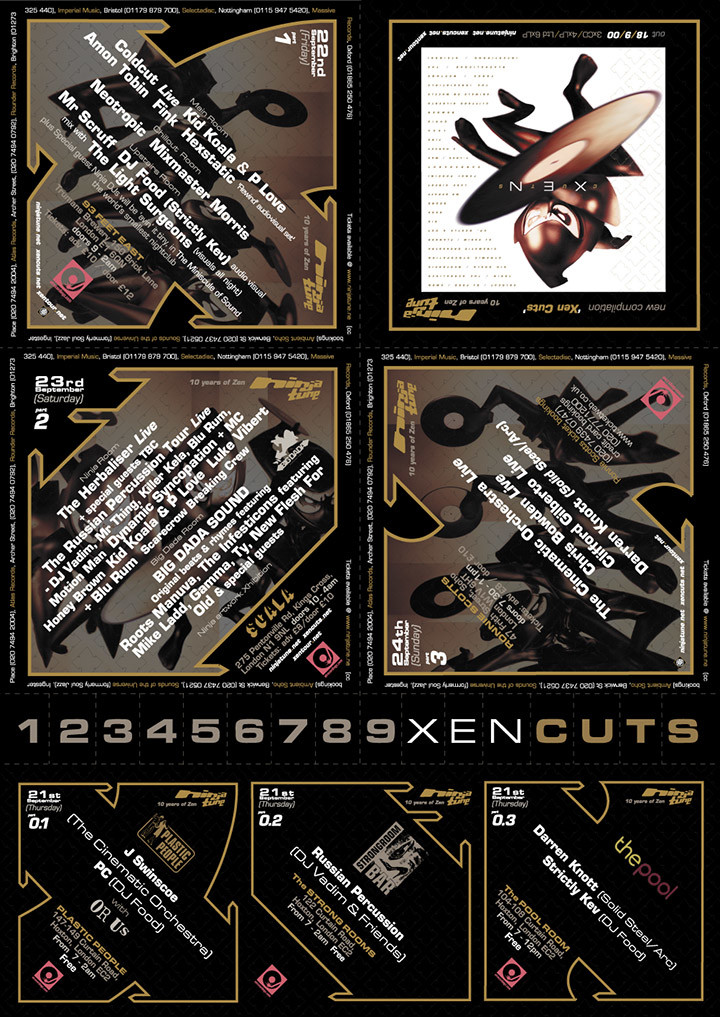 The Scala saw a big funk and hip hop line up on the Saturday with The Herbaliser, DJ Vadim, Dynamic Syncopation, Kid Koala & P-Love, Luke Vibert & Blu Rum and a Big Dada Room with Roots Manuva, Mike Ladd, Gamma, Ty and New Flesh For Old.
Mercifully, Sunday saw a mellow come down at Ronnie Scott's as we all nursed out hangovers and witnessed intimate sets from DK, Clifford Gilberto, Chris Bowden and The Cinematic Orchestra.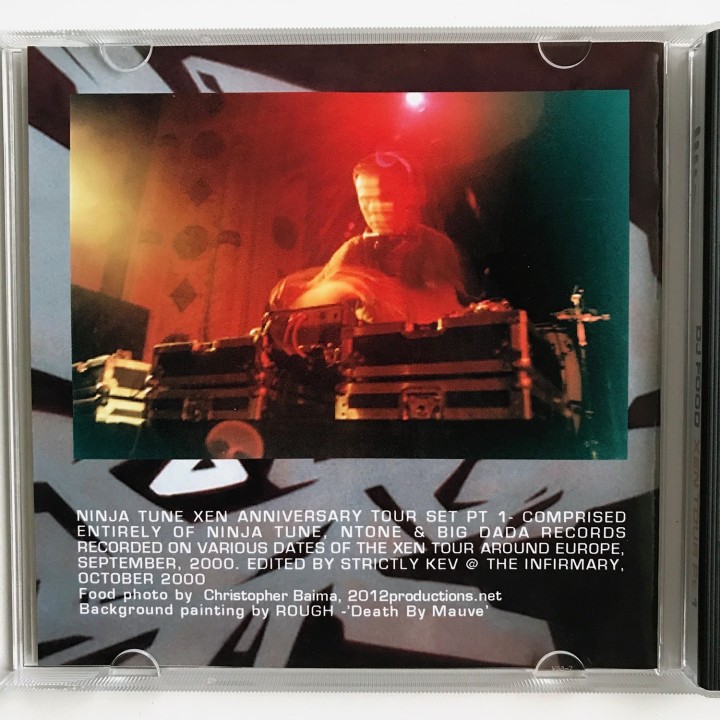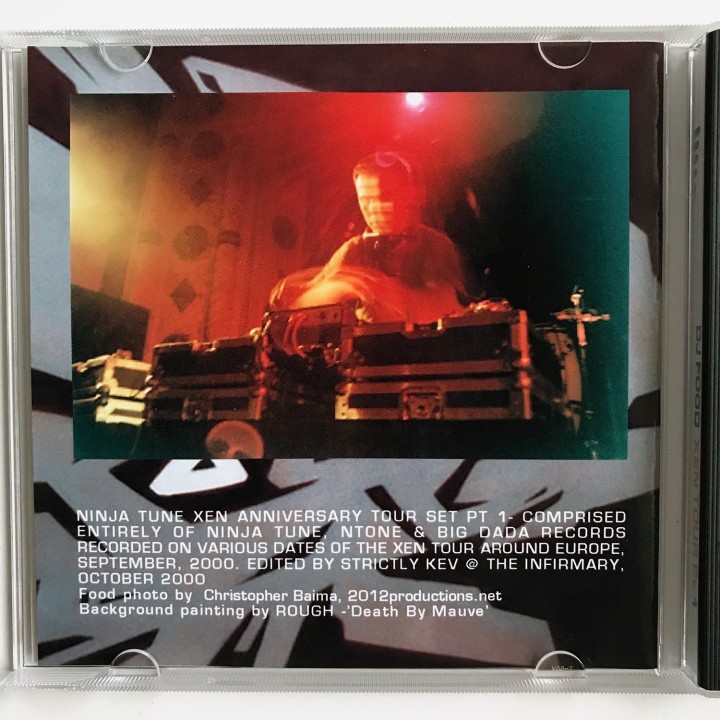 I made a Ninja-centric set for the occasion and this was recorded across various dates of a UK tour to support the Xen Cuts compilation album. At some point I put it down in two parts and you can hear that the Mr Scruff – Ug/DJ Vadim – The Terrorist mix we put on the first Solid Steel mix CD originates from here. The first 30 minutes of part 1 was played on Solid Steel 09/10/200 but the rest of this mix went un-broadcast I think.
Part 2 to follow next week. Happy Birthday 30th birthday Ninja!
Track list:
Steinski – The Xen To One Ratio
The Herbaliser – Mr Chombee Has The Flaw
The Cinematic Orchestra – Channel 1 Suite
Mr Scruff – Fish
Neotropic – 15 Levels
Dynamic Syncopation – Bahian B-Boy
Up, Bustle & Out – Revolutionary Woman of the Windmill
Cabbage Boy – Planet
Amon Tobin – Sordid
The Herbaliser – Mrs Chombee (DJ Food remix)
Funki Porcini – Let's See What Carmen Can Do
Mr Scruff – Ug
DJ Vadim – The Terrorist (acapella)
DJ Food – Turtle Soup (Wagon Christ remix)
The Herbaliser feat. Latyrx – 8 Point Agenda (acappella)
DJ Shadow & The Grooverobbers – Hardcore Instrumental Hip Hop
Quantum – Blue Flames
DJ Shadow & The Grooverobbers – Hardcore Hip Hop
Latyrx – Say That
Amon Tobin – 4 Ton Mantis
Saul Williams – Elohim
Dynamic Syncopation feat. Mass Influence – 2 The Left
9 Lazy 9 – Electric Lazyland
Roots Manuva – Fever
DJ Food – Sexy Bits (Autechre remix)
Dynamic Syncopation feat. Mass Influence – Ground Zero (acappella)
Big Dada Allstars – Showtime
Dynamic Syncopation feat. Mass Influence – The Plan
DJ Food – Dark Lady
Luke Vibert – Get Your Head Down
DJ Food – Freedom (Fila Brazillia mix)
Animals On Wheels – Modular Existence
DJ Food – Consciousness (Ashley Beedle Unconscious Dub)
Up, Bustle & Out – Bicycles, Flutes & You