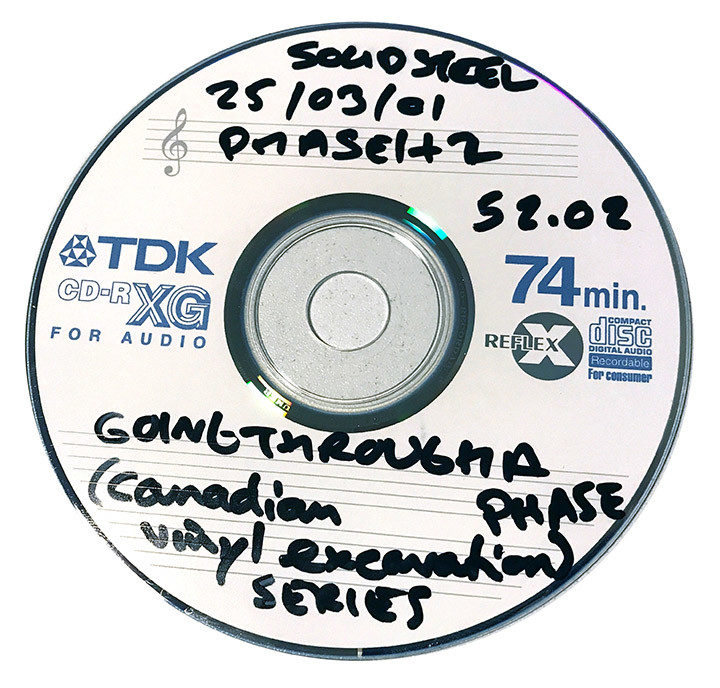 Subtitled 'Canadian Vinyl Excavation series', these two mixes were very much a result of going through the spoils of touring the US and Canada in 2000 and mixing in a sprinkling of new releases from the time. As I've no doubt previously mentioned, the international tours of the day were also excuses to go wild in record shops overflowing with vinyl post-CD boom, pre-vinyl resurgence, all cheap with a strong pound against a dollar conversion and an even better Canadian dollar rate. Regular day routines would be to travel to the next city, check in and either hit the record shops or do the soundcheck and try to squeeze in a dig before dinner. Days off were a free for all and the van or bus bays would fill up with bags of vinyl pretty quickly.
I'm using the trusty Line 6 FX pedal in some of this, it has a lovely long sustain on it and a gritty analogue sound, very versatile but a bit of a beast to control. This and next week's mixes were based around the opening track by Vanilla Fudge whose concept album 'The Beat Goes On' was split into four phases. Some great UK hip hop in here from Stylee C and Def Tex, both from the Son label, run by Al from the Ninja Tune office at the time. Some background on the Peter Cook & Dudley Moore track, a 1967 track that got put on a Beatles bootleg and led some people to speculate that it might be the band incognito. Dudley Moore wrote, "Regarding "The L.S. Bumble Bee", Peter Cook and I recorded that song about the time when there was so much fuss about L.S.D., and when everybody thought that "Lucy In The Sky With Diamonds" was a reference to drugs. The exciting alternative offered to the world was L.S.B.!, and I wrote the music to, in some ways, satirize the Beach Boys rather than the Beatles. But I'm grateful if some small part of the world thinks that it may have been them, rather than us !".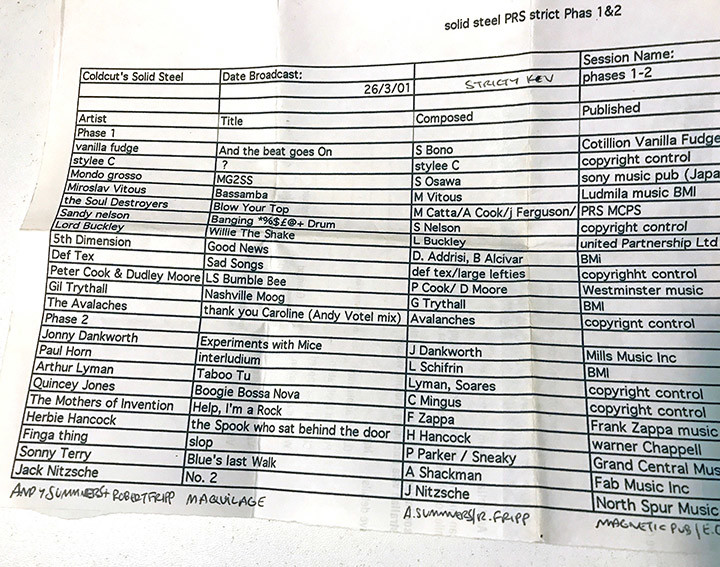 The Gil Trythall 'Nashville Moog' track was the last track on a frankly terribly Country Moog album I picked up but is a genuinely enjoyable piece of comedy filler. The Jonny Dankworth 'Experiments with Mice' is also a gem, fished out of a Toronto 45 bin, a fantastic retooling of the nursery rhyme in a jazz context, renaming the three mice after famous players and using their signature styles to flesh out the story, a kind of live mash up. At this point I'd been buying up jazz and soundtracks at a rate of knots for several years on tours, the costs being minuscule compared to UK prices, but was beginning to dip my toe into the psych rock pool with The Mothers of Invention and anything that said 'psychedelic concept acid freakout' on the cover. Of course I picked up a few duds along the way as many bands and artists cashed in on the summer of love but it made for some great sleeves. Apropos to nothing, the Quincy Jones track sounds like the Batman theme to me. That's a very ambitious mix from The Mothers into Herbie Hancock, it just about holds together, the search for his 'The Spook Who Sat Behind The Door' flexi still goes on… For the final track I see I included Andy Summers & Robert Fripp, I have no recollection of this, or of ever owning any of their albums, although I've since become a Fripp devotee, very odd.
Parts 3 & 4 next week…
Phase 1
Vanilla Fudge – And The Beat Goes On
Stylee C – Old 3 Piece Suite
Mondo Grosso – MG2SS
Miroslav Vitous – Bassamba
The Soul Destroyers – Blow Your Top
Sandy Nelson – Bang That *%$£@+ Drum
Lord Buckley – Willie The Shake
5th Dimension – Good News
Def Tex – Sad Songs
Peter Cook & Dudley Moore – LS Bumble Bee
Gil Trythall – Nashville Moog
The Avalanches – Thank You Caroline (Andy Votel mix)
Phase 2
Jonny Dankworth – Experiments with Mice
Paul Horn – Interludium
Arthur Lyman – Taboo Tu
Quincy Jones – Boogie Bossa Nova
The Mothers of Invention – Help, I'm a Rock
Herbie Hancock – The Spook Who Sat Behind The Door
Fingathing – Slop
Sonny Terry – Blue's Last Walk
Jack Nitzsche – No. 2
Andy Summers & Robert Fripp – Maquilage