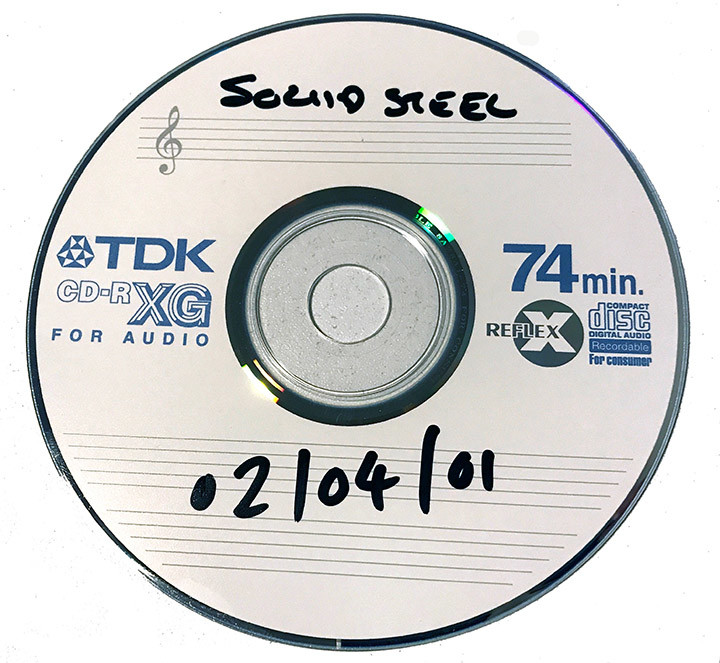 My archive disc says this is an extended version and it clocks in at 69 minutes so there's an extra 9 minutes that wouldn't have been on the Solid Steel broadcast.
The lovely sax sample used in the intro is from Stan Getz's 'Soul Dance' that also crops up in full later and he features twice here. That track reminds me so much of pillaging the easy listening bins for Command, Project 3 and others on North American tours. The Jim Backus record (the voice of Mr. Magoo and also God on a recent rock opera I found) was absolutely scratched to bits but I managed to clean it up. Who knew that that Bonobo remix of Pilote would wind up on a phone advert and he'd go on to become not only one of the biggest Ninja artists but one of the biggest on the world stage? Ah, this Neotropic stuff slays me every time, her best album of the era, 'La Prochaine Fois' is an electronic folk masterpiece, great memories associated with that one.
I think the comedy inserts throughout about the car starting and the radio DJs are from a Robert Klein comedy album, 'Child of the Fifties' (also check his 'Mind Over Matter' release). He was a comedian who also did a radio show in the late 70s and early 80s, some of which were syndicated and pressed onto vinyl. So much great stuff in here that I'd forgotten, the Groop track, 'Moonbase', a nice slice of psych on Jazzman offshoot, Stark Reality, Ian O'Brien's beautiful 'Midnight Sunshine', cLouddead's 'Jon Abercrombie-sampling 'Jimmy Breeze'. Sixtoo's 'Work In Progress' is still some kind of crazed masterpiece, shame about the tuning in the mix! I remember going to his apartment in Nova Scotia before he moved to Montreal and him playing us demos of forthcoming tracks, telling tales of neighbours banging on the door complaining about the noise (something he recorded for a future release). We went digging with Dynamic Syncopation and Fink in the freezing weather on a Sunday with huge icicles hanging off gutters and spent all afternoon in a local record store with condensation steaming up the windows, when we emerged hours later it had snowed and the whole street was covered in fresh powder. The second appearance of Stan Getz features my favourite song of his, 'Bonjour Tristesse', a beautiful track from his 'Communications '72' album and something I ended up featuring in my live turntable re-score of The Monkees' 'Head' film around this time.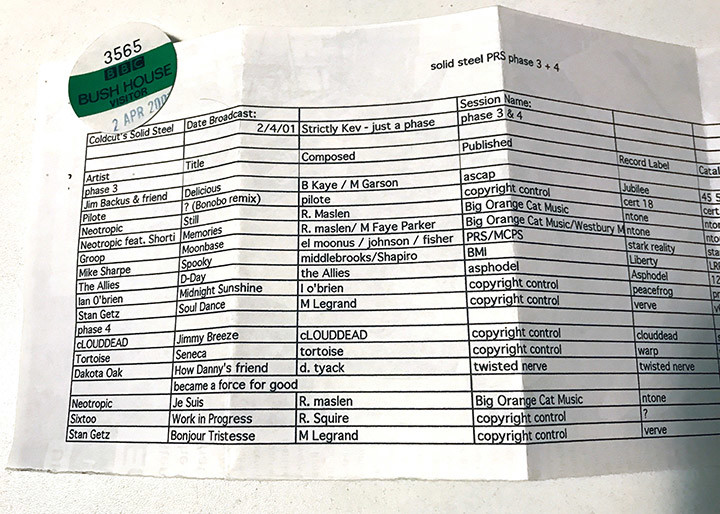 As you can see from the sticker accompanying the tracklisting, this was from the period when Solid Steel was on BBC London, or LDN as they rebranded it. After Stan we have the extended content including another great lost artist, Broadway Project, who also samples the same track as cLouddead earlier. I believe he largely writes for film and TV these days although has recently upped loads of work to Bandcamp. The 'William Tell Overture' version I have no recollection of but looking it up, it's from the Zachariah soundtrack which has some superbly weird moments as I recall. Tony Mottola's smoother than smooth version of 'Spinning Wheel' plays us out, coupled with more Robert Klein. This was definitely a phase I was going through.
Track list:
Phase 3
Jim Backus & Friend – Delicious
Pilote  – Turtle (Bonobo remix)
Neotropic – Still
Neotropic feat. Shorti – Memories
Groop – Moonbase
Mike Sharpe – Spooky
The Allies – D-Day
Ian 0'Brien – Midnight Sunshine
Stan Getz – Soul Dance
Phase 4 
cLOUDDEAD – Jimmy Breeze
Tortoise – Seneca
Dakota Oak – How Danny's Friend Became A Force For Good
Neotropic – Je Suis
Sixtoo – Work in Progress
Stan Getz – Bonjour Tristesse
Broadway Project – Life of a Refugee
Jimmie Haskell – William Tell Overture
Tony Mottola – Spinning Wheel