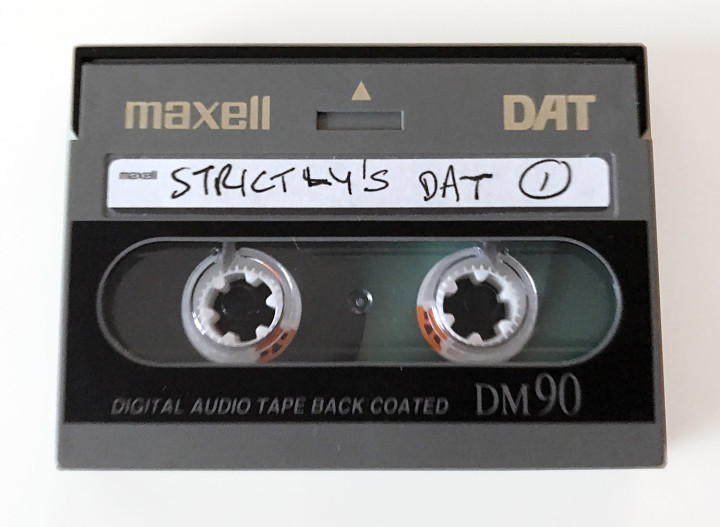 This is an odd set although I'm enjoying discovering some forgotten gems in these end of the 90s sets recently. The track list was labeled 'Strictly's Home Economix' which suggests (to my mix-titling logic) that it was recorded at home. It came off a DAT originally and has none of the Solid Steel jingles or chat on it so bears out this theory and the levels are all over the place which also suggests that it was recorded straight to portable a DAT player that I had around the end of the 90s.
When we recorded sets at KISS or the Ahead of Our Time studio there would always be someone on hand to watch the desk levels and even things out or the signal would go through some sort of limiter. Some of the mixes here are pretty slack too so I wasn't yet into the mix/edit stage of my Solid Steel sets that I'd begin around 1999/2000 – this is all still one-take, slips and slides and all. There was no date on the track list or the DATbut it was part of a show with Riz Maslen aka Neotropic and I remember we did a couple together around this time, one was at the studio but this one can't have been. DK had the answer in his Solid Steel PRS archive, it was from 31/05/1998.
There are 3 parts on the DAT, with one very ambient / illbient / deep jazz set of nearly 30 minutes that I'll spare you because A) it's not that interesting and B) it has some nasty distortion on some of the tracks. It's highly likely that it was never transmitted for just that reason. Regardless, there are two other parts that bear repetition on the tape, the first of which is here.
Part 1 kicks off with a recording of Company Flow – featuring El-P – doing a freestyle session over an MF Doom instrumental for Solid Steel and name-checking Coldcut(s). This was cheekily recorded and pressed up by DJ Vadim for a now very rare release on Mark B's K'Boro label. I think it only came out as a white label and a quick check on Discogs reveals it's one of 31 TPs and now goes for around £30! I actually designed some labels for it as I was doing lots of Jazz Fudge and some K'Boro artwork at the time and later on we get a Mark B & The MUD Fam track from the same label.
A mix of hip hop and trip hop from Ninja Tune and MoWax makes up a lot of this set plus Autechre remixing Stereolab, The Cinematic Orchestra's Jason Swinscoe remixing Ryuichi Sakamoto and the Psychonauts reconstructing label mate, Money Mark. One half of King Kooba was Charlie '6 Ft' Tate who also worked with The Herbaliser on occasion and Mr Quark was a producer from France I think who did some very twisted and hilarious trip hop-ish tracks that remind me of Sukia or Kid Koala. Excuse the mix of the loose 6/8 time Arsonists out of J Swinscoe's even looser jazz mix, should have escaped from that a lot earlier. The mix of 'Turtle Soup' into 'Chat 'Bout' is inexcusable though, should have got a red card, really not sure what's going on there.
Part 2 next week!
Track list: Part 1
Stereolab – Refractions in the Plastic Pulse (Autechre remix)
King Kooba – Brown Blood (Campaign mix)
Ryuichi Sakamoto – Salvation (J Swinscoe remix)
Arsonists – Geembo's Theme
Money Mark – Push the Button
Mr Quark – Am I Really Different?
DJ Food – Turtle Soup (Wagon Christ remix)
Mark B & The M.U.D. Family – Chat 'Bout
Money Mark – Maybe I'm Dead (Psychonauts remix)