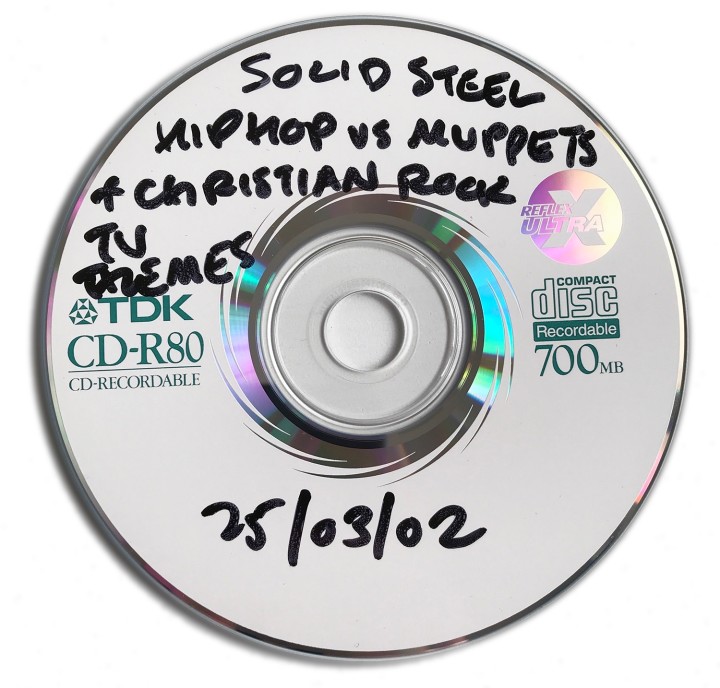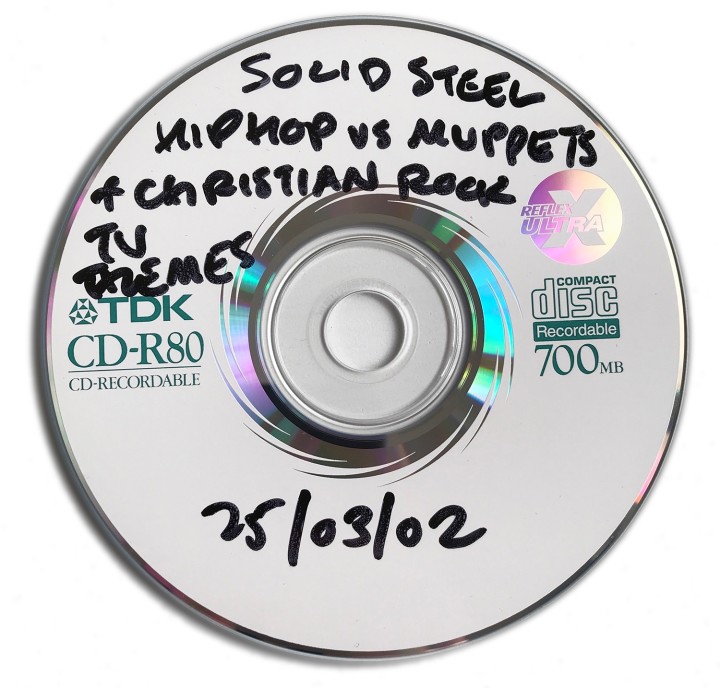 Going back almost 19 years to April Fool's Day 2002 and a thing titled 'Hip Hop ABC / TV is the new religion' this week although the date on the CD and tracklist here is most likely when it was recorded rather than transmitted. Opening with DJ Shadow's excellent 'Mashin' On The Motorway' (with edited swearing for the radio) from 'The Private Press' LP, an album that suffered from far too many comparisons to 'Endtroducing' at the time despite being amazing. Given that the album came out in June 2002, it's early to be playing this track but I do remember versions leaked online around this time.
There's a lot of Sesame Street spoken word throughout this mix as I was in the middle of a big Children's Television Workshop collecting phase, compiling material for the later 'D Is For Dig' mix – I have to say the segue from Grover into KRS-1 is quite inspired. The first half of this mix is heavy on current hip hop of the time erring towards the independent side of things with both UK and US talent featured. I always wondered if Black Twang were hoping for some kind of football TV syndication with 'Kik Off' but maybe not with those lyrics. How good is that Zeb Roc Ski track featuring Blade? Big Two Hundred was an alias of Andrew Meecham aka The Emperor Machine, Bizarre Inc. Chicken Lips and more who made one album for DC Recordings, very much in the Liquid Liquid post punk style.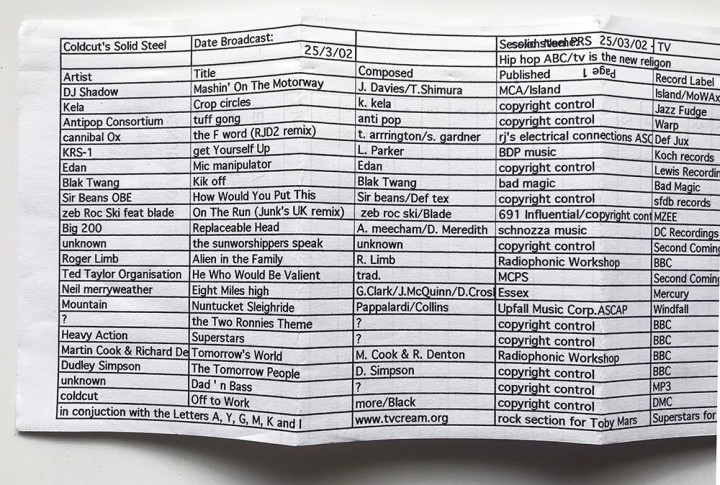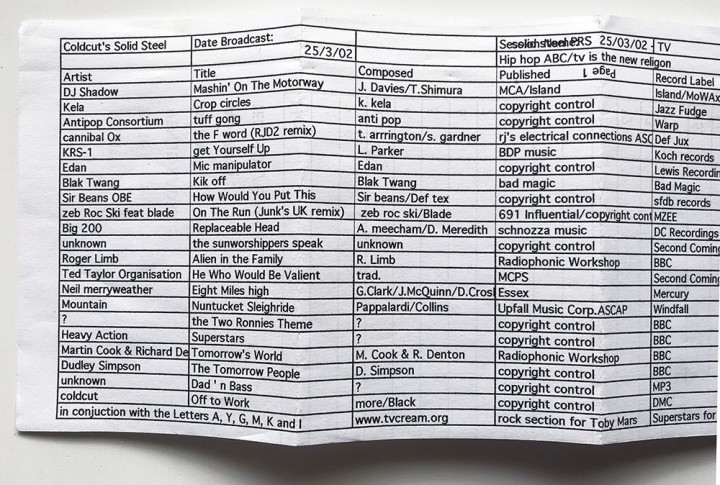 Halfway we switch to a mixture of funky rock and religious spoken word from Jonny Trunk & Martin Green's excellent 'Resurrection' compilation, a record that sparked an interest in religious records that I'm still exploring today. The end breakdown of Mountain's 'Nantucket Sleighride' was of course the theme to LWT's 'Weekend World' news programme during the 70s and 80s and brings us into the TV themes, covers and library cues section with a heavy bias on old BBC shows. The secret of library music had been out since the late 90s and many labels were reissuing fantastic comps of all the big hitters, there was a nostalgia for our 70s youth being stirred up that would eventually manifest itself into the hauntology genre with labels like Trunk helping fuel the fire.
Another thing fanning those flames were sections of the mash up community fusing old TV themes to new pop acappellas for laughs, hence the 'Dad n Bass' extract featured here which I must have found on the web somewhere. This scene was just starting to get into gear and I always thought the best mash ups were the ones that made you laugh at the ridiculousness of their pairing. This one is just that, if anyone knows who did it then please let me know. The daddies, Coldcut, close the show with an example from the late 80s of just this, showing they were, as ever, ahead of their time. This recording seems to be from a Capital Radio broadcast with Mick Brown and the mix was later featured on the July '88 DMC mix album which was the only place you could find it until the Cold-Cut-Outs compilation.
DJ Shadow – Mashin' On The Motorway
Kela – Crop Circles
Antipop Consortium – Tuff Gong
Cannibal Ox – The F Word (RJD2 remix)
KRS-1 – Get Yourself Up
Edan – Mic Manipulator
Blak Twang – Kik Off
Sir Beans OBE – How Would You Put This
Zeb Roc Ski feat Blade – On The Run (Junk's UK remix)
Big Two Hundred – Replaceable Head
unknown – The Sun Worshippers Speak
Roger Limb – Alien in the Family
Ted Taylor Organisation – He Who Would Valiant Be
Neil Merryweather – Eight Miles High
Mountain – Nuntucket Sleighride
Ronnie Hazelhurst – The Two Ronnies Theme
Heavy Action – Superstars
Martin Cook & Richard Denton – Tomorrow's World
Dudley Simpson – The Tomorrow People
unknown – Dad 'n' Bass
Coldcut – Off To Work