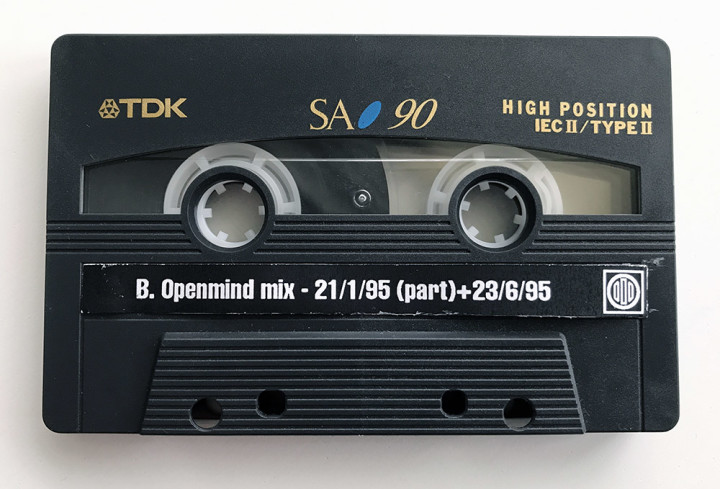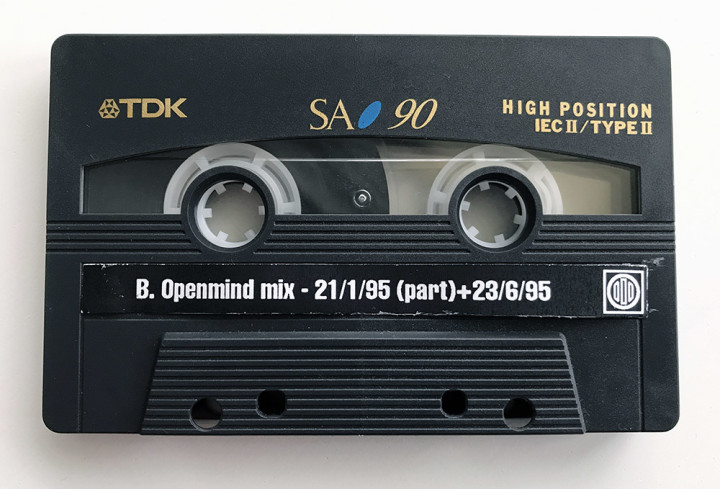 If there's one mix that I've dug up so far that encapsulates the moment and excitement of the Ninja Tune label finally coming into its own and starting to release what are now considered classics of the era then it's this mix. From early 1995 this Solid Steel set showcases track after track from the label that bring the memories flooding back, lots of these would have been played from white labels and I would have been designing the artwork for them at the same time, playing our first gigs and tours around the UK and Europe. There was also the work on the DJ Food 'A Recipe For Disaster' album and Coldcut's Journeys By DJ mix (more of that next week), the first Ninja Cuts compilation and, later on, the first Stealth nights at the Blue Note.
1995 was a vintage year, I'd quit my day job at a book shop on Oxford St, was still working some weekends in the record shop Ambient Soho on Berwick St. in between gigs away with Coldcut, PC and The Herbaliser and was designing whatever Ninja Tune could throw at me. Solid Steel shows were usually pre-recorded Friday evenings at KISS FM on the Holloway Road or in Coldcut's newly constructed Ahead of our Time studio in Clink St. This mix was the former and you can hear Matt on the mic at one point saying 'Ninja Tune blowing up in '95' as there was a sense of excitement and direction at the label with lots of new signings and singles from The Herbs, Funki Porcini, London Funk Allstars, Up, Bustle & Out, Neotropic and Food of course.
Coupled with the label's new visual identity, lexicon (see the Ninja Skinz inside notes) and the sense of purpose around the groups all working on debut albums, it made for a friendly but competitive environment. A small trickle of press interest had happened following Mo Wax's emergence as the forerunner of the trip hop sound plus new labels like Wall of Sound and Skint were starting. The mix kicks off with a truncated beginning unfortunately as we're into the latter half of The Herbaliser's original version of 'Repetitive Loop' before plunging into the Autechre mix of DJ Food's 'Sexy Bits' (basically the samples at the end of the Jazz Brakes albums).
The electronic side of things was also in fine form with three mixes from Autechre in this set alone, Disjecta (Seefeel's Mark Clifford) and more than I can't identify from ailing memory or Shazam, if anyone can fill in the gaps please let me know. I'm surprised to hear a snatch of Terry Riley's 'In C' at the end here as I didn't think I bought a copy until later than this but it was probably from a compilation from around this time.
I have three dates for mixes on this tape and it's likely that this mix is actually two sets from different dates, as the other side of the tape is definitely one set. At around the 14 minute mark, after the Beastie Boys, there was definitely an advert break because I remember it. After this, the mix may well be from another session, possibly at the AOOT studio. The dates I have are 13/05/1995 + 21/01/95 + 23/06/1995 but my good friend, Solid Steel collector and historian Anton Kibeshev tells me that I've mistakenly labelled one part and it should be 21/05/95. I'm going to peg the first half of this mix as 21/05/95, then 23/06/1995 as the second. Next week – for the 50th upload – will be 13/05/1995 which is where the JDJ mix comes in…
Track list:
The Herbaliser – Repetitive Loop
DJ Food – Sexy Bits (Ae9V mix)
Heights of Abraham – 700 Channels
DJ Vadim – Live From Paris
Beastie Boys – Something's Got To Give (live)
The Herbaliser – Scratchy Noise
Simon Harris – 95 bpm breakbeat
Akasha – Mescalin
Up, Bustle & Out – Revolutionary Woman of the Windmill (La Bandolera Del Molino)
Depth Charge – Five Deadly Venoms
Unknown – unknown
Scorn – Falling (Autechre FR 13 mix)
Disjecta – Vistic
Autechre – VLetr mx
Unknown – unknown
Terry Riley – In C