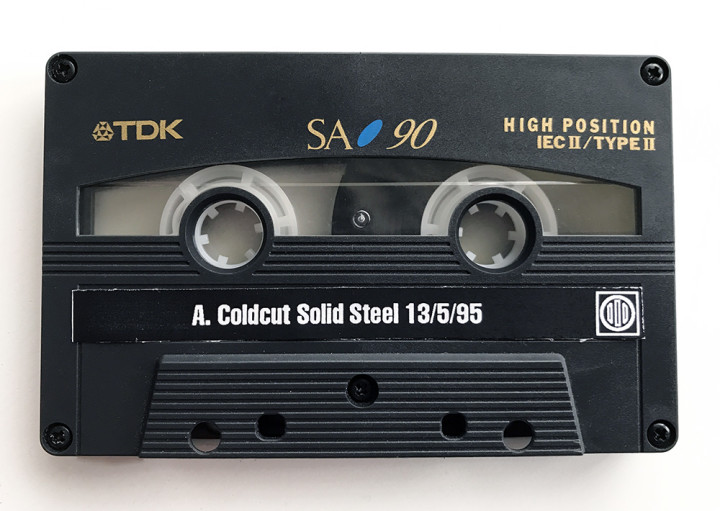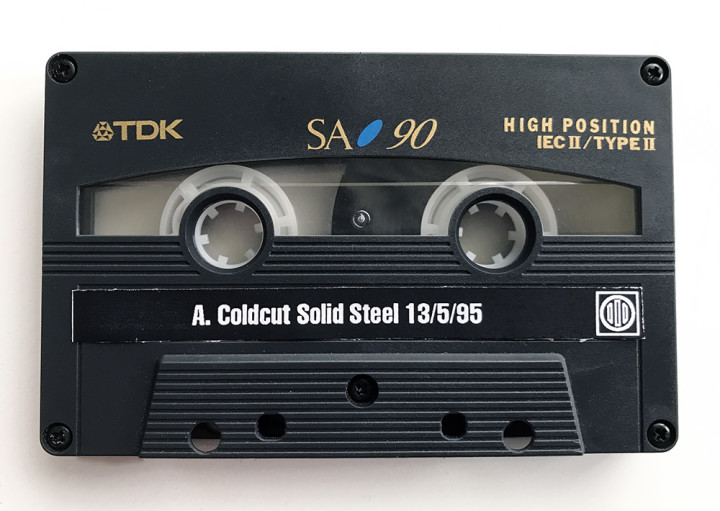 If there's one mix that I've found that's the genesis of my main contributions to the Coldcut Journey's By DJ mix then it's this one. This was my set from a Solid Steel show, recorded at the Ahead Of Our Time studios inside Ninja Tune HQ at Clink St, London and fans of the JDJ mix will recognise many of the tracks here. There's no finesse of the finished mix and several inclusions that didn't make the final version (I seem to remember Public Enemy was refused) but here are some of the building blocks. Apologies for the quality, this was recorded from the radio broadcast so it's a little 'fluffy' around the top end, just on the edge of distortion.
The Sabres of Paradise mix of Red Snapper was a huge tune at the time, here not yet embellished with the Dr Who theme by PC's hand – always a supremely melodic mixer, listening for musicality over the adrenalin rush of a heavy drop. I first heard The Octagon Man being played by Rob Hall of Gescom in The Sound Shaft at Heaven for one of the Thursday night Megatripolis sessions we would sometimes play at. I knew J Saul Kane's Depth Charge moniker but this weird electro/techno hybrid full of crazy machine gun drum programming. I found a copy as soon as I could.
The Jedi Knights were kicking off the Clear label's mission to reinstate electro into clubland with their superb 'Noddy Holder' and covered several musical bases in the process. When in doubt, pull out Bam Bam's 'Where's Your Child?', I seem to have played this a lot more than I remember across sets over the years but then it is one of the greatest acid tracks of all time. Keeping with acid of a (then) modern nature is Ritchie Hawtin's Plastikman with Coldcut's 'More Beats' on 45 mixed over the top.
Depth Charge proper comes after, we really wanted this to kick off the mix but it was refused so we cheekily took the beginning spoken word only, figuring it was a sample anyway. The PE mix into it is pretty shoddy and also the 2 Player remix out of that – still learning about the different swing of beats in the mix, just because they're the same tempo doesn't mean they'll slot together cleanly. The Wagon Christ remix was a no-brainer because we were all so excited about it and being on Ninja it was a dead cert, obviously it turned up elsewhere in the final mix.
Vapour Space was/is a great tune but was used as a bridge here for a tempo change to Autechre and friends under their Gescom guise. 'Mag' (sampling Ultra Magnetic MC's) is still such a killer tune with that huge breakdown. I'm glad we didn't go into the Chemical Brothers in the final mix as it changes the tone quite a lot, it would sound great in a club though. You can hear the sample, 'This Is just the beginning, we're just getting started' at one point which was later used to finish the 'Now, Listen' Solid Steel mix, flown in from one of Coldcut's 'Word Treasure' compilations of spoken word made for the radio shows. After a word from Lord Buckley from the same CD it's PC's turn to step up and he performs his Junior Reid/Truper mix before the tape ends, sadly I don't have the rest of the show.
Coldcut's brief for the mix was always that we just do what we do on the radio show but the best we've ever done it. To those who tuned in every week the released mix wasn't maybe anything new but to many it seemed to be a revelation that this many different styles could be so easily mixed together on one disc.
Red Snapper – Hot Flush (Sabres of Paradise remix)
The Octagon Man – The Demented Spirit (Okugai Eigakan)
Jedi Knights – Noddy Holder
Bam Bam – Where's Your Child?
Plastikman – Fuk
Coldcut – More Beats
Depth Charge – Depth Charge (Han Do Jin)
Public Enemy – Mi Uzi Weighs A Ton
2 Player – Extreme Possibilities (Wagon Christ remix)
Vapour Space – Gravitational Arch of 10
Gescom – Mag
Chemical Brothers – Leave Home
Lord Buckley – The Bugbird (The Raven)
Junior Reid – One Blood
The Truper – Street BeatsVol.2