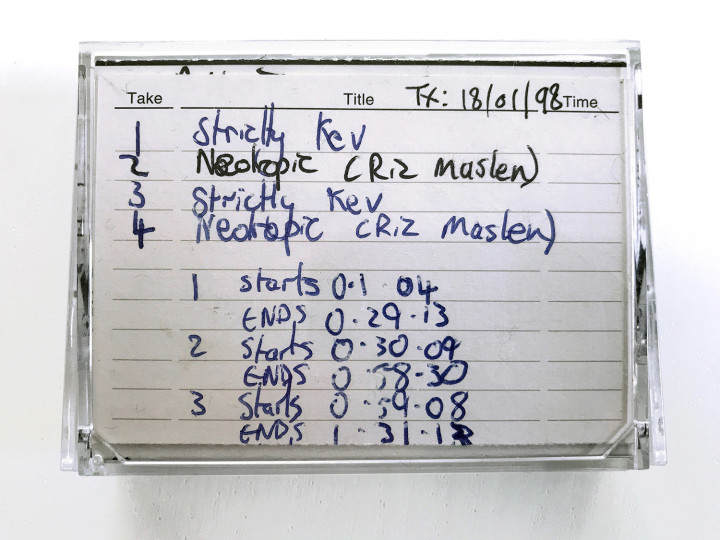 This mix was part of a show where I tag-teamed with Riz Maslen aka Neotropic, each doing two half hour mixes. Recorded up at Ninja Tune HQ in Clink St. before it moved and engineered by Ali Tod who added samples and effects whilst watching the levels. Ali was the resident engineer around this time and also helped mix tracks on Kaleidoscope and loads of club and live events.
The Psychedelic Beach Trip Part 3 remix of The Lightning Seeds was by Ashley Beedle, from a promo 12" of the time that includes Psychedelic Beach Funk Part 1 & 2 mixes on the flip and can be had for less than £1 on Discogs. The bizarre but brilliant version of Melle Mel and the Furious Five's 'White Lines' was by UK hip hop DJ's Pogo and Cutmaster Swift. This was from some reissue around this time and their slowing down of the song to make a jazz version using the same bassline that The Herbaliser had half-inched for 'Scratchy Noise' a few years earlier was pure genius. 'King Wasp' was Add N To X's second single on Satellite Records before then signing to Mute and old flatmate Chantal Passamonte's debut on Warp as Mira Calix, 'Sandsings', features briefly. Two takes on Lalo Schifrin's 'Bullit' theme tune appear in the form of The Midnight Funk Association (a Mark Broom project) and The Black Dog's late 90's remix version.
The Giancarlo Gazzani 'Under Drama' track was alas not from an original but from the excellent set of Easy Tempo compilations out of Italy that were around at the end of the 90s. At this point there were so many comps of soundtracks, easy listening and library around, some legal, most bootlegs, that it was hard to keep up but these were definitely good ones and ran to ten volumes by 2003. Tadashi Takatsuka's 'Odd Job' was from a great little 4 track 7" EP titled Man From Electone that I must have picked up in Tokyo on tour.
The Lightning Seeds – Psychedelic Beach Trip Part 3
Grandmaster Melle Mel & The Furious Five – White Lines (Swift & Pogo mix)
Kid Loco – Relaxin' With Cherry
Add N To X – King Wasp
Mira CalIx – Sandsings
Midnight Funk Organisation – Byte The Bullet
Lalo Schifrin – Bullit (Black Dog mix)
Giancarlo Gazzani – Under Drama
Tadashi Takatsuka – Odd Job
Rhys Chatham – Domestik Life