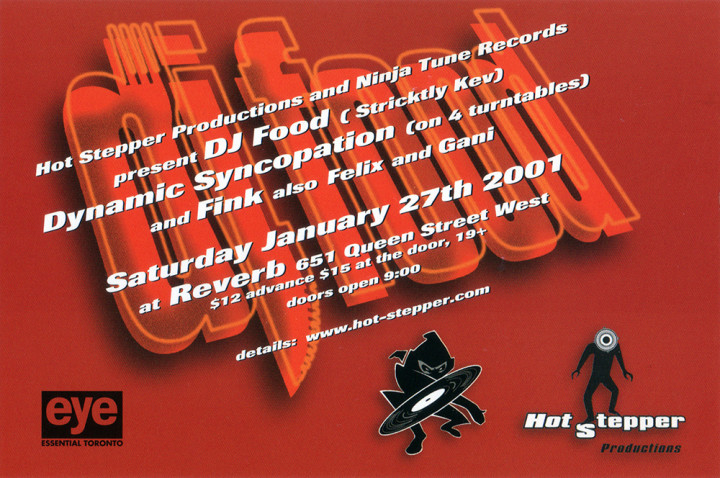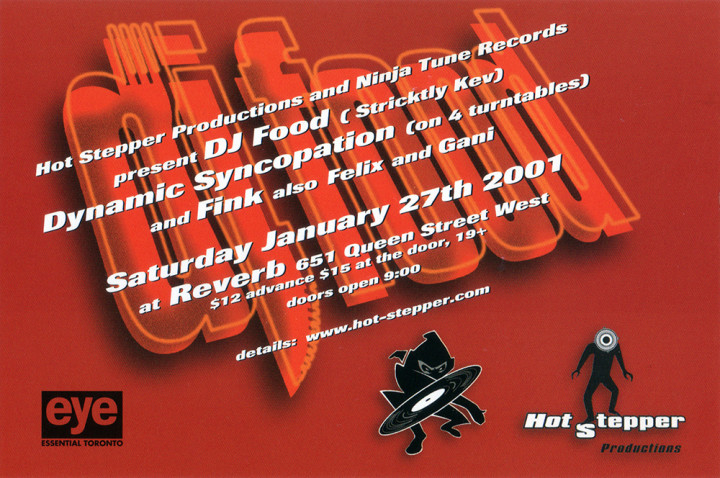 I have no tape or CD-R of this set, only a digital file, and no idea where it came from. I do recall there was a video online, filmed with multiple cameras for a local TV show of this set or a similar one in 2000. But it's an example of my club DJ sets at the start of the millennium and was recorded on tour in North America at the Reverb in Toronto according to the file title. The first section reprises part of the Xen Cuts 10th anniversary set I made the previous autumn, complete with wobbles, pushes and pulls – remember, this is all coming off vinyl. I
Amazingly I had the flyer for this show so can confirm the date and venue is correct but, trying to find info on the web about this, I found this review on NME.com of all places. It was dated as Sept 2005 so I can only deduce that it was posted later on, possible from elsewhere. I can guarantee you that I wasn't in Toronto in Sept 2005 though as my kids were about to be born.
DJ Food: Toronto The Reverb – Ninja Tunes stalwart rips up the jazz-hop breaks…
By NME 12th September 2005
Tonight, a courageous young gentleman in the audience is decked out, perhaps unreasonably, in full ninja regalia. It's a cartoonish, obscenely intricate costume – one quite obviously modelled after the pesky record-flinging mercenary that makes up the Ninja Tune logo. This, you see, is indicative of the kind of unabashed devotion that DJ Food and labelmates Fink and Dynamic Syncopation will bask in this evening.
For his part, the chain-smoking Fink performs admirably, wheeling off an expertly constructed set of electroid bleeps and rapid-fire, stuttering breaks. And although they're questionably occupying the closing slot, Dynamic Syncopation are also wholly dependable, weaving together a heady pastiche of '70s funk and retrograde hip-hop.
But the night quite obviously belongs to Food, who are on this occasion solely represented by the venerable Strictly Kev. His set is, in a word, fierce. Piecing disembodied remnants of rejigged classics together with more contemporary reference points, Kev's got the audience in rapture. By the time he gets round to spinning a handful of re-Tuned swing numbers, they're engaged in the kind of frantic, hands-up revelry normally reserved for someone about to be saved by a gasbag televangelist.
A storming evening then – even Kev walks offstage with a bemused smile. And why not? If it's good enough for the ninja, surely it's good enough for the rest of us.
Mark Pytlik  https://www.nme.com/reviews/reviews-nme-3935-328553
Track list:
The Herbaliser – Mr Chombee Has The Flaw
The Cinematic Orchestra – Channel One Suite
Mr Scruff – Fish
Neotropic – 15 Levels of Your Stealth
Up, Bustle & Out – Revolutionary Woman of the Windmill
Cabbage Boy – Bean (To This World)
Amon Tobin – Sordid
The Herbaliser – Mrs Chombee Takes The Plunge (DJ Food remix)
Quantic – Lie In The Rain
Jurassic 5 – Swing Set
Wagon Christ – Get Your Head Down
Breakestra – Live Mix Part 2
Colour Climax – Plug It In
Rufus Thomas – The Funky Bird
LL Cool J – Illegal Search (Keep On Searching' Mix)
Grandmaster Melle Mel & The Furious Five – Pump Me Up
Art of Noise – Beatbox (Diversion One)
Westbam – Alarm Clock
Banbarra – Shack Up
The Beatmasters – Boulevard of Broken Dreams
De La Soul – A Roller Skating Jam Named Saturdays
K. Scope – The Set Up
Major Force – The Re-Return Of The Original Artform (Cut Chemist mix)
Jungle Brothers – Beyond This World (acappella)
Unsung Heroes – Daily Intake
LB – Ashes To Ashes
Wagon Christ – Cris Chana
Massive Attack – Safe From Harm
Photek – Complex
Quincy Jones – Soul Bossa Nova