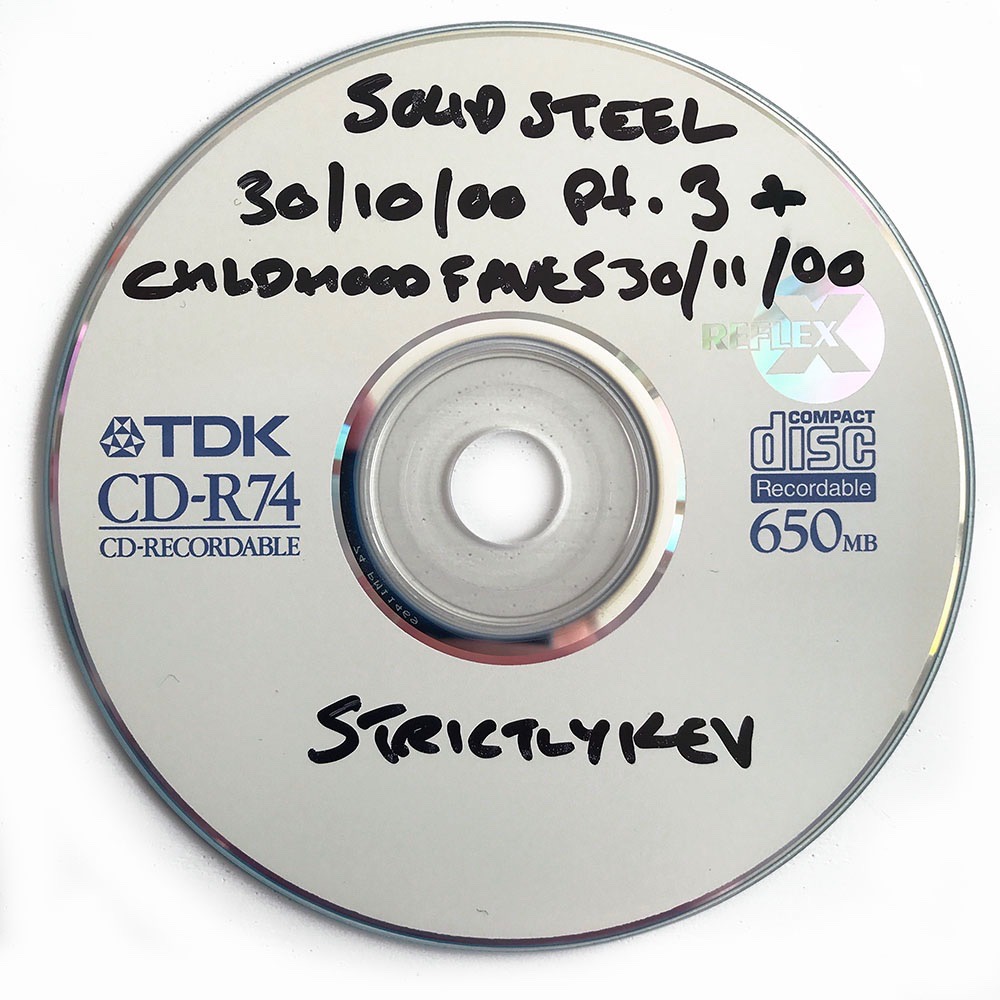 This is an odd one because the first 10 minutes or so is an involved multi-layered affair with 2 or 3 tracks overlaid simultaneously in a way that would be virtually impossible with turntables. I can only assume that this section was an early idea for the first Solid Steel mix CD, Now, Listen.
The Aphex Twin/ DJ Food combo is frustratingly slightly out of time at the start and the tuning is a bit off too. Neotropic's 'Beached' is in there and the only track to make it to the aforementioned mix CD and works well with Aphex and the Orb remix of Material 'Mantra' although it's a long, laboured mix and wouldn't have stood up on the CD. Cornershop's 'Easy Winners' part 1 is such a killer beat, I remember Kid Koala in particular used to cut two copies of this up. It doesn't quite work with the sombre tone of Neotropic in the background but Mantra rumbles along nicely in there.
After this section we get into some contemporary releases of the day with Andy Votel's 'November' from his and Cherrystones' excellent 10" EP 'The Amazing Transplant'. A tempo switch mid-track see the unlikely addition of Hijack's 'The Badman Is Robbin' but one I'm sure Andy would appreciate as it bridges the Cherrystones track from the same EP and they compliment each other for a while. A track from the lone Papa Blue EP on PUU features, still a lost classic and so beautiful and this is another 3 tracks at once mix which makes me think there may have been some computer overdubs going on. Back into another Votel/Cherrystones track and then the mallet instruments continue with Syd Dale's excellent theme to Screen Test, 'Marching There & Back' on Trunk. Incidentally there's a fabulous compilation album just out celebrating 25 years of the label which is pretty essential if you're a fan of all things Trunk-related.
Continuing the wacky theme tunes that no doubt gave this mix its name we have an odd 7" on Acupuncture from around this time by Black Lodge that chopped up the 'Pink Elephants On Parade' song from Pinocchio to good effect. I think this was the first release on the label and was associated with a shop of the same name, Black Lodge went on to release material in the dying days on Mo Wax. The final track is 9 Lazy 9's 'Brothers of the Red' overlaid with a fictitious listings read by an unknown narrator from Chris Morris' Blue Jam album and still stands up although who could have predicted that Cerys from Catatonia would end up as a DJ?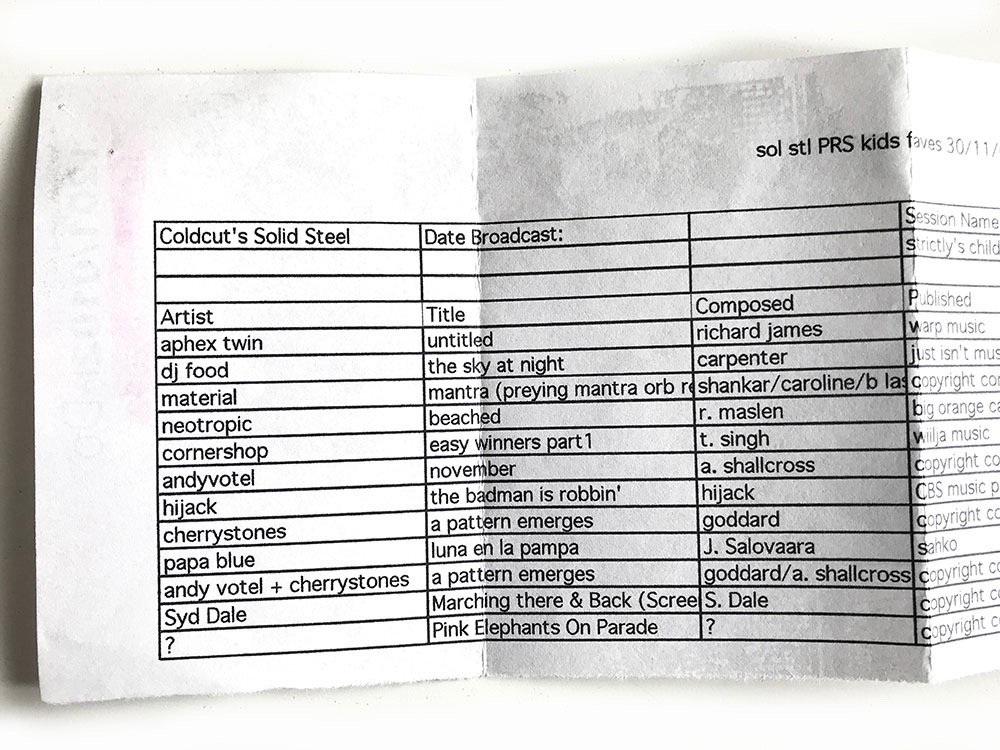 Track list:
Aphex Twin – Untitled
DJ Food – The Sky At Night
Material – Mantra (Preying Mantra Orb remix)
Neotropic – Beached
Cornershop – Easy Winners part1
Andy Votel – November
Hijack – The Badman is Robbin'
Cherrystones – A Pattern Emerges
Papa Blue – Luna En La Pampa
Andy Votel + Cherrystones – A Pattern Emerges
Syd Dale – Marching There & Back (Screen Test Theme)
Black Lodge – Pink Elephants On Parade
Chris Morris – Club News (9 Lazy 9 – Brothers of the Red)