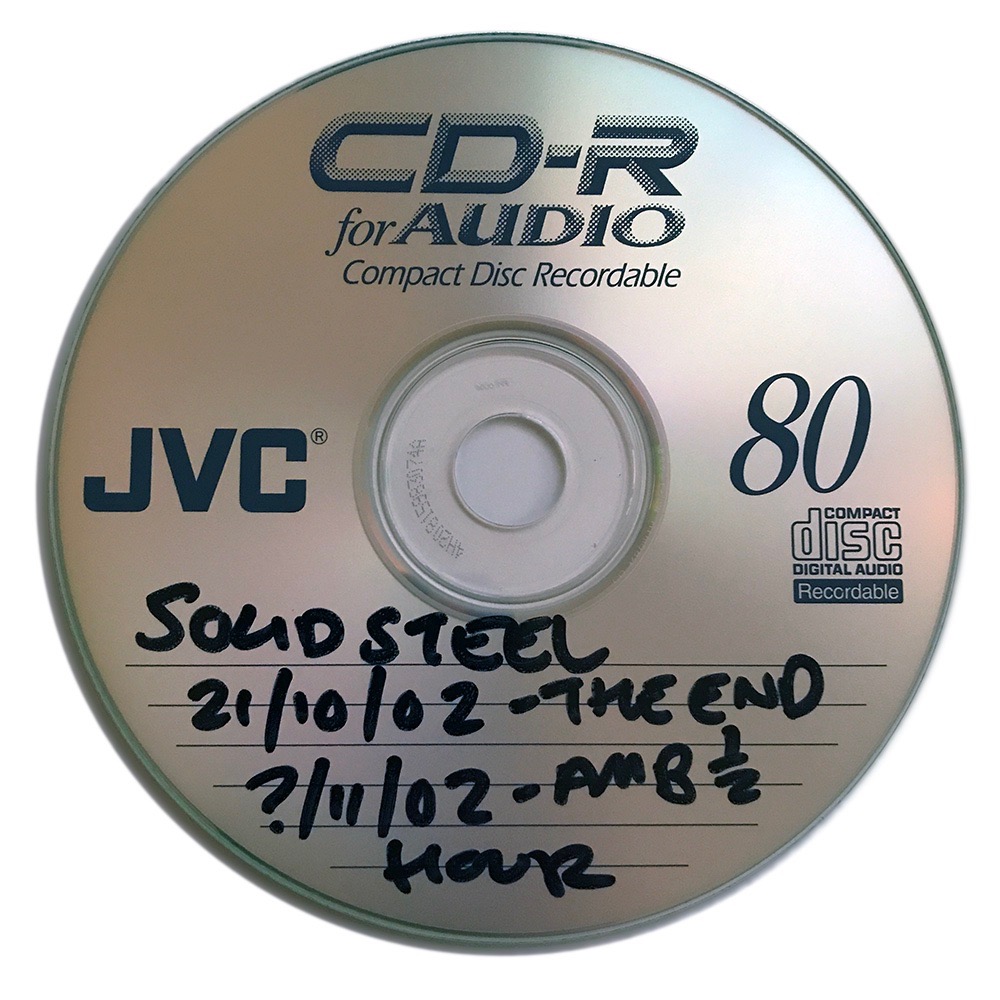 Here's a silly little set from the last show we broadcast on Radio LDN, part of the BBC network, on a Monday nights in the early 00's.
BBC London could never make up it's mind around the turn of the millennium; after 18 years of being BBC Radio London and another 12 of Greater London Radio (GLR) they decided to switch to BBC London Live just as we joined the station in 2000. A year later and they changed it again to BBC LDN and then further to BBC London around the time they got rid of most of their specialist programmes in favour of talk radio.
We were part of this cull along with other DJs like Ross Allen and Dr Bob Jones and it came out of the blue, one week we were on, the next we had one show left. I found out from another presenter who casually mentioned "sorry to hear about your show", whilst I was covering for the others solo one time. Seeing the puzzled look on my face, she realised her faux pas and explained that the station had axed all but two of their late night specialist music shows in favour of a more talk based radio station. We had one week's grace and that was it but we really made use of that week…
But let's start with how we came to be on the BBC in the first place: after leaving KISS in Feb '99 (before we were pushed – big changes were ahead) Solid Steel set up home online, streamed via the Ninja Tune homepage every week, still maintaining it's 2 hour format, uncertain as to how many people were listening. With DK now firmly in the producers chair, syndications to overseas stations had been instigated and we were looking around for a 'home' on a London station. There was a pilot show for GLR on 27/06/99 but the first regular slot was 27/03/2000, the week the station relaunched as BBC London Live. We had a midnight until 2am slot on a Monday night which suited us fine, no playlist, minimal fuss or bother from the powers that be and a proper studio to broadcast from.
The big drawback was that the studio was more geared to CDJing than turntable mixing and the decks there were more of an afterthought than an integral part of the set up. Out went the live mixing and in came the pre-prepared, home studio mixed sets, something that did no end of good for the quality control threshold but which sounds odd at times when listening back as we had to leave instrumental gaps for talking and tracklists in the selection. Another revelation was no adverts other than the occasional station sting for an upcoming event or show – yes! More uninterrupted mixes and less stop / start nonsense.
Initially we took over after Ross Allen's Destination Out show which was perfect as we caught a lot of his audience but he moved on to two separate nights of the week as his star rose. Generally two of us would present the show live whilst playing that week's selection of mixes and we also had the means to take calls for competitions where we gave away tickets to shows or CDs in return for answers to ridiculously easy multiple choice questions. The BBC had a full online streaming web presence too so we were beamed live worldwide and, on occasion, we got calls from overseas for the competitions, including one from New Zealand! Being 'on the BBC' also afforded us instant credibility when asking for high profile interviews and both David Axelrod and Herbie Hancock were recorded using their facilities.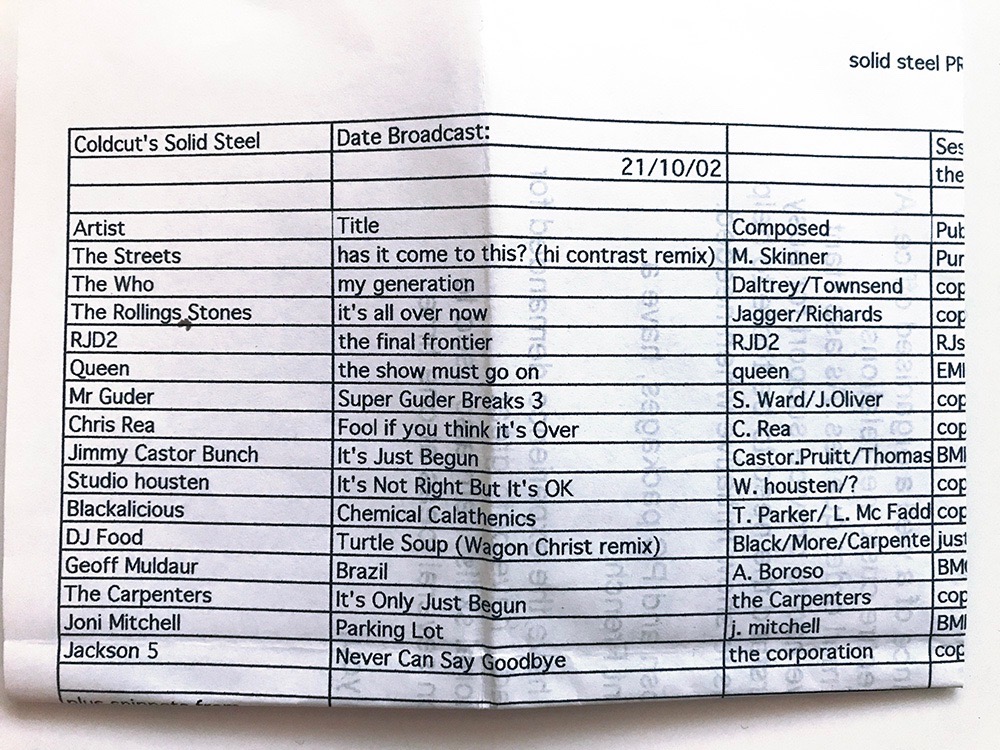 But all good things must come to a (tr)end and 21/10/2002 was the last show we did at the station, but we weren't going out without making a statement and Matt, Jon, DK and I were all determined to make it one to remember. I kicked things off with plenty of loaded spoken word and songs aimed at the Beeb – Has It Come To This?,  It's All Over Now,  The Show Must Go On, Fool If You Think It's Over, It's Just Begun – you get the idea. I must apologise firstly for the cheesiness of some of the tracks (a worrying amount of Queen) but mostly for the tuning on some of the mixes – oh my ears! This recording is the original studio mix without talking, not the live broadcast with the ridiculous competitions, shout outs and studio banter. I've actually edited this down as some of the tracks really laboured the point and some were in there for us to talk over so sound odd without it. Plus there's a Stones track in there and Charlie Watts died this week (RIP).
After this (but not included here) Matt turned in a storming old school ultimate breaks and beats cut up using the Street Beat compilations in Ableton Live. Jon waded in with possibly the first BBC jingle and presented a set of mashed up hip hop acappellas, ending with Monty Python's phone in sketch. DK ran through some of the show favourites from the last few years, the tracks getting the most plays from the variety of DJs over the course of our tenure, flagged up some of the high profile jingles we'd recorded and ended appropriately with The Specials' 'Ghost Town' as the final word. It was sad to go but we had no choice and it wasn't as painful as the KISS departure because we had the internet support fully set up by this time, still it was great to be part of the BBC for a while.
Track list:
The Streets – Has It Come To This? (Hi Contrast Remix)
The Who – My Generation
The Rollings Stones – It's All Over Now
RJD2 – The Final Frontier
Queen – The Show Must Go On
Mr Guder – Super Guder Breaks 3
Chris Rea – Fool If You Think It's Over
Jimmy Castor Bunch – It's Just Begun
Studio Housten – It's Not Right But It's OK
Blackalicious – Chemical Calathenics
DJ Food – Turtle Soup (Wagon Christ Remix)
Geoff Muldaur – Brazil
The Carpenters – It's Only Just Begun
Joni Mitchell – Parking Lot
Jackson 5 – Never Can Say Goodbye