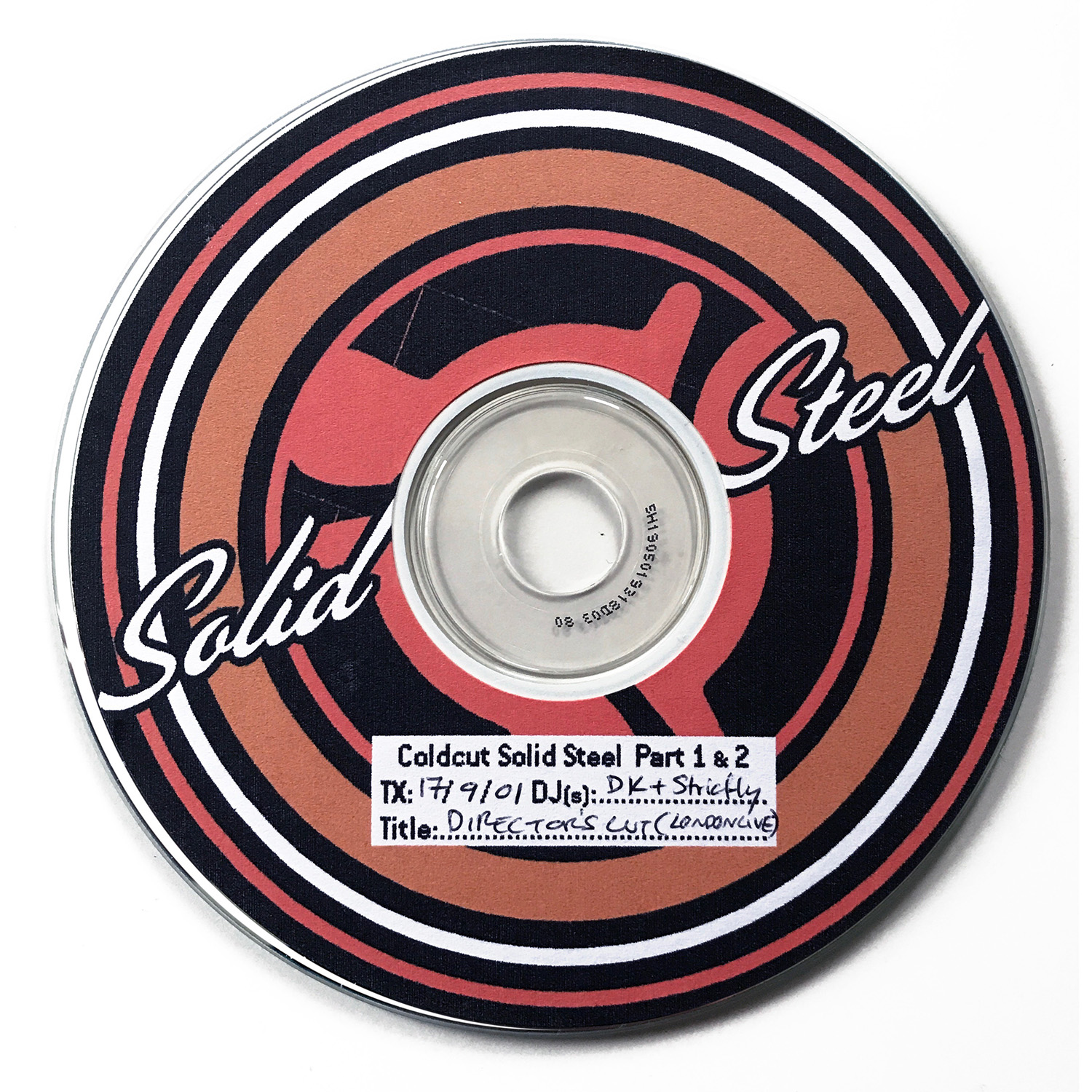 20 years ago PC, DK and I presented a unique extended cut of our new Solid Steel mix as the CD was released and we were about to embark on a US tour with Four Tet and Bonobo to support it. This gave us an opportunity to retool the mix and add many parts originally up for consideration but not included for various reasons of time, flow or licensing restrictions. The devastating events of 9/11 the week before meant that the idea of including DJ Vadim's 'The Terrorist' acappella was now firmly out of the window and this was replaced by Missy's 'Get Ur Freak On' for the tour. In this mix it's replaced with a selection of interview snippets PC had recorded from a round of pre-tour interviews.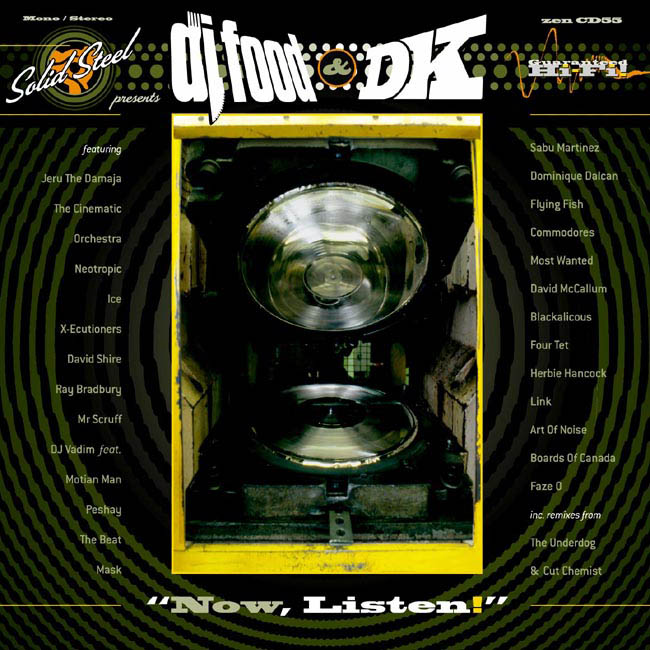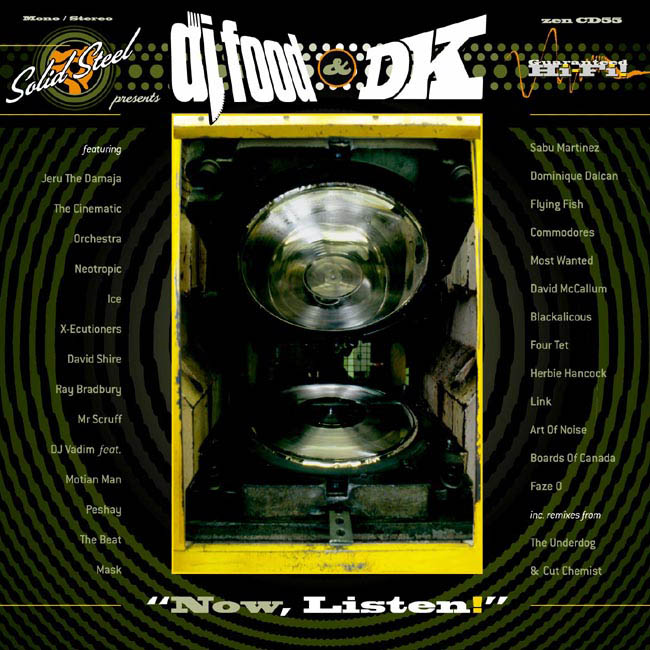 In the original mix incarnation we had a section by Ollie Teeba from The Herbaliser as a guest (there was an idea that this would come out as an all-star affair with the Ninja Tune 10th anniversary Xen Cuts compilation originally but it wasn't finished in time). Ollie's section was added back in as well as many other ideas and additions that got cut in the final edit. Licensing problems meant that we couldn't get loads of these like Vangelis (had fallen out with his label), Pharaoh Monch (big Godzilla sample they were being sued over) and Sesame Street were unhappy with their track being used next to rap tracks. This ended up being a godsend as their 'Pinball Number Count' would have settled near to DJ Vadim's track and possibly scuppered the whole release. As it was we released it later as a standalone track and it was all the better for it.
The Jeru / Cinematic / DJ Shadow / Ken Nordine mix I used to do on my opening sets for Kid Koala and Amon Tobin during 2000 and Pharaoh Monch's 'Simon Says' scratched into The Addams Family Theme was a little thing I used to do in my DJ sets and we overlaid the original to labour the point for this mix. Sabu Martinez made it into the mix and got extended with a couple of other tracks for a really uptempo part.
The Boards of Canada meet Grandmaster Flash long form mash up was a staple of my club sets around this time with the payoff coming when Melle Mel's verse comes in as the track takes off. Blending perfectly into Ollie Teeba's set of old school hip hop, breaks and Herbaliser tracks, this section didn't make it as I think we changed directions as it wasn't ready for the 10th anniversary and the Solid Steel mix CD series was formed out of that idea with The Herbaliser doing the third entry. Another Boards track after Pinball Number Count was probably way too much but the counting and children subject matter made it fit as well as the perfect tempo to introduce Blackalicious' 'Alphabet Aerobics' which will kick off part 2 next week…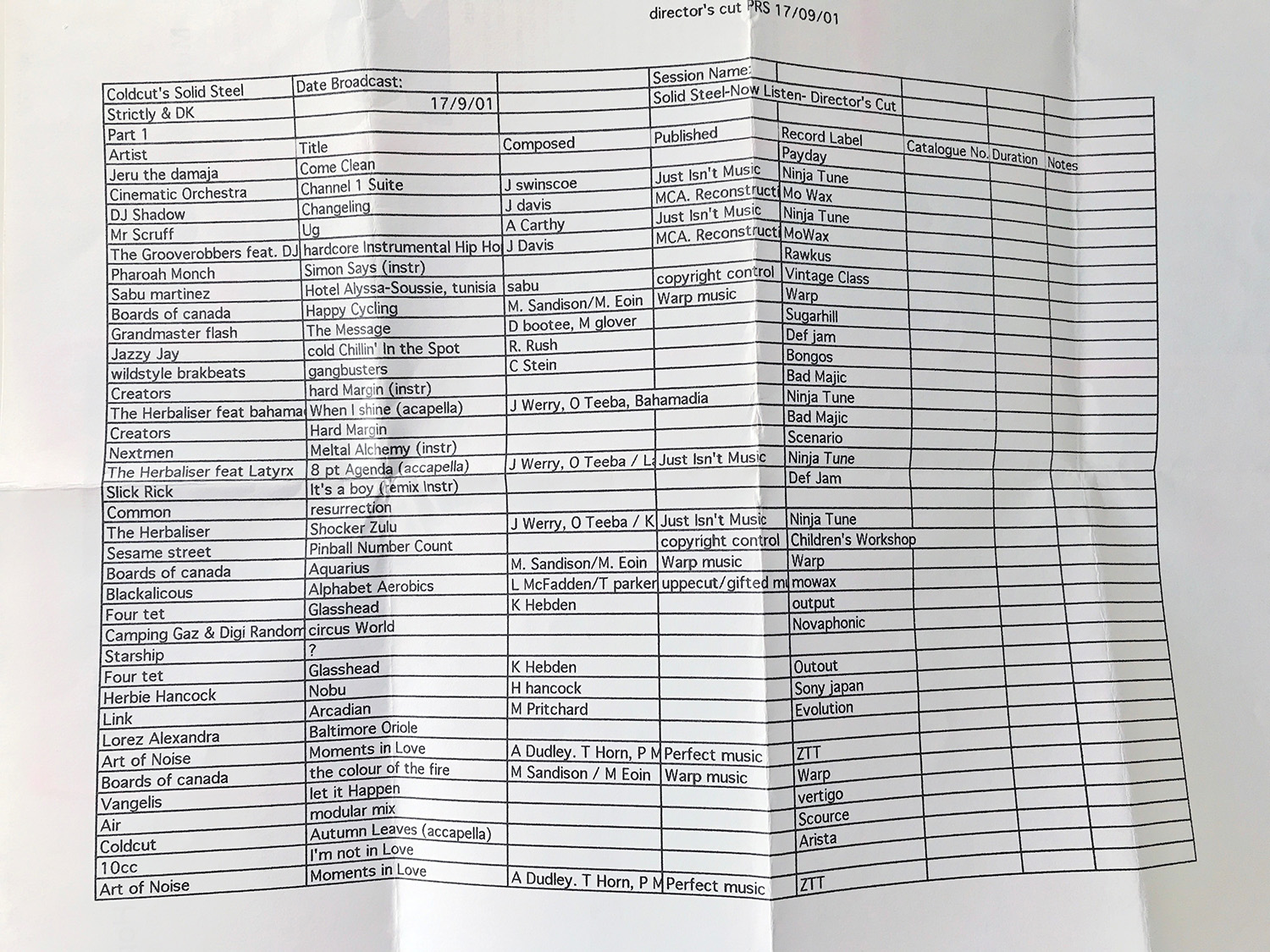 Part 1
Jeru Tha Damaja – Come Clean
The Cinematic Orchestra  – Channel 1 Suite
Neotropic – Beached
DJ Shadow – Changeling
Ken Nordine – Looks Like It's Gonna Rain
Mr Scruff – Ug
The Grooverobbers feat. DJ Shadow – Hardcore Instrumental Hip Hop
Pharoah Monch – Simon Says (instr)
Sabu Martinez – Hotel Alyssa-Soussie, Tunisia
Boards of Canada – Happy Cycling
Grandmaster Flash – The Message
Jazzy Jay – Cold Chillin' In the Spot
Wildstyle Brakebeats – Gangbusters
Creators – Hard Margin (instr)
The Herbaliser feat Bahamadia – When I Shine (acappella)
The Nextmen – Mental Alchemy (instr)
The Herbaliser feat Latyrx – 8 pt Agenda (accapella)
Slick Rick – It's a Boy (remix Instr)
Common – Resurrection
The Herbaliser – Shocker Zulu
Walt Kraemer feat. The Pointer Sisters – Pinball Number Count
Boards of Canada – Aquarius