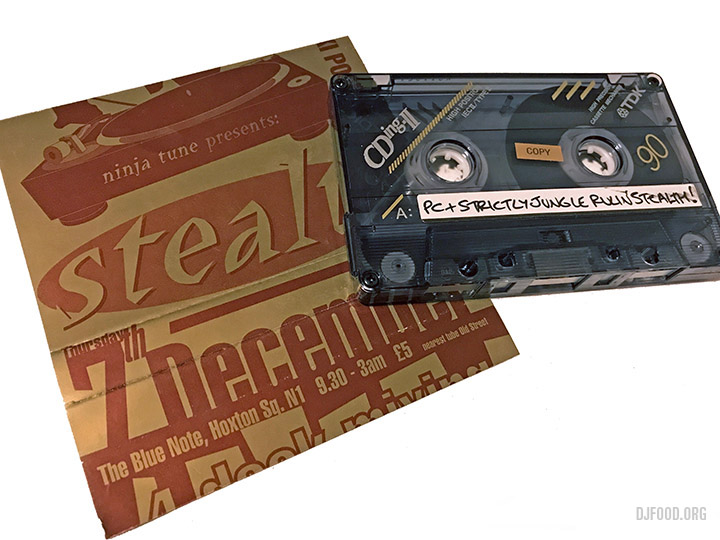 Here's part 2, DJ Food – PC and myself – on 4 decks at The Blue Note, Dec 7th, 1995 – a more drum n bass led set coming out of some Ninja business from Up, Bustle & Out and The Herbaliser. It's possible, listening back, that these first two tracks aren't PC and I but the end of either The Herbaliser or Coldcut's DJ set and we start with the breakdown sample of Dirty Harry from the end of The Real Killer Pt.2. There are also sudden stops or breaks in the recordings where tapes must have run out and by the time they're changed the music has moved on so I've crossfaded a couple of bits so there are no sudden stops or jump edits. The levels on a lot of it were up and down so I've done my best to make volumes a bit more consistent across the mix.
This is available as part of my Mixcloud Select subscription – £3 a month gets you an archive mix a week every Friday morning with tracklist and notes – you can sign up here and leave any time
At a couple of points there's what seems to be a theremin being played over the top of the set, I'd completely forgotten about this but it lit a dim recollection of someone doing something like this, not Patrick or I though I hasten to add. The mix is rough and ready, straight from the central mixer we were both plugged into with no crowd noise sadly so it's a little dry. Every rough mix, distorted level and jumping record can be heard but you get the sense that this is very live, improvised on the spot with vinyl and the occasional spoken word overlaid from CD. For some context, this is very early days of this kind of music being played in a main room of a club, not the back room/chill out, on a four deck set up with DJs facing each other on a club stage in London. There are a lot of unknown tunes in these sets, some PC's and some mine, lesser known break beats and DnB tunes that Spotify can't recognise and the old braincells won't remember, I'm hoping people can spot some and fill in the blanks.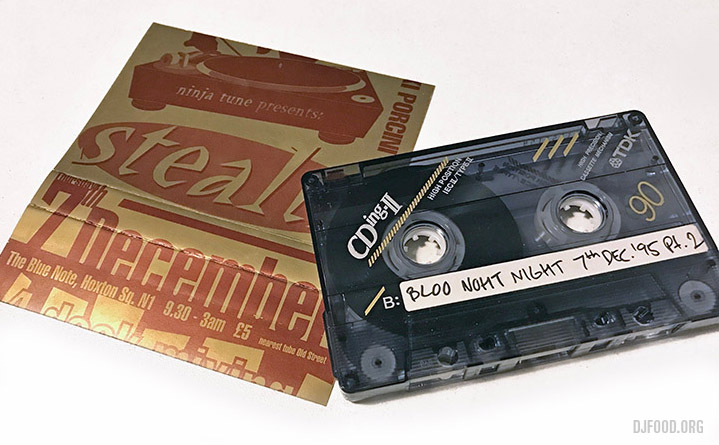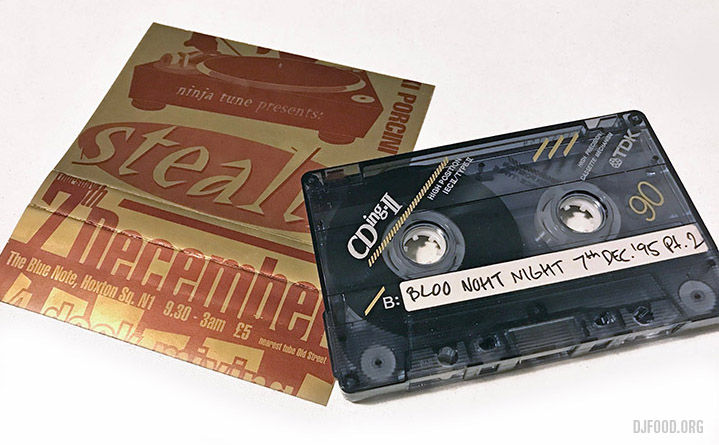 There was an odd jump at the end of this tape, from DnB to a sudden 130 tempo, the DAT must have either stopped or ended and there was a sudden change at Bushflange. We probably did the 45-33rpm trick and turned the deck off for a second so the tempo ran down and landed at a more techno pace then mixed into that at the slower speed. Bushflange have come up numerous times during these mix excavations and their tracks were always solid, strange that they weren't remembered in the scheme of things. Owners of the Sunday At Bundy's mix tape will probably recognise a couple of sections from this set as they were featured on that tape back in 1996.
Below is the original print file layout for the flyer, this was printed on gold card so the purple came out more a burnt umber brown as you can see by the tape inlay above that I made from a flyer.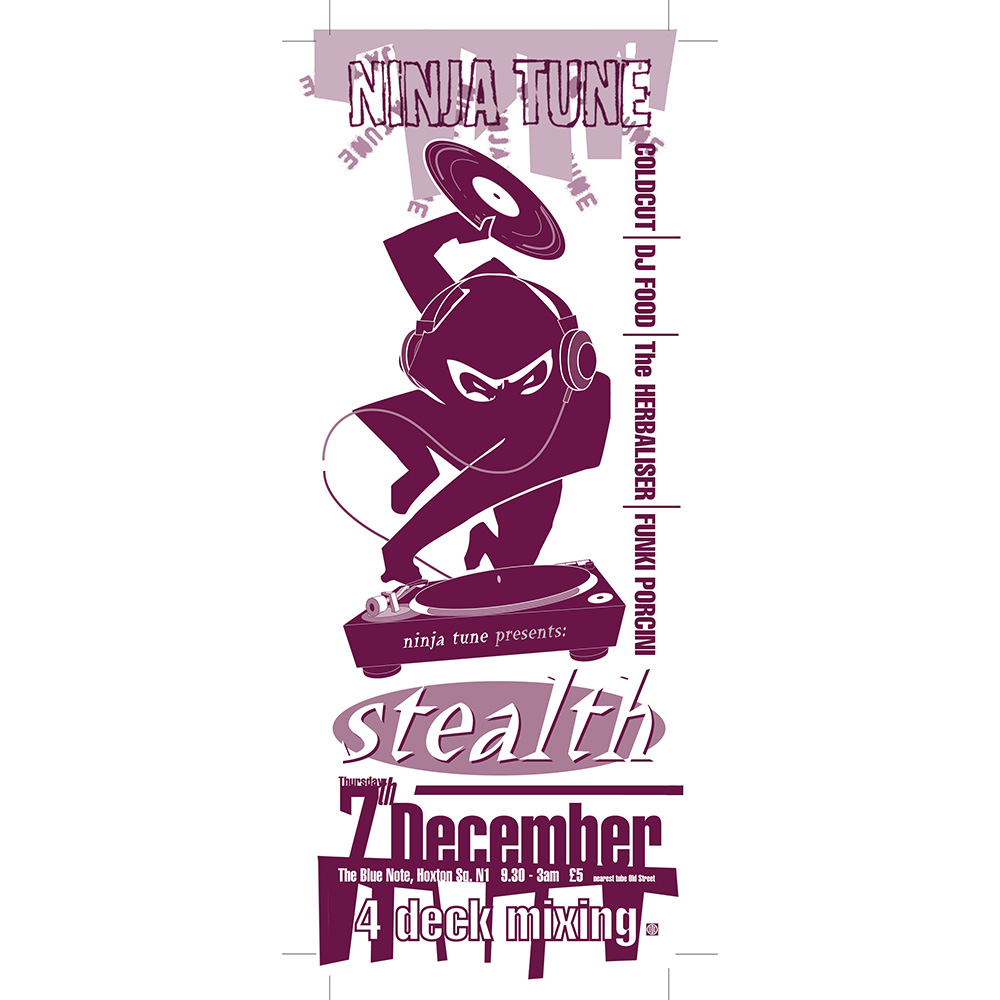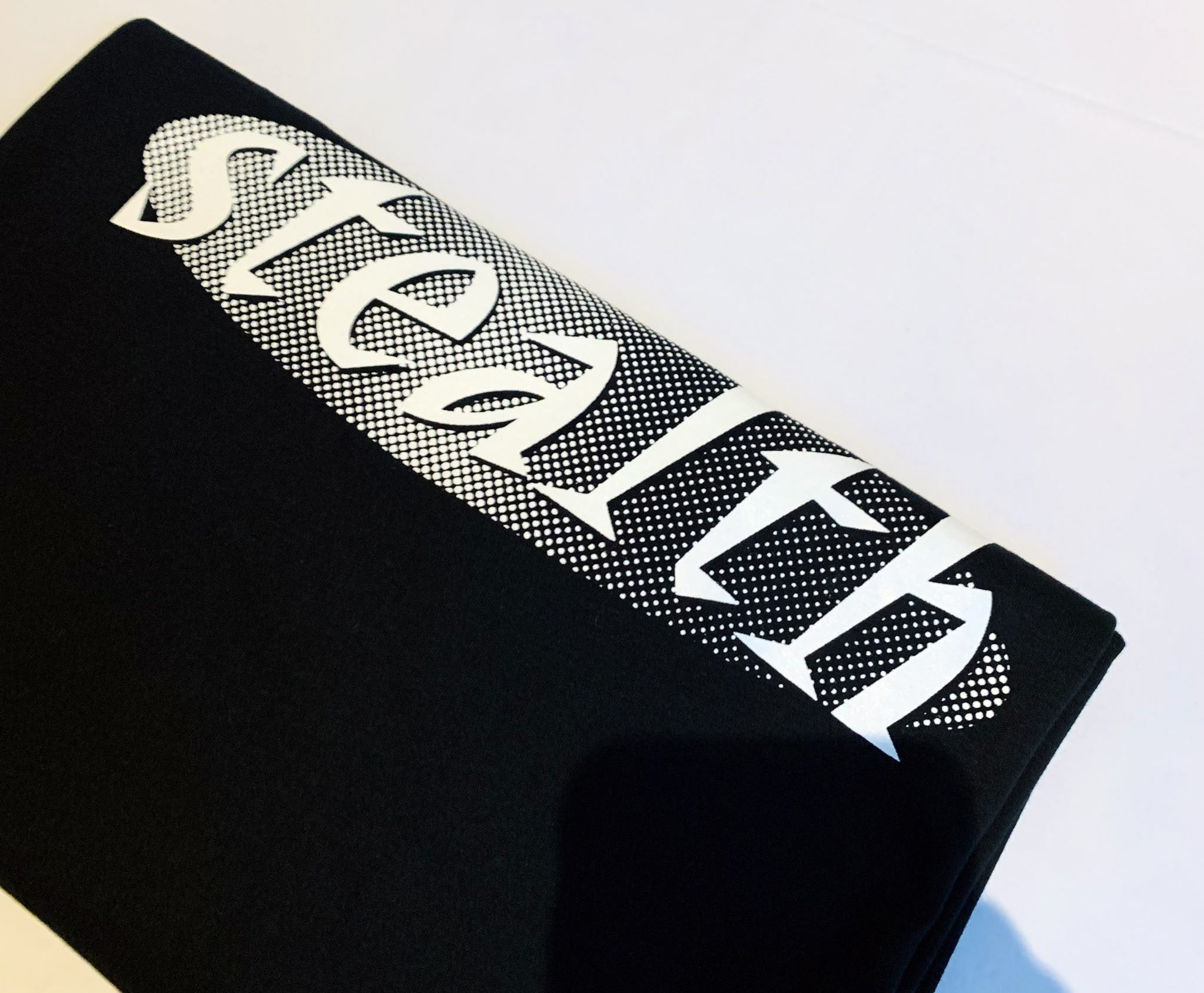 Remember, if you want a 1 of 100 commemorative Stealth T shirt then I think there are some left, follow this link, choose you colour, size and T shirt number from the ones left and place an order, once the 100 are sold there won't be any more.
https://weare1of100.co.uk/limited-edition/dj-food-openmind/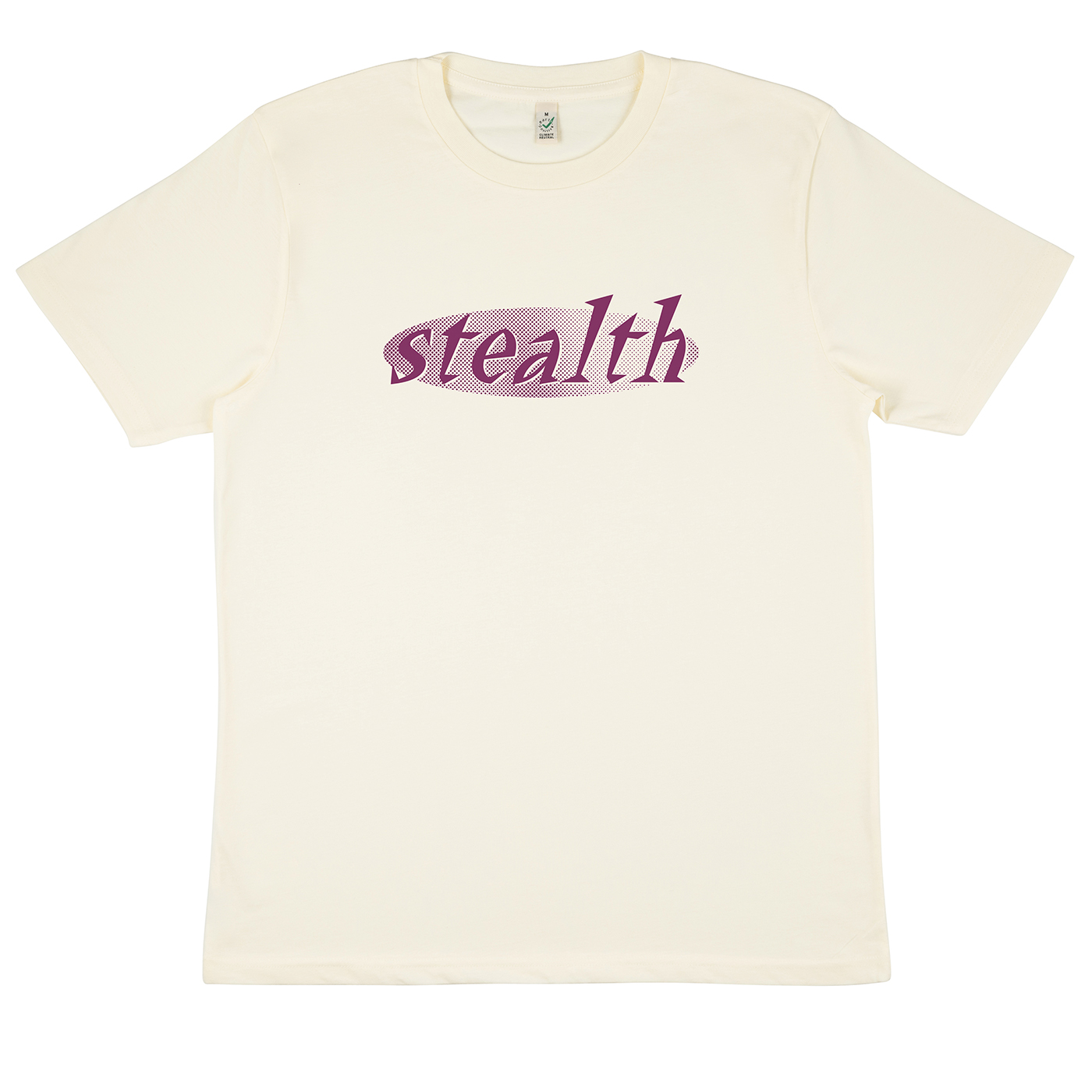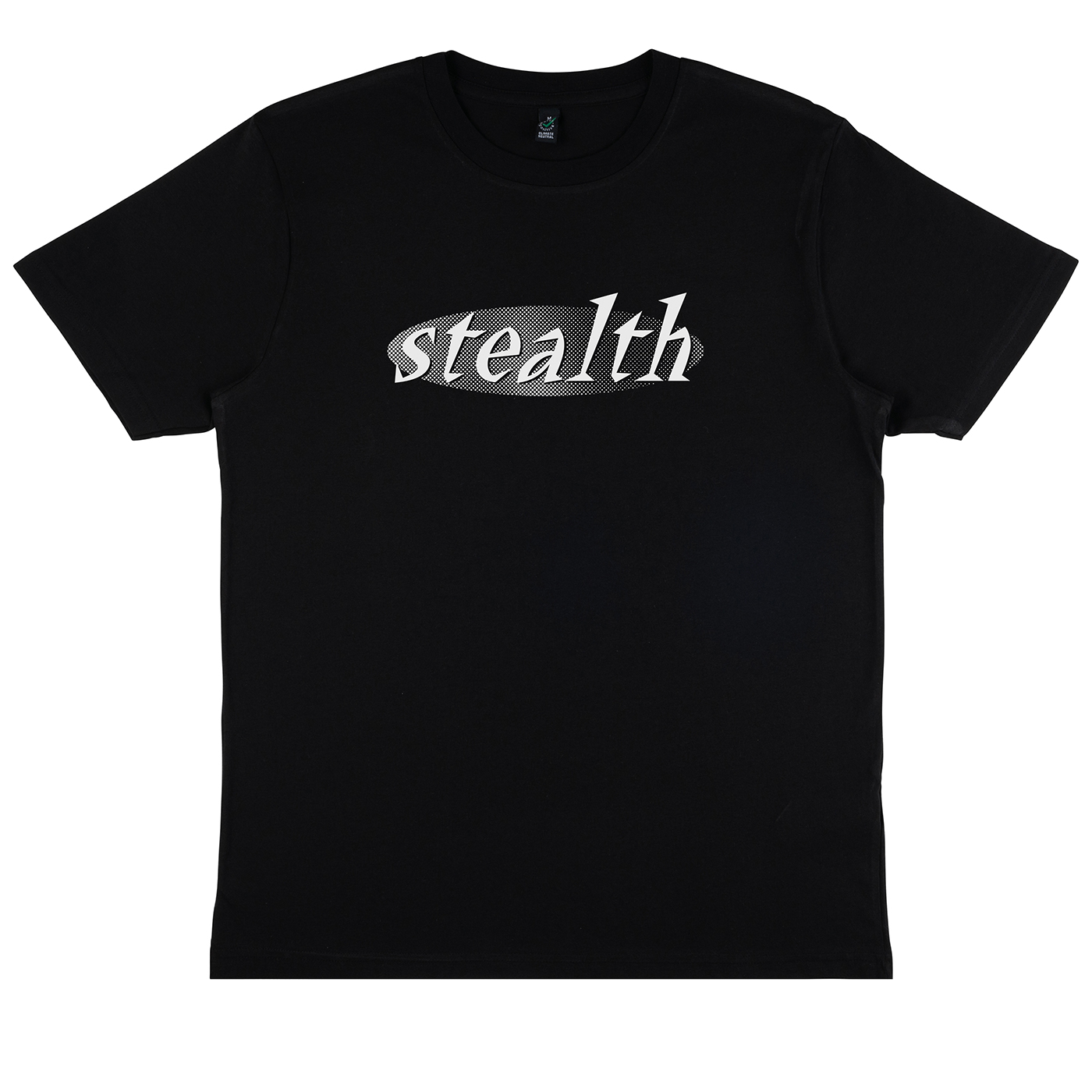 Track list:
Up, Bustle & Out – Revolutionary Woman Of The Windmill
The Herbaliser – The Real Killer Pt.2 (Rooftop Prowler)
Larceny – Who Are You? (Aquasky mix)
Unknown
Unknown
Unknown (acappella on 33rpm)
Alex Reece & Wax Doctor – Detroit
DJ Vadim – Call Me
Photek – The Rain
The Pharcyde – Passin' Me By (acappella)
Unknown
The Shamen – Transamazonia (LTJ Bukem mix)
Unknown
Incognito – Still A Friend Of Mine
Squarepusher – Male Pill 5
Dream Warriors – My Definition Of A Boombastic Jazz Style (acappella)
Fatboy Slim – Weekend Bonus Beats
Rae – Free Rolling
KRS One – Uh Oh
Cypress Hill – Scooby Doo
Unknown
Unknown
Bushflange – Cloud Cover
Plastikman – Helikopter
DJ Shadow – In/Flux
Colourbox – Baby I Love You So