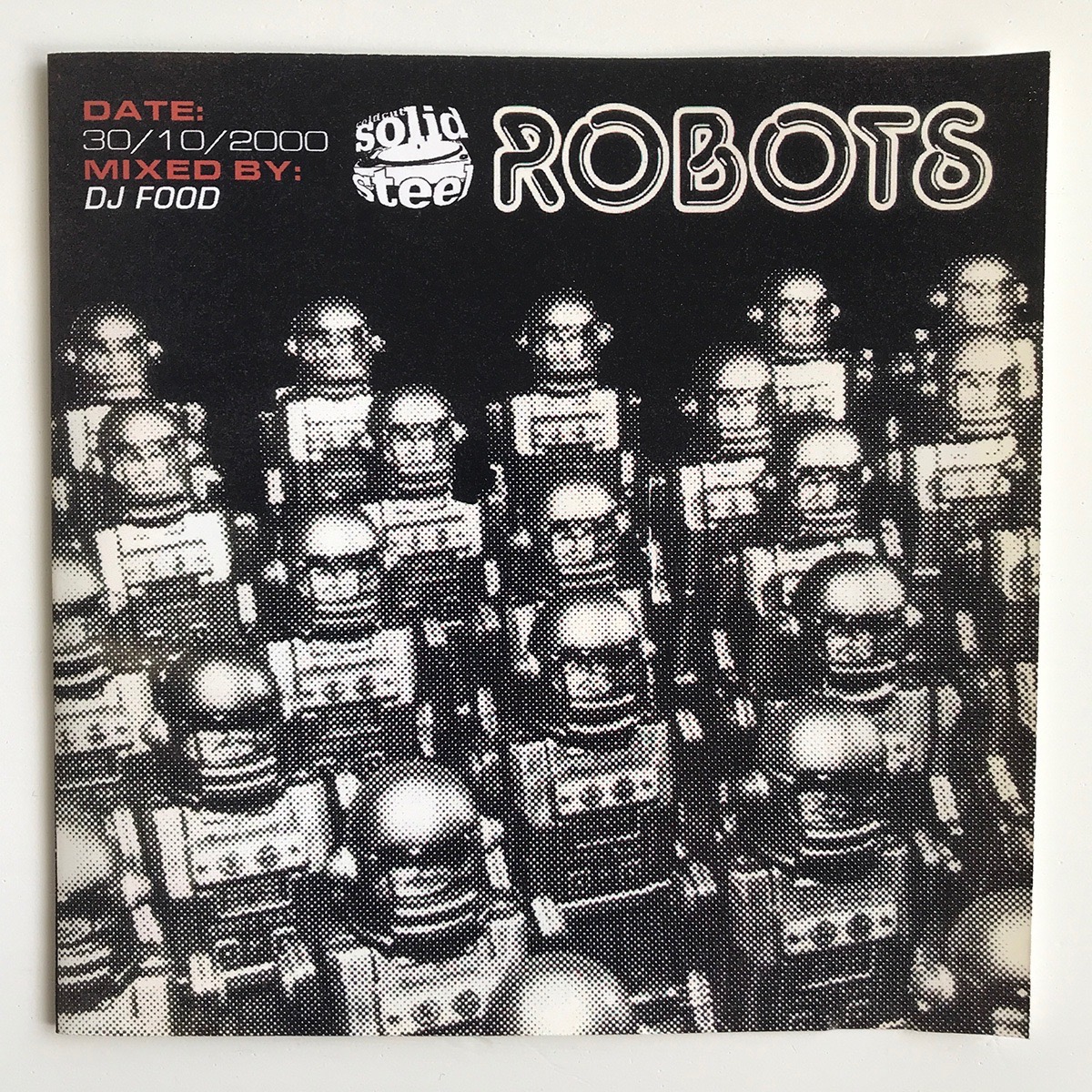 A two-in-one offering today as we kick off the year proper with a blend of robot-themed tracks from late 2000. This sowed the seed for my Remember The Future mix seven years later, constructed from records about robots. Jon More fave and Solid Steel spoken classic 'Music For Robots' kicks things off then into the Electro The Robot version of MBM's 'Original Control' with samples from an actual robot built by the Westinghouse Electric Corp in the late 30's.
Kraftwerk should need no introduction and then we have an oddity from a soundtrack by Milton & Anne DeLugg called Gulliver's Travels Beyond The Moon. 'Rise, Robots, Rise' is a stomping brass affair that gives way to an always funky Rufus Thomas dance number, 'The Funky Robot'.
After that mix of mechanics it's back to business as usual with the reissued-on-7"-at-the-time 'Brutus Drums' by Eddie Warner and a precursor to the first Now, Listen mix in the form of Sabu Martinez's 'Hotel Alyssa'. I think this had been bootlegged at the time and the early 00's were a ripe era for all sorts of 'unofficial reissues' popping up in shops no doubt making a few people a bit of cash in return. Much like the web at that point it was still the Wild West and huge shops like HMV regularly carried bootlegs with no questions asked. Freeform Arkestra was always a great tune to play out with that plucked bass sample and building tension. Some chancer called DJ Food follows and then into an evergreen classic from the box, Camping Gaz & Digi Random's 'Circus World'. Around this time I found five mint copies of this in the bargain box in Soul Jazz Records (now Sounds of the Universe) for a pound and proceeded to give them away to anyone who would take them. The combination of Circus clowns, ska, screaming children and theremin solo has never been bettered or even attempted by anyone else.
The covers above and below were from a (very short) period where I was going to make a custom cover for each mix, around the year 2000 when I think I got a decent inkjet printer for the first time and could print glossy colour images. This lasted for approximately three Solid Steel mixes but I did make others for one-off themed sets like the Kraftwerk Kovers and the interview shows.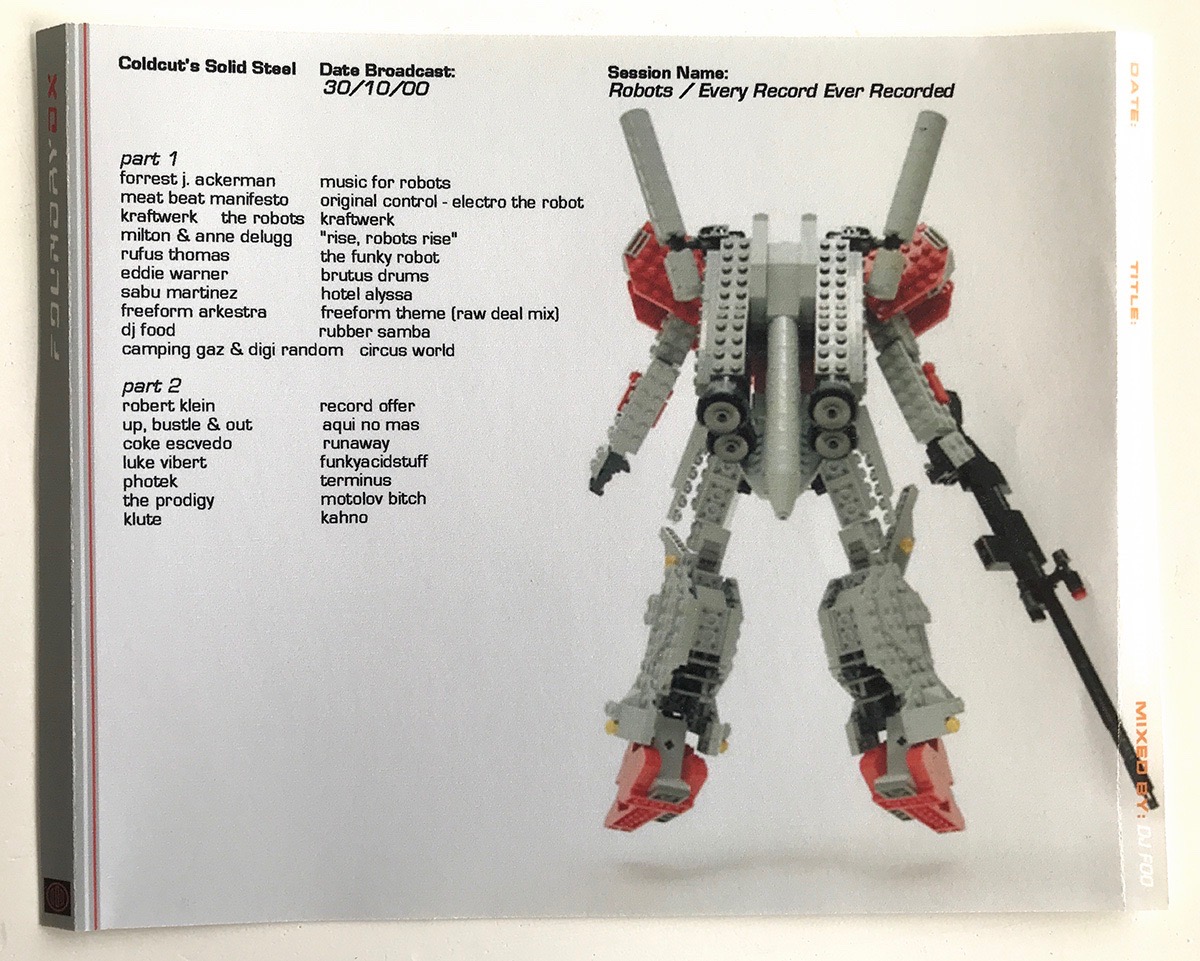 Into part 2 of the original show with Robert Klein's hilarious 'Record Offer' of every record ever recorded, "we drive a truck to your house!". Klein has several 70's comedy records that are worth tracking down as he covers the usual topics of sex and drugs in a manic style. A Ninja classic from Up, Bustle & Out into Coke Escvedo's 'Runaway' leads into 'Funkyacidstuff' from Luke Vibert via a 12" of archive material on Planet Mu, the same one where the track 'Analord' gave the Aphex series its name.
Photek's name has been coming back up a lot recently it seems and 'Terminus' was possibly the last track he made that caught my attention before he fell off the radar. A B side on one of the Virgin releases, this huge downtempo monster just tramples over everything else in size and scope, proper widescreen break beats with bouncing bass, distorted drums and synth stabs. The Prodigy were occasionally mining this vein too and another B side, 'Molotov Bitch' follows with its 'Ants Invasion' sampling melody line. Klute plays us out with 'Kahno' from a 12" release on the Certificate 18 label. More spoken word crops up that would later be used on Now, Listen too, this was from an airline travel record about the Far East I think although the name escapes me.
There's a part 3 saved for next week…
Part 1
Forrest J. Ackerman – Music For Robots
Meat Beat Manifesto – Original Control (Electro The Robot)
Kraftwerk – The Robots
Milton & Anne DeLugg – RIse, Robots, Rise
Rufus Thomas – The Funky Robot
Eddie Warner – Brutus Drums
Sabu Martinez – Hotel Alyssa
Freeform Arkestra – Freeform Theme (Raw Deal mix)
DJ Food – Rubber Samba
Camping Gaz & Digi Random – Circus World
Part 2
Robert Klein – Record Offer
Up, Bustle & Out – Aqui No Mas
Coke Escvedo – Runaway
Luke Vibert – Funkyacidstuff
Photek – Terminus
The Prodigy – Motolov Bitch
Klute – Kahno