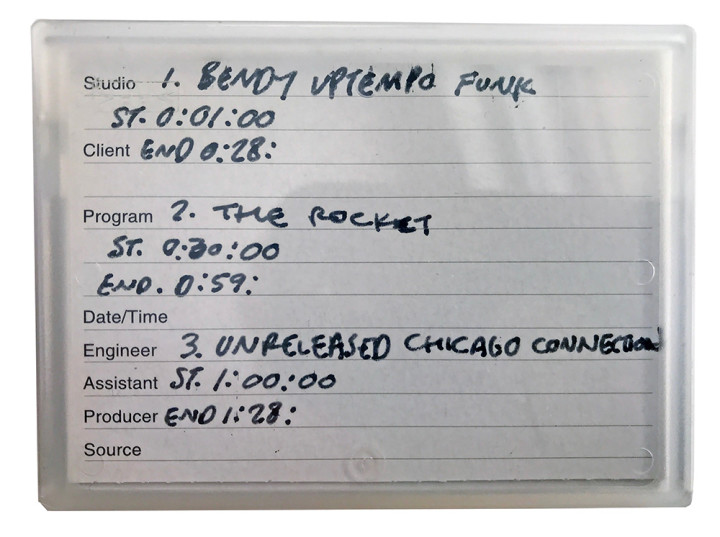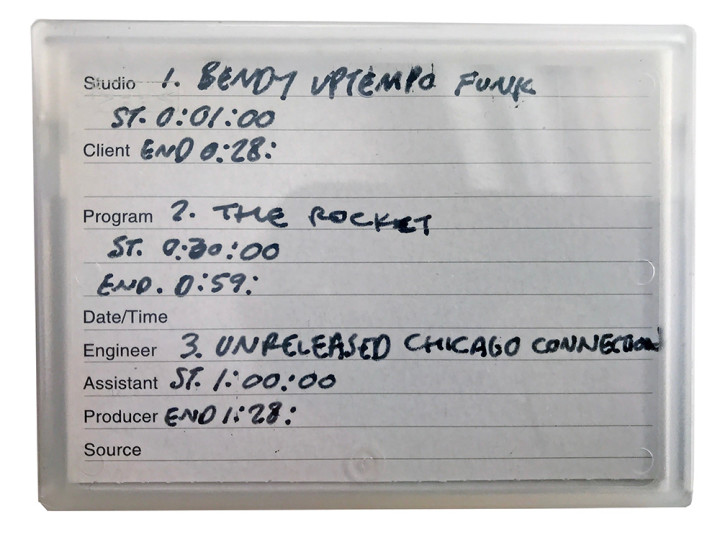 Special request upload for Anton Kibeshev: an early 1999 mix that was part of a show with Funki Porcini on Solid Steel although, sadly, the Funki Porcini part is missing as he must have recorded it elsewhere. I transferred these mixes from a DAT earlier in the year but part of the first mix is missing, there was something else on the tape recorded over it (part of an Autechre live set I think). It's only the first track and a half but it bought the first mix – titled 'Bendy Uptempo Funk' – in at 24 minutes so I thought I'd couple it up with the second set – 'The Rocket' to make it to nearly an hour. Next week is Xmas so I'll dig out something suitably themed.
There's a lot here that I don't recall, most of it would have been current buys/releases and I always seem to recall that the end of the 90s was a bit patchy after the yearly new genres that the rest of the decade had sprung on us. There's plenty to digest here though, First Born 'The Mood Club' still gets plays out from a great little 7" with a variety-speed mix on the B side., Klute's 'Blood Rich' has aged well, The Fantastic Plastic Machine remix was from a Japanese remix album of anime soundtracks I think.
310's 'Prague Rock' EP is something I return to annually, 5 tracks of classic British Prog Rock chopped and sliced into polyrhythmic soundscapes on the Leaf label, all totally illegal samples from giants like Yes, King Crimson and Pink Floyd. It's fantastic, every track a winner and I've never heard anything else come close aside from some early DJ Shadow productions. The record is easy to find and sells for around £2 on Discogs and was only ever a promo because of the samples. 'The Voice of Britain' is a Genesis cut up and the video on YouTube just adds to the weirdness, honestly, this is one of my all time favourite sample records ever, still sounds fresh 21 years later and 310's own productions are nothing to be sniffed at either, amazing skills. You can hear and download it for free via their site including 2 remixes not on the 12"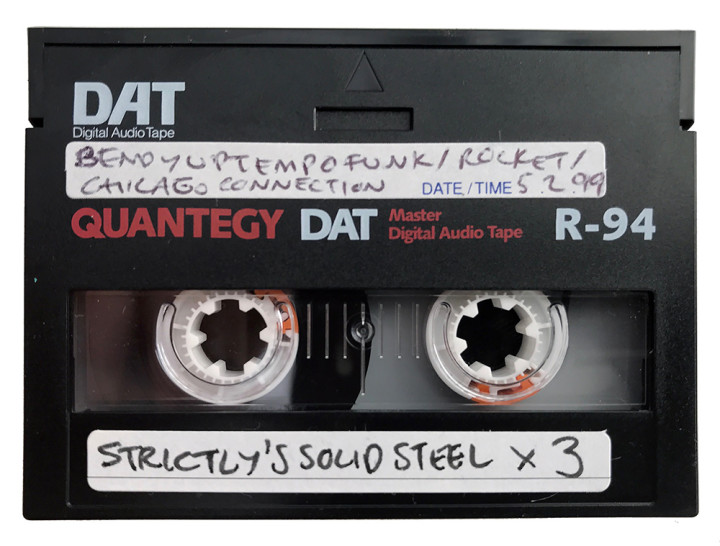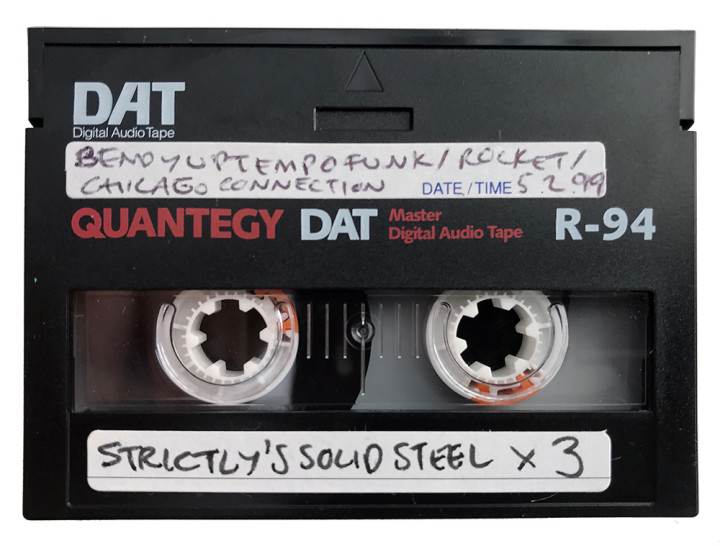 'Trama Nella Metropoli' is one of the only old tracks here but it was new to me via a compilation that the Karminisky Experience Inc had given to me of old I Marc 4 tracks, this was one of the first legal library compilations out there and they still drop this track to this day. Apologies for my abstract / awful scratching into Q-Bert's 'Redworm', I was so into this kind of turntablism in the mid to late 90s, unfortunately this kind of 100% purism rarely formed into anything other than a technically impressive but rather mediocre arrangement. Tracks like 'Bear Witness' were a far better showcases of exceptional Q-bert's skills.
Part 2 is called 'The Rocket' – I have absolutely no idea why. Dodo kicks it off who was a quirky producer affiliated with the Digidub collective for a while I think who seemed to make a couple of singles and an album and then disappear. Roots Manuva's excellent 'Motion 5000' sounds so good, loved this era of Rodney's music but this Black Dog track I have no memory of. Tom Tyler made some great records for D C Recordings for a while and it looked like he was going to go the same way as The Cinematic Orchestra but it seems like he's not made a record for 15 years according to Discogs. DJ Vadim finishes things off with the first single from his then second album which reminds me of a story connected to this date.
Valentine's Day 1999 – I was living in the basement of a converted mental hospital in Camberwell, sharing with The Herbaliser's Ollie Teeba and had gone to Sunday dinner with my girlfriend at her parents' place in South West London. Midway through the afternoon her dad burst into the room, 'It's Ollie on the phone, you've been burgled, they've taken everything', he deadpanned. Just like that, I didn't know whether to be shocked at the message or his directness, it was a terrible piece of news to receive so we drove back to South East London to find that they hadn't actually taken everything but had had a good root around and made off with a fair bit.
My decks and mixer went, that was gutting, not only because I needed them but because they were my first Technics, bought with money my late grandmother had left me when I first came to London. As a student, Technics were out of my price range and I wasn't so foolish as to spend my grant on them and live off toast for the rest of the year. I wanted the money she left me to mean something so invested it in a pair of secondhand decks as I knew they would repay themselves several times over. One of them had been customised too with a black and yellow reverse switch, so if you ever come across a 1210 with an extra switch near the on/off button then it was probably mine. So this mix here is the last one made on my original turntables.
My Mac computer, monitor (one of the super heavy blocks, pre-iMac), money and a camera also went. Luckily I had an internal door lock on my room so they couldn't actually get into the rest of the flat so Ollie's room escaped untouched but my first thought was the work that was on the computer. One of the projects was the artwork for this Vadim single and forthcoming album as well as early designs for The Herbaliser's 'Very Mercenary' LP. Another thing was an external drive under the table that had all my work for the 'Kaleidoscope' LP so far on it, luckily they'd ripped the wires out and left it, just taking the monitor and tower. That was an unhappy Valentine's Day.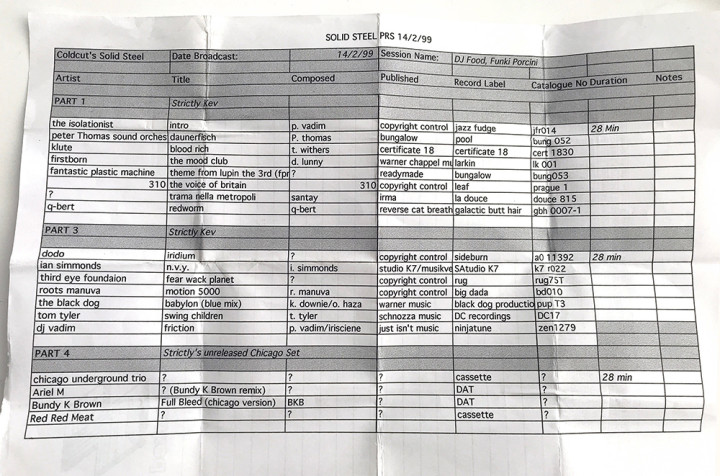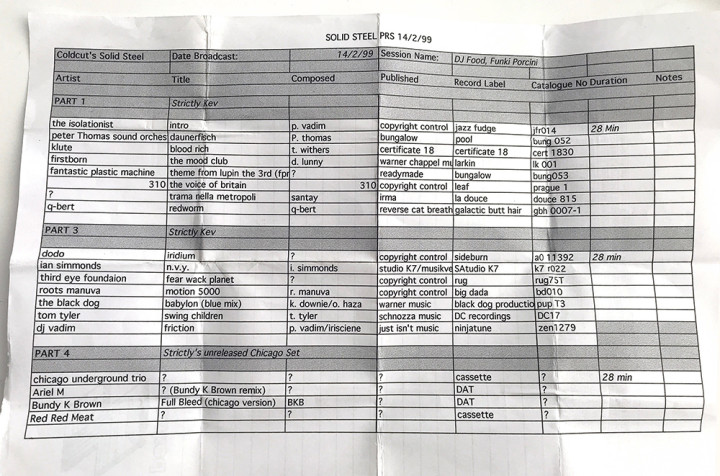 I've not included the 'Unreleased Chicago Connection' set as it was fairly minimal and was mainly taken up with Bundy K Brown's 18 minute Ariel M remix, all the material came from a DAT he sent me at this time when we were working on 'Full Bleed' for the aforementioned DJ Food album. The Chicago Underground Trio track has long since come out although I'm not sure if the Red Red Meat track ever made it.
Part 1 – Bendy Uptempo Funk
The Isolationist – Intro (from original tracklist, missing here)
Peter Thomas Sound Orchestra – Daunerfisch
Klute – Blood Rich
Firstborn – The Mood Club
Fantastic Plastic Machine – Theme From Lupin the 3rd (FPM Reconstruction mix)
310 – The Voice of Britain
I Marc 4 – Trama Nella Metropoli
Q-Bert – Redworm
Part 2 – The Rocket
Dodo – Iridium
Ian Simmonds – N.V.Y.
Third Eye Foundaion – Fear Of A Wack pPlanet
Roots Manuva – Motion 5000
The Black Dog – Babylon (Blue mix)
Tom Tyler – Swing Children
DJ Vadim – Friction