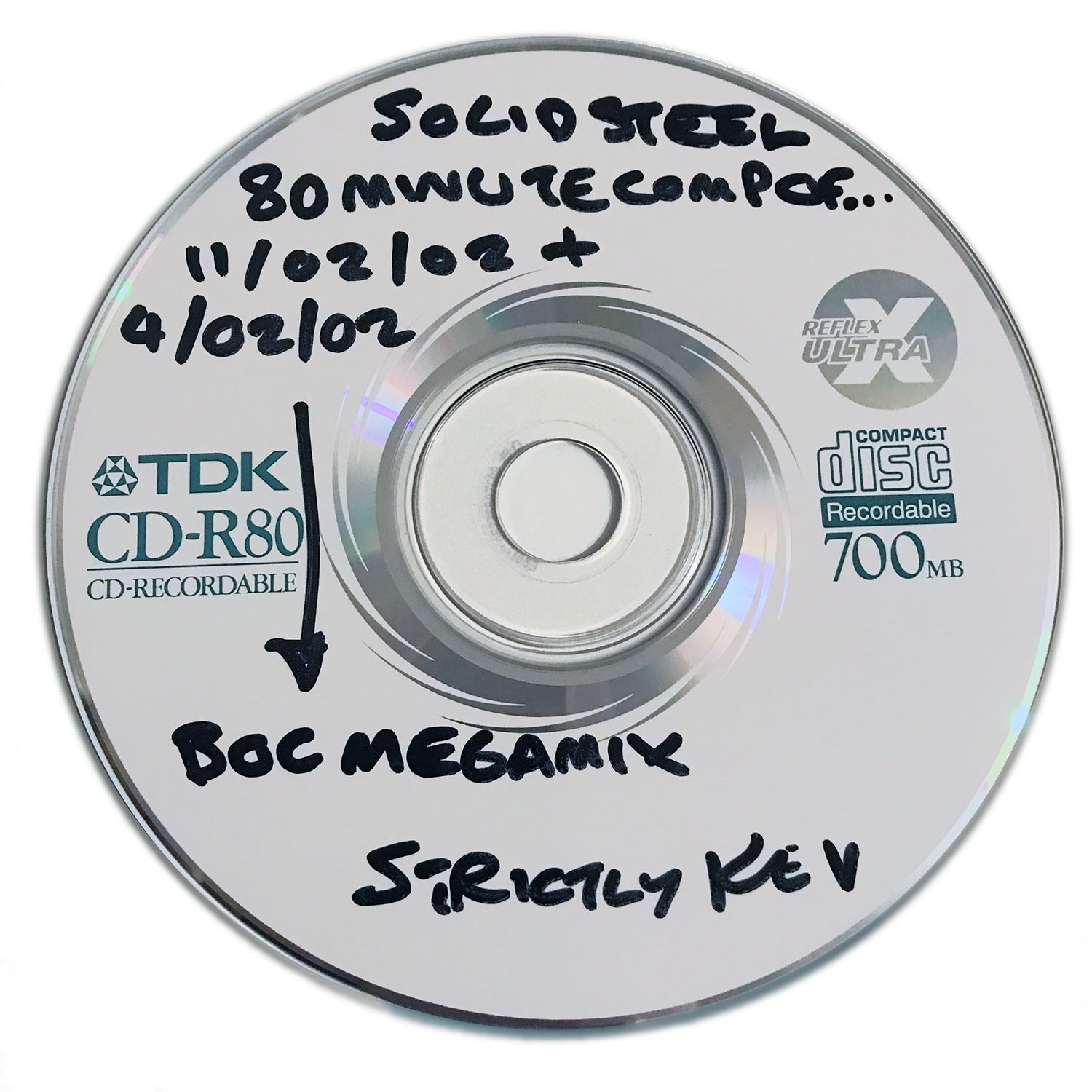 Seeing as it was 20 years since Boards of Canada's Geogaddi was released last week I thought I'd pull out a show from back in early Feb 2002 where I mixed up a pre-release copy of the album that Warp had given me a few days before release. As far as I know there weren't any CD promos sent out to journalists, there was a listening party at the Union Chapel which I went to, and there was the blue vinyl 'Alpha & Omega' 12" but the first most of us heard of the album was when we bought it. Having connections with Warp I persuaded them to give me a copy a couple of days early so I could absorb it and get a mix down in time for the show and the results you hear are from just a few complete listens.
But first! Osymyso's genre-defining 'Intro-Inspection' kicks off the show and I believe that this is an early version of Part One that he played on Eddy Temple-Morris and James Hyman's show, The Remix on XFM. The only place to get this at this point was via a rip of the show on the web, probably from the Boom Selection website that served as a place to find all the latest mash ups. By this point Osy (aka Mark Nicholson), The Freelance Hellraiser and Jonny and Mike from Cartel Communique had started a monthly night in the basement of a newsagent just off Tottenham Court Road in London's west end. Originally known as King of the Boots it soon morphed into Bastard (named after Bastard Pop, the name given to mash ups by the press) and I can honestly say that it was some of the most fun I ever had clubbing. Osy's mix does exactly what it says on the tin, a selection of over 100 intros to famous songs mashed up into one long mega mix, inspired by watching the reactions to clubbers on hearing the first bars of each new song at a party. Reasoning that one track consisting of multiple intros would elicit prolonged ecstatic reactions in the crowd he set about compiling his magnum opus (that is, until we hear his fabled second album).
Coldcut and Steinski's remix of Boom Boom Satellites' Chuck D-featuring 'Your Reality's A Fantasy' is full of hard-panning excitement, a total banger with multiple breaks and breakdowns at a breakneck speed. It's a full on start to the show and rarely lets up for the first 13 minutes, making the Quantic Soul Orchestra seem quaint in comparison. Ramping things down another notch, Koushik's fuzzed out 'Only Dreaming' wanders into view before drifting into the aforementioned Boards of Canada mini mix for the next 19 minutes. I've not listed all the tracks in this as it will give Mixcloud's tracklister a hernia and mean some people might not be able to hear it due to multiple artists in one set. Suffice to say I got at least ten in there as well as snippets of others and a little reminder of the debut album for the intro. This was all done from vinyl with an FX pedal and then edited and overlaid in Cubase, probably took the best part of a day to do just this section alone.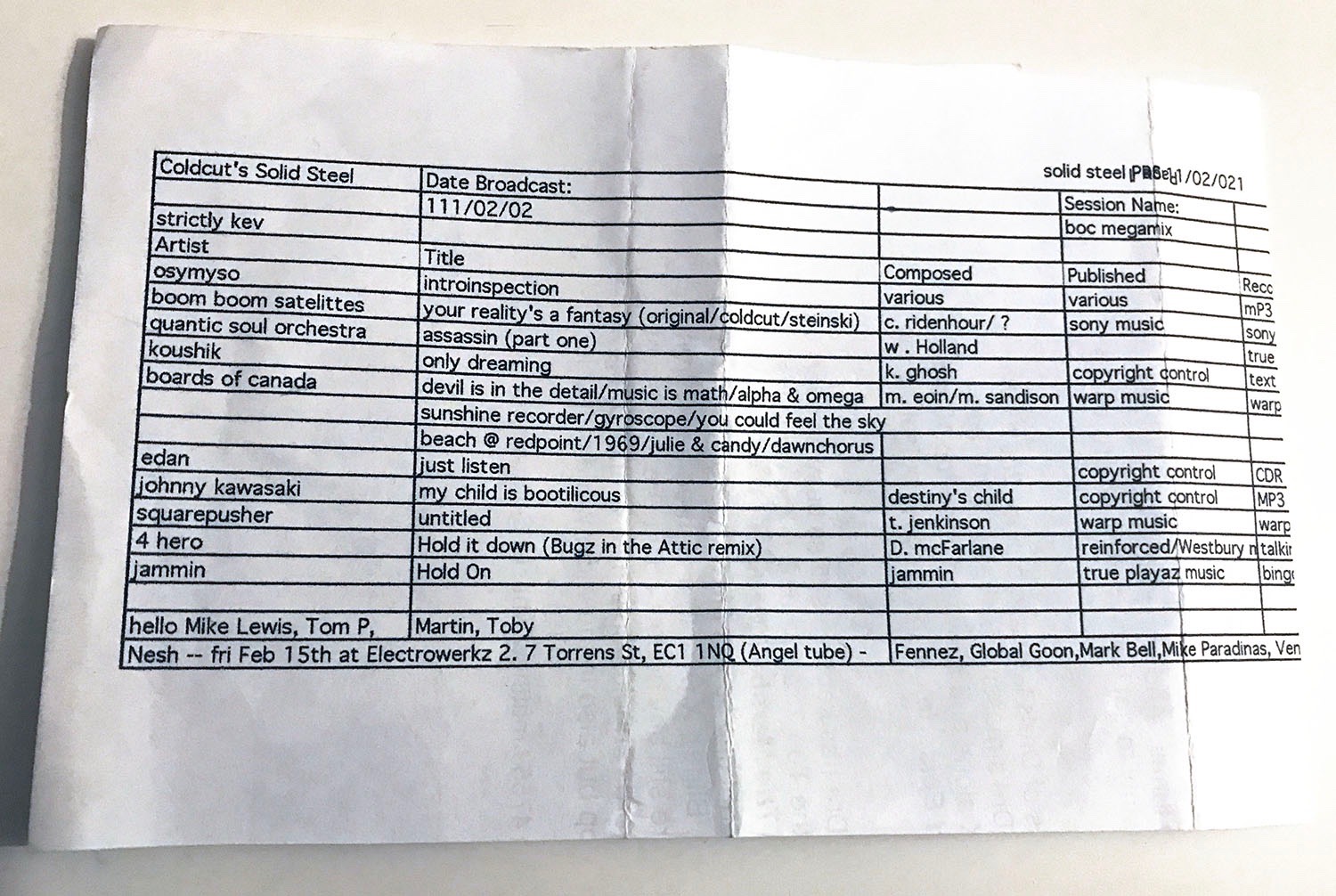 BoC tracks are notorious for using weird tunings and nearly everything they do is out of tune with everything else so very hard to mix without it sounding a bit discordant. I picked up on several backwards passages on the record and reversed them again to add into the mix – the devil is in the details as they say. There's some very weird off beat panning going on in 'Alpha & Omega' where I had two copies playing a beat apart with the delay feeding one side and returning on the other so you get odd ping-ponging in the left and right channels – complete accident but sounds great. I love this album so much, it's one of the greats and, although the debut is a classic, I can never decide between this and Tomorrow's Harvest – both dark, dystopian records. Finding ways to condense the tracks without seeming to edit too heavily and then transitioning to new tempos was a challenge but because I wasn't so au fait with it maybe that helped.
We're bought back into the real world by Edan with 'Just Listen' from the 'Lexoleum-tile 2' EP on Lex Records, a fun cut up instrumental as only he can do. A brief telephone message from Ollie Teeba about what I cannot fathom introduces one of my favourite mash ups of the era – Jonny Kawasaki's 'My Child Is Bootylicious'. This terrifying vision of Destiny's Child as if rendered by Aphex Twin post-'Windowlicker' and then pitched down to a slow grind was just one of the kinds of avenues the mash up could have gone down if there had been a few more tech-savvy producers putting two and two together. This is more in the Kid 606, Flashbulb vein of cut up; noisy, full of machine gun edits and stretching the subject matter to its very limits – all the more exciting for it too. I thought it appropriate to follow with Squarepusher's latest promo, untitled at the time it emerged on the subsequent album as 'Do You Know Squarepusher?'. Switching from 45rpm to 33 near the end takes the tempo down to a less manic level whereby 4 Hero gingerly entires the fray with beats in time but not exactly in the same pocket as Tom Jenkinson's frantic cut ups. There's a little of Jammin's 'Hold On' to pad out the ending (Hold It Down into Hold On-geddit?) and then a snatch of next week's mix at the very end…
Part 2 next week!
Track list:
Osymyso – Intro-Inspection (early version)
Boom Boom Satellites – Your Reality's A Fantasy (Coldcut vs Steinski Going Under mix)
Quantic Soul Orchestra – Assassin (Part one)
Koushik – Only Dreaming
Boards Of Canada – Sometime In The Future – Geogaddi minimix
Edan – Just Listen
Johnny Kawasaki – My Child Is Bootylicious
Squarepusher – Do You Know Squarepusher?
4 Hero – Hold It Down (Bugz in the Attic remix)
Jammin – Hold On