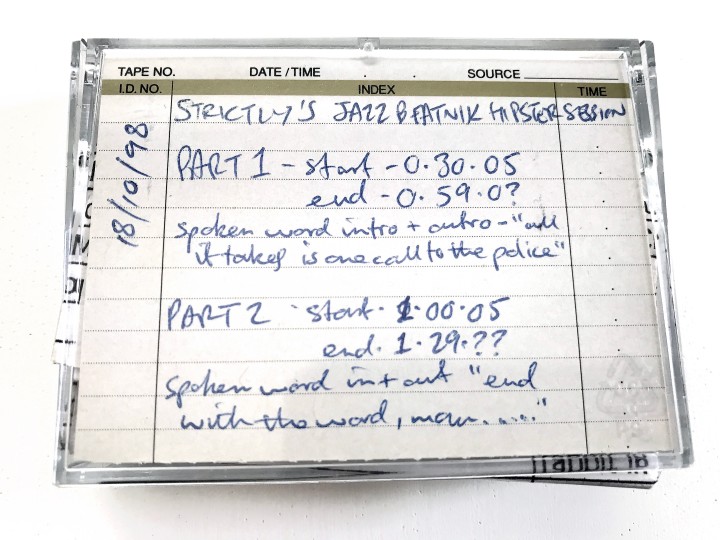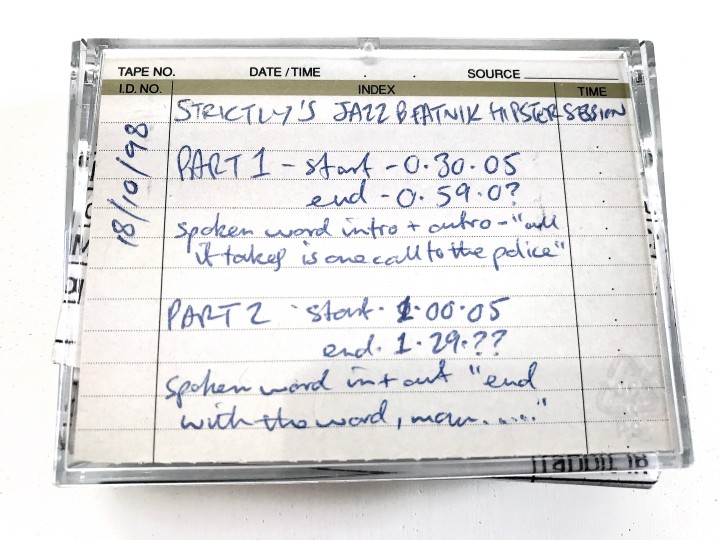 'Come with us now…' Having finally secured a copy of Del Close and John Brent's 'How To Speak Hip' LP after coveting it from the pages of the Incredibly Strange Music books I was keen to put its extensive spoken word passages to good use. Thus the Jazz Beatnik Hipster sessions were born, three half hour mixes that all aired on Solid Steel on 25/10/1998 (the 18th date on the inlay was when they were recorded). Using dialogue from the album to punctuate the sets and give them some continuity, I mined the album for nuggets before plundering it even further for 'The Riff' on Kaleidoscope. I always recall the end of the 90s as an odd time for music, after a decade of incredible dance music that seemed to mutate and spew forth a new genre each year, things seemed to be slowing down a bit. People started looking back for new things and the easy listening/moog scene was a notable example, the soundtrack reissue/bootleg market seemed to be booming and compilations of library music started cropping up for the first time.
Big Beat had taken over in the clubs and, after the initial excitement of The Dust/Chemical Brothers and Fatboy Slim's early singles, become seemingly wedded to lad culture and followed a formula that saw it get old pretty fast. Ninja and Mo Wax were now firmly established and no longer the hot new thing, both had broadened their palette with two of their more ambient/electronic signings featured here in Andrea Parker and The Irresistible Force whose 'The Lie-In King' is a bit of a lost classic. Another is an early Fink offering here, the same but very different sounding Fink who is now a world famous acoustic singer songwriter, but who started out on Ninja sub-label, Ntone. I remember touring with him in the late 90's and he once casually mentioned that he wanted to win a Mercury Prize one day, we all looked at him as if he was mad but he's not far off these days having worked with John Legend and Amy Winehouse over the years.
NT were a Scottish group who promised much with their first two singles but seemed to falter somewhere along the line and although an album exists as a CD promo I don't think it came out properly, not sure what happened there. Independant hip hop labels like Rawkus and Fondle 'Em where putting out the most interesting rap at this point in the US with Company Flow and MF Doom making their debuts. The Arsonists made some great 12″ singles too with this low slung track in 3/4 time. A Get Carter theme ensues for the end of the mix with UNKLE's sample sound-a-like and a track from Roy Budd's soundtrack followed by Stereolab's cover version of the main theme. The 'Lab were in their golden period at this point, one of the coolest groups in the business, hopped up on Krautrock references, hook ups with Tortoise in the US and having people like Autechre, Luke Vibert and UNKLE remix them.
Part 2 follows next week…
Track list:
Del Close & John Brent – Field Trip no.1
Andrea Parker – After Dark
The Irresistible Force – The Lie-in King
Fink – The Fink vs DJ Ali-Cat
NT – Distances Dub
The Arsonists – Geembo's Theme
UNKLE – Rabbit in Your Headlights (instr)
Roy Budd – Getting Nowhere in a Hurry
Stereolab – Get Carter