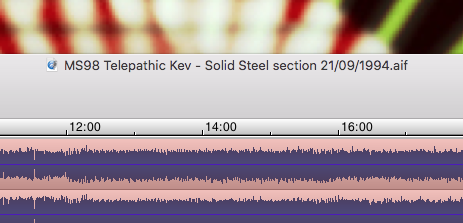 My section of a 2hr Solid Steel show from 1994 which clearly shows the transition from the ambient electronic scene into the early days of Mo Wax's golden period. Global Communication, Future Sound of London, System 7 and Autechre holding the fort for the former and DJ Shadow, RSW, UNKLE and another unknown track at the end for the latter. Not much to say on this but it was a truly golden age, a combination of Matt, Jon, PC and I would troop up to KISS FM on a Friday evening and camp out in the smaller studio to pre-record the 2hr show live in one take, complete with ads. We rarely if ever that I can remember stopped or did a retake, there just wasn't the option to edit back then, you got it warts and all, live radio. Matt refers to me as 'Telepathic Kev' at one point, a hang over from the Telepathic Fish nights we were doing together at the time.
I've been thinking a lot about this era this week with the news that my old friend Chantal Passamonte passed away. I was sharing a house with her at this time and things were starting to happen; radio, gigs, we were doing a fanzine about ambient music (Mind Food) and working in the Ambient Soho record shop. Ninja was yet to full take off but things were bubbling and she was doing what she did best, networking with people throughout the electronic scene and making things happen. RIP Chantal aka Mira Calix.
PS: This was from a file I was sent years ago, I forget from who now (sorry), it had been recorded from cassette but the tape was quite speeded up and everything was a bit fast and pitched up, especially noticeable on things like Matt's voice. I've re-pitched the audio down to where I think it sounds normal again.
Track list:
Global Communication – 12:18
Future Sound of London – Lifeforms (excerpts)
System 7 – Gliding On Dutone Curves (Cascade Mix)
DJ Shadow – Lost & Found (S.F.L.)
Autechre – Teartear
Renegade Soundwave – Black Eye Boy
UNKLE – The Time Has Come
Unknown – Unknown