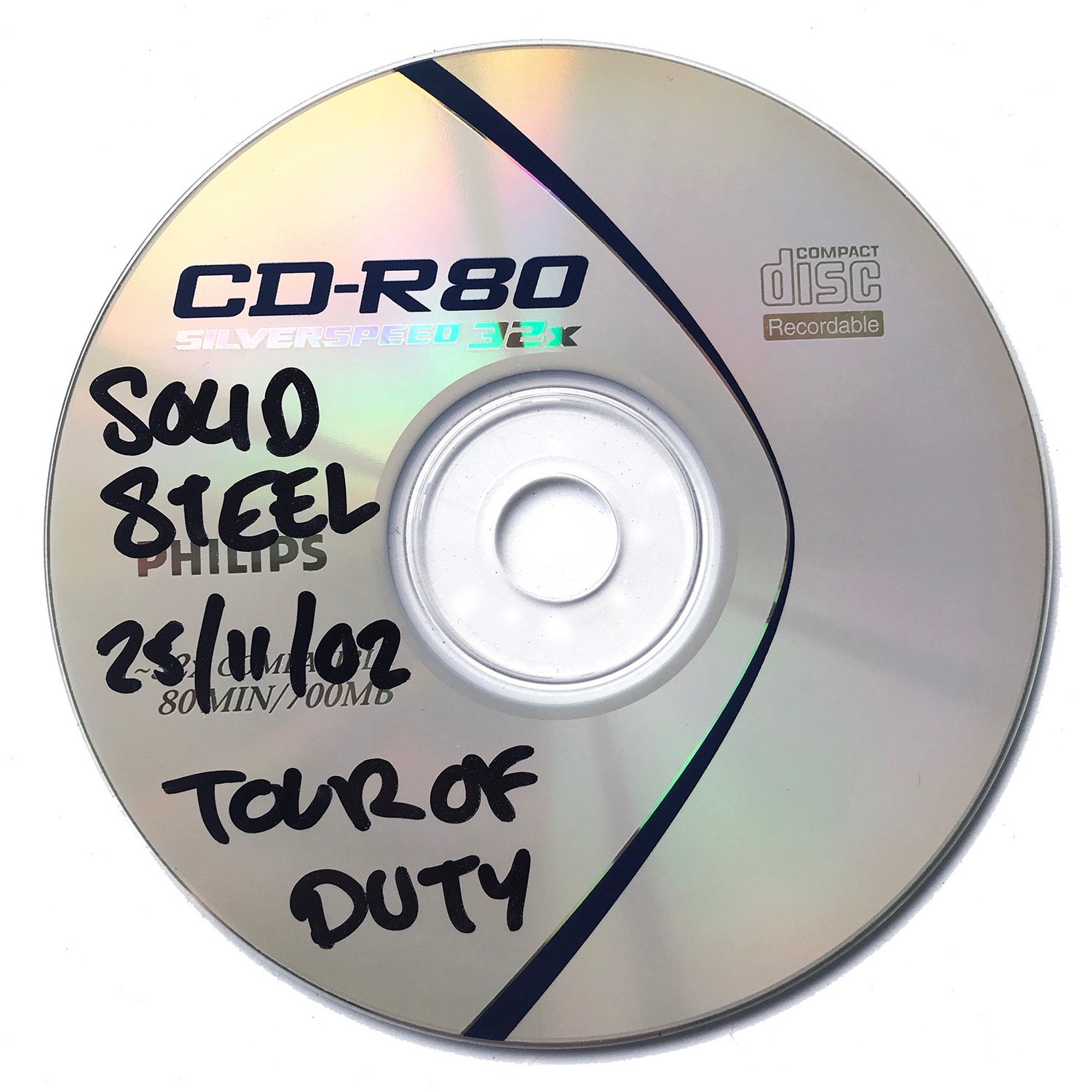 This was one of those shows where I put together a mix largely from the contents of my record buying trips whilst abroad in North America plus some current new releases. I can't quite believe I used to go a couple of times a year at one point, each time coming back laden with music new and old. I don't think I've been back for over a decade now and I really miss it, one day I'll get back out there.
We kick off with Ramsey Lewis (RIP) and the break-tastic 'Do Whatever Sets You Free', chopped up nicely by Natural Self once I seem to remember… Eddie Harris slinks in with a nasty beat and a fuzzed up horn, plenty of sample action here and I think this is the source for a bit of Shadow's 'In/flux'. I'm not sure if the DJ Zinc track quite works out of old Eddie, sure it's in time but not quite in tune or swing, that's quite a change of pace. I had a white label at the time but now know that the track is called 'Tonka'. Then into The Human League (!) mixing by bpm, not feel, I like the way Phil Oakey calls everyone 'big heads' at the start. This was from the Richard X released 'Golden Hour of the Future' album of early Human League recordings.
I like what Push Button does with the Anti-Pop vocal of 'Ghostlawns', putting it on a different beat of the bar and slowing the tempo to half time. But into The Banana Splits? What was I thinking? This the most uneven mix of all time, just because it's IN time kids, doesn't mean it should go next to that similarly tempo-ed tune. Doesn't sound quite like Fleegle, Bingo, Drooper and Snorky though does it? The Incredible Shrinking Man was an alias of Shawn Lee who apparently is also singing on this cover of 'Wichita Lineman' as well as playing almost everything else too. Killer version on a 7" on Ape City who only put out three releases.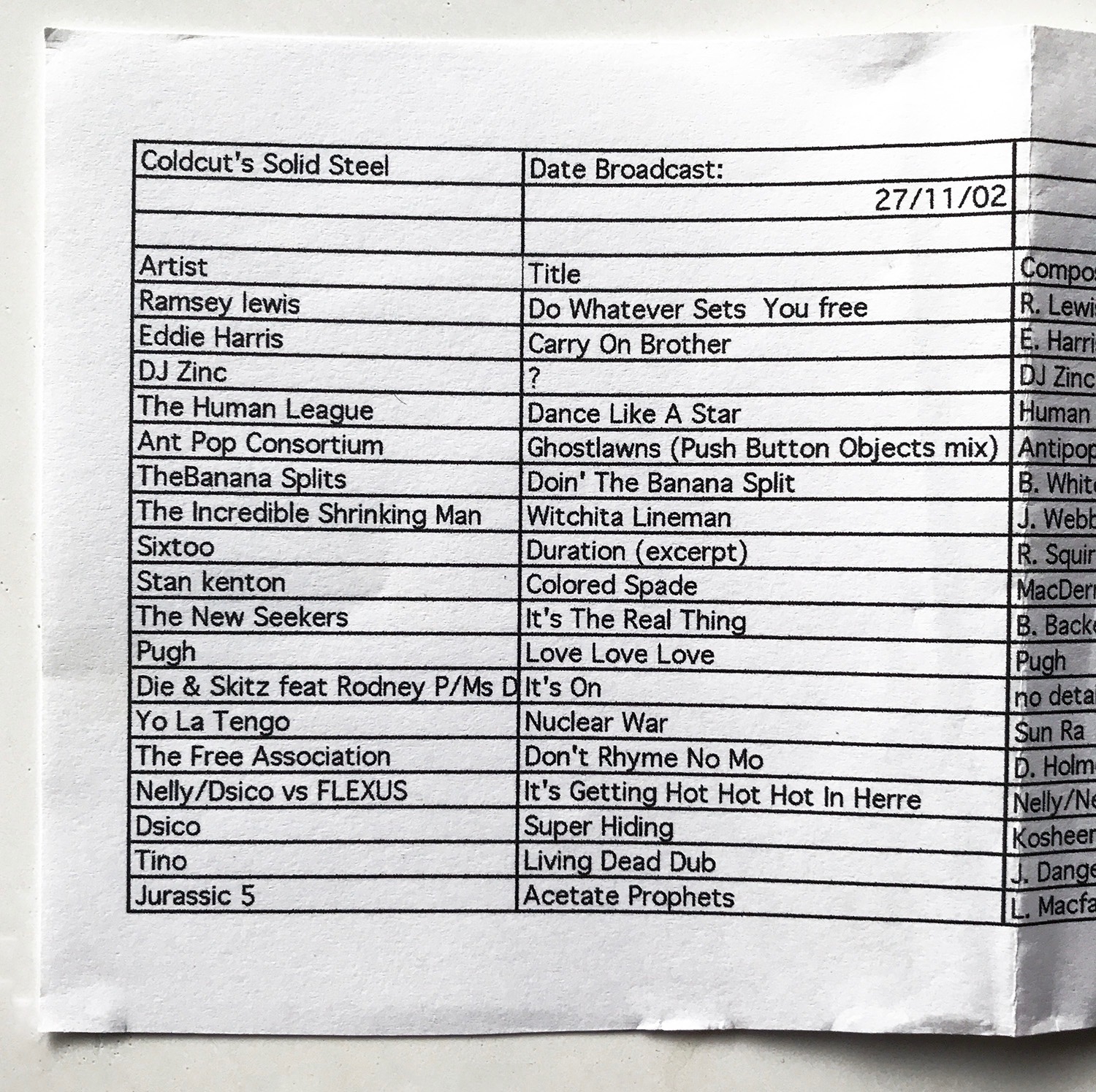 Sixtoo I hooked up with on tour and 'Duration' was his long-digesting masterpiece, featured here in an excerpt, maybe he was living in Montreal by this time or maybe that was after he signed to Ninja Tune, it was around this time anyway. The 'stop scratching' vocal sample is actually from a 7" comedy record about a dog, the cover folds out three times into a dog shape, I think it's a Fred Basset tie-in maybe. Stan Kenton covers 'Hair' with his take on 'Coloured Spade', I'd go on to collect many versions of the musical over the years and have lost count how many I have now. The New Seekers' 'It's The Real Thing' – do the Coke advert from a promo 7". Pugh's 'Love Love Love' I'm sure we all recognise the opening bars of? This was the opening track of Cherrystones' then current 'Rocks' compilation and also the opener of Pugh Rogefeldt's debut LP.
From Swedish psych rock to Brit hip hop and out into Yo La Tengo covering Sun Ra – edited for radio. This should be called the dis-jointed mix, veering all over the place, it made sense to me at the time. The Free Association were a psychedelic outfit led by David Holmes who made one great album and a clutch of singles and seemed to be the point after which he jumped into soundtrack work. Plenty of sampling going on and all the better for it. Still veering all over the place the Dsico rework of Nelly's 'It's Getting Hot In Herre' was further twisted out by my occasional Flexus guise for a particularly sweaty party on the hottest day of the year in the old basement under the newsagent that used to house the Bastard night. I think it was a Kinky Voodoo event hosted by my friend John Power and during this song I threw out tons of ice poles for the audience from a cooler I'd bought with me.
I don't remember the track after this featuring a female rap over 'Superbad', but Dsico was putting out loads of mash ups at this time. Another switch, down into dub with Tino, a Ben Stokes and friends alias, from the Hallowe'en Dub album which seems relevant this week. We finish with 'Acetate Prophets', the DJ track from the end of Jurassic 5's third LP. After 'Lesson 6' on the first and 'Swing Set' on the second we get a complex eastern-themed set of breaks and samples which I wish Cut and Nu-mark would do more of.
Track list:
Ramsey Lewis – Do Whatever Sets You free
Eddie Harris – Carry On Brother
DJ Zinc – Tonka
The Human League – Dance Like A Star
Ant-Pop Consortium – Ghostlawns (Push Button Objects mix)
The Banana Splits – Doin' The Banana Split
The Incredible Shrinking Man – Wichita Lineman
Sixtoo – Duration (excerpt)
Stan Kenton – Coloured Spade
The New Seekers – It's The Real Thing
Pugh – Love Love Love
Die & Skitz feat Rodney P/Ms Dynamite/Tali/Mixologists – It's On
Yo La Tengo – Nuclear War
The Free Association – Don't Rhyme No Mo
Nelly/Dsico vs FLEXUS – It's Getting Hot Hot Hot In Herre
Dsico – Super Hiding
Tino – Living Dead Dub
Jurassic 5 – Acetate Prophets