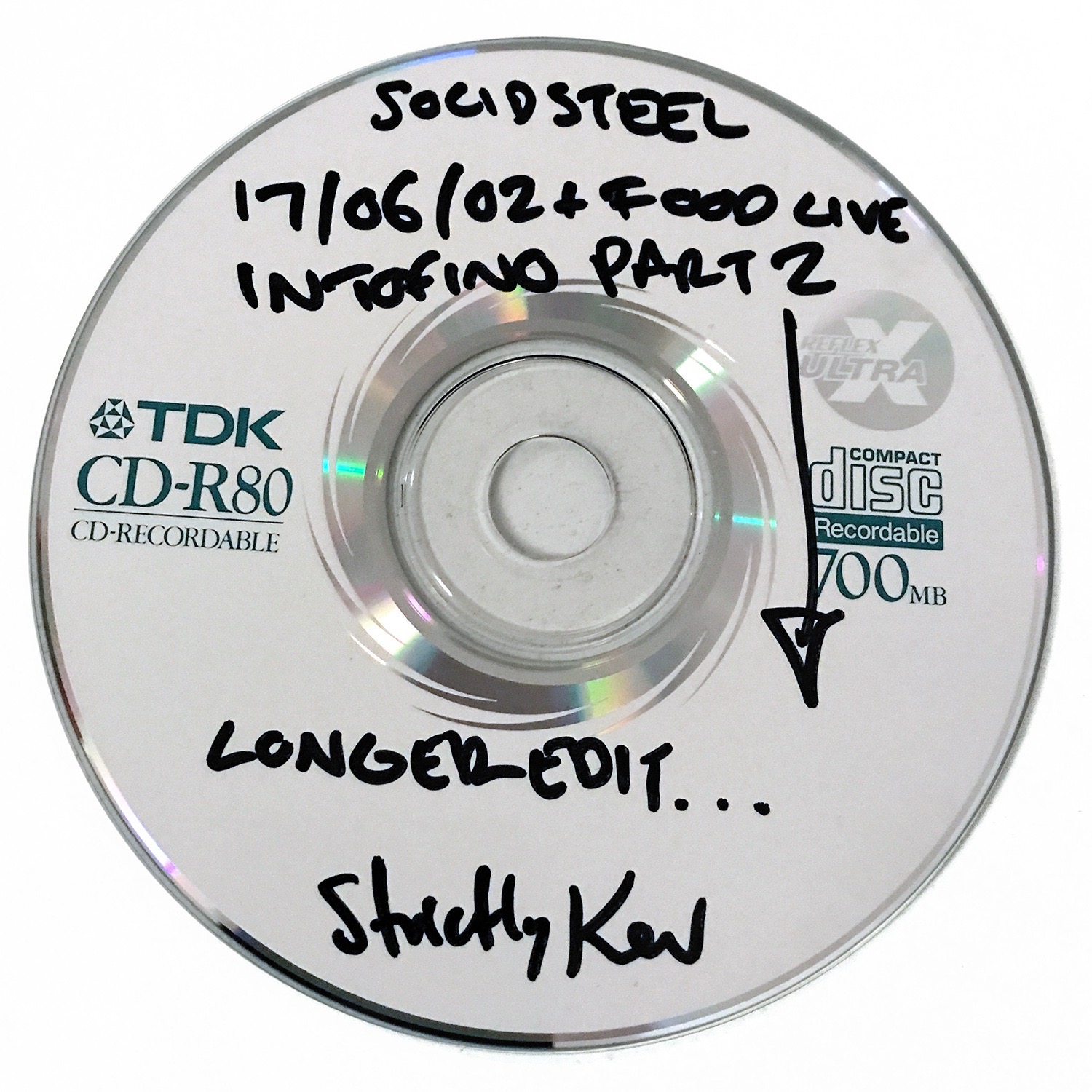 An odd assortment from mid 2002 here with a bit of party-style mash up, a bit of funk, some Four Tet and some cut ups thrown in, sounds a bit like I was tidying up some loose ends. The inclusion of 'Milk' by The Basic dates it instantly to around the time of DJ Shadow and Cut Chemist's 'Product Placement' mix, of which this was a staple, both musically and visually. It's also the first time Luke Vibert's 'Homewerk' gets an airing, a track that would be in the record box from most of the decade and still comes out for the Kraftwerk Klassics, Kovers and Kurios set.
'Yoda's One Man Band' sounds more like Kid Koala than he did back then and I'm not entirely sure it was serious. I never knew who the Freelance Hairdresser was, obviously a play on the Freelance Hellraiser and in early on with the mash up craze. Here he/she mixes the BBC Pot Black theme (Winifred Atwell – Black & White Rag) with Eminem to 'hilarious' effect, hasn't dated a bit – but seriously, this is half of what I enjoyed about the bastard pop craze, it was ridiculous and unpretentious fun, mostly made by people who had nothing to lose.
'Funk' is, of course, the less famous B side to Meco's huge disco-fied hit, 'Star Wars Theme/Cantina Band' although something tells me they needed a filler track quickly for the flip and didn't stop to think too hard about the title. Here comes Luke with his obvious steal homage to the Dusseldorf Quartet and I have to say, that tempo switch down mix out of it into Paul Kass is inspired. There's also a link between the two as 'Underground Agent' is featured on the Further Nuggets compilation of library music that Luke made for Lo Recordings around this time.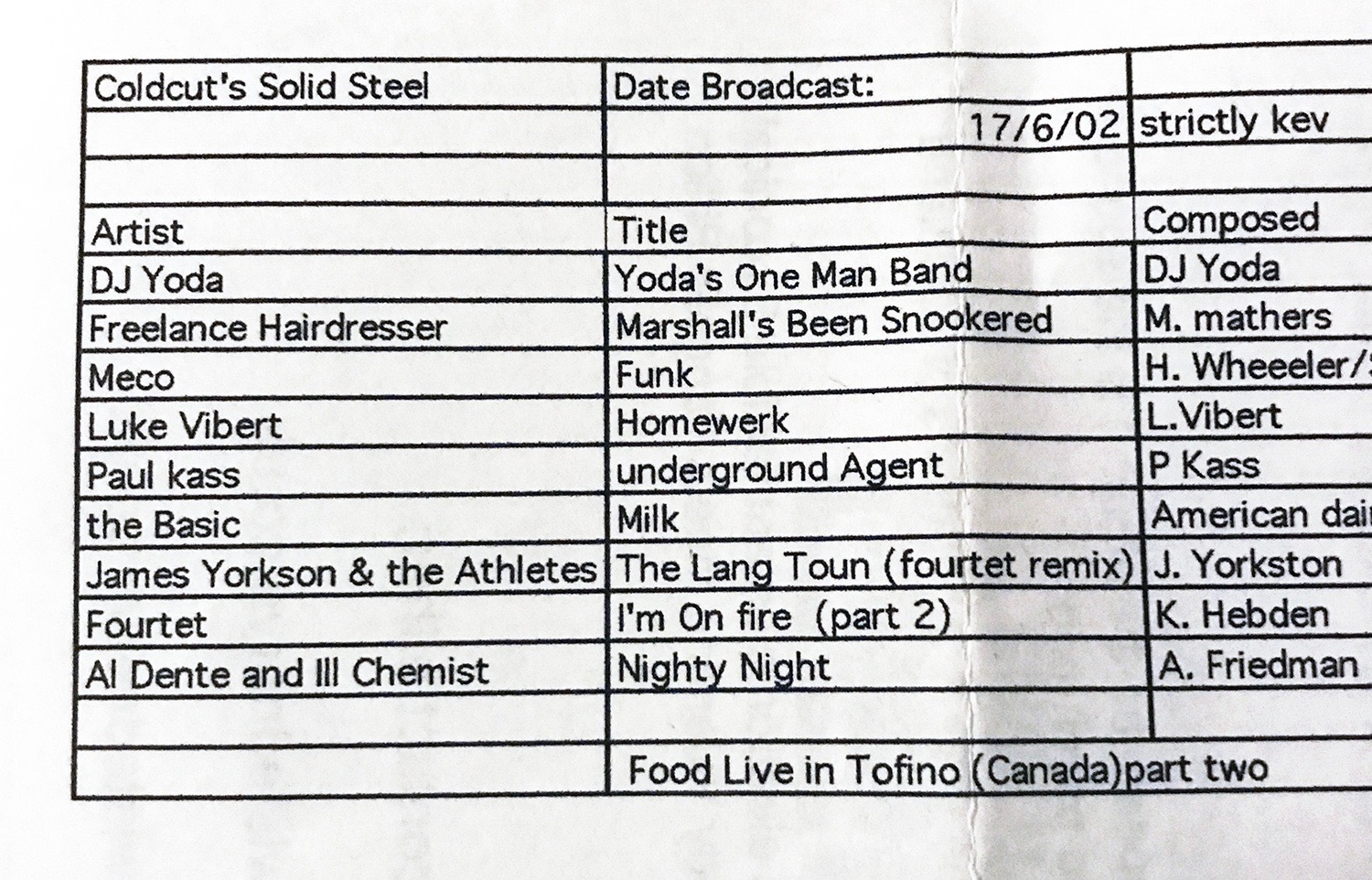 And here's The Basic with their advertisement for the dairy industry, not 100% sure where the spoken word about cows comes from that I've slung over it but it's probably a Sesame Street sketch. I remember seeing the Product Placement show at, I think, the Scala of all places, in London. Shadow and Cut confounded a few people after the party-tastic 'Brainfreeze' set by digging pretty deep to the point where the tracks were cool but more of a head-nod than a get down. Z-Trip ripped it up on that show, pure showmanship with Nirvana cut ups and plenty of mic action.
A couple of Four Tet pieces follow, first, a remix for James Yorkson, and second, something he did for the Domino label which takes a big slabs of John Abercrombie's 'Timeless' and weaves it into something beautiful. It comes as a 7", split over two sides and features a photo of a young Kieran with his sister on the cover. We play out and turn off the light with Al Dente and Ill Chemist – friends of Steinski's – and a little track from a CDr I was given I think as I can't find it anywhere on the web. Nighty Night!
Track list:
DJ Yoda – Yoda's One Man Band
Freelance Hairdresser – Marshall's Been Snookered
Meco – Funk
Luke Vibert – Homewerk
Paul Kass – Underground Agent
The Basic – Milk
James Yorkson & the Athletes – The Lang Toun (Four Tet remix)
Four Tet – I'm On Fire (Part 2)
Al Dente and Ill Chemist – Nighty Night