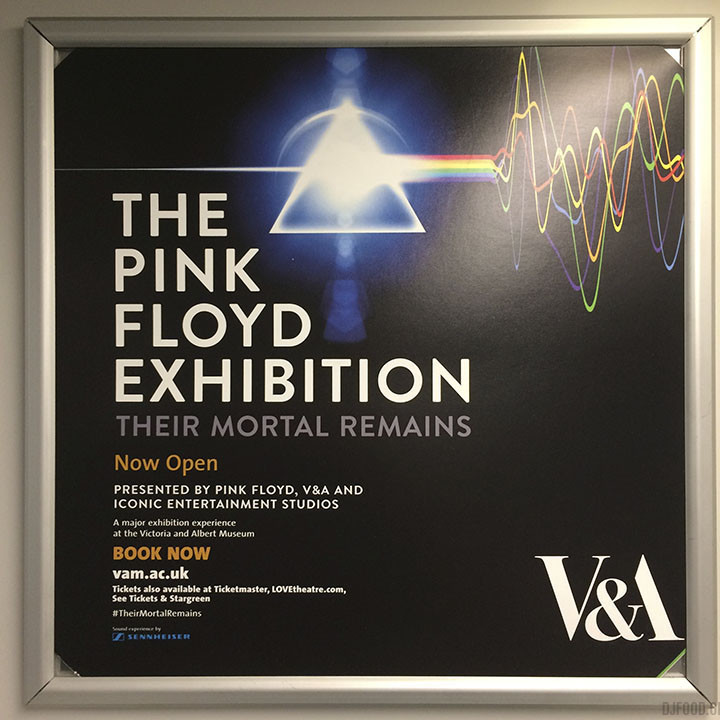 It's taken me an age to post these because life is currently getting in the way in the form of moving and renovating a new home. The Pink Floyd exhibition, 'Their Mortal Remains' at the V&A Museum, is very much worth seeing even if, like me, Pink Floyd don't mean much to you. I swore off them for a long while due to 'Another Brick In The Wall Pt.2' being no.1 for so many weeks as a child and finding myself utterly sick of it.
But the fickleness of youth only lasts so long and I found myself gradually checking back through their back catalogue, picking up the odd cheap LP here and there and finally realising why everyone raves about 'Dark Side Of The Moon'. This exhibition highlights exactly what a forward-thinking, visually aware band they were, adapting as their fame and venue sizes increased, their sleeve concepts becoming ever more outlandish as budgets made pre-photoshop surrealist montage possible. The amount of artwork and props present attest to a group with a very strong concept behind each album, courtesy of the Hipgnosis team of course.
Starting at the beginning and travelling chronologically through their career we enter a time tunnel and emerge inside a version of the UFO club circa '67 complete with pulsating liquid light ceiling, psychedelic poster gallery and films. Rooms concentrating of Syd Barratt, Wish You Were Here, Dark Side of the Moon and more eventually give way to a stunning display of Animals and The Wall-era stage props and art. The 80s side of things were less my bag but the concepts were now reaching gigantic proportion and are impressive as last bastions of the sort of excess that just doesn't happen any more now that we can do all these things digitally. The final room with a surround performance of their reunion at Live8 was very moving and a perfect way to end this retrospective. Go and see if before it ends on October 15th!