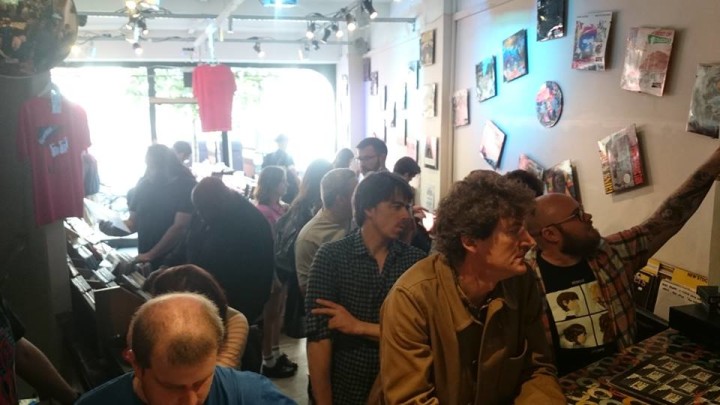 Lo, and did the hordes descend onto Rat Records in Camberwell like a plague of locusts and the music flowed freely, from the decks to the racks and into the bags of the hungry vinyl scavengers. Sometimes it didn't even make it into the racks, being bagsied whilst still on the turntable by eagle-eared punters inquiring, 'what's this playing?'. Jonny Trunk and I played whilst Lucy and Pete (behind the camera below) served and a wonderful afternoon was had by all.
Rat has a policy of restocking their shelves with new stock every Saturday and several hundred discs make their way onto the floor each and every weekend for the regulars who are at the door at the 10.30 opening time. This past weekend they had an additional box of soundtracks, library and weird music to add to that, the difference being that no one knew what any of it was until Jonny or I played it so the music stood or fell on its own merits. A collection they'd got in recently was put aside specially for this purpose and most of what was played in the two and half hour set you can hear below was sold. I even added a clutch from my own collection to the box.
As the box emptied and more friends arrived at the shop it was decided that a drink was needed and the nearby Stormbird bar was chosen, partly because it's the only place in London you can get a bottle of Pastelism, a beer brewed by Domino Records band, The Pastels. Much was consumed and many words were spoken of the crate-digging, vinyl-hunting nature alongside Tom Central (Keep Up!), PC (DJ Food), Graeme (Frenchbloke & Son) Ross, Zoe Lucky Cat Baxter and more. Robin the Fog and Hannah Brown from Resonance FM were also on hand to conduct an impromptu recording for their Near Mint show and the results can be heard below. The results of the alcohol consumption can also be heard as the show progresses too! It was great to see so many friends and play in my local record shop among like-minded punters and there are plans to do a rematch at Audio Gold in Crouch End soon. If any other record stores want to host this kind of event in the future then get in touch…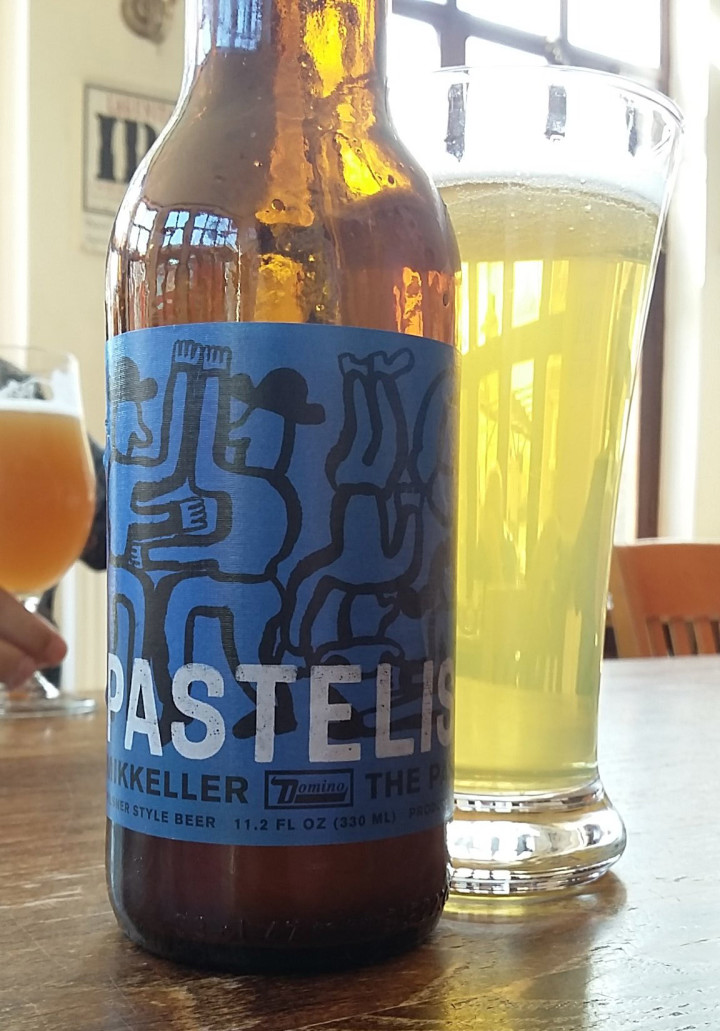 Beautiful typography on one of Adam James Seth-Ward's purchases.