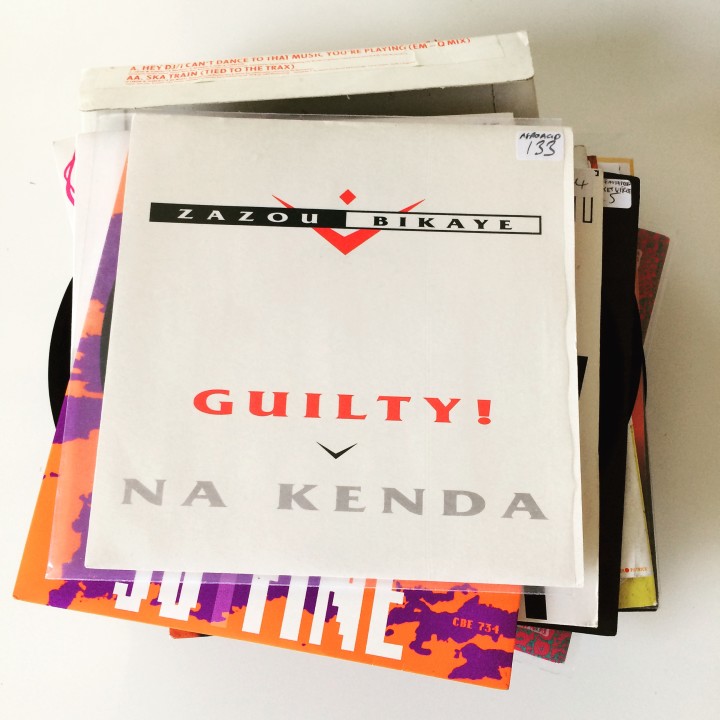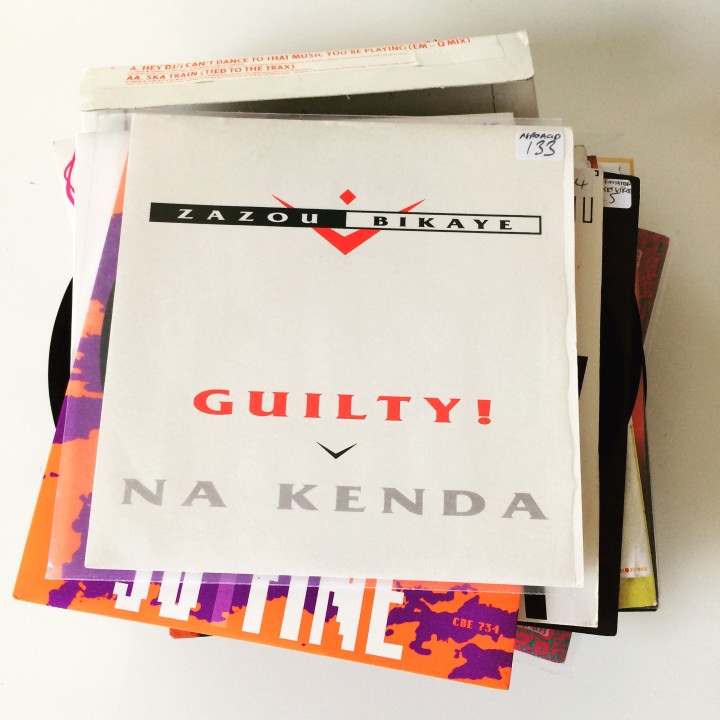 It's my turn again to provide a guest mix for the 45 Live radio show, hosted by Greg Belson and featuring only music played from 7″ vinyl. As usual I wanted to stray from the path and have been digging hard to find rare or obscure acid house singles that either I or 45 Live co-founder, Pete Isaac, haven't played before on our 303-heavy mixes. Pete and I have been collecting acid 45s alongside one another for the last few years now and a healthy competition has developed between us in finding tunes from this tiny niche. But it's a microscopic playing field, even counting today's modern acid scene, and only numbers in the hundreds of releases on the 7″ format. It's heartening to see current labels like BBE and Get On Down finally putting some classic house and acid gems on 45 in recent months to add to this finite corner of the digging world.
My first all-7″ acid mix was for the I Love Acid radio show a couple of years ago, the second for 45 Live last year and for this third outing I've spent months finding euro oddities from the 80s to give an authentic period mix – the one exception being the lead track, Mr. Fingers' 'Washing Machine', which was first released in 1986 but not issued on 7″ until 2018. All other tracks featured were released in '87, '88 or '89 with one lone 1990 release (ACR's 'Good Together' which first appeared on a stamped pink label 12″ in '89). At times I've felt like I'm scraping the barrel but there's always an unexpected gem to be found where you least expect it.

Here's a few things I've learned whilst digging for acid 45s over the years:
Most of them originate in the UK or Europe, there weren't many US 7″s pressed as it was the longer running 12″ that was the most ideal format. Because the music charted heavily in the UK, record labels pressed 7″s with edited versions of many releases into the early 90s when they were eventually replaced by CD singles around '92/'93. You can also find a limited supply of rave 45s fairly easily but by the time jungle happened they were a dead format for dance music save for the odd magazine freebie.
In Belgium, Spain, Italy and Germany there was a small industry in copycat cash-in singles feeding off the MARRS 'Pump Up The Volume' / Bomb The Bass 'Beat Dis' / Coldcut 'Doctorin' The House' / S-express style of cut-up house, often using whatever synths they could find to emulate the Roland TB-303 acid sound. All these singles are peppered with 'enjoy this trip' radio announcer-style samples, Run DMC 'ah yeah's' or 'check this out's' and cries of 'acieeeeeed' if they were released in '88. They must have all been sampling from the same sources and, with only a few exceptions, these records are universally awful, have smiley's on their sleeves and have dated horrendously.
For a short period of time in the late 80s it seemed that any old pop act got an acid makeover – Bros, Bananarama, Yazz, Sigue Sigue Sputnik, Army of Lovers, even Sam Fox got into the act ('Love House' – the 'Sulphuric Mix' is actually passable). There are all sorts of acid mixes hidng on the B-sides of British pop artists, by some of the greats of the house genre – Bam Bam, Adonis, DJ Pierre, Steve 'Silk' Hurley and Kevin Saunderson all have some of their earliest major label remixes hidden away on singles by the most unlikely artists. Some of Saunderson's first remixes were for the Wee Papa Girl Rappers ('Heat It Up', 'We Know It' and 'Blow The House Down' alongside Adonis) and he also serviced Neneh Cherry, Paula Abdul, Sam Fox and Loose Ends.
Bam Bam – of acid classics 'Where's Your Child and 'Give It To Me' – had his fingers in many pies remixing Coldcut, Yazz, The Shamen (years before their 90s pop success) and most bizarrely, Brass Construction.
Ex-Frankie Goes To Hollywood backing singer, Paul Rutherford, had some of the best acid makeovers for his debut single, 'Get Real', produced not by natives of Detroit or Chicago but by Martin Fry and Mark White aka Sheffield's ABC! Of the three 12″ versions of the single out there the rare nine minute 'Hardcore' mix is the best but hardest to find as it was pressed with the 'Sinister' mix label and cover and you can only tell a copy by checking the matrix number on the run out groove. I'm betting Hardlfoor heard this mix before writing their huge 'Acperience' track years later.
But we're straying from the subject of the 7″ – typically, few of these remixes made it to the 45 version but occasionally one would turn up on a foreign pressing. There's an acid version of a worldwide late 80's hit that exists only on one of two different french pressings that's so far alluded me, the differences between the versions being so minescule that most sellers simply list the wrong version when it comes up for sale. By 1990 things had died down as the fad had passed in the fast-moving world of dance music and Hip House and the Italo sound replaced the unfashionable acid squiggle and smiley. But it had made its mark, the Madchester scene, Deee-lite and Screamadelica were all products of acid house and the Dutch and Germans sped up the tempo and pushed it into new forms of techno throughout the 90s. I already have nearly enough 45s for a 90s-00s acid mix but this new one is possibly my last word in 80s era cuts save for a handful of singles that I've yet to find.
The 45 Live Radio show airs twice a month on a Friday night from dublab in LA but you can catch up from their Mixcloud page or subscribe through iTunes. Much love to DJ Greg Belson for hosting and curating it over the last three years and Pete and Scott for steering the 45 live ship.