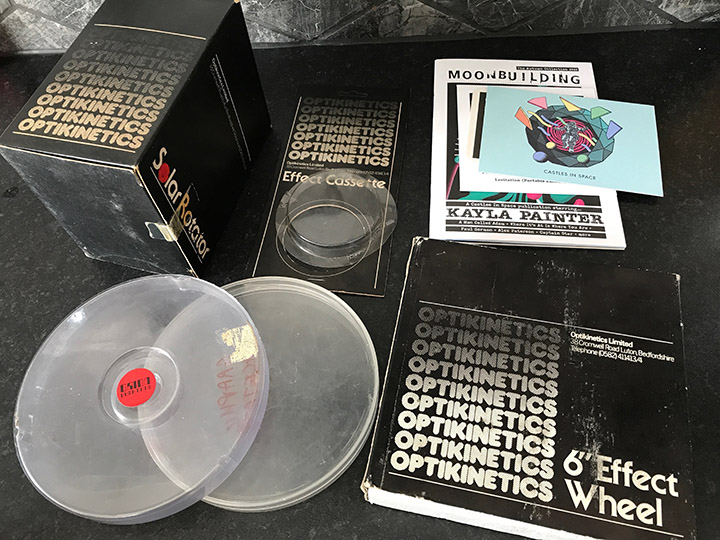 It's been a packed week… Saturday was Jonny Trunk's Groovy Record Fayre at the Mildmay Club (see more of that here) and a great time was had. Nursing a hangover and then a cold through the week I managed to catch the end of Stephen Coates' 'Bone Music' book launch at the Horse Hospital and see the extraordinary Rain Time exhibition at the same time, ending up in the pub with the authors and making more connections that will unravel over time. There's been more press to do for my Wheels of Light book, published by Four Corners Books, some of which is hitting the shelves this week in the form of Moonbuilding issue 2 and the latest Shindig! magazine. A podcast for the Bureau of Lost Culture should debut this Sunday (Nov 5th) about the book and light show culture in general (if we finish it in time). In between I managed to design a zoetrope for an Australian TV show, finish the artwork for an anniversary Ninja Tune release which will be announced soon and see Michael Rother live at the Clapham Grand last night.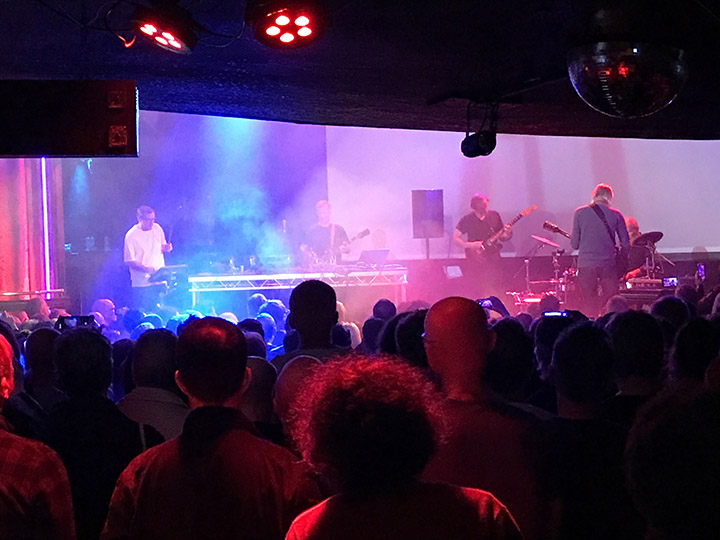 I was slightly non-plussed by a lot of it, the highlight being a storming Harmonia track early in the set. New Order's Stephen Morris and the right honourable Paul Weller were guests for the encore and Stephen looked like he was having trouble approximating Klaus Dinger's motorik beat. Weller seemed to either be having trouble with his guitar or looking to Rother for cues whilst the latter was head down, deep in his immaculate guitar playing, only looking up in the final bar to signal that this was the end. My judgement may have been clouded by the cold currently consuming my head though. The postman has just delivered an odd package of vintage light show wheel ephemera from my friend John at Funky Parrot (see above). Since publishing the book all sorts of people have been coming out of the woodwork with related facts and pieces connected with the light show world. If you're such a person or know someone in that field, please get in touch, there's still more work to do in that area.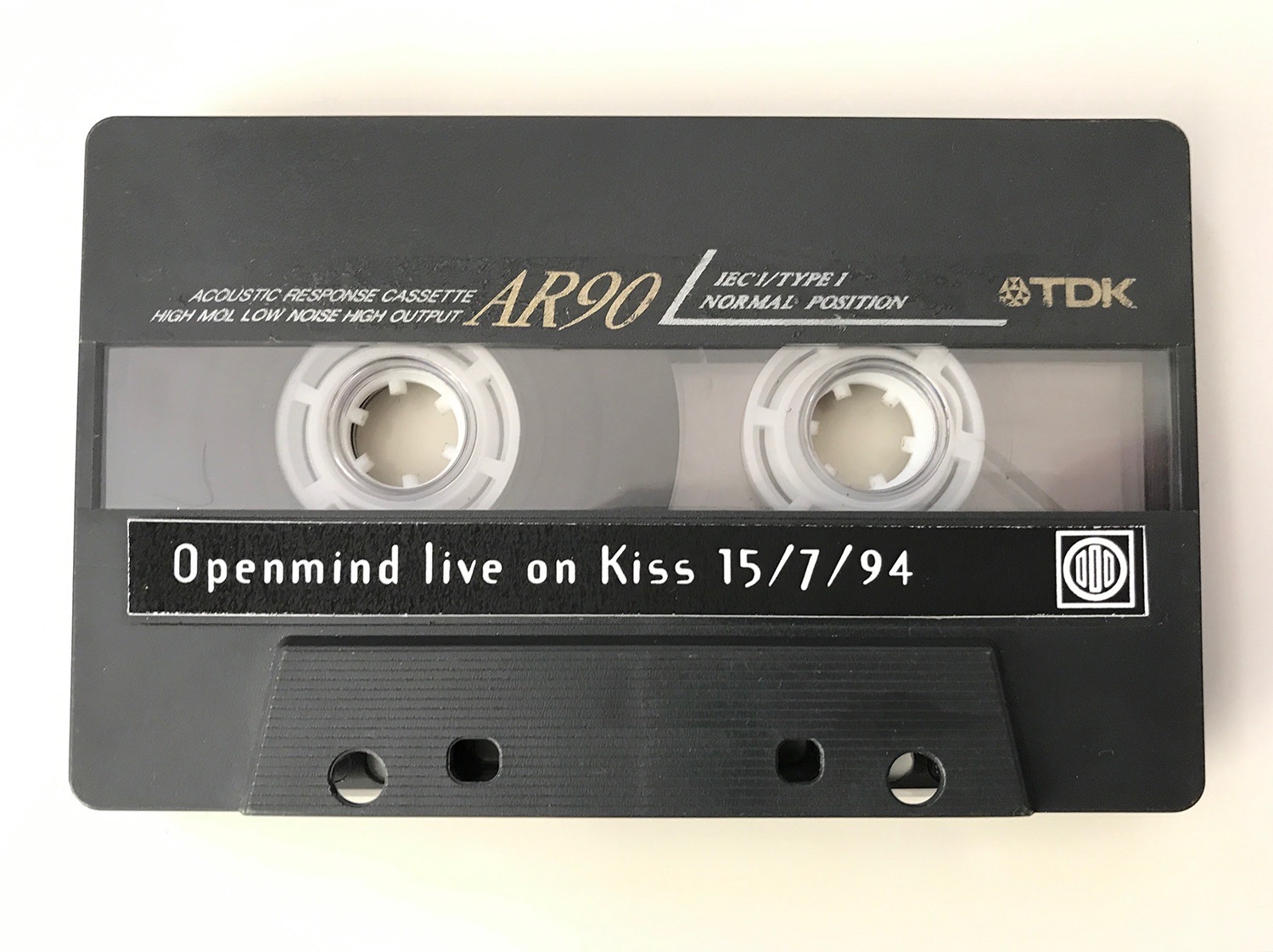 On to this week's show…
A really old one here, from an original show with PC and I on the decks and Jon More on the mic. I've snipped PC's part out and sent it to him so here are the two of mine joined at around the 25 min mark. The first section makes me want to up my game, there are so many bits and pieces weaving in and out of the mix in places it's a nightmare to track mark them (yes I try and track mark all my uploads in Mixcloud so that you can find out what's playing more easily – you did know that, right?). This is still so early that I'm referred to as Kevin from Openmind but the Strictly Kev moniker wasn't far round the corner and I'm still in chill out mode for the most part.
Kicking off with two Solid Steel jingles we're into a short Mika Vainio track from his debut album 'Metri' on Sahko with those gorgeous pure high frequency notes before drifting into a Woodentops B side. Rolo McGinty intones, bathed in much reverb for the Late Night version of 'You Make Me Feel'. I swear there's a bit of Cocteau's creeping into the mix before Beautyon's mesmeric 'To Swing Pil' enters with a ton of extra electronic sounds of whose origins I've no clue. 'Moist Moss' is the choir-like piece that originates from Mark Van-Hoen's Weathered Well album under his Locust moniker, why isn't he remembered more in the IDM halls of fame? The recall is patchy on the next one and Shazam is no help when things are this layered up. There might be some Air Liquide in there, or something from the Reflective label, it's so hard to tell and this was nearly 30 years ago. This must have been done on multiple CDs and vinyl at the KISS FM studio as well as Coldcut adding occasional jingles.
An uncharacteristic electronic beat track from Scanner's Mass Observation release enters before a gorgeous Andrew Poppy track from his second album for ZTT, Alphabed (A Mystery Dance). I found Andrew through my love of ZTT back in the 80s and when ambient and chill out came around his music seemed perfect to slip in (the stuff that wasn't based around Reich's minimalism that is). I played 'Goodbye Mr G.' to my mum once and it seemed to intensely annoy her as she had no handle on its structure or when it began or ended. I know Andrew a little now which is very weird and he's still making music, releasing an album, 'Jelly' recently.
An old faithful, 'Plight' from David Sylvian and Holger Czkay's 'Plight & Premonition', slides in and was a staple of my ambient sets for years. It's a dark but beautiful piece of world building with found sound and snatches of instruments and radio interference that serves as a bridge or overlay to anything. Path were one of the first bands I ever designed a label or sleeve for and their debut single, 'Pleasant' rounds out the mix. There is an odd edit right near the end that slices us into a snatch of Sheila Chandra with Jon reading out something about a fund-raising event but I'm not sure what happened there as it came from a batch of digitisations I made years ago.
The second half of the mix is mostly based on the entirety of The Irresistible Force's 20 minute 'Mountain High (live)' track, the final side of his debut LP, Flying High. Woven into this ambient masterpiece are a quick blast of 'Bhaja Mana Hure' from the Radha Krsna Temple and a couple of beat tracks including Up, Bustle & Out's 'Nightwalk' and La Funk Mob's 'Motor Bass Gets Phunked Up' which slips and slides in and out of time for a few moments here and there. It sounds like I'm constantly chasing it in the mix. Slivers of Tony 'Moody Boys' Thorpe's Voyager track 'Arrival' rise and fall as La Funk Mob take their exit – this was a CD only track, 20 minutes long, beatless, twinkling ambience, also never far away when making ambient mixes back in the day.
Mixmaster Morris's track takes a left turn before the 38 minute mark and either my vinyl was knackered or the one he took the sample from was as there's crackling all over it. Into this section creep no less than indie pop darlings then turned experimental mavericks, James. Post-'Sit Down' they were indulged by their record company and ended up making a couple of albums with Eno, one called 'Laid' with an offshoot album of less poppy tracks called 'Wah Wah'. Out of the sessions from the latter came an amazing 33 minute 12" of Sabres of Paradise mixes called 'Jam J' where Weatherall, Kooner and Burns dubbed them to infinity and back again in one of their then epic reconstructions. This huge, loping fuzz bass-ed monster slouches into the mix in half time before taking centre stage, only to be ousted at the very end by the final moments of Mountain High.
Phew, bit of a heavy trip that one.
Tracklist:
Coldcut jingle intro
Mika Vainio – Sisaan
The Woodentops – You Make Me Feel (Late Night version)
Beautyon – To Swing Pil
Locust – Moist Moss
Unknown – Gated ambience
Scanner – Mass Observation
Andrew Poppy – Goodbye Mr. G
David Sylvian & Holger Czukay – Plight (The Spiralling of Winter Ghosts)
Path – Pleasant
Sheila Chandra – unknown
Coldcut Russian jingle
The Radha Krsna Temple – Bhaja Mana Hure
The Irresistible Force – Mountain High (live)
Up, Bustle & Out – Nightwalk
La Funk Mob – Motor Bass Gets Phunked Up
Voyager – Arrival
James vs Sabres of Paradise – Jam J (Phase 1: Arena Dub)