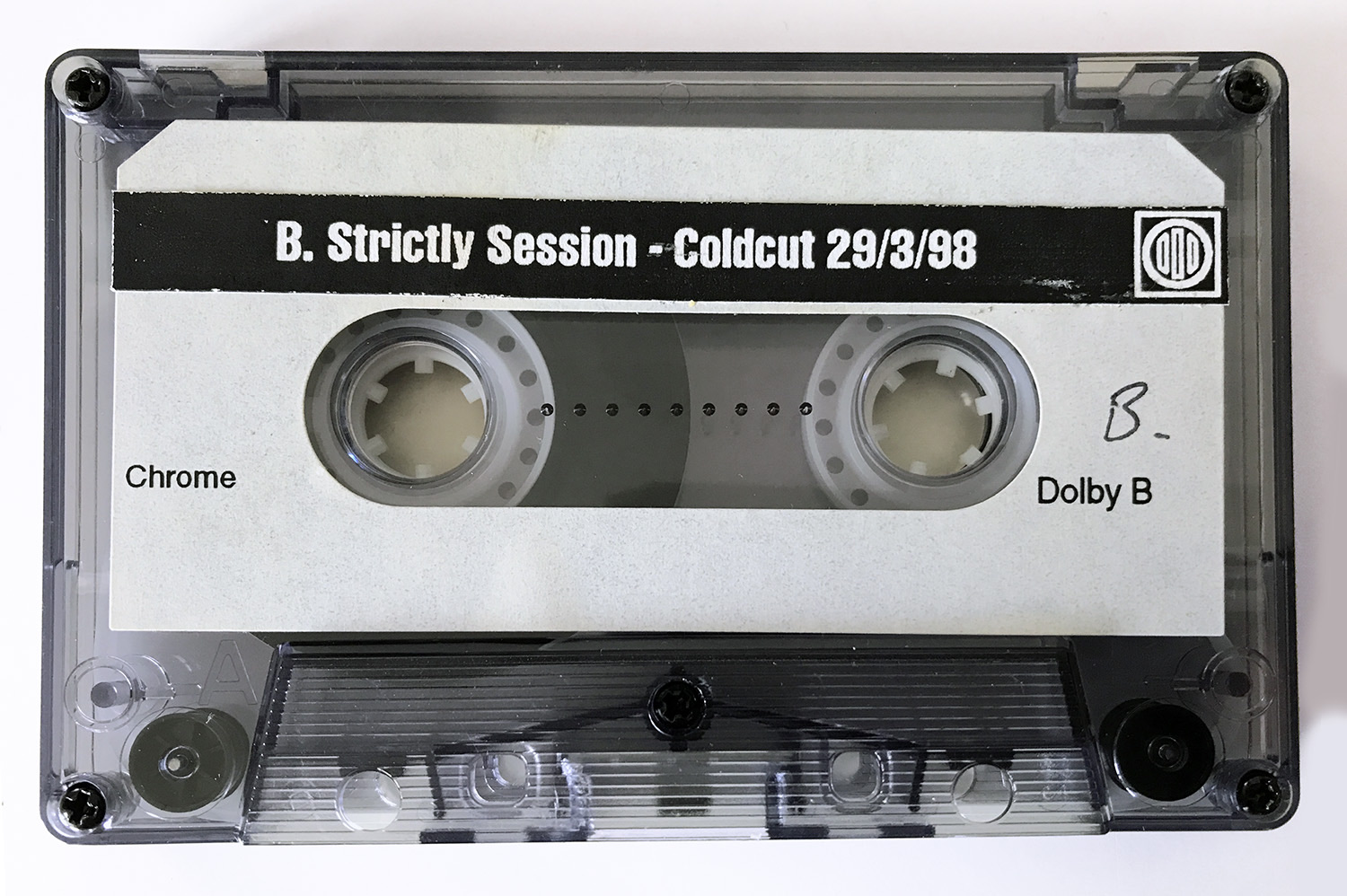 Part 2 of last week's tape excavation and we kick off with the first fruits of Mark B & Blade's collaborations, released on Jazz Fudge as the Hitman For Hire EP, an amazing record that I had the pleasure of providing artwork for. Shot one rainy Friday night in DJ Vadim's Kingston loft studio using the reflections in a circular subway mirror – good times, RIP Mark B. Here he chops up Mantronix's production of Just Ice and makes it his own, with Mr Thing on the cuts and Blade on fine form, just excellent hip hop. Amon Tobin remixes Gus Gus' 'Polyesterday' on 4AD, one of his first remixes, and another Ninja Tune group, The Herbaliser, remix The Invisible Pair of Hands before neatly segueing into Boards of Canada's 'Aquarius'. Always a bugger to mix with the beat-less intro chords, I actually manage to drop it in on beat here but that old BoC detuning gets you every time, there is no harder band to mix melodically, everything sounds out of tune with everything else, it's one of their secrets.
DJ Vadim lopes into view with 'Aural Prostitution' from his debut LP on Ninja and then into Pt.2 of Skylab's '?' release. I loved Skylab, they embodied everything that I thought the phrase 'trip hop' should have but ultimately didn't – electronics, heavy beats, swirling psychedelia and weird spoken word from the most left field records they could find. Unfortunately the phrase is usually reserved for bands like Portishead these days who are up next with a Parlour Talk remix which really is not that comfortable to listen to, I'm sorry, should never have played this one. Req is back briefly with the Linn Mix of his 'I' track from part 1 and so is a snatch of the KLF UFO mix of the Pet Shop Boys then we play out with the soothing tones of Kid Koala and Money Mark's track from the Funkungfusion compilation, 'Carpel Tunnel Syndrome'. Kid Koala was still working on his debut album at this point (from which this track's title was taken) and played typewriter for beats under Mark's soft keyboards.
This was an exclusive for the comp (as were most of the tracks at the time) and it's an interesting snapshot in time for the label which was just coming off the back of its first flush of success and was looking to the future. You have a Roots Manuva track which predates his Big Dada releases, the first music from what would become The Cinematic Orchestra under the name J Swinscoe (then still working in Ninja's shipping department). The mix of artists were drawn from sub label Ntone as well as Ninja and the outlook was far more electronic and jazz-based. It was a turning point for the label at the time I felt and I think the comp was received with some confusion from fans and critics but it pointed to the future, away from the trip hop label and onto new horizons. By the time the Xen Cuts anniversary album rolled around 2.5 years later it would all make sense and several of the artists featured here for the first time would be making their marks with their own records.
Track list:
Mark B & Blade – Use Your Head
Gus Gus – Polyesterday (Amon Tobin remix)
The Invisible Pair of Hands – Sloppy's Not Sloppy Any More (The Herbaliser vs Invisible Pair of Hands remix)
Boards of Canada – Aquarius
DJ Vadim – Aural Prostitution
Skylab – ? Pt.2
Portishead – Elysium (Parlour Talk)
Req – I (Linn Mix)
Pet Shop Boys – It Must Be Obvious (UFO mix)
Kid Koala & Money Mark – Carpal Tunnel Syndrome