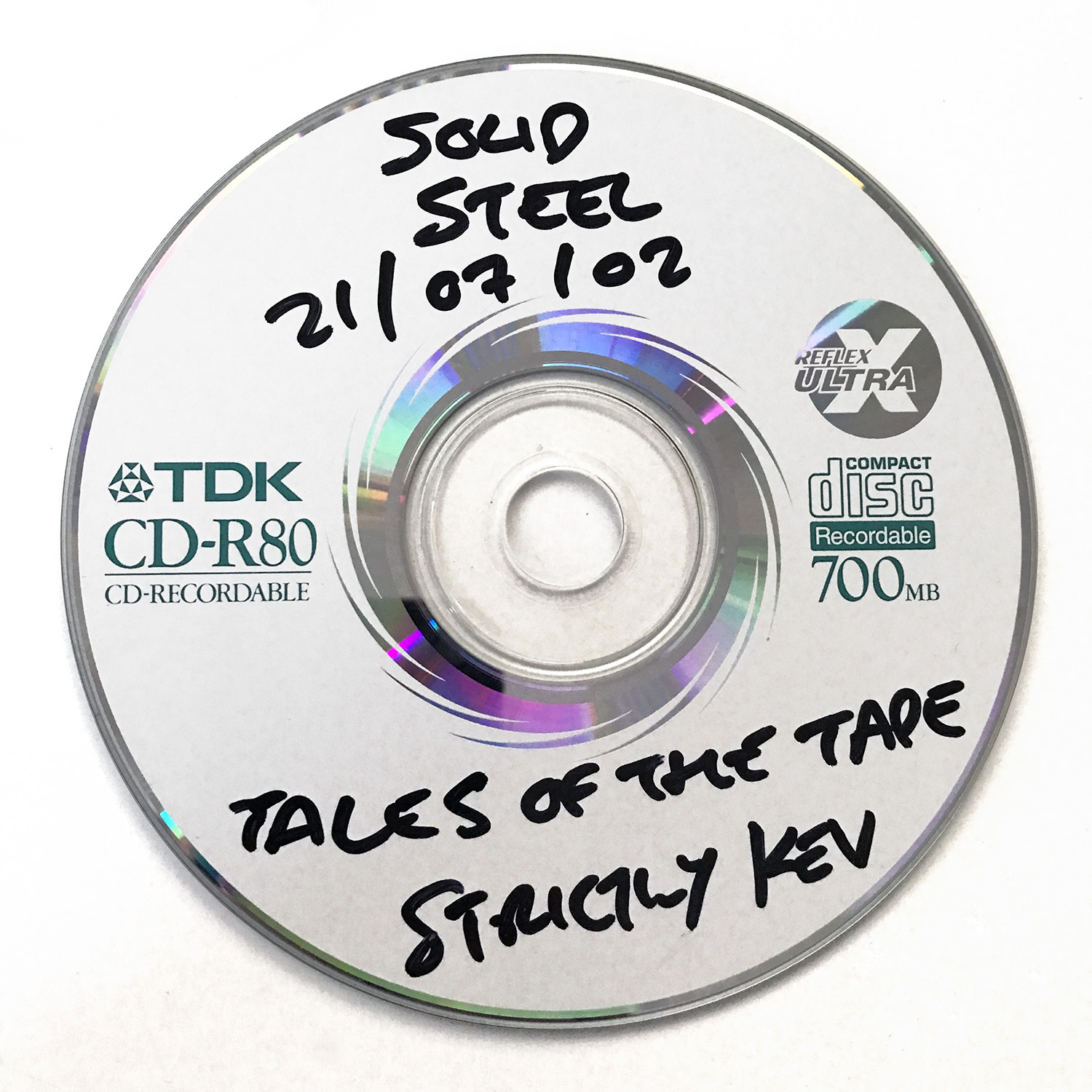 Break out the TDK D90s, make sure the tape is tightened using an old pencil or biro lid and pop the door of the cassette deck for this collection of pause button-enhanced electronica from mid 2002. Obsession with bootlegs and mashups was still relatively new at this stage and the discovery of Cassetteboy was a key link in the chain. Their meticulous cut ups of TV and radio shows added to the (toilet) humour of the movement and made sure nothing ever got too serious. That they would end up doing material for the Guardian website was something I doubt any of us could have foreseen. This mix is strewn with excerpts from The Parker Tapes, their debut album on Barry's Bootlegs (an offshoot of Spymania who first gave us Squarepusher), parts of which I would also include in my Raiding the 20th Century mix some years later.
Amon Tobin's Out From Out Where LP was released this summer and the track 'Back From Space' opens the show before Antipop Consortium's amazing 'Ghostlawns' creeps in, still sounding as fresh as the day it was released. The clipped minimalism of Murcof took everyone by surprise when he debuted on Leaf, coming on like a classical Akufen, the beauty of which I totally spoilt by running a Cassetteboy Jamie Oliver sketch over the top – "I'm gonna whack my old man, right up his alley" – yes, quite. Monkey Magic's 'More Than We Know' I had to look up – seems it was a lone 12" on the Deep-Water label and I'm not sure if the Monkees cut up at the end was part of the track or not. Cujo aka Amon Tobin's sole album was reissued on Ninja Tune around this time and it's great to hear the contrast although I quite like the cheesy silliness of 'Popsicle' myself, sounding more like something Tipsy would have put out than his later material.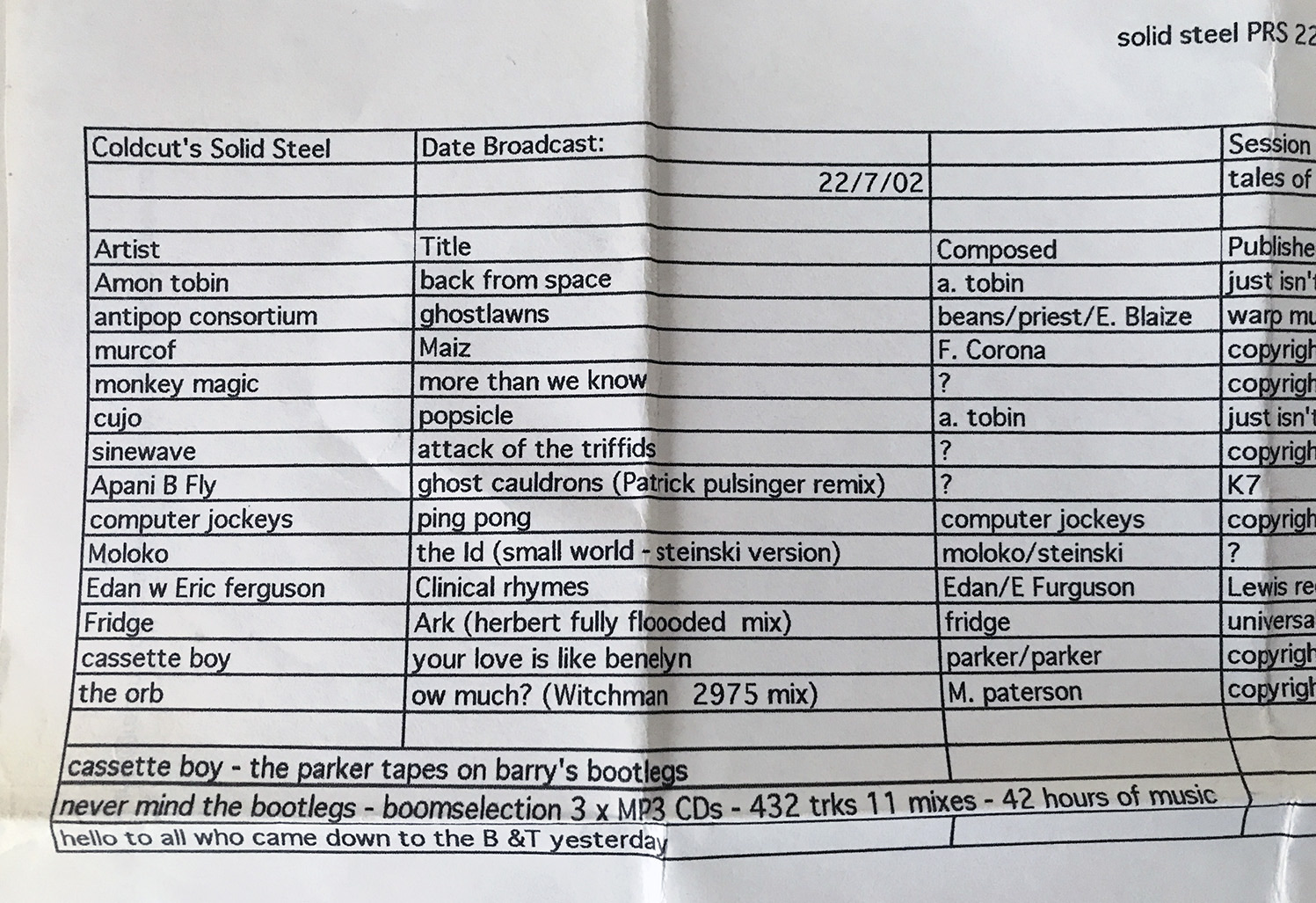 Sinewave – 'Attack Of The Triffids' – this was Canadian drum n bass artist, Mark Wiebe, not sure where I got this, maybe given it on tour? That guy has some drum editing skills, I do love rediscovering all these old tracks when digging out 20+ year old shows. Apani B Fly's 'Ghost Cauldrons' was a hip hop that was remixed by Blacklodge and Patrick Pulsinger, the latter of which proceeded to cut up Herbie Hancock's electronic rendition of 'Cantaloupe Island' from his Japanese Dedication album all over the track. Computer Jockeys' 'Ping Pong' was another that had me reaching for Discogs and this appears to have first been released in 1999 on the Harvest label – yes, that Harvest – but was included on a compilation is 2002 which is probably how I found it. Steinski's remix of Moloko's 'Small World' was taken from his Nothing To Fear Solid Steel mix CD that never was – and now Roisin Murphy is a fully fledged Ninja artist.
Another brief Cassetteboy interlude precedes Edan w Eric Ferguson's 'Clinical Rhymes', an old school freestyle over classic B Boy beats – Edan still untouchable, just wish he'd make more records. Herbert remixing Fridge wasn't a pairing I'd have ever put together but it works as Matthew Herbert smooths out the rough edges and adds female vocals to beautiful effect. More Cassetteboy before we finish with a rather jovial Witchman remix of The Orb and the tape is ejected.
Track list:
Amon Tobin – Back From Space
Antipop Consortium – Ghostlawns
Murcof – Maiz
Monkey Magic – More Than We Know
Cujo – Popsicle
Sinewave – Attack of the Triffids
Apani B Fly – Ghost Cauldrons (Patrick Pulsinger remix)
Computer Jockeys – Ping Pong
Moloko – The Id (Small World – Steinski version)
Edan w. Eric Ferguson – Clinical Rhymes
Fridge – Ark (Herbert Fully Floooded mix)
CassetteBoy – Your Love is Like Benelyn
The Orb – Ow Much? (Witchman 2975 mix)