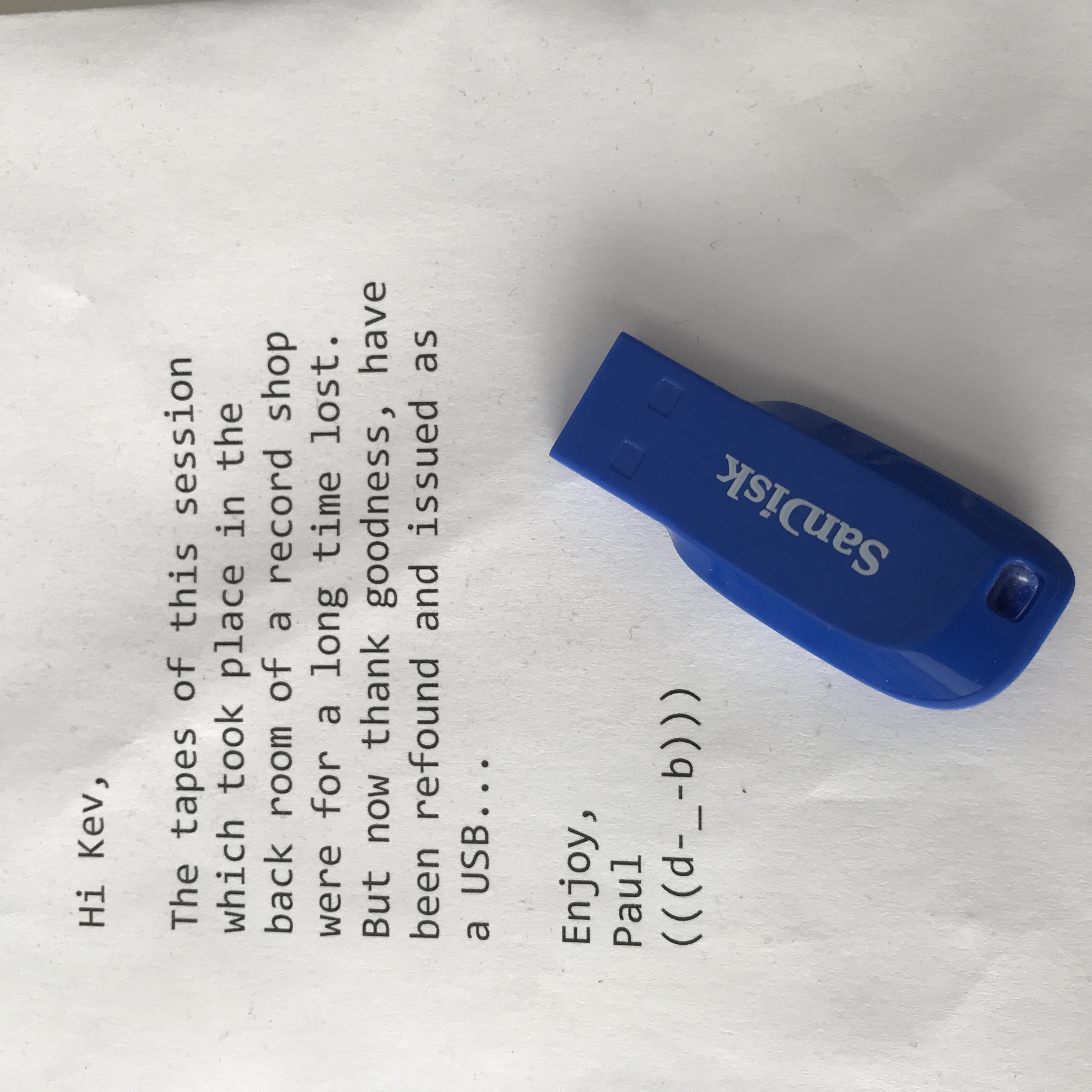 This set is extracted from a longer recording with PC on the decks before and after me, recorded near the end of 1995. The file comes from a huge caché of shows given to me by Paul Johnston and I've yet to fully go through them to see what I have or don't have on his list. Paul has had a couple of mixes featured on Solid Steel over the years and they are always packed out with hilarious samples and a ton of work. He kindly shared his stash of shows with me so that I could fill in some gaps, thanks Paul. Here's one he did back in the day – Smoke Filled Adventures

Kicking off with some Alec Empire from his Low On Ice album and a fine piece of twisted filter breakbeat, followed by some excellent unknown acid trip hop – I'd really like to know what this is but it would require a deep dive into the record collection – anyone know? Some vintage Orbital with the opener from their second album appears and then we splice into a break and cello track that again I can't recall. DJ Food's' Spiral' from the then-current 'A Recipe For Disaster' album plays out and I'm trying something with the intro of Mantronix's 'King Of the Beats' and the pitch control over this but thankfully don't overdo it. Another unidentified snatch of cut up party business is up next and this sounds like something from DJ Smash or the AV8 label from overseas but I can't find anything after a scour of Discogs. The use of Doug E. Fresh's "well it started off on 8th Avenue" from his classic 'The Show' is the main signifier.
Public Enemy's excellent 'You're Gonna Get Yours (Dub / Terminator X Getaway Version)' is next and rumour has it that the Terminator didn't exactly do the cuts on this but it was the Kings of Pressure's Johnny 'Juice' Rosado who was also connected to the Bomb Squad. David Holmes' 'Slash The Beats' has Kooner and Burns of the Sabre of Paradise's production fingerprints all over it and is a version of the track 'Slash the Seats' without the acid line and spoken word. Instead I add the acappella to PE's 'Bring The Noise' (starting on the wrong beat!). Air Liquide's ambient 'Robot Wars Symphony Part 1 System Engaged' from their The Increased Difficulty of Concentration double CD is floated over and out of both these before a classic DnB tune that I just can't pin enters.
Anyone know this? It's doing my head in and I spent nearly an hour on Discogs looking for it, thought it might be Alex Reece at first, Robin the Fog thought Wax Doctor or DJ Pulse but I couldn't find anything – please comment if you recognise it. The next track IS Alex Reece by way of a remix of DJ Krush's 'A Whim' on Mo Wax with Cypress Hill's 'Scooby Doo' floated over it, a mix I used to do often back then. Rolling, quite literally, out of this is Autechre's 'Rsdio' and we're in slow mode so it's as good a time as any to air DJ Shadow's 'In/Flux', or at least half of it. Up next is a tune I've not heard in years but remember so well, Luke Vibert's near 10 minute remix of Ruby's 'Paraffin'. Ruby was Leslie Rankine from the thrash band Silverfish who were always in the indie music press in the early 90s, she then teamed up with Mark Walk and made a vocal trip hop album,'Salt Peter'. Their debut album is excellent and sadly overlooked although several singles were released with remixes by all sorts of contemporary artists and Vibert's is one of the standouts, all time-stretched vocals and playful twists and turns. The track succeeding this is again lost in the midsts although sounds very familiar, so many records and so many years ago, it'll come along some day. We play out with Small World's 'Dual Tone' on Hard Hands, a chugging bass banger that got many an airing back in the day.
No mix next week as I'm on holiday, see you in two weeks…
Track list:
Alec Empire – 22.24
Unknown – unknown
Orbital – Time Becomes
Unknown – unknown
DJ Food – Spiral
Unknown – Unknown
Public Enemy – You're Gonna Get Yours (Dub / Terminator X Getaway Version)
David Holmes – Slash The Beats
Public Enemy – Bring The Noise (acappella)
Air Liquid – Robot Wars Symphony Part 1 System Engaged
Unknown – Unknown
DJ Krush – A Whim (Alex Reece remix)
Cypress Hill – Scooby Doo
Autechre – Rsdio
DJ Shadow – In/Flux
Ruby – Paraffin (Wagon Christ remix)
Unknown – Unknown
Small World – Dual Tone