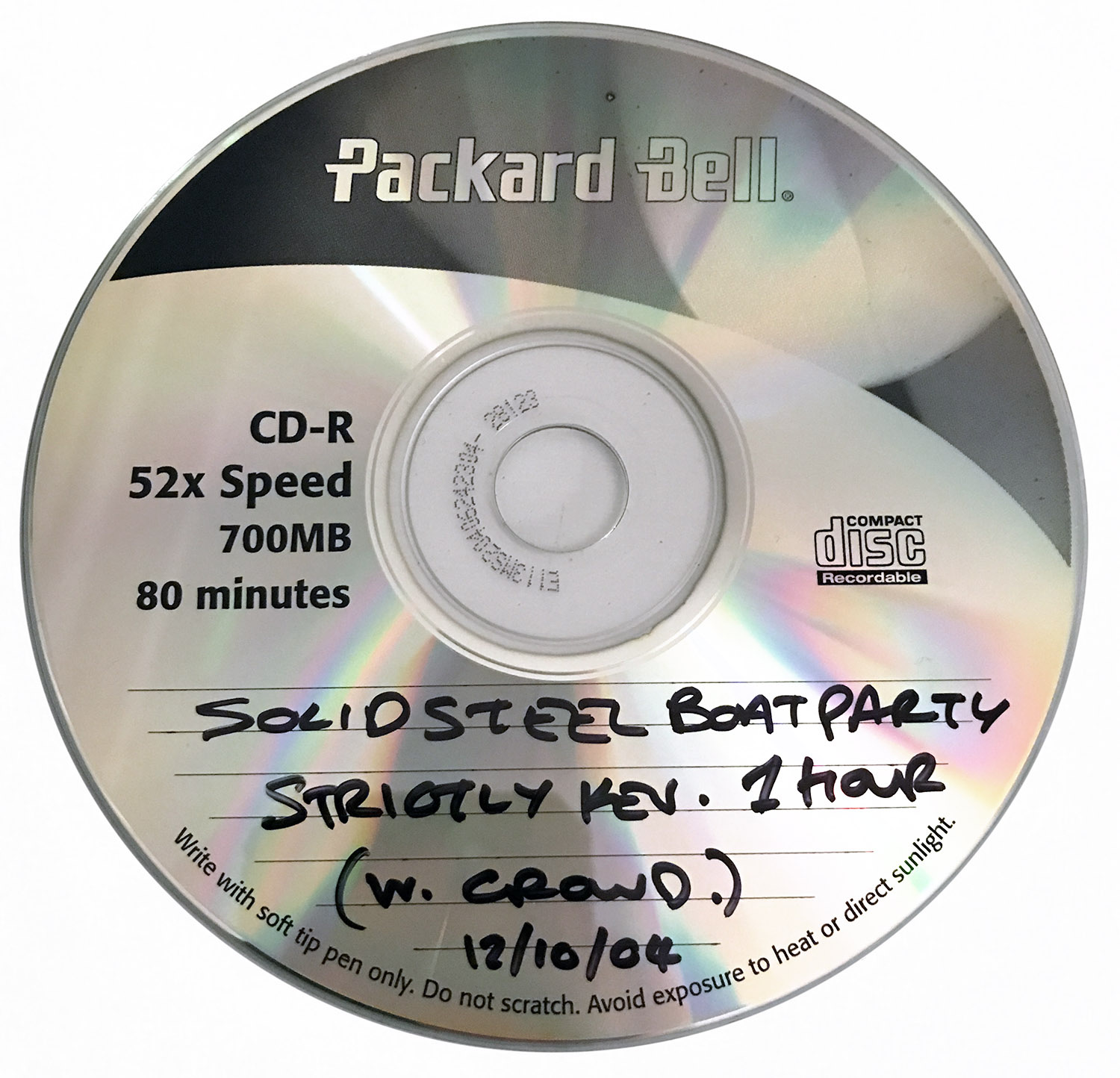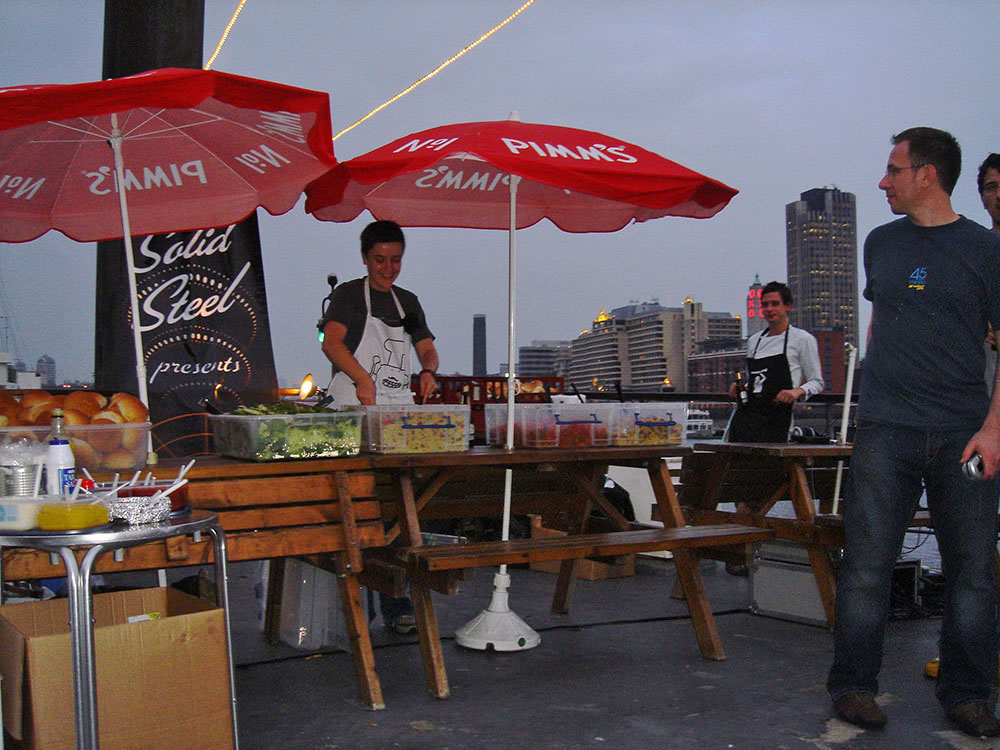 Back in 2004 when DK and I had our monthly Solid Steel night residency downstair at Ruby Lo in the west end we decided to put on a boat party for the end of summer. I think it was DK's idea and he wanted to have a door price that included a free BBQ on entry which was to be served from the deck while people came on board. I won't post the terrible flyer I made at the time but it did contain the line 'All hands on decks' which made me laugh. We co-opted our wives to help serve alongside James Mountain (Solid Steel DJ and Ninja employee at the time) and provided a load of burgers, hot dogs and salad for people our of our own pockets. DJs on the night were Dean Smith (on the top deck whilst food was served), James, Matt Black, PC, Harley Harl, DJ Yoda, Diplo (then still relatively unknown but fast rising as a star in his own right), DK and myself.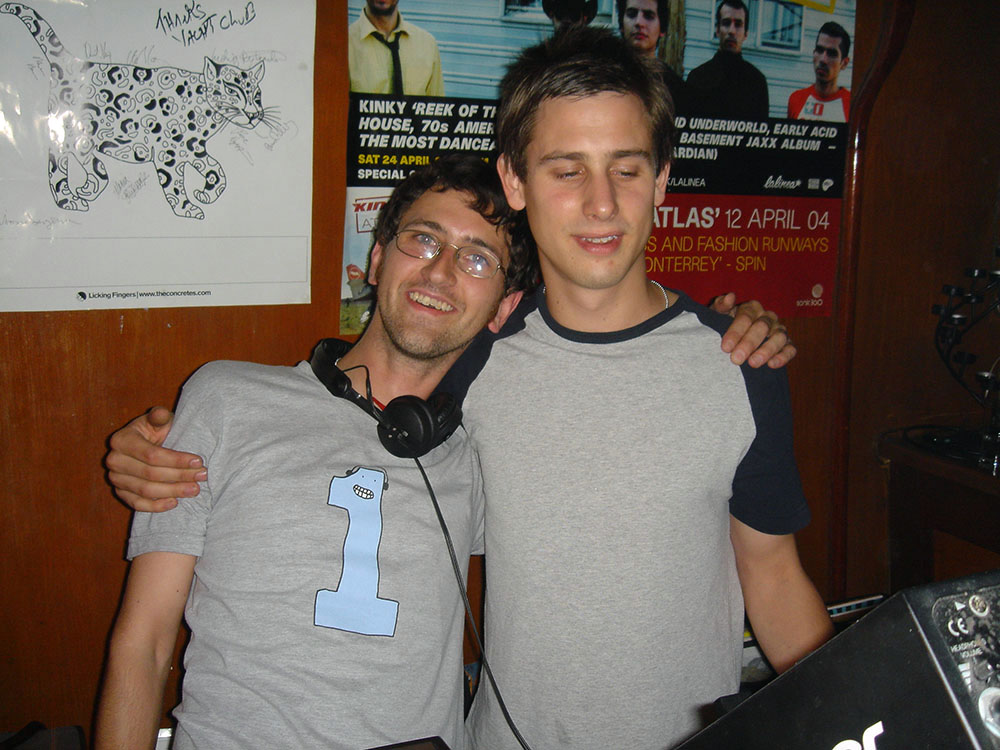 Harley Harl and James Mountain (Solid Steel)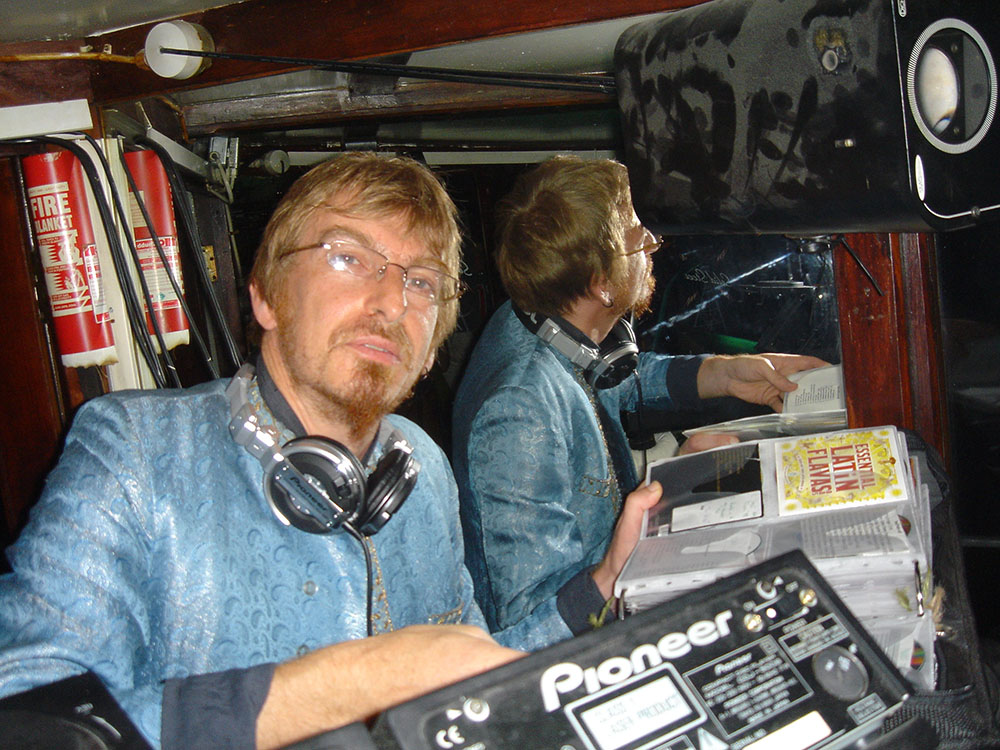 Matt Black (Coldcut)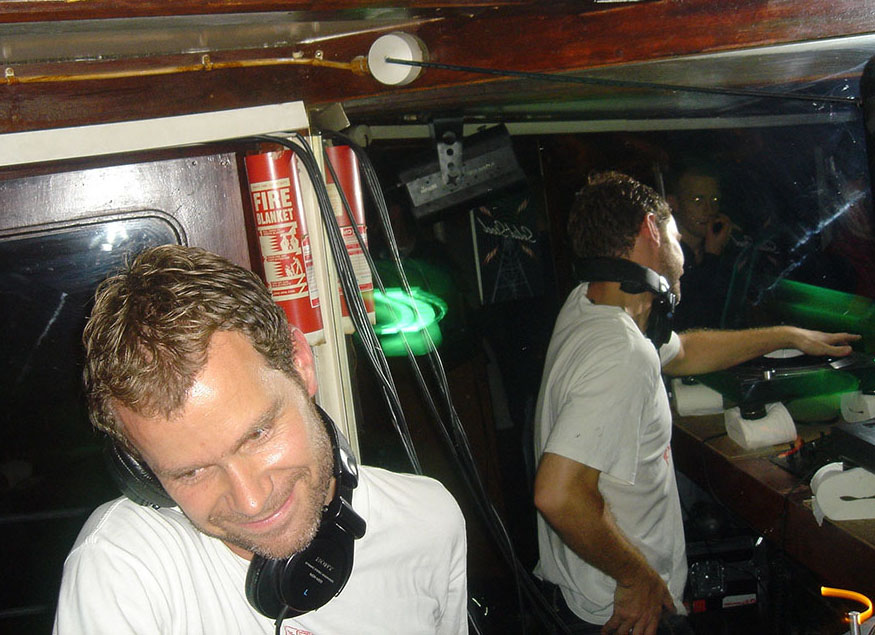 DK (Solid Steel)
The boat we booked was on the dock on the North side of the Thames and the owners were a tad shady, so much so that when we started admitting people it was obvious that other people were coming on board without tickets and going to another part of the boat we didn't know about. When confronted we were told that there was another private party on board and that it would be Ok, no one would cross over but we knew this was BS. Too late, the party had started and the deck was filling up and the weather was great for a late summer evening. The place was packed and there were three rooms, a main one and a more chilled one plus a couple of bars, at one point we gave everyone free lollies too. The set here is mine from the main room, complete with crowd noise and scrappy mixing but if you imagine a cramped top deck cabin with 100 or so sweaty people crammed in then you get the picture.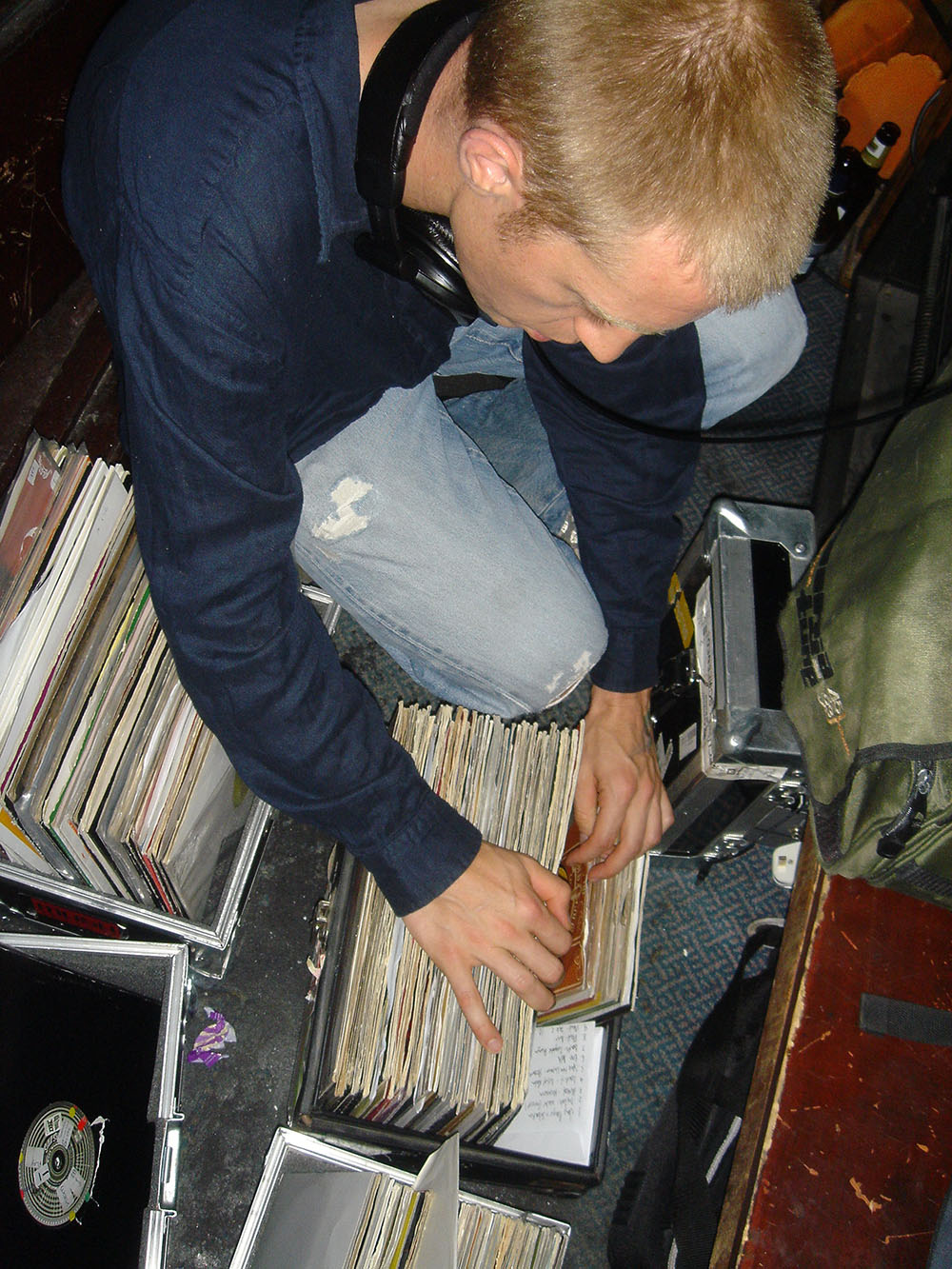 PC (DJ Food)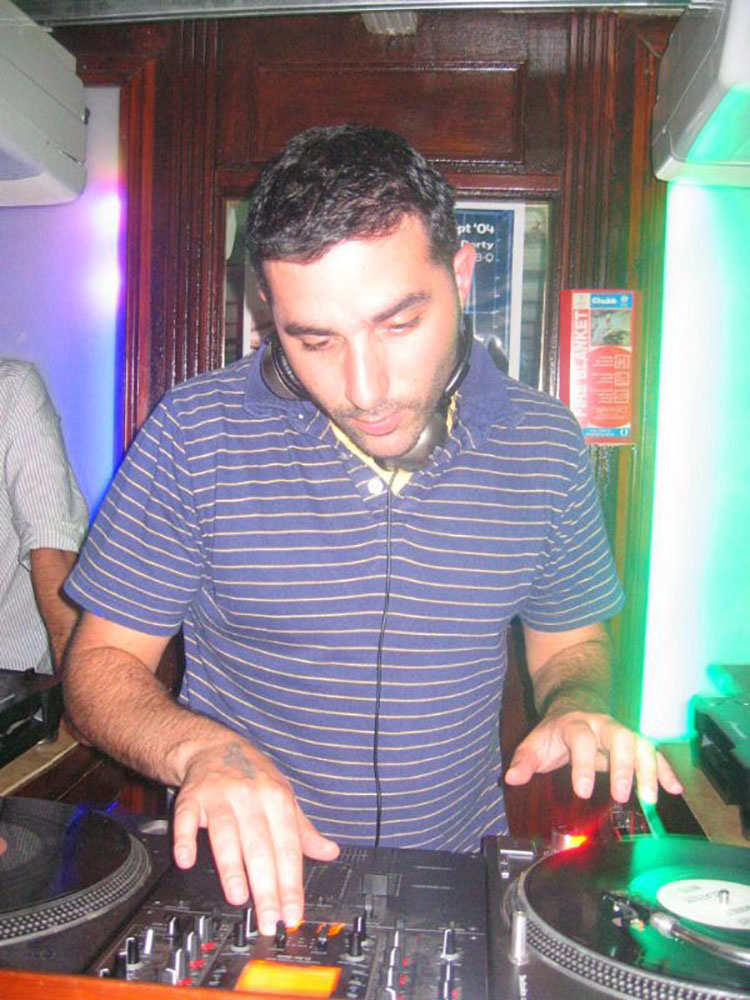 DJ Yoda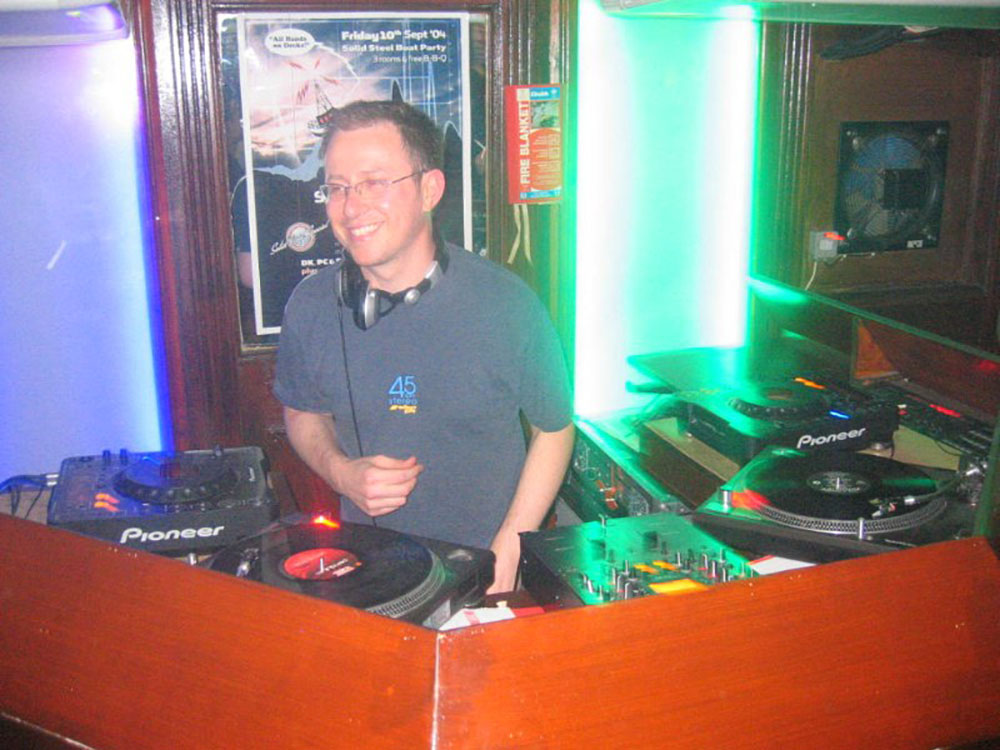 Yours truly (DJ Food)
I think I was on either before or after Yoda but sadly missed most of his set as I had to sort stuff out with the food side of things. We had a problem with Diplo as he was flying into the UK that afternoon and coming straight to the boat to play and with no contact we were winging it as to whether he'd turn up in time or not. Luckily he did, literally minutes before he was due to play and proceeded to turn out a storming set – phew! DK went to see the boat owners afterwards to sort out the money and we ended up not having to pay for the boat hire as a result of all the nonsense with the other party – they certainly must have made a fortune on the bar that night anyway.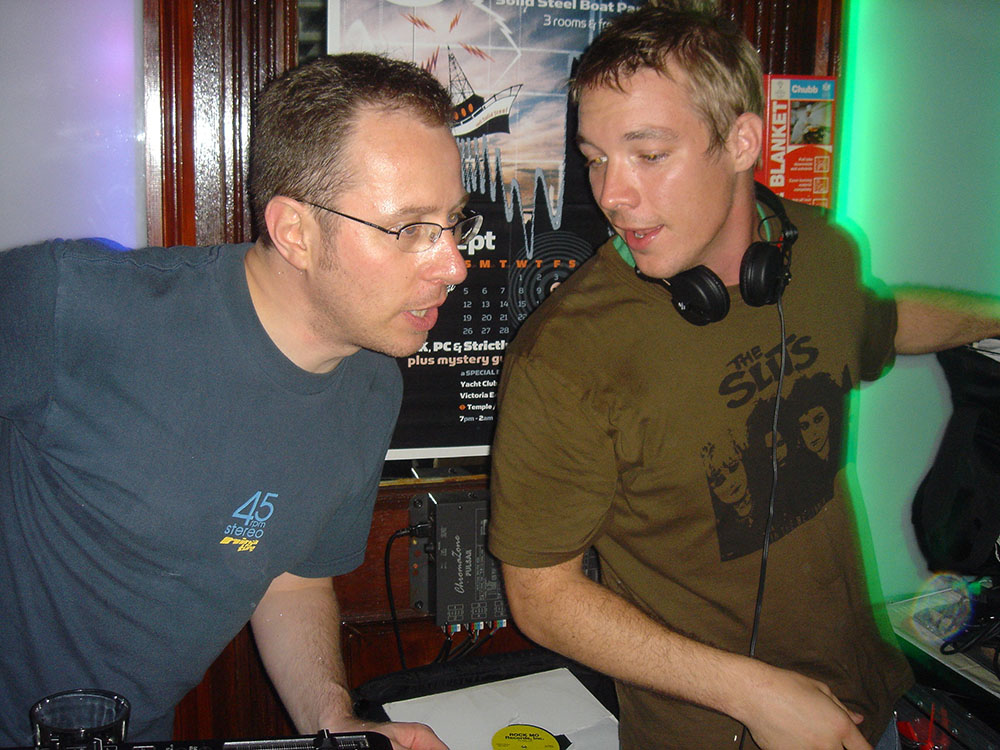 Me and Diplo on the boat, it was sweaty!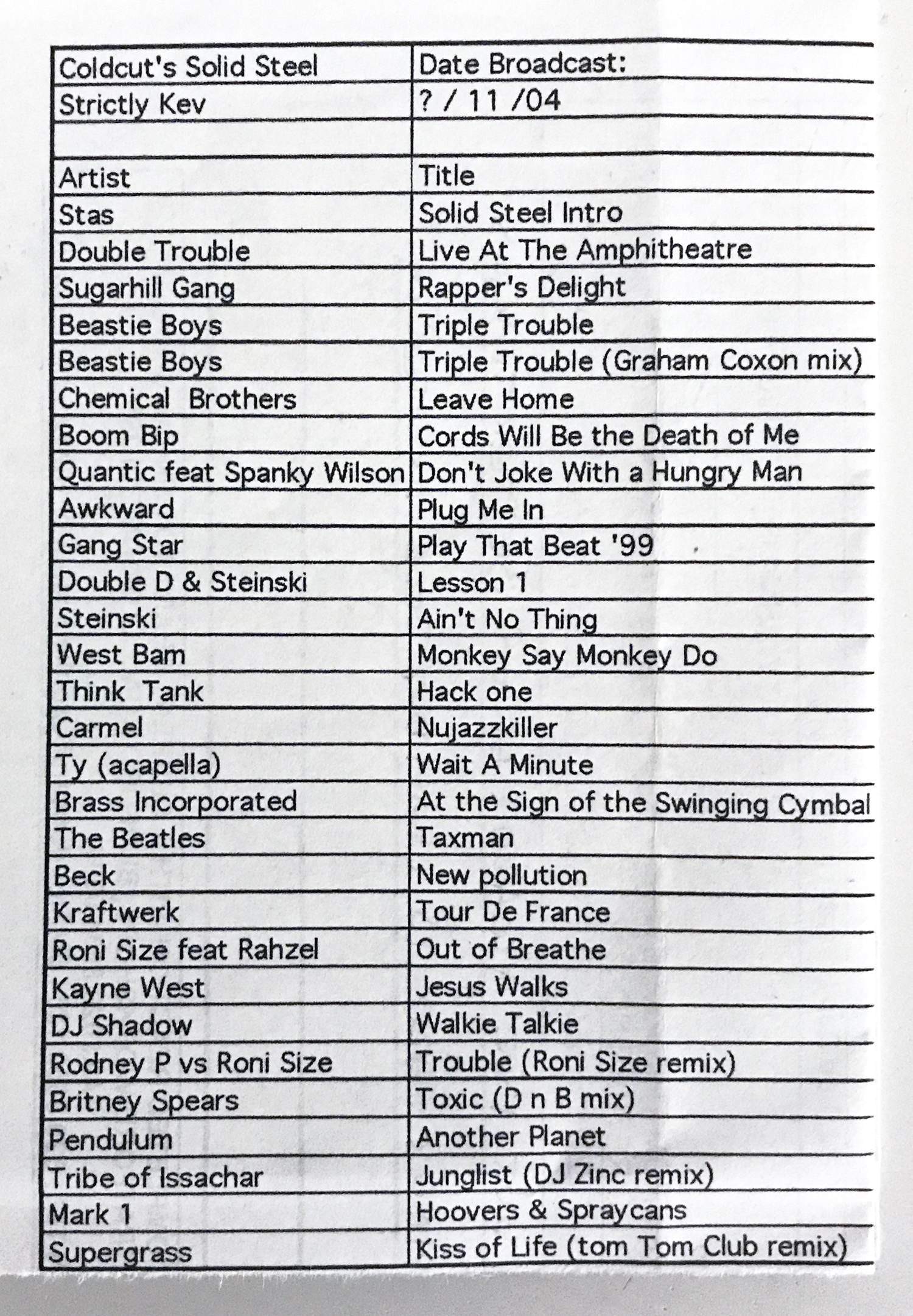 Photos by Elisa Parish, Graham (Fraser?) and another unknown photographer.
I'm not going to go through every track as there are many classics here most will know – keep an ear out for the switch up out of 'Tour de France' into Roni Size though – that was a moment. I loved this era of DnB, loads of fun, heavy rolling beats, synth bass lines and pop vocal hooks – check the Britney bootleg. I know Pendulum fell off but 'Another Planet' will always be a monster tune for me – never failed back in the day. The Carmel of 'Nujazzkiller' isn't the British jazz artist but a one-off on the Fluid Ounce label for 2002.
Track list:
Stas – Solid Steel Intro
Double Trouble – Live At The Amphitheatre
Sugarhill Gang – Rapper's Delight
Beastie Boys – Triple Trouble
Beastie Boys – Triple Trouble (Graham Coxon mix)
The Chemical Brothers – Leave Home
Boom Bip – Cords Will Be the Death Of Me
Quantic feat. Spanky Wilson – Don't Joke With A Hungry Man
Awkward – Plug Me In
Gang Starr – Play That Beat '99
Double D & Steinski – Lesson 1
Steinski – Ain't No Thing
West Bam – Monkey Say Monkey Do
Think Tank – Hack One
Carmel – Nujazzkiller
Ty – Wait A Minute (acappella)
Brass Incorporated – At the Sign of the Swinging Cymbal
The Beatles – Taxman
Beck – New Pollution
Kraftwerk – Tour De France
Roni Size feat. Rahzel – Out Of Breathe
Kayne West – Jesus Walks
DJ Shadow – Walkie Talkie
Rodney P vs Roni Size – Trouble (Roni Size remix)
Britney Spears – Toxic (D n B mix)
Pendulum – Another Planet
Tribe of Issachar – Junglist (DJ Zinc remix)
Mark 1 – Hoovers & Spraycans
Supergrass – Kiss of Life (Tom Tom Club remix)