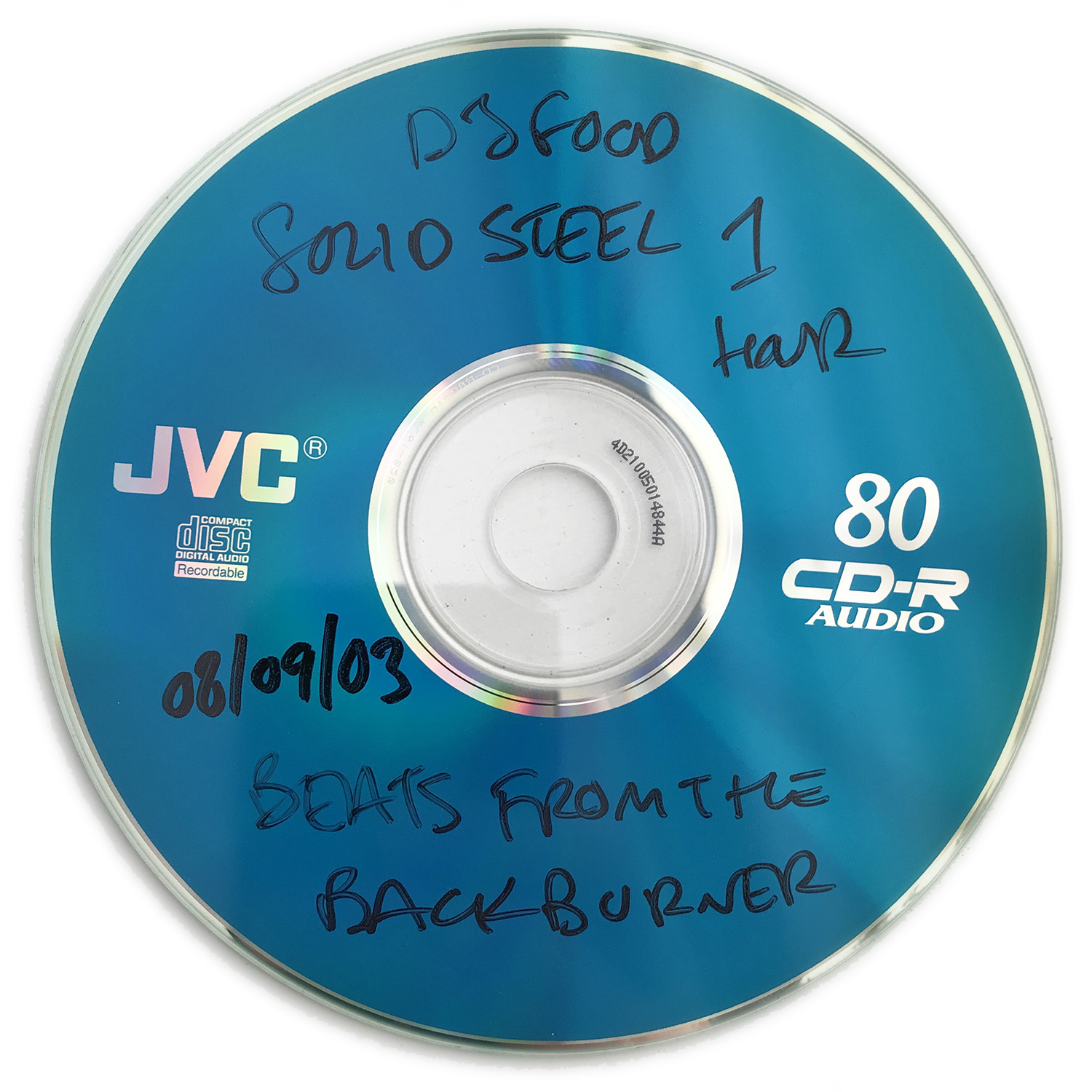 A very funk and beats-orientated set from 20 years ago starting with the Quantic Soul Orchestra featuring Alice Russell where I'm cutting the Melle Mel line, 'Don't push me' from 'The Message' in and out. The Hieroglyphics consisted of Del Tha Funkee Homosapian, Souls of Mischief and more and 'Let It Roll' comes from their second album, 'Full Circle'. The Good Dr Rubberfunk now lives in my hometown of Reigate weirdly and his Bossa For The Devil was always a favourite whilst DPF was on Ninja-affiliated hip hop label Son. DJ Revolution and Sinbad's turntable face-off is genuinely hilarious in places as well as jaw-dropping technically, a turntablism track which invites multiple listens. In the wake of the 'sexed-up' Iraq dossier the country was on the march and unhappy about being dragged into a bogus war alongside the US. I took Color Me Badd's 'I Wanna Sex You Up' and cut up a load of news footage over the top to tell the story, it's an obvious idea but I'm still pleased with it.
Returning to normality we get a version of 'The Champ' by the Skatalites, J Rocc cutting up breaks and then two P Brothers Heavy Bronx joints in succession. For me, The P Brothers perfectly channelled a specific period of 80s hip hop that I love and gave it an extra dose of grit. Never slavishly retro and using many UK MCs, the only others to do it so well were Edan and DJ Format. Pest's gloriously wonky 'Already Said' is still one of those Ninja Tune oddities of the era and then we're back for more J Rocc and a very slick breaks cut up by Cut Hustlers which may or may not have had something to do with DJ Razorcuts but I'm having trouble finding info on it. It features Statler and Waldorf – the two old men from the theatre box in The Muppets – which is why it leads into DJ Streetsahead's brilliant 1987 remix of Was (Not Was) where they also feature and was the first time I heard the break from 'Hot Wheels (The Chase)' cut up.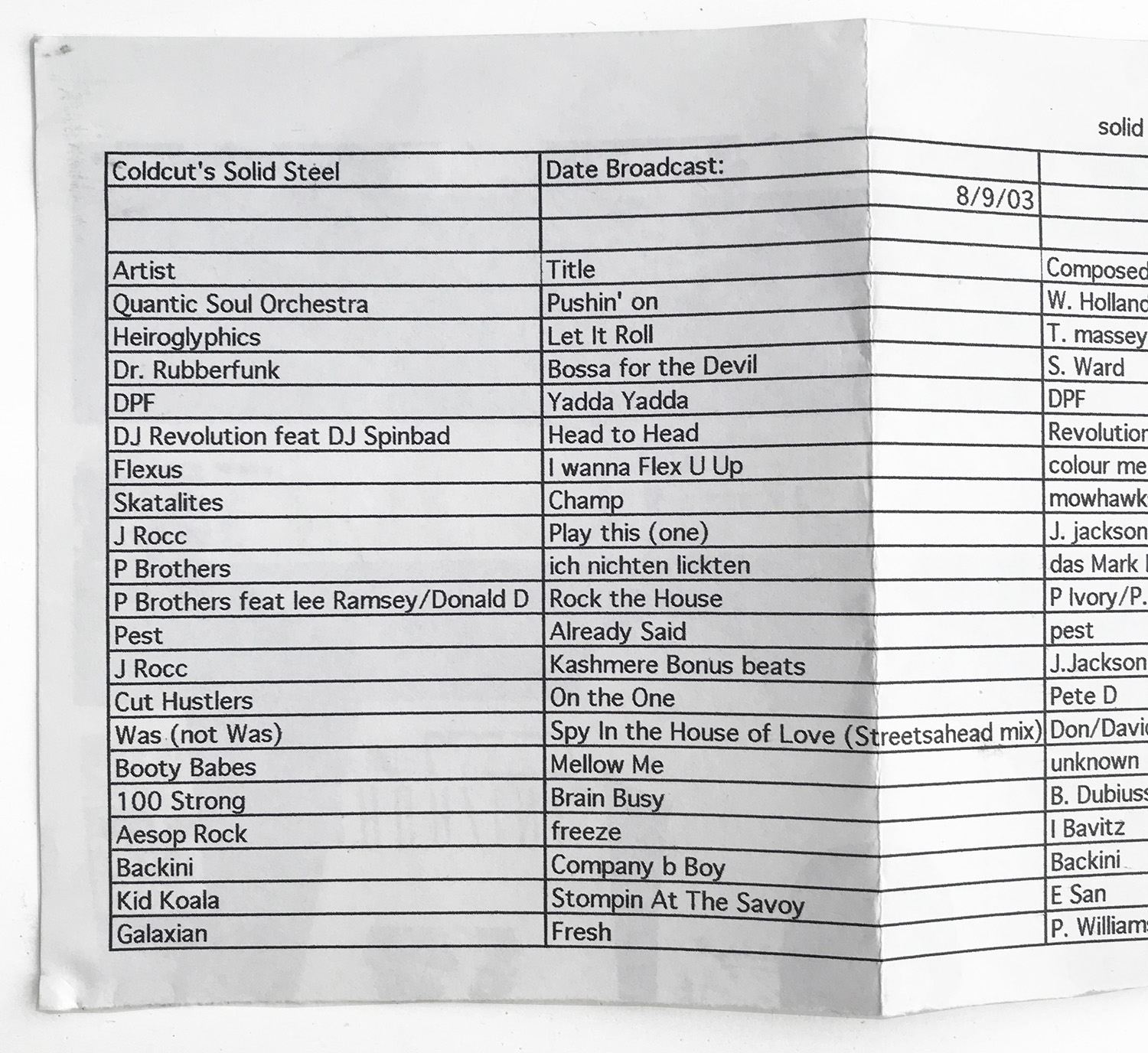 Booty Babes' mash up of Britney over the Massive Attack-sampled 'Mellow Mellow Right On' by Lowell will be an ear worm for the rest of the week with 100 Strong's sensual 'Brain Busy' complimenting its laid back vibe perfectly. I added samples and scratches about hitting and crying over the chorus to mirror the vocal, at one point tracking two different scratch patterns, one for each ear – I had more time back then, pre-kids. Aesop Rock's 'Freeze' was a Blockhead-produced cut on Def Jux but then things take a bit of an odd turn with Backini's electro swing 'Company B-Boy' which hasn't dated too well. I do love that Andrews Sisters sample though, mainly because of its inclusion in Art of Noise's 'The Army Now' but the whole thing goes on far too long. Luckily there's the bizarre humour of Kid Koala awaiting us at the other end and the low end 'Caravan'-sampling skank of Galaxian's 'Fresh' to finish but the set drags at the end I felt, could have stopped around the 50 minute mark.
Track list:
Quantic Soul Orchestra – Pushin' On
Hieroglyphics – Let It Roll
Dr. Rubberfunk – Bossa for the Devil
DPF – Yadda Yadda
DJ Revolution feat. DJ Spinbad – Head to Head
Flexus – I Wanna Flex U Up
Skatalites – Champ
J Rocc – Play This (one)
P Brothers – Ich Nichten Lickten Das Mark Evans
P Brothers feat. Lee Ramsey/Donald D – Rock The House
Pest – Already Said
J Rocc – Kashmere Bonus Beats
Cut Hustlers – On The One
Was (Not Was) – Spy In the House of Love (Streetsahead mix)
Booty Babes – Mellow Me
100 Strong – Brain Busy
Aesop Rock – Freeze
Backini – Company B-Boy
Kid Koala – Stompin' At The Savoy
Galaxian – Fresh