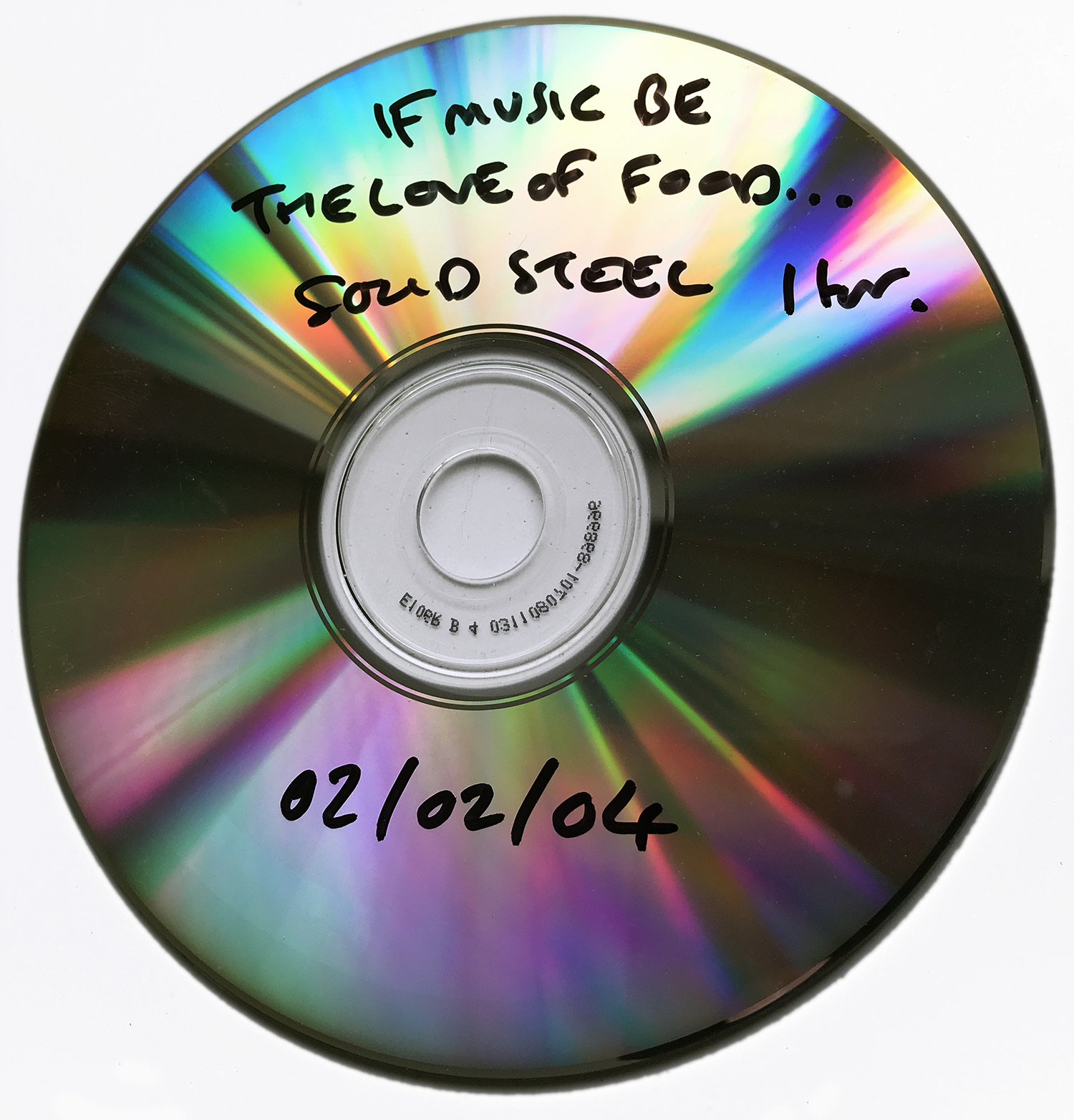 I fell in love with Javi P3z's music when I discovered his and Camping Gaz's 'Circus World' 12" on Novophonic and played it to death. It's strange mix of skanking batucada with theremin top line mixed with circus clowns and children cheering (yes, really). Totally unhinged and unlike anything else, I once found five copies in a bargain bin for £1 each and proceeded to give them to anyone who would take one. Here's his follow up, under another of his many aliases – 'Safari-Hari' – an equally audacious romp through the jungle if less on the crazed side but beautifully packaged in a cardboard shopping bag as part of the Onze Sports double 7".
Mr Melvis – 'A Walk Through The Powerhouse' was featured on a 2xCD compilation of "Strange and unusual music from the Exotica Mailing List" put together by my friend Otis Fodder on his Comfort Stand label. Otis and I had met online when he started the 365 Days Project in 2003, posting a weird and wonderful track or album every day via the WFMU website. This was a great resource in the early days of file-sharing on the web and the whole project is a wonderland of treasures. Otis was a resident in Montreal at the time (or was it Toronto?) and we later met up a few times when I toured over there, bonding over our love for strange music from the margins. Despite saying 'never again' once the year was up, he repeated the feat through 2007 and both are still archived online. http://wfmu.org/365/
Anyway, Mr Melvis is covering a favourite, Raymond Scott's 'Powerhouse' before we subtly shift into a deep house masterpiece of a remix by Charles Webster that totally captivated me when I heard it. Doing away with all but a single phrase from Martina Topley-Bird's 'Soul Food' Webster grooves on a cappella cooing and deep bass pads and I could listen to this all day, I wouldn't call myself a deep house fan but this could covert me. M*A*R*Y was a Richard X alias, this track was the sole release on a split 7" single with Liquitex until 2022 when an archive album appeared called High Noise Cassette – no doubt the product of lockdown hard drive excavation like so many of us. The Emperor Machine was a no brainer for me as soon as I heard Andrew Meecham's analogue radiophonic stylings and this was the beginning of a golden run of releases on the DC label through the 00's. NSM I don't remember much about but it was short for New Sector Movements, IG Culture's loose collective of broken beat collaborators.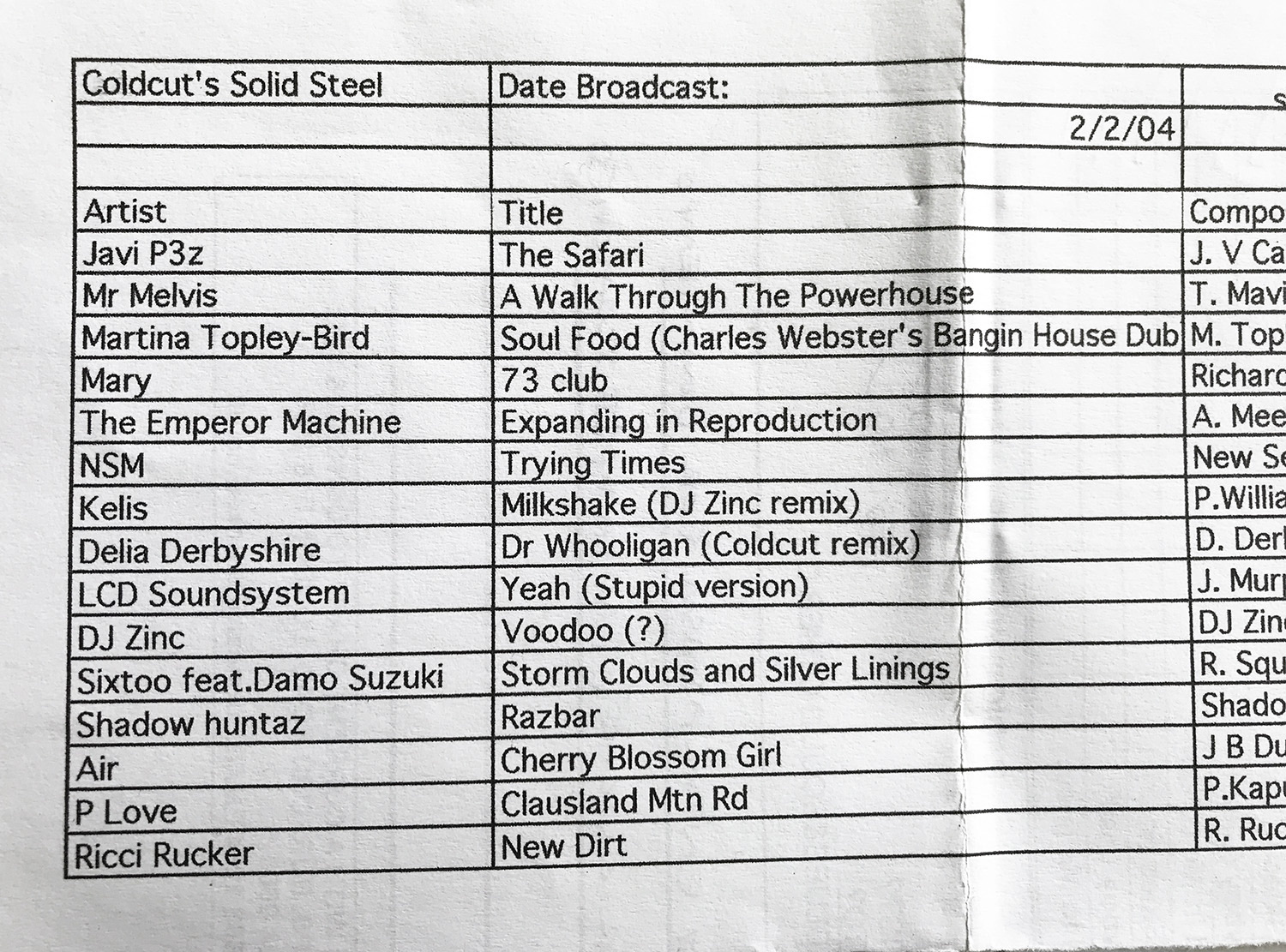 I don't remember this DJ Zinc boot of 'Milkshake' either, no idea where I got that, dodgy offbeat mix by me there too, sloppy. Coldcut remix the Dr Who theme, this was another that came and went with little fanfare although there's plenty of work in there transforming it into a half time dub with female vocal replacing the main melody. In fact I can't find any info about it on Discogs so I'm wondering if it even came out? I asked Jon More and he confirmed that the Beeb shelved it, to quote the Guardian: "The best series of songs inspired by Dr Who is annoyingly locked away in a record company vault. In 2004 the BBC planned an album called Resistance Is Futile: Doctor Who Remixed, which was to feature St Etienne (who finished recording There There My Brigadier), 808 State (The Master's theme), The Orb and Coldcut. But production delays had it jostling with the launch of the revamped TV series and it was scrapped." I've spun the infamous outtake of Tom Baker in the vocal booth over the beginning which was a popular meme doing the rounds in the early days of file downloading. LCD Soundsystem's amazing 'Yeah' still sounds utterly relevant and exciting and I'm thinking I must have compiled some of this mix using my old Numark CDJ as the pitch shift up and subsequent phase FX into the DJ Zinc track after bear all it's hallmarks. Bit of Kylie over the top there before the switch and that's quite a tempo increase, hold tight! 'Next Tuesday' was from Zinc's Faster album, a decent attempt to make a well rounded dance album covering all styles rather than just club bangers.
Aaaah, Sixtoo and Damo Suzuki – what a track, what a beat, could listen to this all day, was so proud to have had a hand in bringing Rob to Ninja Tune back in the day, wasn't for everyone but it floated my boat. This is a really random selection, we go through the heavy Krautrock-isms of Sixtoo to dark electronic rap via the Shadow Huntaz and then acoustic pop from Air. P-Love's 'Clausland Man Rd' from his time on Bully Records (with my dodgy scratching over the top) into Ricci Rucker's 'New Dirt', always interesting on the scratch/beat tip – rounding out a truly eclectic selection of contemporary tracks of the day.
Listening back to this (and a lot of the mixes in this archive) I'm reminded how much music soundtracks our lives and how I'm not currently soundtracking the present day by recording shows of current music and digging finds. I guess I didn't expect to be listening back to these mixes nearly 20 years later and getting so nostalgic for the eras they evoke. Maybe when this is over I'll start something new but it's a big commitment and I'm not sure I could do it every week anymore. Maybe a new kind of show, I don't know, what kind of music-related show would you tune in to?
Track list:
Digital Onze – Safari-Hari
Mr Melvis – A Walk Through The Powerhouse
Martina Topley-Bird – Soul Food (Charles Webster's Bangin' House Dub)
M*A*R*Y – 73 Club
The Emperor Machine – Expanding in Reproduction
NSM – Trying Times
Kelis – Milkshake (DJ Zinc remix)
Delia Derbyshire – Dr Whooligan (Coldcut remix)
LCD Soundsystem – Yeah (Stupid version)
DJ Zinc – Next Tuesday
Sixtoo feat. Damo Suzuki – Storm Clouds and Silver Linings
Shadow Huntaz – Razbar
Air – Cherry Blossom Girl
P-Love – Clausland Mtn Rd
Ricci Rucker – New Dirt