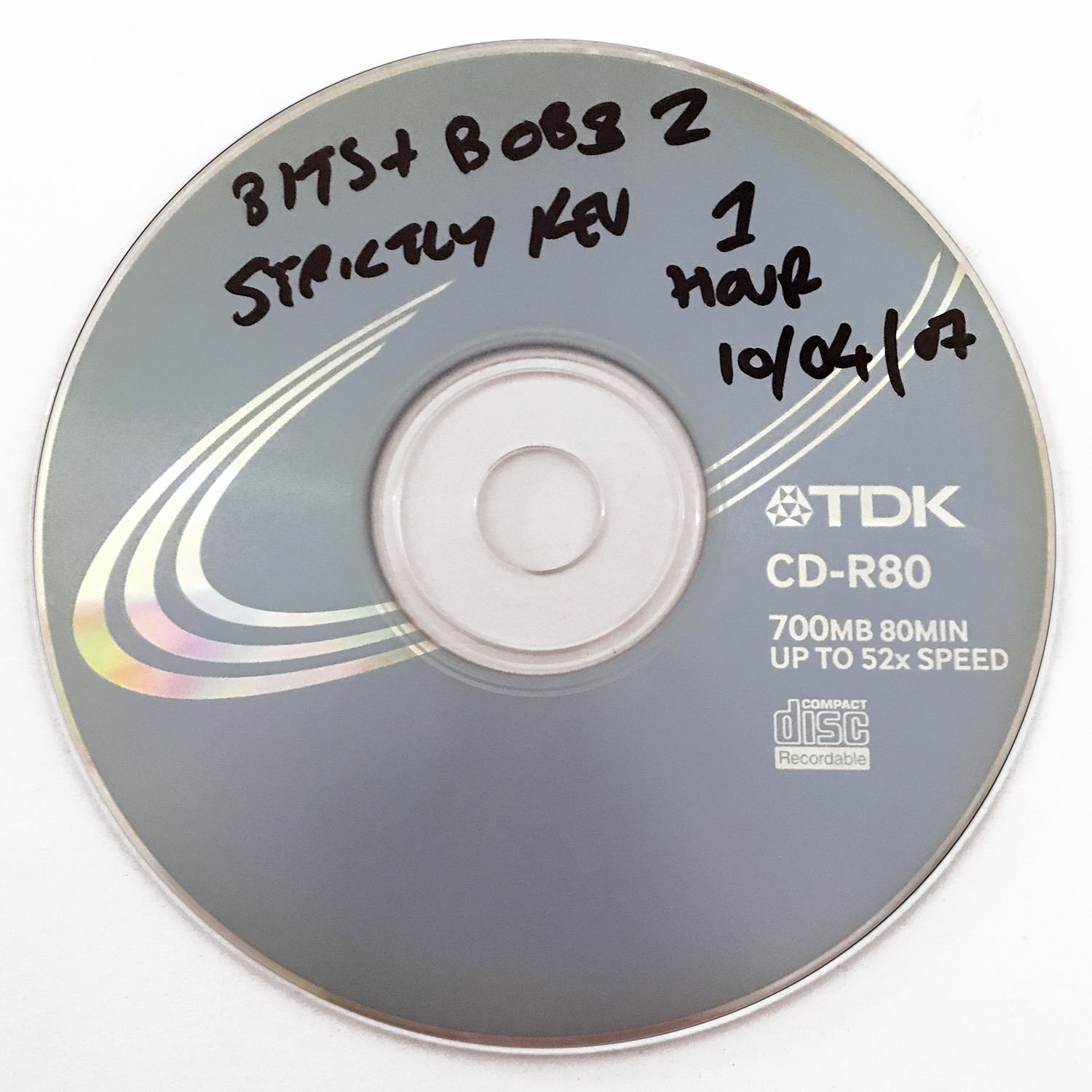 More hoovering up the recent crop of promos and new finds in the second Bits & Bobs show of 2007 (not too great with the titles there but I was juggling 20 month old twins at the time).
Starting concurrently, the Emperor Machine remix of White Line Circus makes an excellent bed for Break Reform's 'Cut A Map In The Soles of my Feet' even if I say so myself. Both killer tunes in their own right and I seem to remember that the La Boca sleeve design for 'Rocket Ride' is one of their best of the era when they were designers for DC Recordings and the label bearly put a foot wrong for a few years. The Bamboos, still going strong on Tru Thoughts, this time with Ohmega Watts paraphrasing Double Trouble's 'At the Amphitheatre' rap from Wild Style. Skipping a couple of tracks I had completely forgotten that Lost Idol made stuff with heavy beats like this, always one to watch for, glad I was hip to his stuff in 2007. Kids In Tracksuits featured a certain Matt Cutler who most will now know as Lone and I think this track comes from their 'Get Your Kit On' EP.
The RamaSutra track is a bit of a tune, seems it was one of the last things he put out in 2003, not sure how I was playing it in 2007. Bit of a sharp cut into !!!'s 'Myth Takes' and then into AmmonContact's 'Drum Riders' from their album on Ninja at the time, Cut Chemist on the cuts. DJ Dren's 'Wot Da Hell' is from the excellent 'CTRL C / CTRL V' comp from 33 Throwdown Recordings, must dig that out again as it has all sorts of cut up goodness on it. Remix heat from Cherrystones for Pedro and more Emperor Machine, this time on his own track but again with a female vocal over it from another track, I seemed to have a thing for this at the time. The song in question is Stephanie Dosen's cover of 'Within Without You' which doesn't quite work tuning-wise and certainly should have been mixed out by the time The Dragons' 'Peace Garden' arrives in the mix. We were on the cusp of releasing their unissued debut album on Ninja at the time and this track comes from a soundtrack, 'A Sea For Yourself'.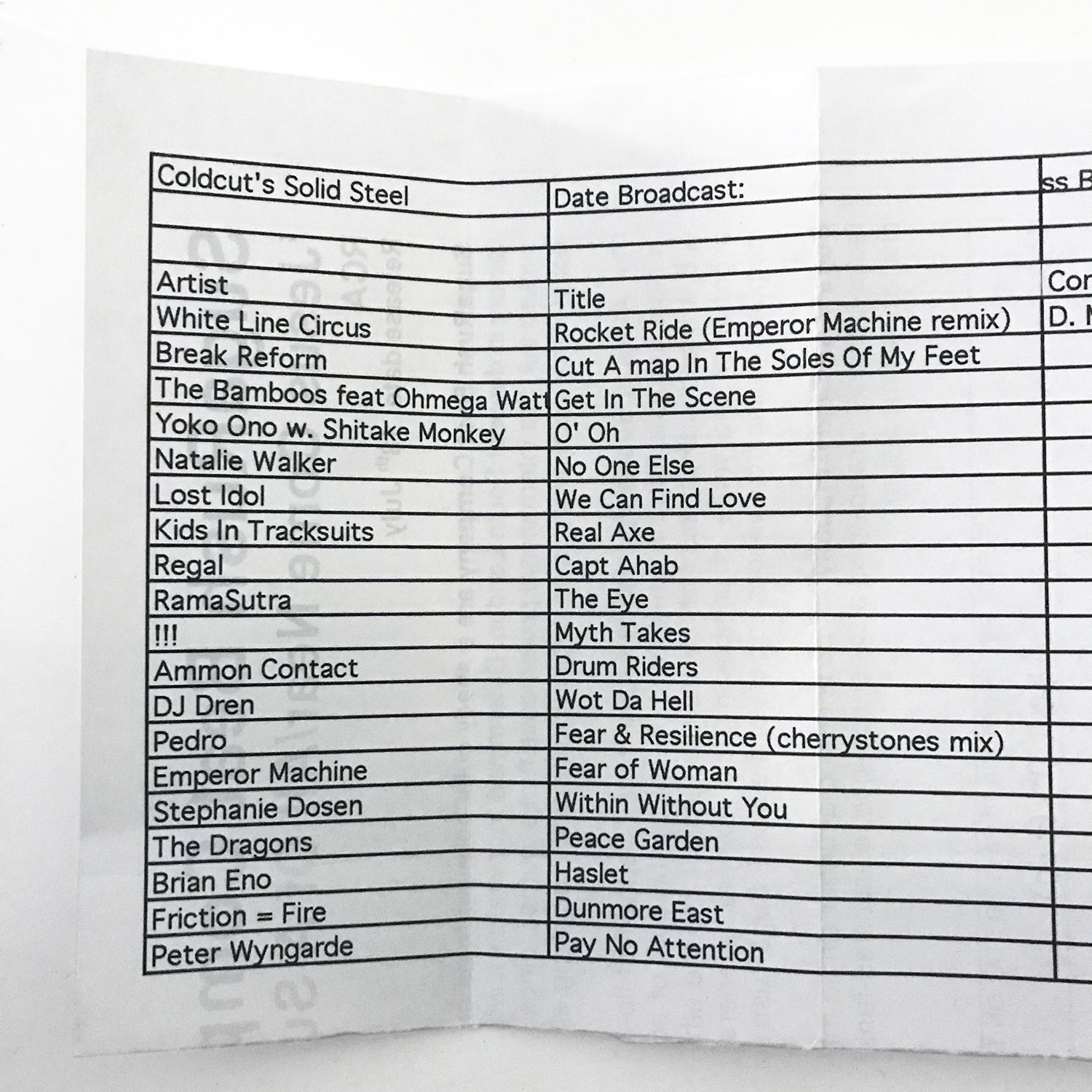 Up next, an unidentified vocal talking about originality before an Eno track from the second compilation of Curiosities, a pair of collections put together by one of Eno's studio assistants at the time I believe from selections of the vast catalogue of unreleased material he had. Having been absorbed in Eno's Lighthouse station on Sonos for most of this and last year – a constant stream of over 400 previously unreleased tracks from his archive – I can see what prompted these CDs. They were meant to be a series but only two were ever released, maybe they didn't sell or maybe the compiler moved on? Friction = Fire's Dunmore East was the last track on an Irish compilation on the Alphabet Set label which I must have been given when I performed one of the Head soundtrack gigs over there and Peter Wyngarde's short outro comes from the actor's very odd solo album to round things up.
Track list:
White Line Circus – Rocket Ride (Emperor Machine remix)
Break Reform – Cut A Map In The Soles Of My Feet
The Bamboos feat. Ohmega Watts – Get In The Scene
Yoko Ono w. Shitake Monkey – O' Oh
Natalie Walker – No One Else
Lost Idol – We Can Find Love
Kids In Tracksuits – Real Axe
Regal – Capt. Ahab
Ramasutra – The Curse of the Eye
!!! – Myth Takes
AmmonContact – Drum Riders
DJ Dren – Wot Da Hell
Pedro – Fear & Resilience (Cherrystones mix)
The Emperor Machine – Fear of Woman
Stephanie Dosen – Within Without You
The Dragons – Peace Garden
Brian Eno – Haslet
Friction = Fire – Dunmore East
Peter Wyngarde – Pay No Attention