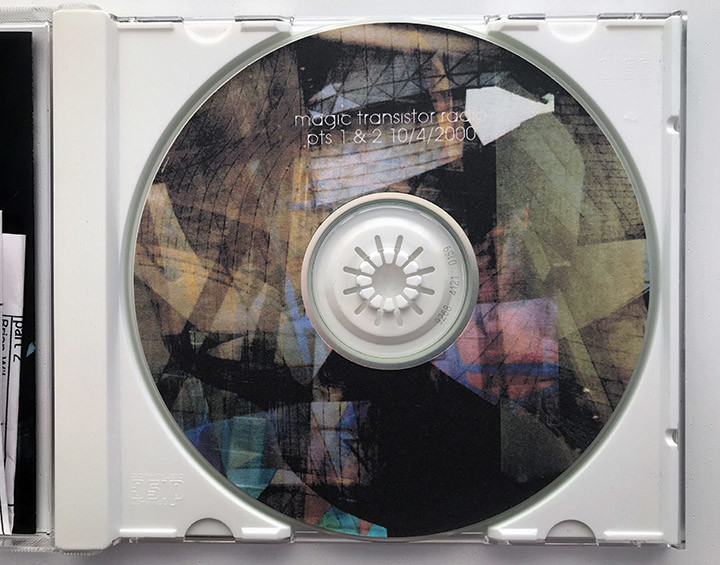 I have this down as the first set I made for Coldcut Solid Steel in its new home at BBC London Live on 10th April 2000 – a busy month what with the release of 'Kaleidoscope' just a week before. We'd left KISS FM a year ago when they announced an impending overhaul of the roster, jumping before we were pushed basically. I'm sure it hurt Matt & Jon more than the rest of us as they had been with the station over 10 years and seen it come up from a pirate to a legal entity. As with everything, things had changed there as commercial concerns took over but it was strange not to suddenly have a weekly show broadcasting around London to go to.
All was not lost though, over the previous five years studio editing technology and CD-R burning had become more commonplace and we were all in the position to either record in our home studios or in Coldcut's Ahead of Our Time set up at Ninja Tune. We'd been doing this since the KISS studios became unavailable and Matt had already set up Ninja's first website (Don't Believe The Pipe) and investigated early streaming technology, keen for us not to lose our weekly flow. Streaming wasn't what it is today though, you had no idea if anyone was listening, the sound quality was terrible and the technology unreliable – it didn't feel like being on the airwaves of a 'real' radio station. But, as in a lot of instances, Coldcut forged ahead and were early adopters, dragging us into the future with them.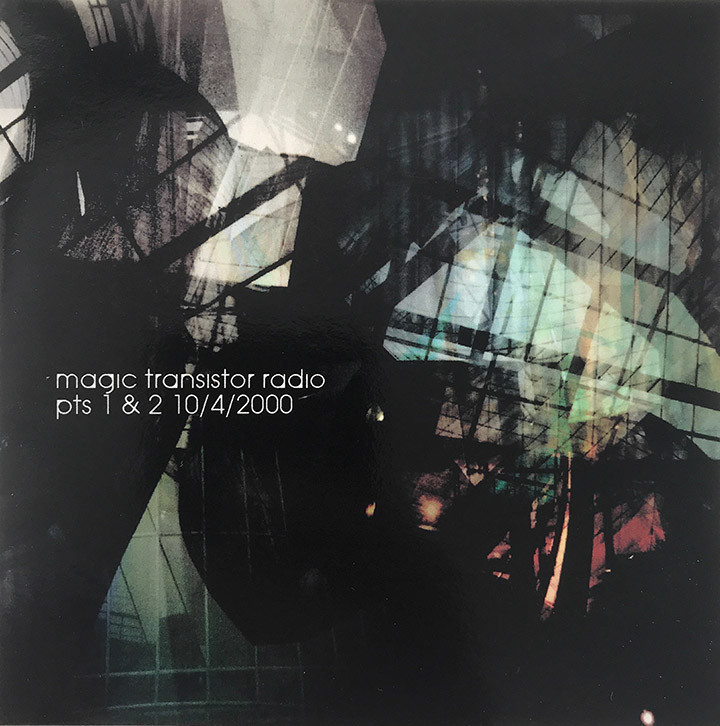 When Ninja HQ moved from Clink St. to Kennington at the turn of the decade the studio set up changed so, more often than not, I would record sets at home and bring DATs or CD-Rs into the office for Darren 'DK' Knott who was now officially producing the show each week. He would organise who was playing when, co-ordinate guests, assemble each 2 hr show in time for Friday and mail out CD-Rs to stations around the world who subscribed to the weekly sessions.
When we first found out we'd got the London Live slot we were overjoyed that we'd finally, officially, be back on the airwaves. Reborn from GLR (Greater London Radio) and later rebranded as Radio London, then Radio LDN, they were having a mini renaissance with DJs like Dr Bob Jones and Ross Allen in early evening slots that were capturing the 20-30 something club goers.
Our joy was slightly curtailed when we got to the BBC studios to present the show and discovered a rather pedestrian set up with turntables over a meter apart and a broadcasting mixer fitted into the desk between them – definitely no turntable gymnastics with that set up. KISS, being a dance music station, was set up for club DJ-style sets, the mixing desk and mic one side and a table with Technics and DJ mixer the other, plenty of room and maneuverability if you wanted to plug in extra FX or move things around.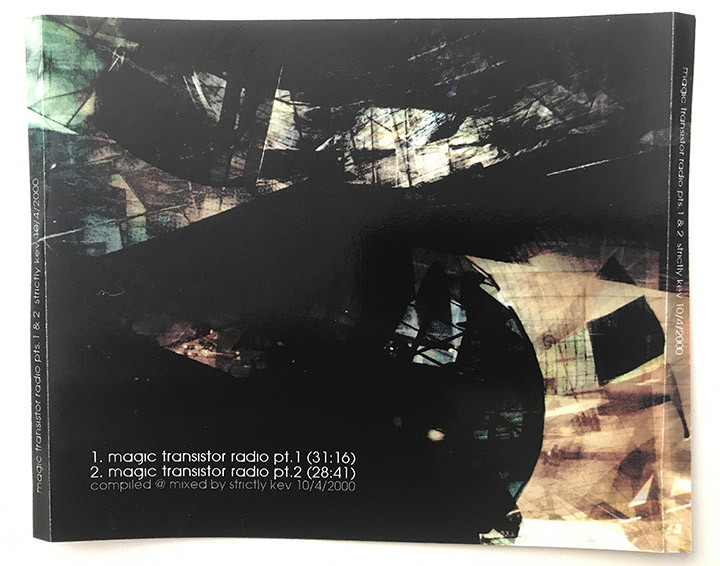 It was decided that the best way to keep doing what we did was to prepare the mixes beforehand, that way we could be as radical as we liked and not have to worry about any technological limitations. This also meant we could be a lot more creative, didn't have to rely on one take mixes thus keeping things tighter and also overdub other tracks if need be. Things could be edited but it also meant that things generally took longer as they could be more complex than before. The mix format suddenly opened up to me because of this and I think I did some of my best work in the next decade.
By this time I was getting increasingly into themed mixes or a set with a connecting or recurring factor, I also started naming the sets as I now had years worth under my belt for Solid Steel, only identifiable by date. The theme for this mix was Brian Wilson's odd 7" single that came free with the Beach Boys' Holland LP,. I was deep into my BB obsession at this time, hoovering up the late 60s and 70s LP and mining them for the gems they mostly contained until they went full-cheese as disco took hold. 'Magic Transistor Radio' is a children's fairy tale about a pied piper who lives inside a radio and is Wilson is full blown la-la land mode. I threaded excerpts from it throughout the mix as it was so apt, being that it took part inside a radio.
There are so many great tracks here, Broadway Project's LP is a forgotten classic IMO, David Holmes' Organisation-sampling 'Living Room', early DJ Format, Tommy Guerrero (arguably the last great record on Mo Wax), Sirconical on Twisted Nerve, 7-Hurtz on Output, Broadcast…
But I've gone on WAY too long with this one, have a listen and see what you think. One more thing, I was so enthused I even made a CD cover for this one, I'm sure I intended to do this with all the mixes but only managed two like this. Turn on, tune in and freak out to the Magic Transistor Radio.
Kev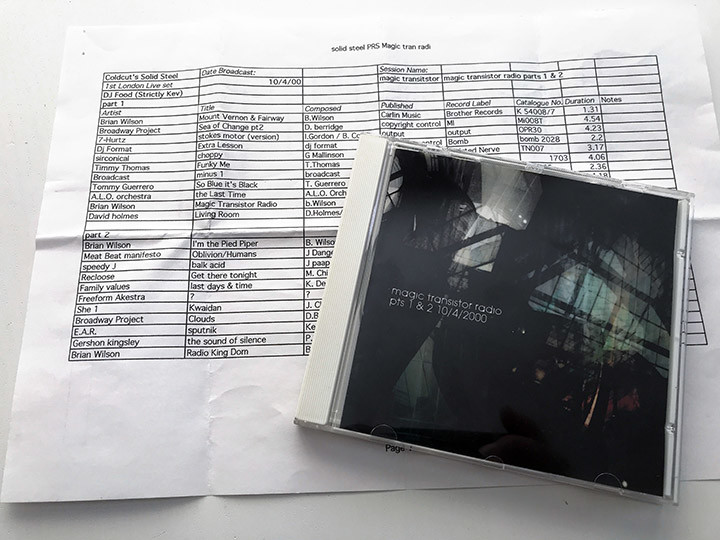 Track list:
Part 1
Brian Wilson – Mount Vernon & Fairway
Broadway Project – Sea of Change pt2
7-Hurtz – Stokes Motor (version)
DJ Format – Extra Lesson
Sirconical – Choppy
Timmy Thomas – Funky Me
Broadcast – Minus 1
Tommy Guerrero – So Blue It's Black
A.L.O. Orchestra – The Last Time
Brian Wilson – Magic Transistor Radio
David Holmes – Living Room
Part 2
Brian Wilson – I'm the Pied Piper
Meat Beat Manifesto – Oblivion/Humans
Speedy J – Balk Acid
Recloose – Get There Tonight
Family Values – Last Days & Time
Freeform Arkestra – ?
She 1 – Kwaidan
Broadway Project – Clouds
E.A.R. – Sputnik
Gershon Kingsley – The Sound of Silence
Brian Wilson – Radio King Dom