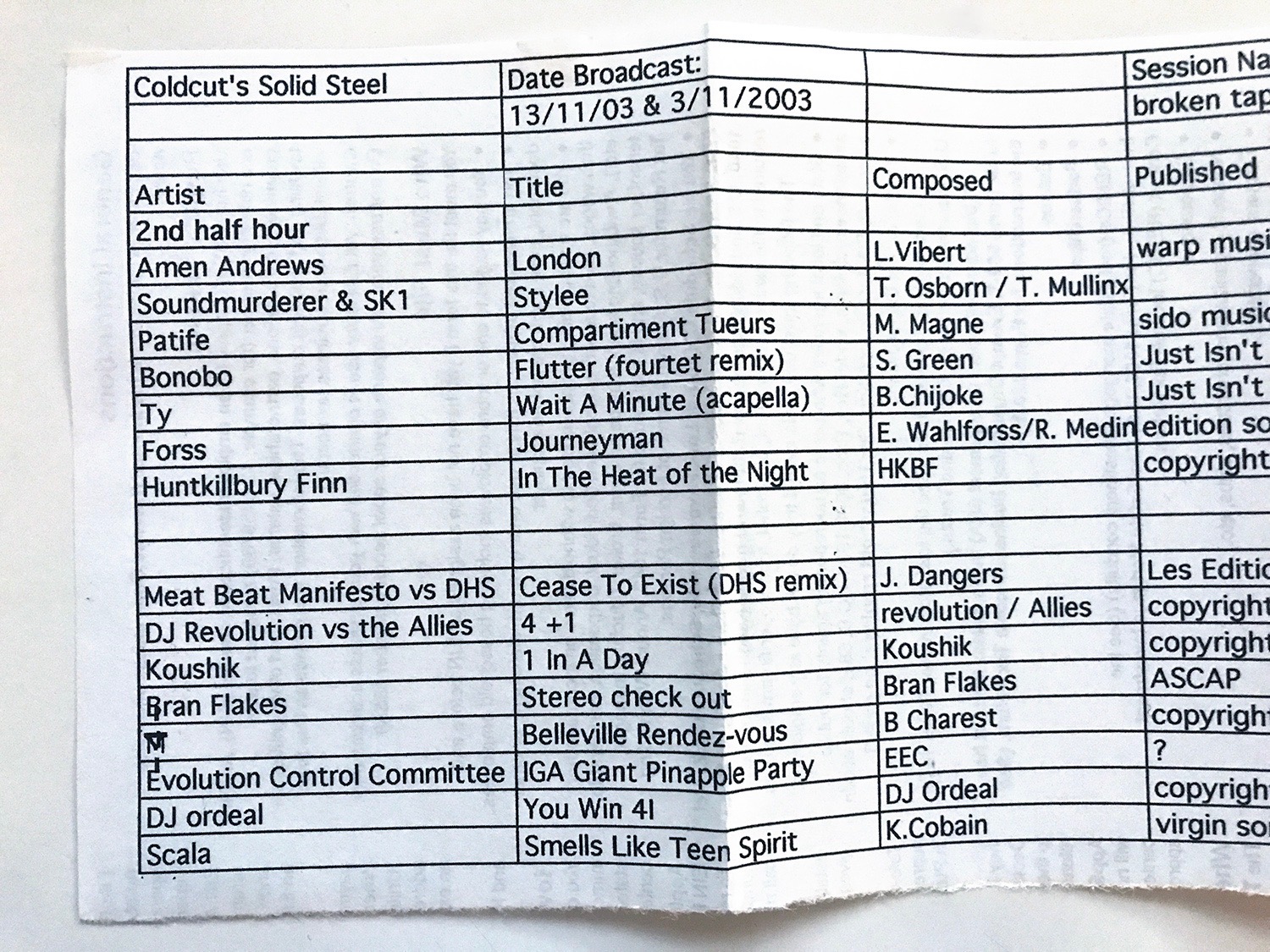 This half hour comes from a disc with two mixes on it (see MS 81 for the other) although I'm not convinced the date on the disc matches with the actual transmission dates on the solidsteel.net website so I've made an educated guess as to the TX date. Sometimes I wrote dates the mixes were made on the discs when archiving which would have been in the files titles. I'd send these off to DK, the show producer, and they would air when he had a slot for them unless they were time-sensitive. In this case, a mix made in November of 2003 saw the light of day over a month later.
An excellent updating of the Meat Beat classic 'I Got The Fear' opens the set, just check those drums, no one makes heavy beats like Jack Dangers and with long time collaborator Ben Stokes aka DHS on the remix (his classic 'House of God' still stands up) it just gets better. DJ Revolution was always one of the funkiest of the wave of turntablists who came up in the wake of the ISP, X-Men, Beat Junkies era of the 90s. Here he faces off against The Allies, a DJ Craze, A-Trak, Infamous and DVLP coalition of world class DJs in '4+1' from his album, 'In 12's We Trust'.
It's odd doing these mix round ups and checking Discogs for details on records and artists that were made by seemingly major players at the time only to find they haven't released anything for over 10 years. Koushik seemed to be a unique talent amongst the Stones Throw roster even if he wasn't as prolific as some on the label and his mix of beats and acoustic guitar songwriting stood out. 'One In A Day' comes from his second single of the same name. The Bran Flakes were Otis Fodder and Mildred Pitt's cut n paste project, full of fun and silliness, and 'Give Yourself A Stereo Check Out' comes from their 2000 album, 'I Don't Have A Friend'. Otis was running the 365 Days Project on WFMU at this time and we bonded over the weird and wonderful world of vinyl oddities. He would of course do his own Solid Steel guest mix at one point and we still keep in touch to this day.
Nestled inside or on top of these tracks are several other oddities, Not The Nine O'Clock News' Hi-Fi Shop sketch where Mel Smith wants to buy a 'gram-o-phone' and the young salesmen in the shop – played by Griff Rhys-Jones and Rowan Atkinson – give him a hard time over the technicalities of a stereo set up. Also floated in are excerpts from a Tom Baker voice over session outtake compilation that was doing the rounds on the web at the time and has subsequently been sampled by people like Wagon Christ. The internet was throwing up all sorts of material as speeds got faster and people started sharing audio clips on forums and servers.
Belleville Rendez-vous is a beautiful animated film from the same year and this track must have been inspired by the electro swing fad around at the time. The Evolution Control Committee track is an insane bit of cut up fun in a similar style to the Bran Flakes with some samples of a young Ken Nordine in the mix by the sound of it. This track originally turned up on the Free Speech For Sale compilation by Snuggles. The DJ Ordeal track shows how you can also do something poignant and charming with cut ups and dodgy pause buttons and comes from an odd four track 7". Ordeal released loads of cut up/concrete music in the 00's but again, another artist who hasn't had a release for over a decade. The Scala cover of Nirvana's classic was odd and unique 18 years ago, little did we know that this sort of guff would be soundtracking every Hollywood blockbuster trailer in the future.
Tracklist:
Meat Beat Manifesto vs DHS – Cease To Exist (DHS remix)
DJ Revolution vs the Allies – 4 +1
Koushik – One In A Day
The Bran Flakes – Give Yourself A Stereo Check Out
Ben Charest – Belleville Rendez-vous (version Francaise Par -M-)
Evolution Control Committee – IGA Giant Pineapple Party
DJ Ordeal – You Win 4 I
Scala – Smells Like Teen Spirit