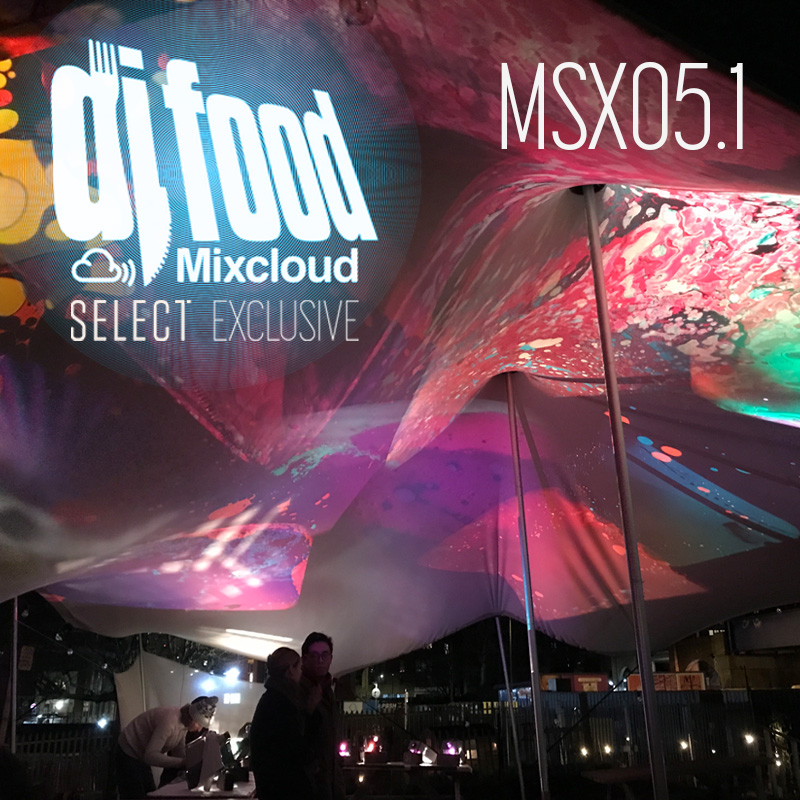 Rather than an archive mix this week I've decided to do a new one – of sorts – for subscribers as I've had this on the laptop for several months, waiting for a chance to edit and post it. There will be two parts and it's culled from a DJ set I did earlier this year. There are no edits in this first section, just a fade in at the beginning from a longer piece. Part 2 follows next week with more info on the mix and I'm readying another Mixcloud Select Exclusive mix for May too…
Back at the start of the year, at the end of January to be precise, I took part in an outdoor sound and light celebration as part of the Candlemas festival at the Royal Foundation of St. Katherine in Limehouse, East London. I was mainly responsible for the music selection but also bought along some projectors and FX wheels to add to the many others happening around the site. Alongside me were Julian Hand and Paul Naudin, boiling oil and ink inside slides which they then projected around the canopy we were stationed under. Elsewhere Heena Song and Joe and Janie from Whyte Light Visuals were doing similar things either inside one of the cafe tents or in the main chapel area.
The musical brief was ambient / psychedelic / krautrock / cosmic and I was using a small digital controller to layer tracks and add FX, seated outside in the freezing cold, wrapped up in layers of clothing, thermals, hat and scarf. As part of my set I added a truncated version of the Solid Steel mix for the show's 30 anniversary a few years back, so that I could have some time to socialise and see the rest of the site. This 30 minute mix could be seen as a continuation of the Influences set I put together for Dust & Grooves nearly 10 years ago, full of key tracks from the last 50 years that have stuck with me and informed my tastes. If you missed it back then then it's a very densely layered set that took many hours to get right in the studio, not live by any stretch of the imagination, but something I laboured over to create a gently shifting flow of songs and textures. That it also included some religious references was a bonus considering the event and location we were playing at. It begins and ends with the Linda Perhacs track 'Parallelograms' and is preceded with some very deep ambient, largely from the German school.
More photos and details of the evening here:
Part 1 Tracklist:
Cyclicia (Extended) – Jon Brooks
Electric Garden – Conrad Schnitzler
Phaedra (shhhhhh) – Tangerine Dream
Aqua – Edgar Froese
Slow Action – Pictogram
– Solid Steel 30 A Dream Within A Dream mix (short version 30.29) – DJ Food
Parallelograms / Linda Perhacs
The Carrier / Brian Eno & David Byrne
On The Run / Pink Floyd
Autobahn / Kraftwerk
Ascent (An Ending) / Brian Eno & Daniel Lanois
Our Prayer / The Beach Boys
Gravitational Arch of 10 / Vapour Space
Love Is Lost (Hello Steve Reich Mix) / David Bowie
Rain Dance / Herbie Hancock
Messer, Scissors, Fork & Light / Can
Rainbow Dome Musick / Steve Hillage
Tardis Cymbals / Cavern of Anti-Matter
Electric Counterpoint fast / Pat Metheny
Music for 18 Musicians / Steve Reich
Wet Rubber Soup / 10cc
Rainbow Dome Musick / Steve Hillage
Answered Prayers / David Sylvian
E2:E4 / Manuel Gottsching
Deep Shit (The Cult of Mu 7″ mix) / The KLF
A Mechanical Eye / Jon Brooks
In C (Version 4.2) / Terry Riley vs Meat Beat Manifesto
Telepath / Boards of Canada
Obsidian (Organically Decomposed) / Psychic Warriors of Gaia
Waves Become Wings / This Mortal Coil
Rainbow Dome Musick / Steve Hillage
A New Day / Kaitlyn Aurelia Smith & Suzanne Ciani
Gravitational Arch of 10 / Vapour Space
Parallelograms / Linda Perhacs
Butterfly – The Fox