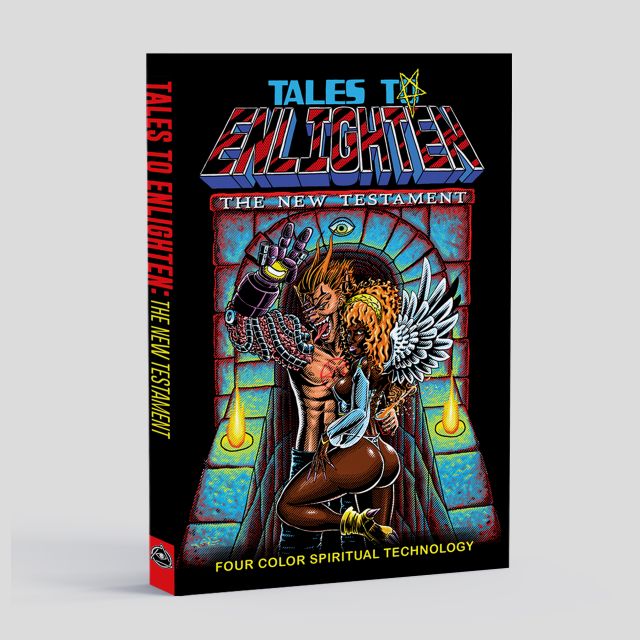 Due to being crazily busy this week, not least having to sort a set out for a friend's wedding on Friday (playing AND taking my decks – this is a real rarity) I've not had time to prepare a show this week. But! I did drop a new mix on Sunday for Matt 'King Megatrip' King's new kickstarter.
Long time listeners to Solid Steel will know the name King Megatrip from back in the 00's, he was one of the first collectors of old shows online, provided the occasional guest mix and used to send us spoken word samples on CDRs back in the day, culled from old films and records that he would religiously record and edit down. These started as discs with 99 entries as that was the most 'tracks' you could fit on a disc and each one had its own cover, track list and number. Slowly the 'Soundbank', as it came to be known, grew in size to the point where it was 200 volumes, each track-indexed with the basic premise of the sample and compiled on a DVD. I still use it to this day and Matt has threatened to share a new 200 volume follow up some day.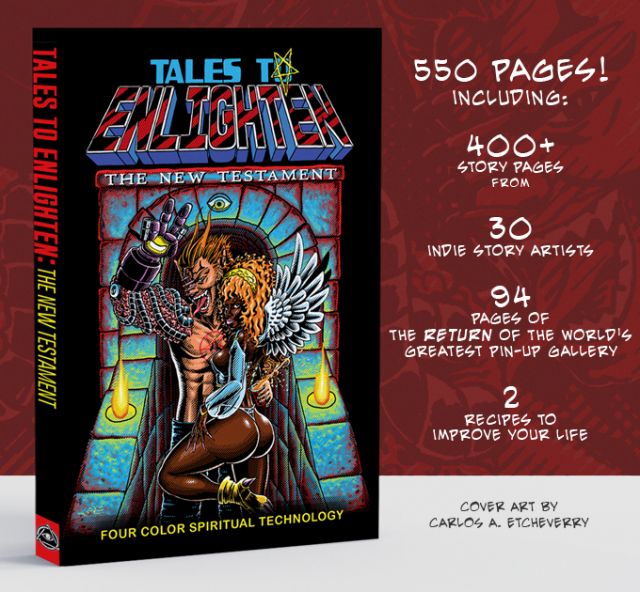 He's been slightly distracted however by his Tales To Enlighten project – the first was a 200 page graphic novel detailing the son of Satan and his robot consort, Manfred's adventures trying to gain enlightenment. He successfully Kickstarted that last year and it was a blast. Now, the sequel – Tales To Enlighten: The New Testament – is here and it's a whopping 550 pages with 30 artists and a ton more content. He's aiming to get $20k which means the whole book will cost just $52 once printed – a bargain – and as of writing he's already got $17k of it after nearly 2 weeks. Help him out if you want a ton of indie/underground comix full of sex, drugs, violence and blasphemy hitting your doorstep (or just to use as a doorstop) soon. If you fancy pledging then head over to the Kickstarter page, there's loads of different levels and goodies on offer with extra zines, T-shirts and even original artwork.
To try and help drum up some publicity and as a good excuse to fit a new set of funky religious psychedelia together I constructed Songs of Revelation: Further Religious Rock & Spiritual Spoken Word for him a few weeks back, a follow up to last year's Songs To Enlighten mix.
Track list:
Reformation – In The Beginning
Otis Skillings – A World Mixed Up
Reformation – Reformation '71
John E. Schroeder & Richard Koehneke – Doors Are For Locking (excerpt)
Truth of Truths – John The Baptist
The Continental Singers – Step Up, Sit Down
Truth of Truths – The Trial
John Rydgren – Cantata Of New Life (excerpts)
The Crimson Bridge – First Suite by Gary Rand (1st movement Searching For Reality)
W. Cleon Shonsen – The Hippy Psalm (Instant Insanity Drugs excerpt)
John E. Schroeder & Richard Koehneke – The Best Tombs In Life Are Free (excerpt 1)
Kent Schneider – The Church Is Within Us, O Lord
The Crimson Bridge – Birthright
John Rydgren – The Lord Is My Shepherd (New Life spot)
Reformation – Let There Be Light
John E. Schroeder & Richard Koehneke – The Best Tombs In Life Are Free (excerpt 2)
Otis Skillings – Love Can Work A Miracle (edit)
Katarzyna Gartner – Kyrie (excerpt 1 edit)
U.S. Apple Corps – Don't Do Me Nothing
Peter Link & C.C. Courtney – Deadalus
Katarzyna Gartner – Kyrie (excerpt 2)
The Mission – A Feeling