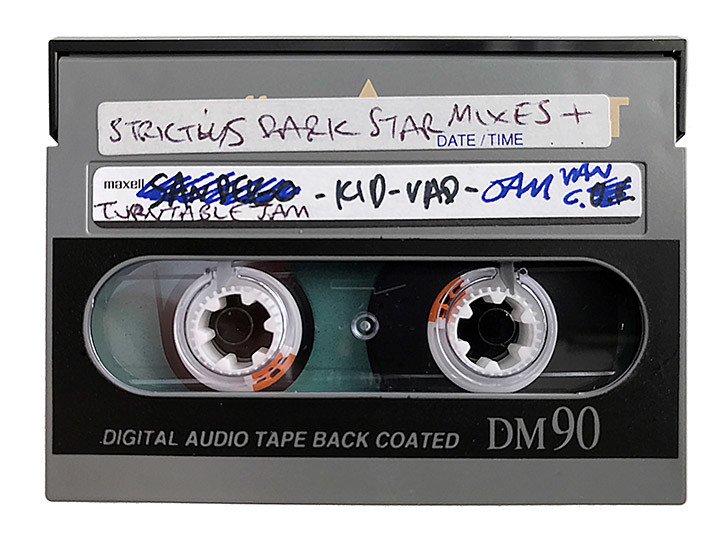 This is part 1 of two mixes, The Sphere and The Bomb – both share excerpts of spoken word from Dark Star and John Williams' 'The Conversation' from Close Encounters of the Third Kind joins them. The original name on the box was 'Strictly's Dark Star sci-fi sex-up' – not sure what that was about. The Bomb follows next week…
I think my obsession with 70s sci-fi started around this time, we'd caned the Dark Star original soundtrack on the Blech cassette mix for Warp and there was so much mileage still left in it. Jack Dangers had, of course, got there first and peppered parts of it throughout the excellent Meat Beat Manifesto album, Satyricon as well as sampling a small flute and and strings loop from somewhere on the track 'Placebo'.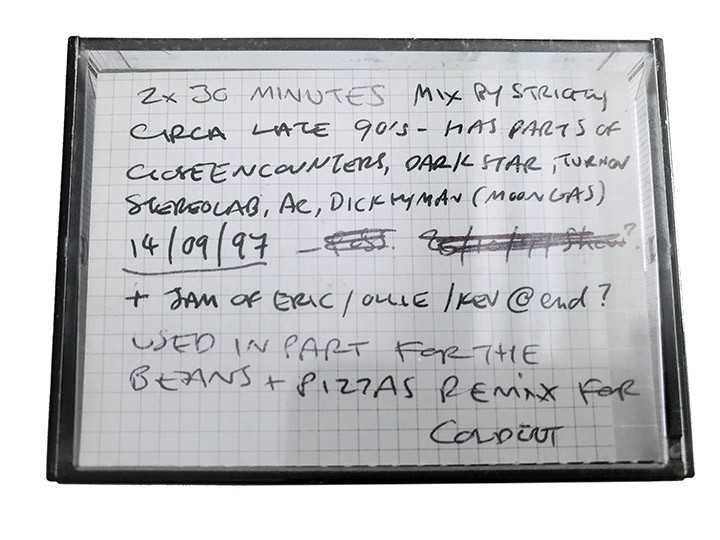 This is where I first heard the riff from Dudley Moore's 'The Millionaire' from the soundtrack to the film, Bedazzled. Ollie Teeba was a huge fan and identified it from the short skit and then the hunt was on for a decent copy of the LP, rare by any standard in the 90s. I eventually found one a year later in the Cinema branch of the Music & Video Exchange in Notting Hill and paid a lot of money for it (some of it was in vouchers actually). Anyway, it was one of the few records I've shelled out big money for but I then sampled it on 'Nocturne' on the Kaleidoscope album and it's proved quite popular over the years.
There's some distortion on this recording, mainly on the Si Begg and 2 Player tracks which were overloaded on the recording. I've tried to smooth this over as best I can with the tools now available, this would have been one of the first shows I recorded at home with a portable DAT player. Before this we would record at KISSFM or at Ahead of our Time studios in Clink Street, the home of Ninja Tune up until 2000.
It looks like I used the end of the tape to record a soundcheck of myself, Kid Koala and Ollie Teeba jamming on 4 decks in Vancouver on tour which was later used in part on my remix of Coldcut's 'More Beats & Pieces'. 1997 was super busy with recording and touring and I was asked by Jon & Matt to remix the track just before I went off on tour. Knowing I'd be sharing stages with other great scratch DJs I bought along copies of the DJ record of parts that had been made to give to remixers and we recorded various soundchecks and also did a session at Kid Koala's flat at the end of the tour as well.
Track list:
Neil Norman – Dark Star
Kirsty Hawkshaw – Sci-Clone (Raw Dog mix)
Spiritualized – C Phase
George Harrison – No Time Or Space
Si Begg – Sing Circle System
Turn On – Electrocation of Fire Ants
excerpt from Dark Star – Listening Pleasure
Meat Beat Manifesto – Placebo
Beck – Strange Invitation
2 Player & DJ Vadim – White Painted Roads
John Williams – The Conversation (from Close Encounters of the Third Kind)