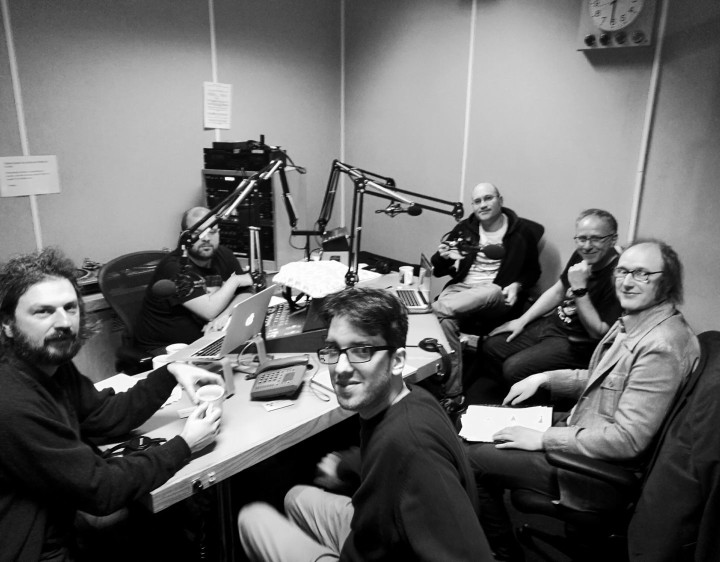 (Mark, Robin, Dan, Chris, me, Ian – out of shot Zoe, Hannah and Alan – who was taking the photo)
On Saturday I was invited to be a guest on the OST show on Resonance FM – this time with Robin The Fog ably sitting in for an absent Jonny Trunk (away on Basil Kirchin business in Hull). Joining us in the studio were Alan Gubby (Buried Treasure), Mark Pilkington (Strange Attractor Press), Dan Wilson (Radionics), Hannah Brown (Kvist), Ian Helliwell (Tape Leaders book and so much more), Chris Sharp (Concretism) and Zoe 'Lucky Cat' Baxter who stayed on after her show beforehand.
The reason was twofold – to try and present a sonic picture of all the artists who would be contributing / playing at The Delaware Road event at Kelvedon Hatch Nuclear Bunker on July 28th. If you're not up to speed on exactly what The Delaware Road is then please go here.
The gathering was also to highlight a very special prize bundle assembled from all who'd be taking part that's being auctioned off in aid of Resonance FM's annual funding drive. Here's a photo of most of the items to be included: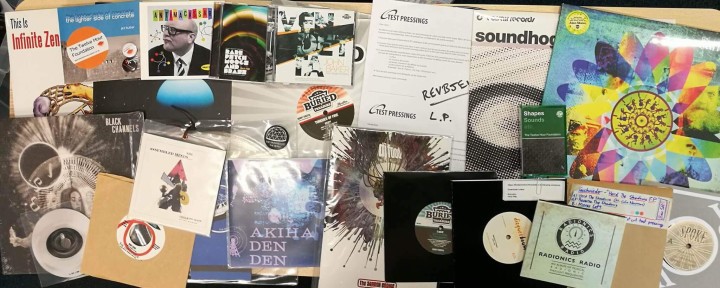 Here's a link to The Delaware Road At Kelvedon Hatch Audio Apocalypse Survival Kit auction in aid of ResonanceFM
Here's a link to buy tickets for The Delaware Road gig on July 28th

and here's a link to the 2 hour show featuring music from a lot of the prizes featured above.